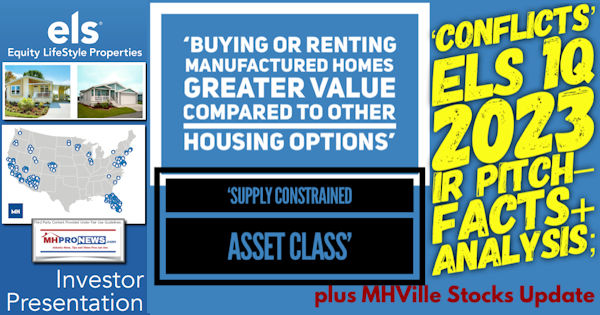 Under an Equity LifeStyle Properties (ELS) subheading from an investor relations (IR) presentation for "ELS at a Glance" in the first quarter of 2023 is this opening statement. "ELS owns and operates the highest quality portfolio of manufactured home ("MH") communities, recreational vehicle ("RV") resorts, campgrounds and marinas in North America." A footnote says that all data is as of December 31, 2022. Among the 449 Properties in 35 states and 1 Canadian province are "202 MH COMMUNITIES" with "74,700 sites." As a point of reference, recreational vehicle (RV) properties number "224 RV RESORTS" with some 89,600 sites. Campgrounds and marinas help round out the balance of the $16 billion dollar estimated value of the ELS real estate investment trust (REITs) portfolio. Despite having more RV communities, the majority of ELS's earnings are from the manufactured home sector. Founded in 1969, their IR document states that the operation boasts having a total of 4,200 employees across their various business units. The two headline statements are revealing. Per that ELS investor relations (IR) pitch deck: "Whether buying or renting, manufactured homes provide greater value as compared to other housing options." True and fair enough. The second is remark in the headline from their document is a key for understanding the dynamic between ELS, the Manufactured Housing Institute (MHI), numbers of their state affiliated nonprofits, and other MHI member portfolio operators.  "There has been limited MH development in the U.S. in the past 20 years. Growing demand coupled with almost no new supply is a strategic advantage for ELS."
That's ELS in their own ideas, claims, and words.
Part I of today's report will provide select slides from the ELS IR pitch deck. Note that the ELS IR presentations appear to be published about once a quarter in the last year or so, based on what is visible on the relevant ELS IR website's presentation page.
Part II provides additional information with more MHProNews analysis and commentary.
Part III of today's report is the Daily Business News on MHProNews macro-markets and manufactured home connected stocks, along with our time saving and insight generating left (CNN) right (Newsmax) headline news.
Part I
As was noted, even though there are more RV properties/sites, plus marina and campground locations, than land-lease manufactured home communities (MHC), according to the ELS pitch deck (2.2023) per their data through 12.31.2022, most revenue comes from manufactured home connected operations. It specifically states that "Annual MH 60.3%" of portfolio revenue.
Some other interesting bullets are as follows. Each of the following are quotations from the ELS document. In some instances, punctuation is added, but the wording and claims are per ELS.
78% – 2022 ELS MH New Home Sales Residents with a FICO score greater than 680.
Since the housing crisis, ELS has steadily reduced the number of renters in our MH portfolio and increased homeowners. Renters typically stay less than three years, while homeowners stay approximately ten years contributing to a stable occupancy base. The rental program is utilized strategically to introduce residents to our communities.
1% Core MH Occupancy.
50% of MH Communities are 98%+ Occupied.
U.S. Housing shortage of 3.8 million SFH creates demand for manufactured housing [Note: Cavco Industries recent IR pitchdeck asserts the shortage of some 6 million housing units nationwide].
ELS renters pay approximately 30% less per sq ft than the average two bedroom rental in ELS submarkets.
At ELS most homeowners do not have debt on their homes and over the past three years ELS has financed only 2% of new home sales.
Reasons for the Supply Constraint, according to ELS.
NIMBY (Not in my backyard).
• Restricted zoning & Regulations,
• Federal planning vs Local planning.
Select slides from their IR pitch are as follows. Some relevant analysis and commentary will follow in Part II.
Notice: the graphic below and others can be expanded to a larger size.
See the instructions below the graphic below or click the image and follow the prompts.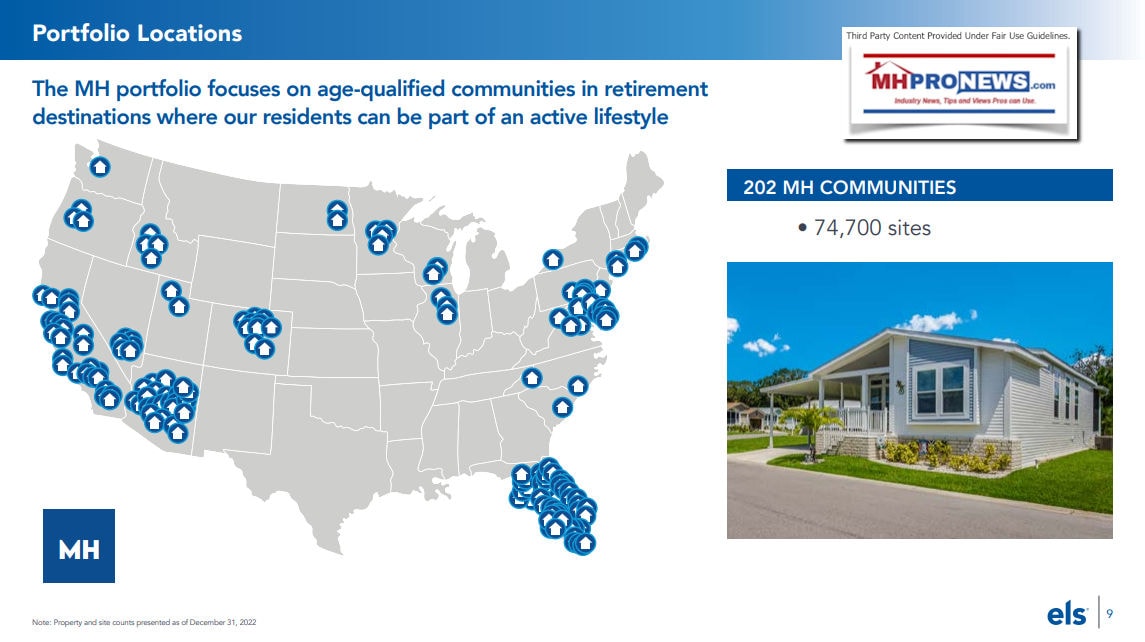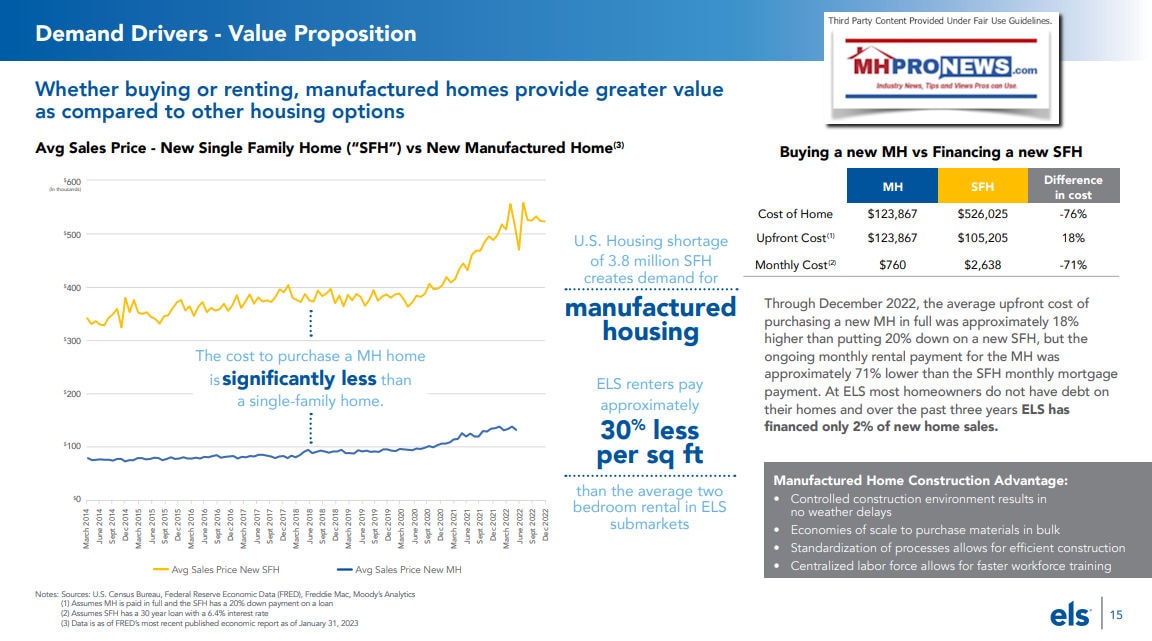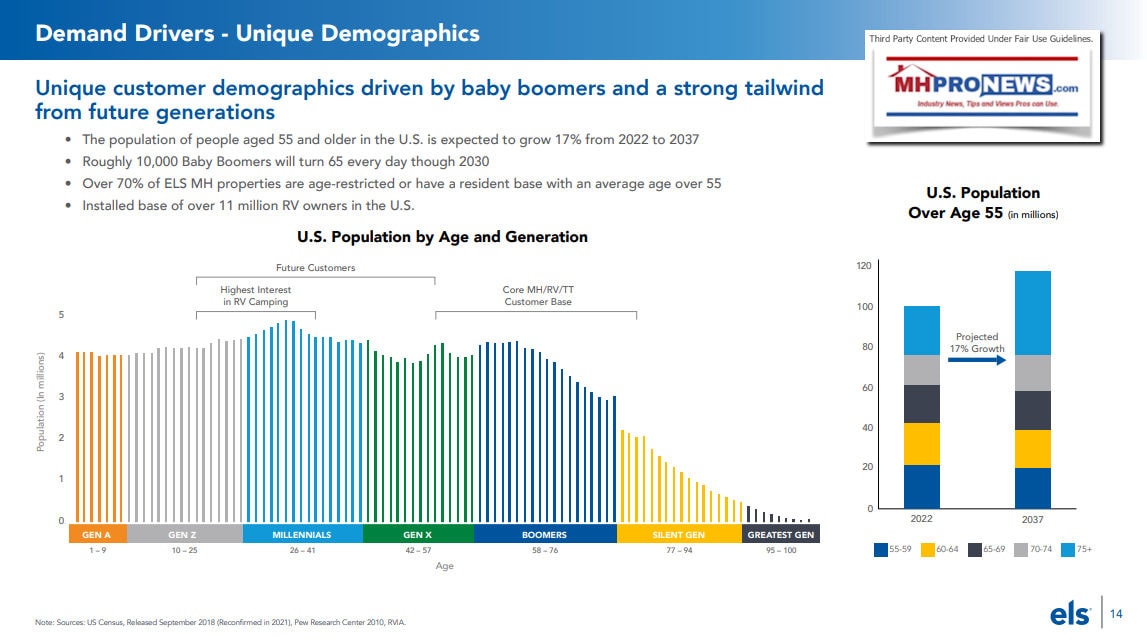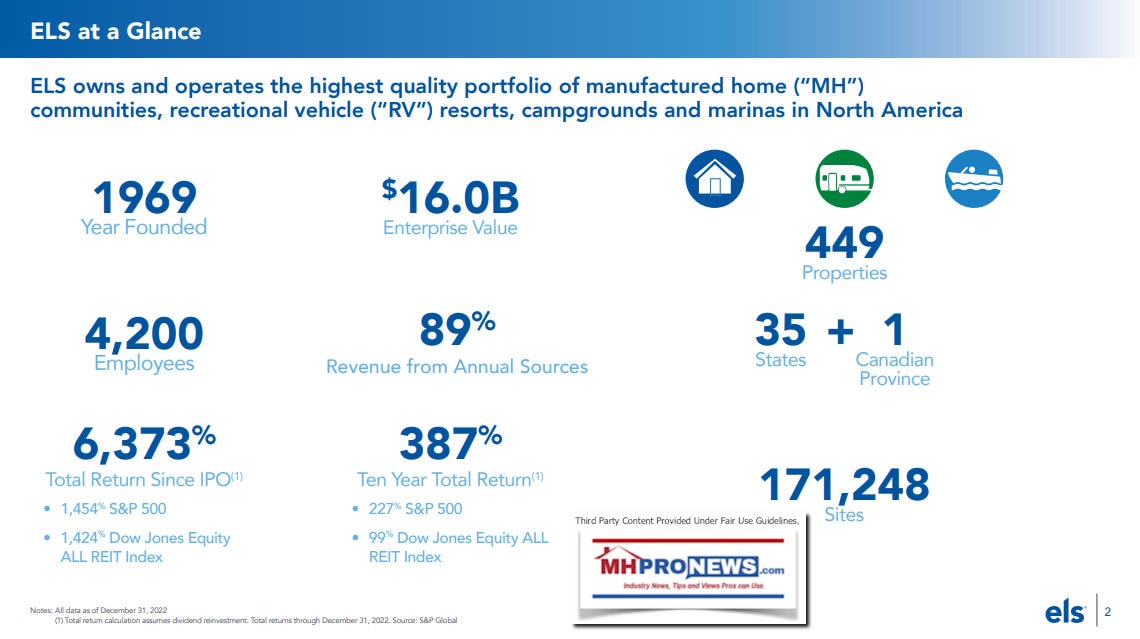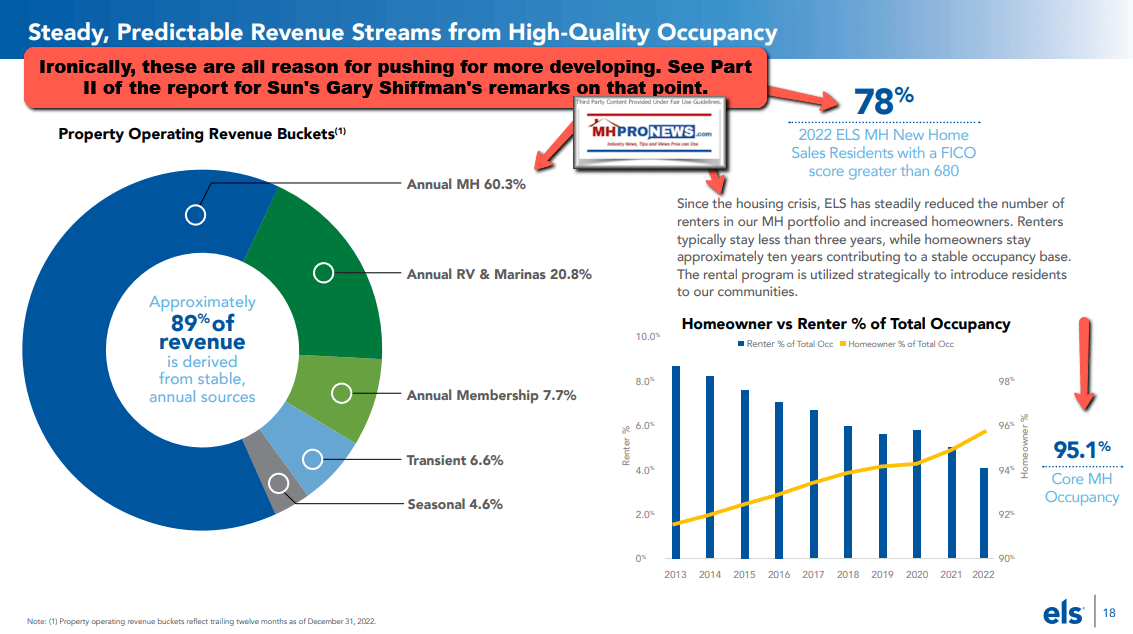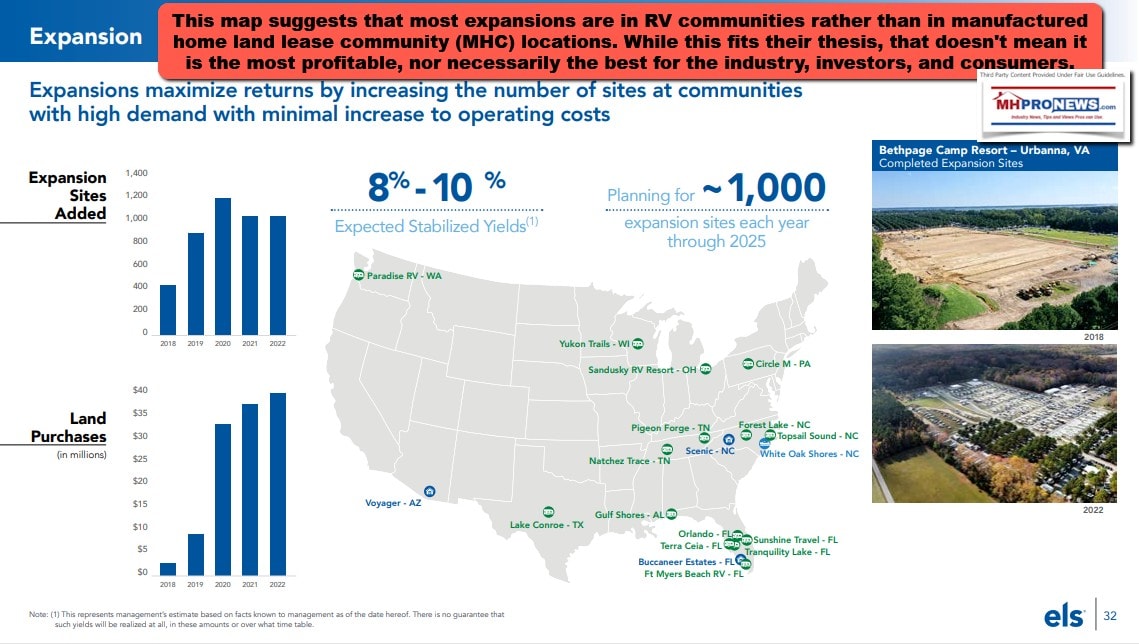 The ELS IR presentation PDF is linked here. Note, this report should not be construed as an endorsement.
Part II – Additional Information with More MHProNews Analysis and Commentary
The MHProNews report on HouseCanary's 2023  research reported that millions of potential housing buyers are sitting on the sidelines driving up the cost of rentals.
'Potential Homebuyers on Sidelines Increasing Demand for Rentals' – Which Markets UP, Metros Where Rents Fell – What Data Tells Affordable Manufactured Housing Pros; plus MHVille Stocks Update
In no particular order of importance are the following observations from the ELS IR pitch.
ELS' pitch doesn't apparently:
Particularly noteworthy:
11) ELS is up front that in their view that their business model benefits from a lack of new community development. Those ELS remarks – "There has been limited MH development in the U.S. in the past 20 years" and "Growing demand coupled with almost no new supply is a strategic advantage for ELS" – will be the focus of much of the balance of this fact check, analysis, and expert commentary.
Conflicts of Interest?
There ought to be questions put to the Manufactured Housing Insitute (MHI) about possible conflicts of interest between Waite and other board members who represent manufactured home communities (MHCs) sitting on the MHI board, street retailers and independent producers of HUD Code manufactured homes. Because of largely unchallenged and evidence-based reporting about MHI by MHProNews/MHLivingNews, it should be apparent that ELS – and other – including prominent MHI members – are okay with few new MHCs being developed.  While Waite and other board members who represent manufactured home communities (MHC) sitting on the MHI board of directors may want the status quo, independent producers of HUD Code manufactured homes and street retailers ought to have an incentive to see more home sites and communities, not the same, or less.
Restated, there is a disconnect between segments of the MHI membership. Some appear to favor the status quo, and do not want robust growth, regardless of what they may say. But 'officially,' the MHI website claims they represent all segments of the industry, even though an MHI insider recently said that the industry would "never" recover to its prior highs "in our lifetime." That disconnect between what some members, like ELS, Sun, Flagship, and others apparently want, what Clayton, Skyline Champion, and Cavco Industries apparently want, and what others in "all segments" of the industry may desire is a textbook example of a "conflict of interest."
Fixing Errata – Lincoln Institute's George W. "Mac" McCarthy Corrects Manufactured Housing Industry Factual Record on Manufactured Home Communities, plus Sunday Weekly MHVille Headlines Recap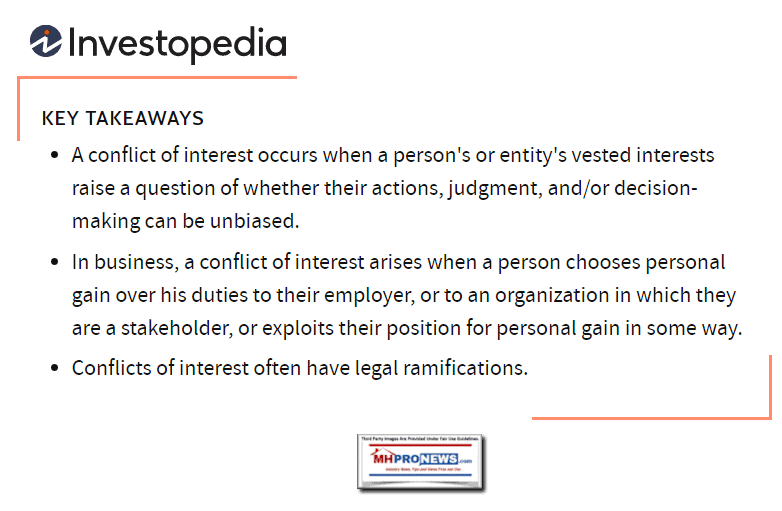 Lincoln Land-Home Economics: How Manufactured Housing Can Help Solve National Housing Affordability Crisis-Clayton Backed NextStep's Epperson Contradicts Manufactured Housing Institute But Touts MH
This page posted below (third image) is from the ELS 2.2023 IR presentation. It speaks volumes. While the Manufactured Housing Institute (MHI) executive leader Lesli Gooch periodically appears to push for the enforcement of the "enhanced preemption" provision of the Manufactured Housing Improvement Act of 2000 (MHIA or 2000 Reform law), ELS flatly says that "almost no new supply" is a "strategic advantage for ELS" and obviously some other at MHI feel likewise. Several possible conflicts of interest and legal concerns about antitrust violations or other deceptive practices appear to be on display once this is dichotomy is understood.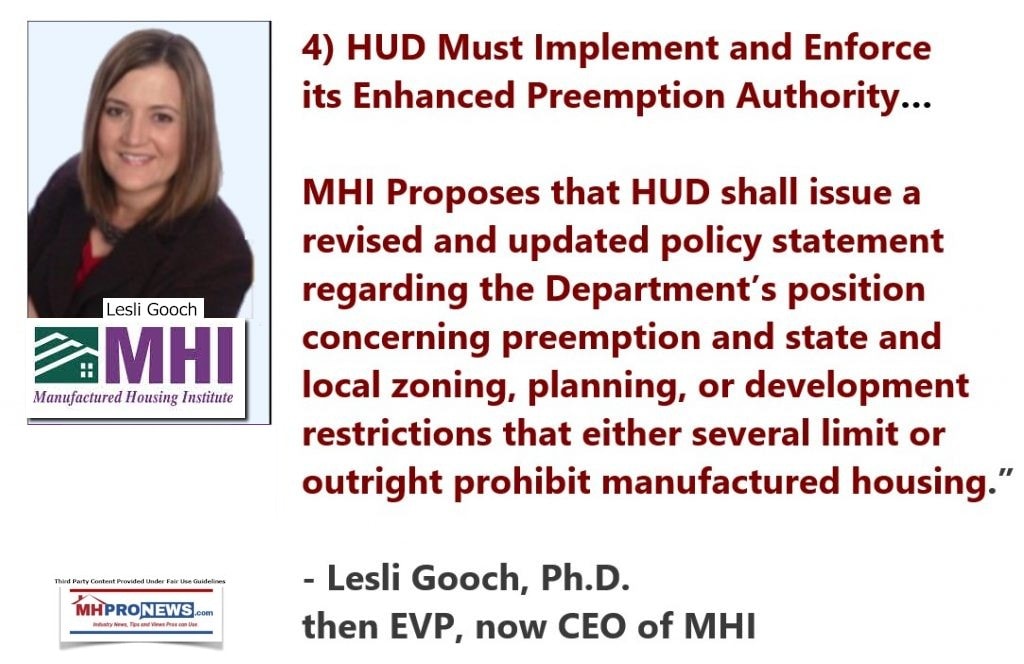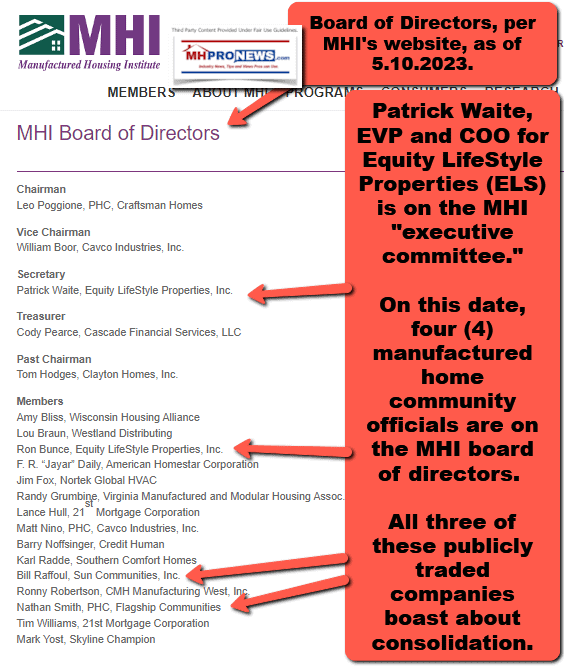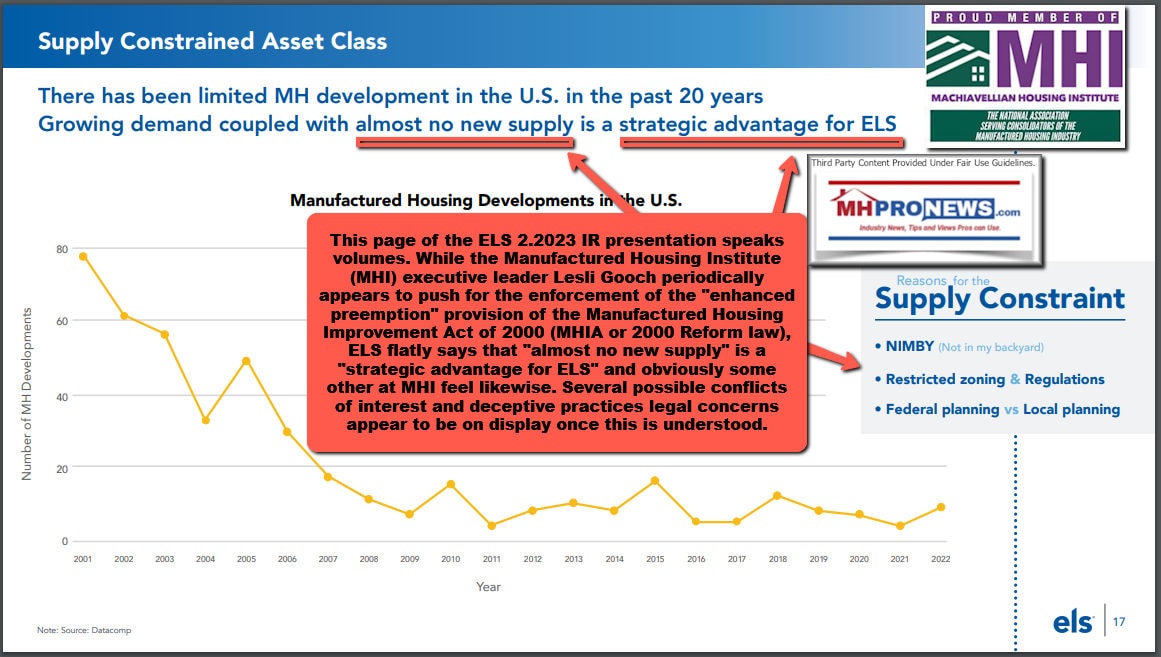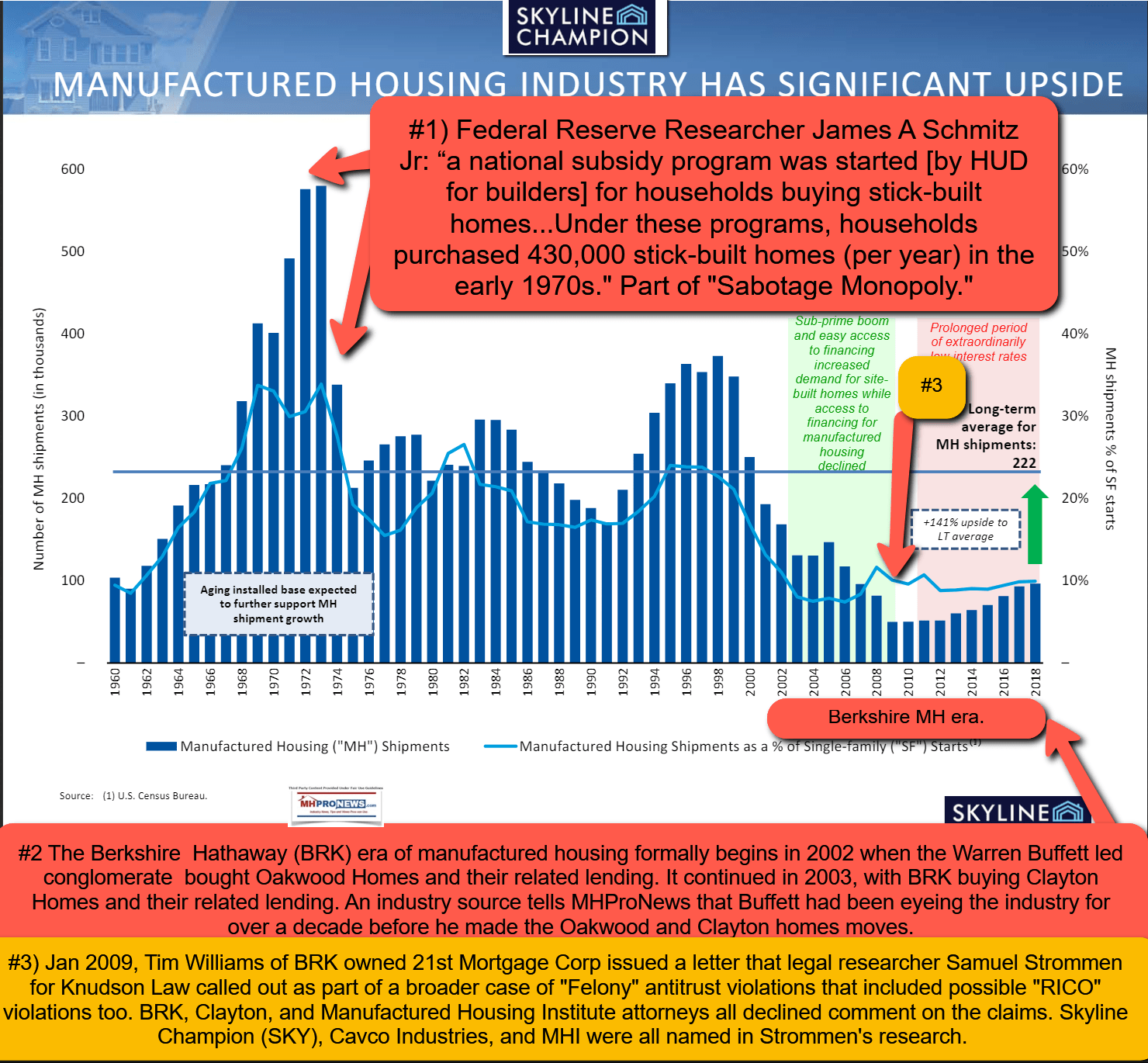 Yet, MHI staff and some of their leaders have periodically maintained the paltering or ruse-like stance of promoting the MHIA and "enhanced preemption."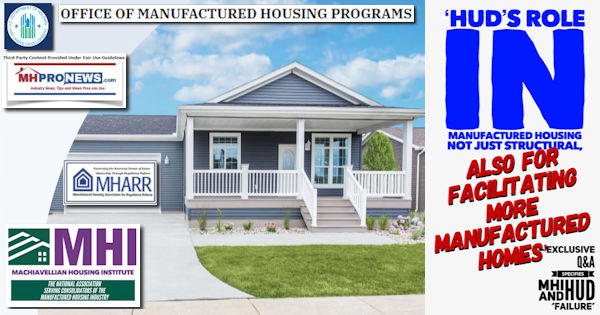 If the "enhanced preemption" provision of the MHIA went into effect, it could demonstrably benefit street retailers, producers, numbers of suppliers, and financial service providers, among others. But the inverse is also true. Regardless of what MHI leaders may say, by tacitly accepting the status quo with respect to zoning barriers, street retailers get worn down by the struggle, and over time, increasingly sell out or close down. In short, this is an apparent slow motion "moat" tactic which benefits insiders while harming much of the bulk of the industry.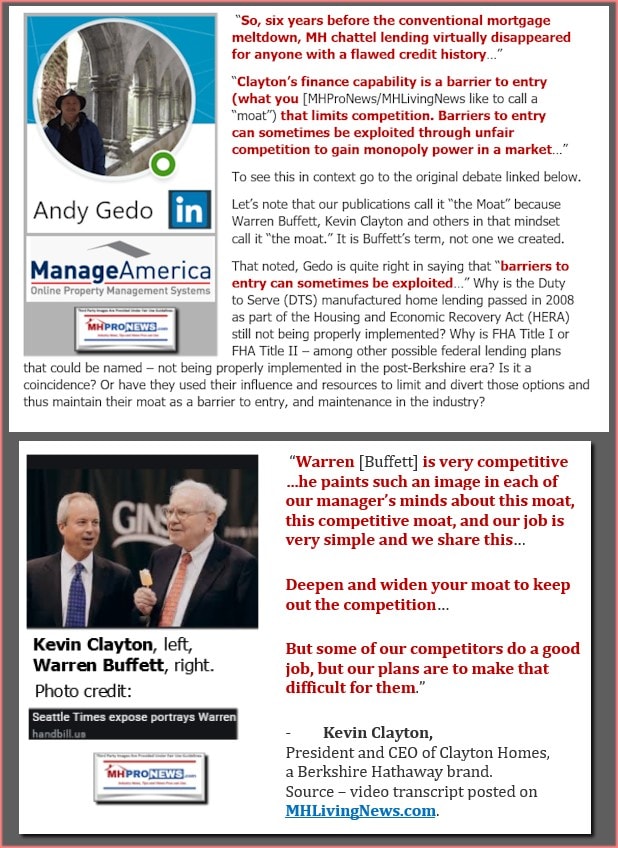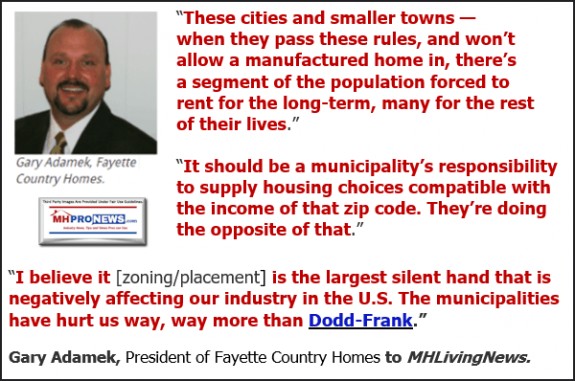 JDSupra-CFPB Announces Inquiry Manufactured Home Communities, Private Equity, Consolidation Issues, PLUS UDAAP Updates-Will 21st, VMF, ELS, Rolfe and Reynolds, MHI/NCC Strategies Prove Wrong?
There are reasons why MHI leaders have avoided debate and encounters with MHProNews ever since this platform zeroed in on how "the moat" is being deployed in MHVille.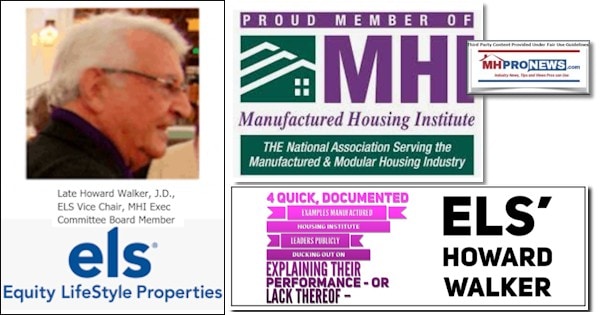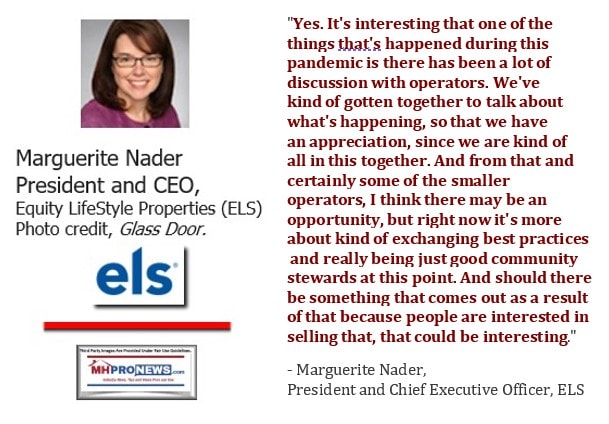 Despite fellow MHI member Frank Rolfe's remarks about not building more manufactured home communities – which he called mobile home parks – which may have been brazen, but nevertheless represent the views of numbers of key MHI members that limiting development is a benefit to them.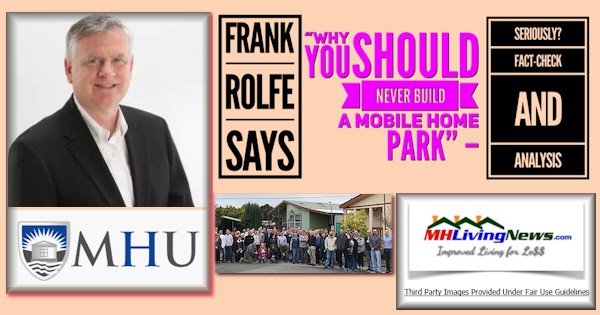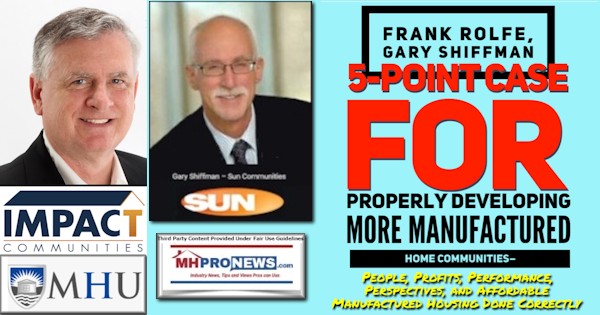 Robust development may or may not, depending on circumstances and company policies, be useful to manufactured home community (MHC) operators that are portfolio focused. For instance. It could prove profitable, so long as home sales and margins are robust. For those who sell a home for near cost, it obviously would not be as profitable. That said, rival Sun Communities made it clear that developing can be profitable in this environment when cap rates have been compressed.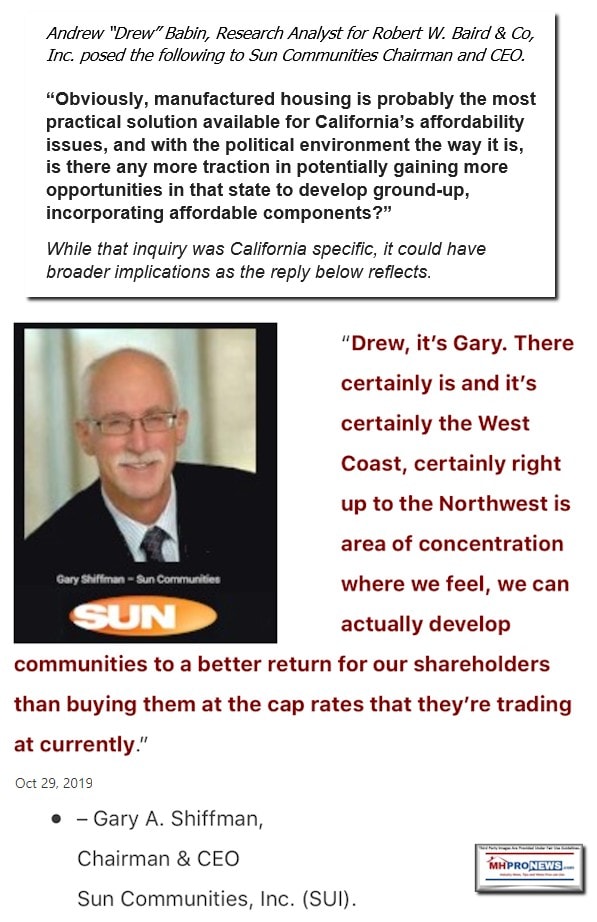 But an important point, with respect to possible conflicts of interest, and related legal challenges, are that the stated posture of several MHI MHC members that are consolidation focused, are not fully aligned with other MHI or broader manufactured home industry members. It is one of several ways that the industry is slowly being choked to death with the tacit if not active efforts of some of the industry's own members. This is an apparent display of sabotage monopoly tactics.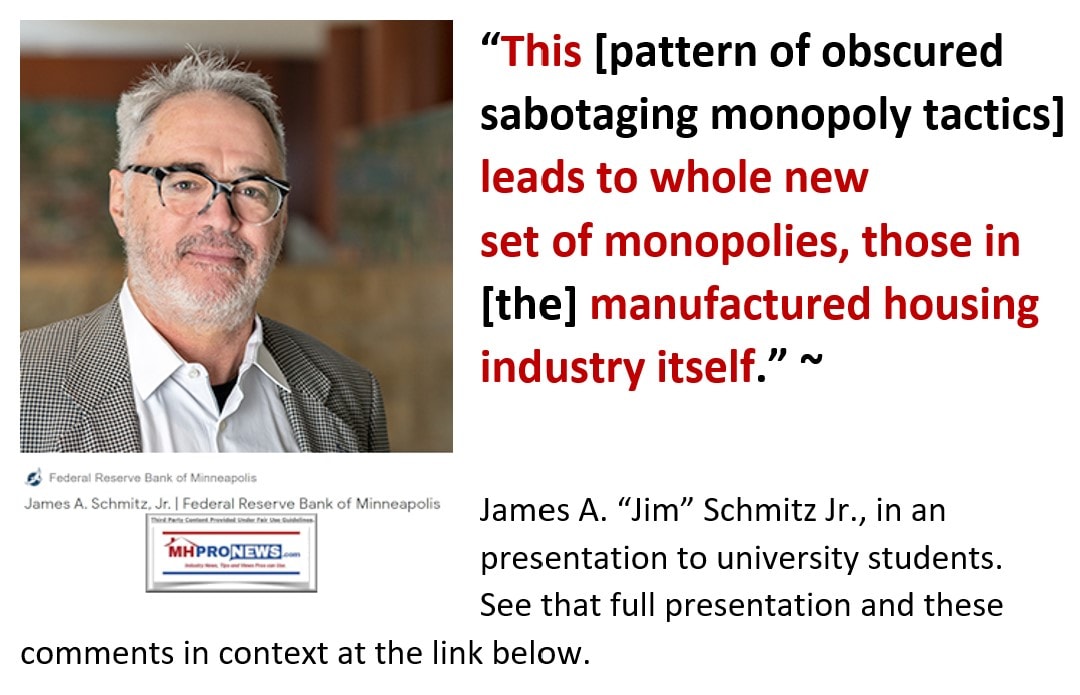 Summary and Conclusion
The status quo, which MHI obviously deftly maintains on behalf of their consolidation-focused members, leads to an array of other legal, ethical, and financial concerns for consumers, competitors, taxpayers, and others. Periodic litigation by those acting on behalf of manufactured home community residents is one outcome of this. A diminishing of the appeal for land-lease community living is another impact. That in turn fuels the pressure on independently owned manufactured home communities (MHCs) to exit. MHI members, including, but not limited to ELS, stand in wait for those exiting firms.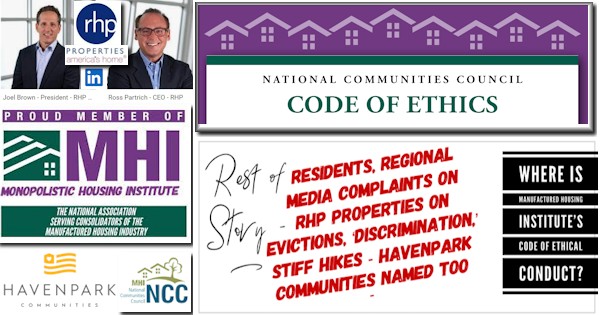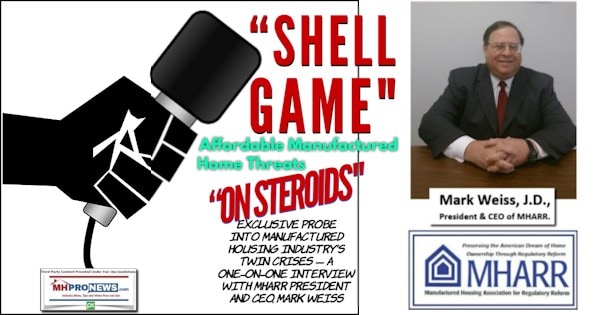 So, in summary, a case can be made that ELS pitch reveals how contradictory their claims are with much of what MHI claims they are doing on behalf of "all segments" of the industry. Despite their rhetoric, in reality, MHI clearly appears to be working for manufactured housing industry consolidation. A look at the MHI board of directors reveals that they are consolidation heavy brands related. Others on their board are routinely in the MHI amen corner. That benefits, in ELS' stated view quoted above, their interests. However, that raises an array of legal and legislative issues. It is an image campaign in reverse.
"Predatory"-MHC Curbs-New U.S. Laws, One Supported by Manufactured Housing Institute (MHI), Would Impact "Manufactured Housing Communities," "Mobile Home Parks" Nationally – U.S. House Reps Axne Khanna Official Statements, Report, Analysis
Lawmakers Approve Affordable Home Ownership Study, Manufactured Housing Institute (MHI) Affiliate Alerts 'Predatory' Conduct by Deep Pocket Investors; plus Manufactured Home REITs, Equities Update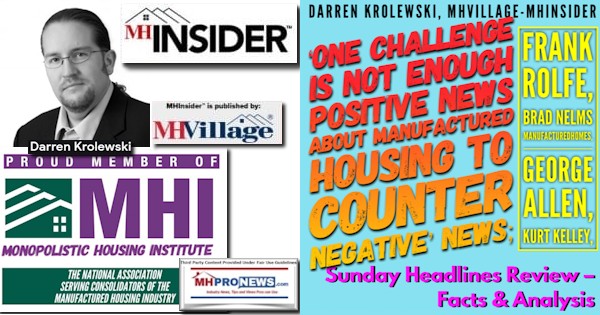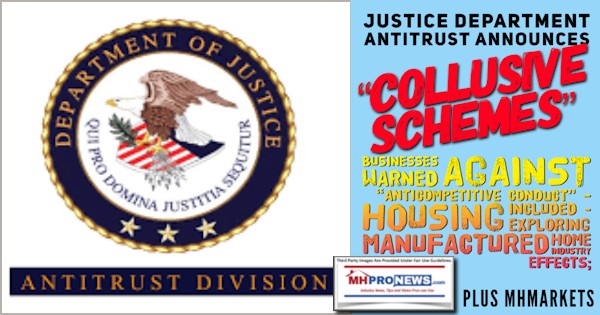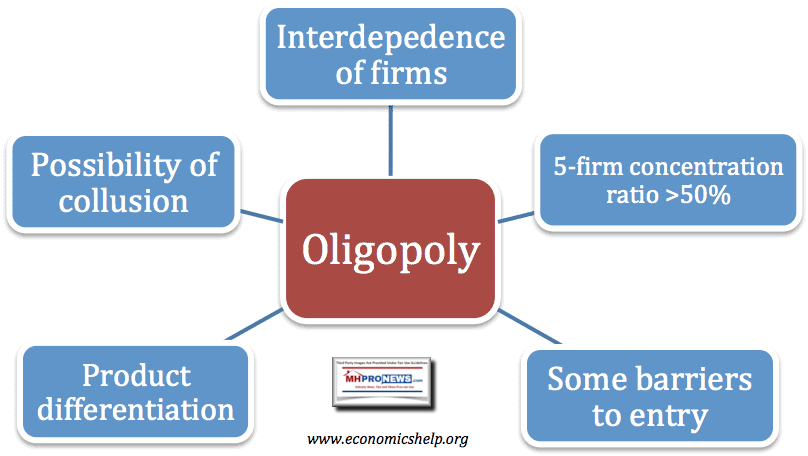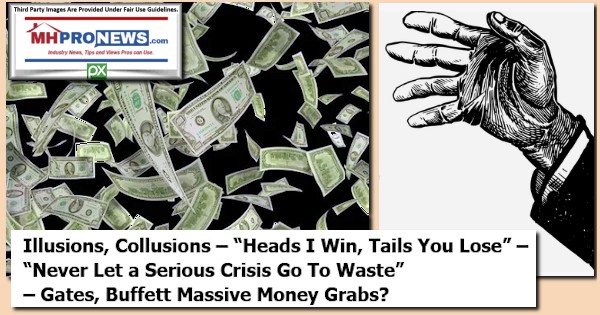 How ELS, or other MHI members, can claim to be in sync with positive ESG claims, given the consequences of their policies, is a developing question.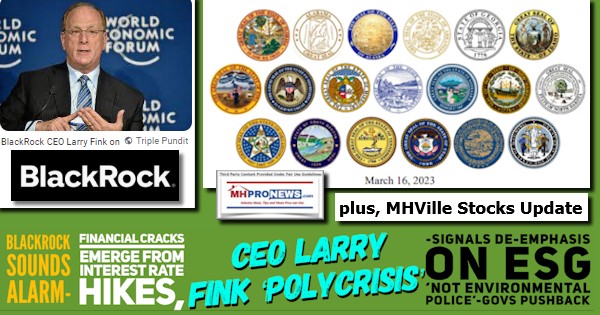 See the related reports to learn more about these and other legal issues which could come to haunt this firm and others if a tidal wave of legal actions occur at the federal or state actions, or other litigation levels.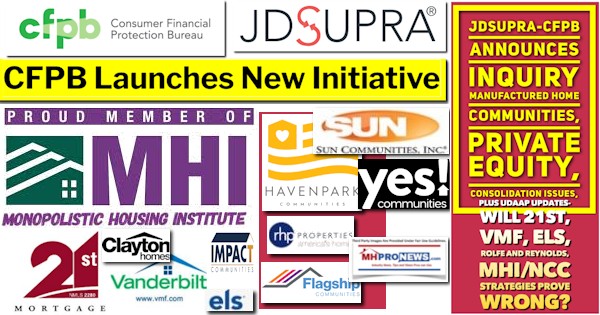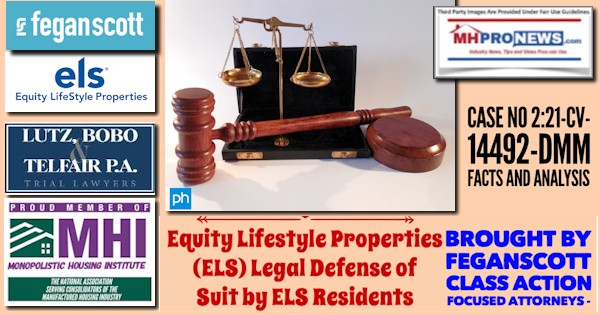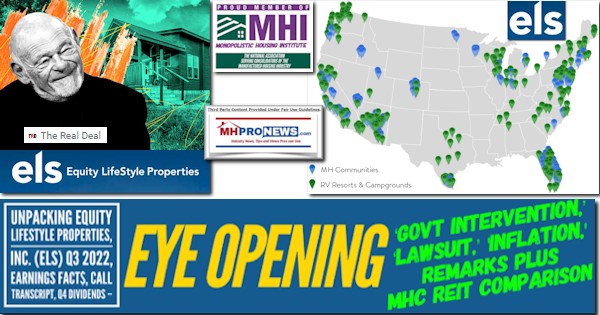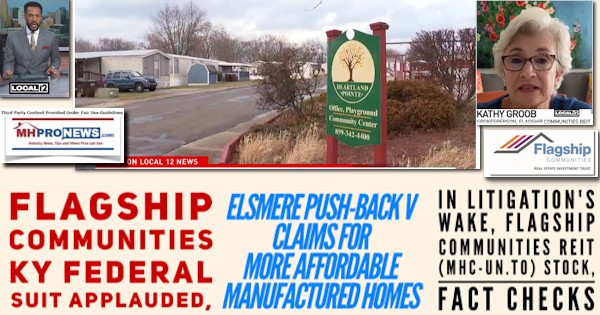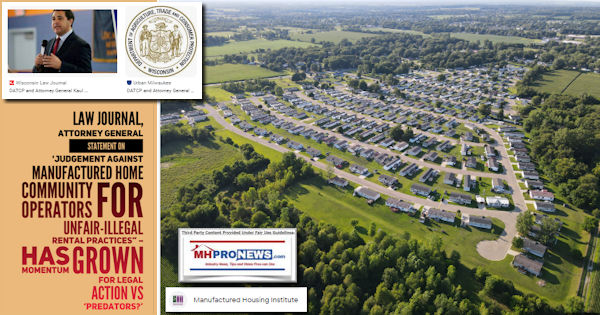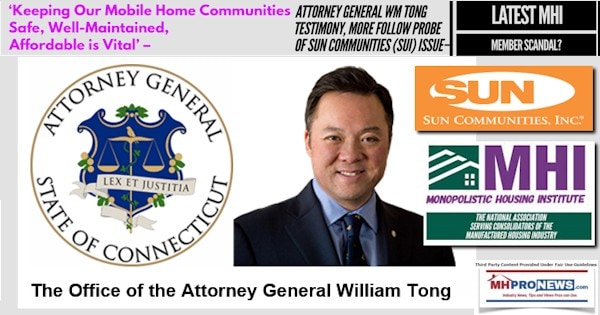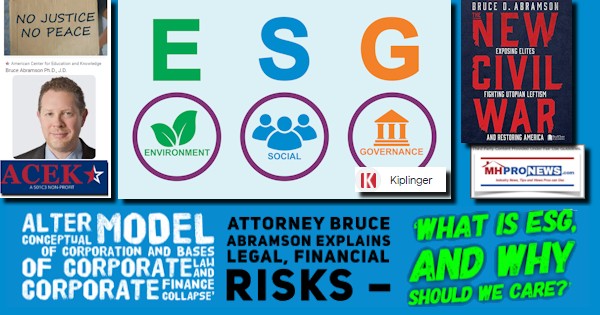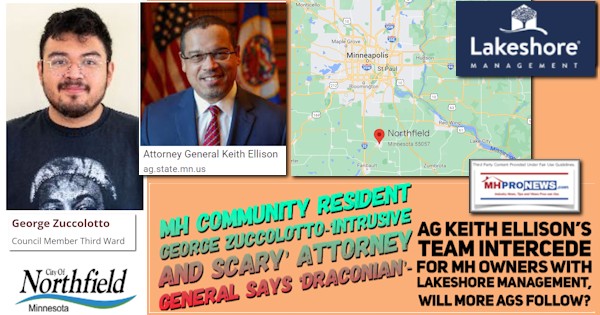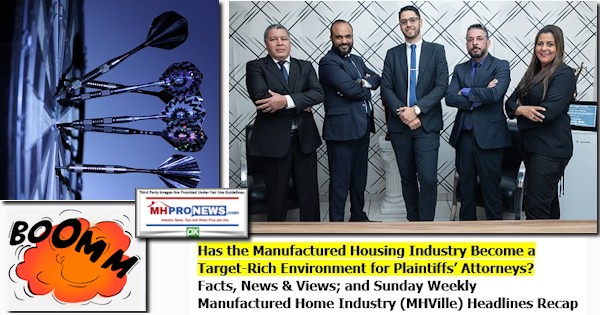 'Irreparable Harm,' 'Public Interest,' 'Legal Defects,' 'DOE Seeks to Avoid Judicial Review' Cited by MHI-TMHA Attorneys v Dept of Energy – Pleadings and Developments; plus MHVille Stocks Update
Part III – Daily Business News on MHProNews Markets and Headline News Segment
The modifications of our prior Daily Business News on MHProNews format of the recap of yesterday evening's market report are provided below. It still includes our signature left (CNN Business) and right (Newsmax) 'market moving' headlines. The macro market moves graphics will provide context and comparisons for those invested in or tracking manufactured housing connected equities.
In minutes a day readers can get a good sense of significant or major events while keeping up with the trends that are impacting manufactured housing connected investing.
Reminder: several of the graphics on MHProNews can be opened into a larger size. For instance: click the image and follow the prompts in your browser or device to OPEN In a New Window. Then, in several browsers/devices you can click the image and increase the size. Use the 'x out' (close window) escape or back key to return.
Headlines from left-of-center CNN Business – from the evening of 5.10.2023
Widespread damage
The US Treasury building in Washington, DC, US, on Monday, March 13, 2023. US authorities took extraordinary measures to shore up confidence in the financial system after the collapse of Silicon Valley Bank, introducing a new backstop for banks that Federal Reserve officials said was big enough to protect the entire nation's deposits.
These states could lose hundreds of thousands of jobs if the debt ceiling is breached
Traders work on the floor of the New York Stock Exchange on March 16.
Stocks mixed after cooling inflation data
With writers' strike underway, film and TV studios start labor talks with directors
A foldable phone, new tablet and lots of AI: What Google unveiled at its big developer event
The most popular search engine in the world is about to look different
Voting technology company Smartmatic subpoenas Trump campaign as part of $2.7 billion lawsuit against Fox News
Audits of Chinese companies by KPMG and PwC full of holes, US watchdog finds
Airbnb sees record bookings despite recession fears
6 money tips for new grads
Brides and grooms have a new place to register for wedding gifts
UK tabloid apologizes to Prince Harry on first day of new phone hacking trial
Here's what's getting cheaper at the grocery store
Wall Street is strangely calm about the possibility of the US defaulting on its bills
Annual inflation cooled last month to the lowest level since April 2021
Some customers order Starbucks' Refreshers without water. The company says this will now cost extra
OpenAI CEO Sam Altman to testify before Congress
Ford reveals the new Ranger for the US, where competition is huge among smaller trucks
MTV News to shut down as Paramount Media Networks slashes US workforce
Inflation is cooling — but many items aren't cheaper. Here's why
Denmark has a debt ceiling, too. It's never been a problem
Tucker Carlson announces plans to relaunch his show on Twitter
UK citizen extradited to US pleads guilty to 2020 Twitter hack
10 million Americans watched the coronation. 80% were 55 or older
Notice: the graphic below can be expanded to a larger size.
See the instructions below the graphic below or click the image and follow the prompts.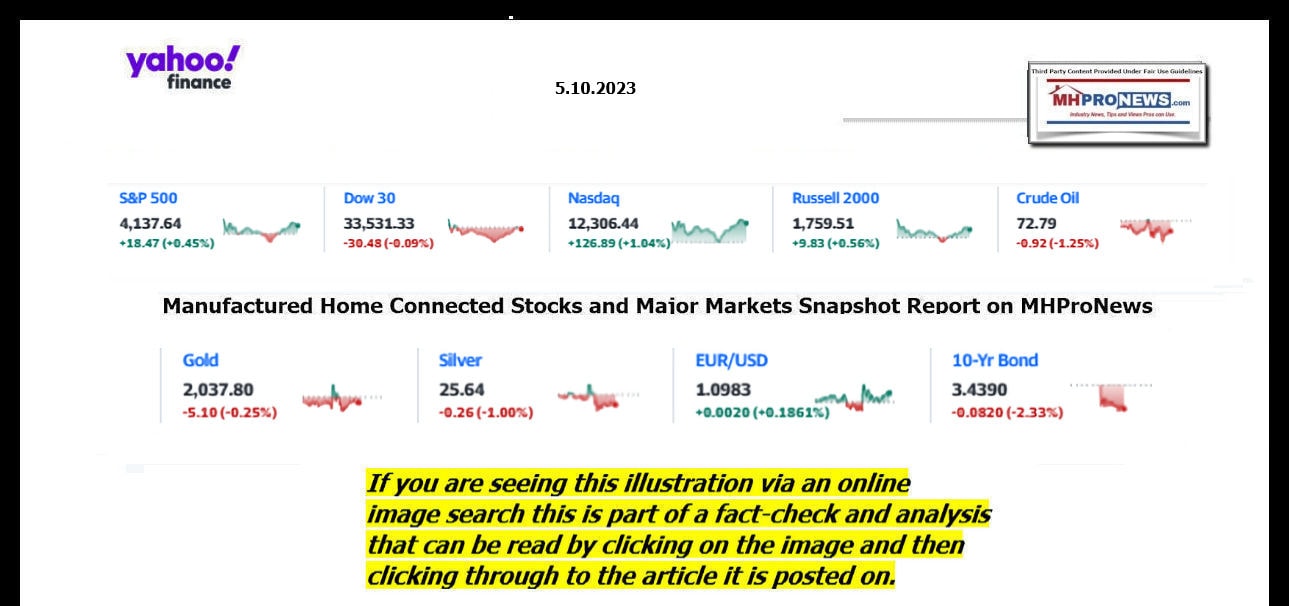 Headlines from right-of-center Newsmax 5.10.2023
Biden Adopts Modified Trump Strategy on Asylum at Mexico Border
President Joe Biden's administration on Thursday will begin denying asylum to migrants who show up at the U.S.-Mexico border without first applying online or seeking protection in a country they passed through, according to a new rule released Wednesday. [Full Story]
Blaine Holt: No US Strategy for Ukraine Aid
Chad Wolf: CBP Release 'Bizarre' Way to Do Enforcement
Calif Reparations Task Force Member: 'Disappointed' by Newsom's Response
Cal Thomas: Biden a 'Disaster' in the White House
Carter: Biden Lacks Permanent Solution to End of Title 42 | video
Ben Carson: Biden's Mental State 'Dangerous' | video
Cruz: Biden Makes Migration Disaster Worse | video
Comer: Poised to Show Scope of Biden Crimes | video
Perry: No Reply to Biden Docs Demands | video
Meuser: Debt Ceiling Agreement a Must | video
Newsfront
House GOP: Biden Family, Friends Got Over $10M From Foreigners, Companies
House Oversight Committee Chair James Comer, R-Ky., on Wednesday outlined what he called a "pattern of influence peddling" by President Joe Biden's family… [Full Story]
Latest Tucker Video Exceeds 106M Views in Less Than 24 Hours
Latest Tucker Video Exceeds 106M Views in Less Than 24 Hours
Tucker Carlson's video posted on Twitter on Tuesday in which he [Full Story]
Tucker Plans Twitter Show, Says Fox Breached Contract
Tucker Carlson, fresh off his firing from Fox News, has announced his [Full Story]
Related
Megyn Kelly: Fox, Tucker at 'Impasse' – Won't Let Star Go
Brett Favre to Newsmax: Take a Stand for Tucker Carlson |video
Fox Suffers $50M Quarterly Loss After Dominion Litigation
Musk Invites Ex-CNN Anchor Don Lemon to Twitter
Elon Musk invited former CNN anchor Don Lemon to resuscitate his [Full Story]
Social Security's Buying Power Eroded by 36%
Inflation has lowered Social Security benefits' buying power by a [Full Story]
Study: Newsmax Among Most Trusted Media
The Economist/YouGov's 2023 Trust in Media survey is out this week [Full Story]
Biden Adopts Trump Strategy at Mexico Border
President Joe Biden's administration on Thursday will begin denying [Full Story]
Related
Biden: US-Mexico Border Will Be 'Chaotic for a While'
Border Patrol Outraged at Biden CBP Plan in El Paso
Migrants Flow North to US Border Ahead of Policy Changes
DeSantis: Would Build Wall, Use Military on Cartels
Yahoo News/YouGov Poll: Biden 2 Points Over Trump
President Joe Biden holds a slim two-point lead over former President [Full Story]
Walensky Made CDC 'Most Political Health' Agency
President Joe Biden lauded Rochelle Walensky, the outgoing director [Full Story] | Platinum Article
Mayorkas Warns Migrants: Border Remains Closed
Smugglers are claiming that the U.S.-Mexico border will be wide open [Full Story]
Morgan Wallen Postpones Shows After Bad Health News
Morgan Wallen has been forced to postpone six weeks of his tour after [Full Story]
Chinese Company Audits Unacceptable, Agency Says
The U.S. Public Company Accounting Oversight Board (PCAOB) found [Full Story]
Rent, Gas, Food Boost Inflation Higher
S. consumer prices increased in April on higher gasoline costs and [Full Story]
Vatican: Peace Mission Underway to End War in Ukraine
A peace mission by the Vatican to try to end the conflict between [Full Story]
Alhamed: Saudi Arabia Leads Mideast Into New Era
What my fellow Saudis and I seek is a United States that remembers it [Full Story]
USAID Chief: US Support to Serbia, Kosovo in Talks
The United States' top international development official, Samantha [Full Story]
Biden Oblivious to National Debt Larger Than Economy
Everyone seems to understand that national debt larger than our [Full Story]
Mass Hack to Test Limits of Artificial Intelligence
No sooner did ChatGPT get unleashed than hackers started [Full Story]
Trump Campaign Releases 'Mourning America' Ad
The Trump campaign has released a new ad titled "Mourning in [Full Story]
Blackburn Seeks to Restore 'Remain in Mexico'
Marsha Blackburn, R-Tenn., introduced legislation to reinstate [Full Story]
Health Experts Call for a Stop to AI Research
Artificial intelligence (AI) research and development should stop [Full Story]
Bipartisan Team to Probe COVID-19 Origins, Response
Joni Ernst, R-Iowa, is leading a bipartisan effort to create a [Full Story]
McLaughlin Poll: Trump Has Commanding GOP Lead in Iowa
Former President Donald Trump holds a commanding lead over potential [Full Story]
Soros-Backed PAC Spends Heavily on Pa. Candidate
More than $700,000 has been invested by a PAC backed by billionaire [Full Story]
India's Modi to Visit Biden at White House
President Joe Biden will host Indian Prime Minister Narendra Modi [Full Story]
McCarthy Cancels Anti-Israel Event at Capitol
House Speaker Kevin McCarthy, R-Calif., announced this week that he [Full Story]
Newsom Won't Publicly Say If He'll Support Reparations
California Democrat Gov. Gavin Newsom won't publicly say if he'll [Full Story]
Romney: After Verdict, Trump Unfit for Presidency
Mitt Romney, R-Utah, said the public should not support former [Full Story]
TikTok Delays US Shopping Platform Launch
Bytedance, TikTok's Chinese parent, has delayed the roll out of its [Full Story]
Ukraine Unit Says Russian Brigade Routed Outside Bakhmut
A Ukrainian military unit said on Wednesday it had routed a Russian [Full Story]
Musk: Twitter Calls, Encrypted Messaging Coming Soon
Elon Musk says new features, including calls and encrypted messaging, [Full Story]
Finance
Inflation Not Cooling Fast Enough to Justify Stock Prices
Some investors are growing concerned that the U.S. economy may not be cooling fast enough to justify bets that the Federal Reserve will cut interest rates this year, threatening a view that has helped boost stocks…. [Full Story]
George Mentz: Why It Doesn't Pay to Work in America – Trump's vs Biden's Policies
Jared Whitley: Balanced Books a Must for Pentagon Wrangling With China, Russia
Traders Bet on End to Fed Rate Hikes After 4.9% CPI
Google I/O 2023 Goes Toe-to-Toe With Microsoft Bing
More Finance
Health
Study: Best Diabetes Medications for Heart Health
There are many medications for type 2 diabetes, but one class may stand out for protecting the heart, a new study suggests. The study, of thousands of U.S. veterans with diabetes, found that those who added drugs called GLP-1 receptor agonists to their usual regimen were…… [Full Story]
Lingering Lyme Nerve Symptoms Tied to Immune Response
FDA Panel Backs Over-the-Counter Birth Control Pill
COVID Telehealth Prescription Rules Extended
Half of Chicagoans Witnessed a Shooting by Age 40
Notice: the graphic below can be expanded to a larger size.
See the instructions below the graphic below or click the image and follow the prompts.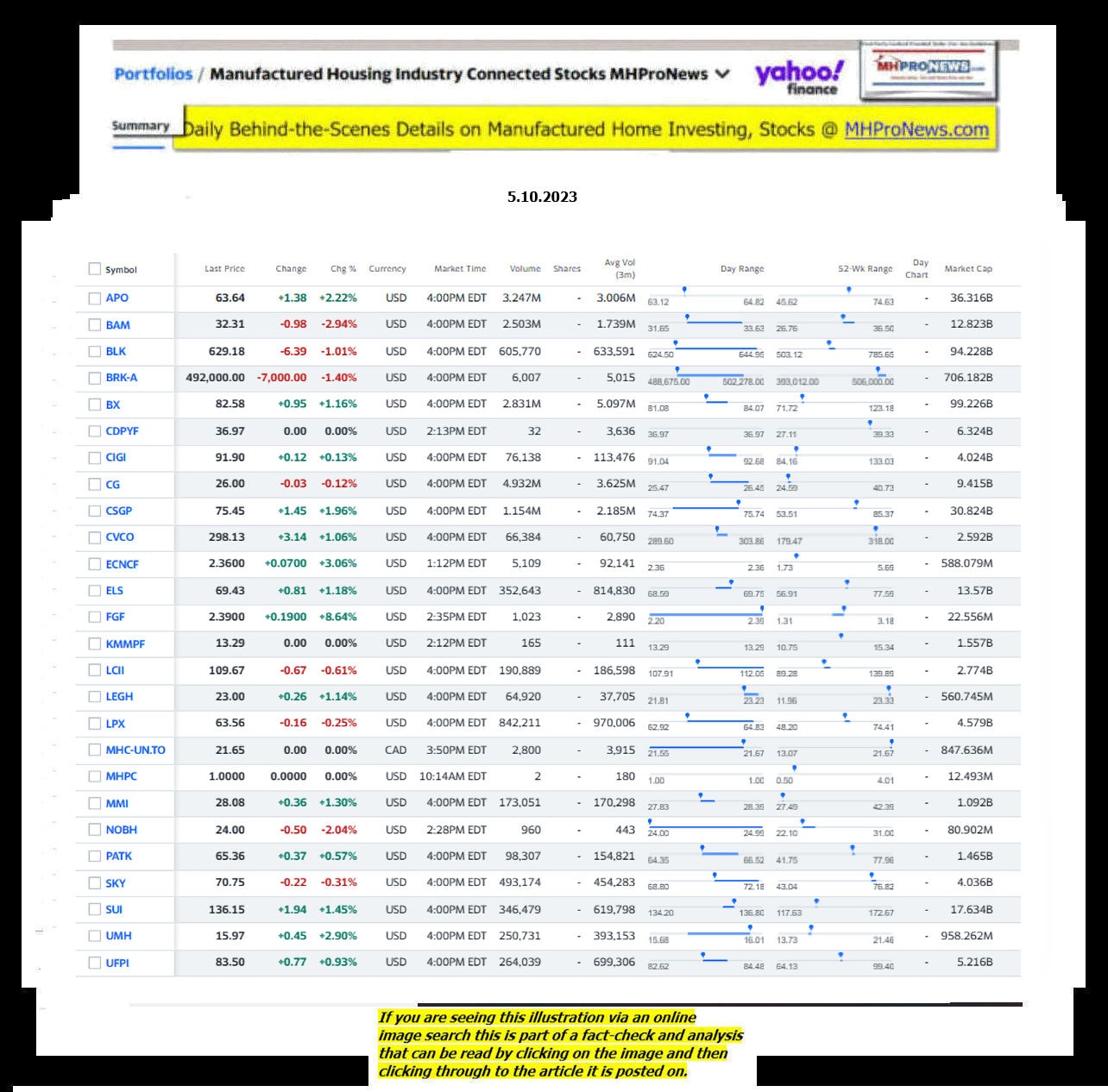 2022 was a tough year for many stocks. Unfortunately, that pattern held true for manufactured home industry (MHVille) connected stocks too.
See the facts, linked below.
'Stomach Churning Year' CNN-Wall Street 'Forget 2022' Down Year – Major Equities Data Compared to Manufactured Housing Stocks, Manufactured Home Community REITs, Performance for Year by Company
====================================
Updated
NOTE 1: The 3rd chart above of manufactured housing connected equities includes the Canadian stock, ECN, which purchased Triad Financial Services, a manufactured home industry finance lender.
NOTE 2: Drew changed its name and trading symbol at the end of 2016 to Lippert (LCII).
NOTE 3: Deer Valley was largely taken private, say company insiders in a message to MHProNews on 12.15.2020, but there are still some outstanding shares of the stock from the days when it was a publicly traded firm.  Thus, there is still periodic activity on DVLY.
Note 4: some recent or related reports to the REITs, stocks, and other equities named above follow in the reports linked below.
Sun Communities – 'Development in Our DNA,' ESG Stance, Q4 2022 Year End Results Earnings Call & PR – Facts, Insights Beyond PR and Official SUI Statements; plus MHVille REITs, Stocks Update
'Undervalued' Cavco Industries Touts Q Result$ 'Dire Need for Housing' 'January Traffic Up'- Rev Up 16%-Sales, Earnings, Mgmt Call Data–Analysis Beyond CVCO Statements; plus MHVille Stocks Update
'Killing's as Easy as Breathing' 'Bad Guys Know More Games' Warren Buffett Annual Berkshire Hathaway Letter, Clayton Homes, 21st, VMF-Manufactured Home Loans-Compelling MHVille Expert Views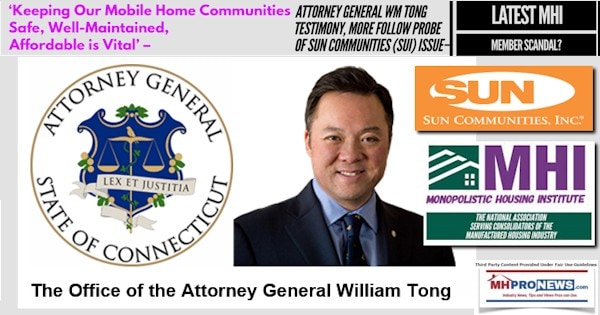 Nobility Homes, Inc. Sales and Earnings for its Fiscal Year 2022 Report, Result$ Best Inflation – Net After Taxes Up 34%, More Fact$; DeSantis ESG and NOBH; plus MHVille Stocks, Market Updates
'Manufactured Housing in the News,' Unpacking UMH CEO Sam Landy Op-Ed' It's Time for Bi-Partisanship on Affordable Manufactured Housing Homeownership' in HousingWire; plus MHMarkets Updates
Manufactured Housing Properties-Results for Three and Nine Months Ending September 30.2022–Exploring 'Mobile Home Park' Manufactured Home Community Investing; plus MHVille REITs, Stocks Update
'Changes Will Benefit Customers,' Boost Sales-Legacy Homes CEO Duncan Bates – LEGH 'Delivered 22.5% Return on Equity in 1 Yr' – Corp Q3 2022 Insights, Analysis; plus MHVille REITs, Stocks Update  
CEO Mark Yost, Skyline Champion Insiders SELL Million$ Value SKY Stock, Home Sales Drop-4th Q 2022 (3QFiscal2023), Official Result$-Facts, Analysis, Info Beyond PR; plus MHVille Stocks Update
Triad Financial Services Q2-2022 FINANCIAL RESULTS, per ECN Capital – Several Bright Spots in Manufactured Home Market Highlighted, Including Communities, Retail, Land-Home, Floor; MHStocks Update
BlackRock Document Exposes Central Banks like Federal Reserve on Recession; Manufactured Home Producer Cavco Industries 2022 Year End Results (CVCOQ3.23) Facts+Analysis; plus MHVille Stocks Update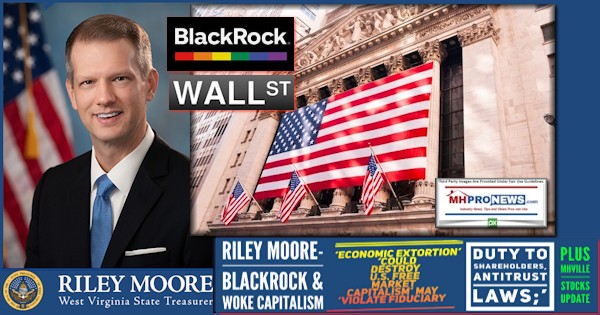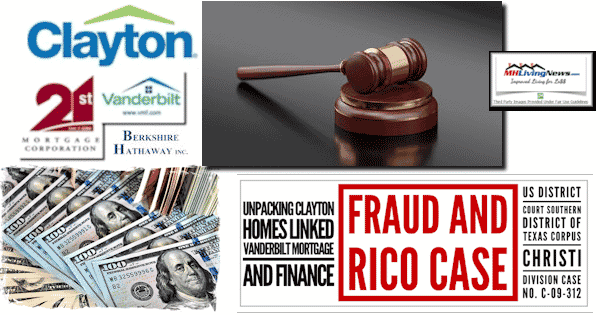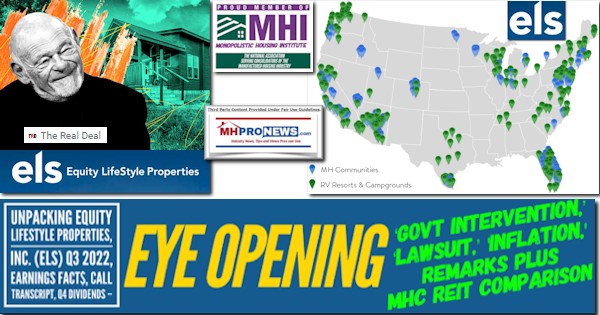 Manufactured Home Communities (a.k.a. 'Mobile Home Parks' – SIC) – Exploring UMH Properties; Fellow Manufactured Housing Institute Member Yes! Communities Suits and Settlements; plus MH Markets Updates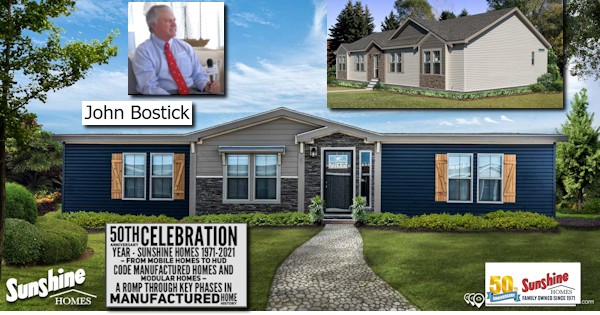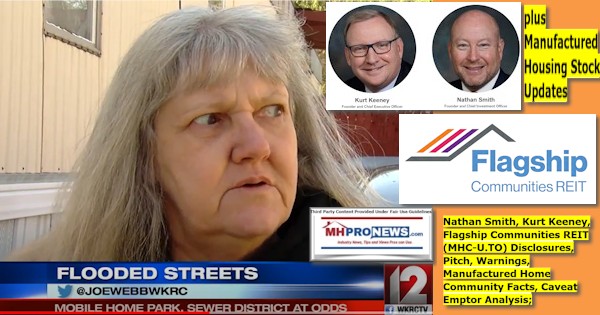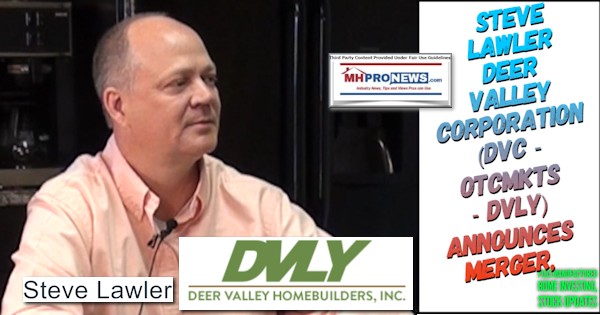 2023 …Berkshire Hathaway is the parent company to Clayton Homes, 21st Mortgage, Vanderbilt Mortgage and other factory-built housing industry suppliers.
· LCI Industries, Patrick, UFPI, and LP each are suppliers to the manufactured housing industry, among others.
· AMG, CG, and TAVFX have investments in manufactured housing related businesses. For insights from third-parties and clients about our publisher, click here.
Disclosure. MHProNews holds no positions in the stocks in this report.
· For expert manufactured housing business development or other professional services, click here.
· To sign up in seconds for our industry leading emailed headline news updates, click here.

Manufactured housing, production, factories, retail, dealers, manufactured home, communities, passive mobile home park investing, suppliers, brokers, finance, financial services, macro-markets, manufactured housing stocks, Manufactured Home Communities Real Estate Investment Trusts, MHC REITs.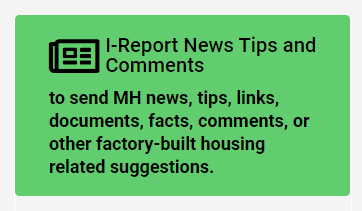 That's a wrap on this installment of "News Through the Lens of Manufactured Homes and Factory-Built Housing" © where "We Provide, You Decide." © (Affordable housing, manufactured homes, stock, investing, data, metrics, reports, fact-checks, analysis, and commentary. Third-party images or content are provided under fair use guidelines for media.) (See Related Reports, further below. Text/image boxes often are hot-linked to other reports that can be access by clicking on them.)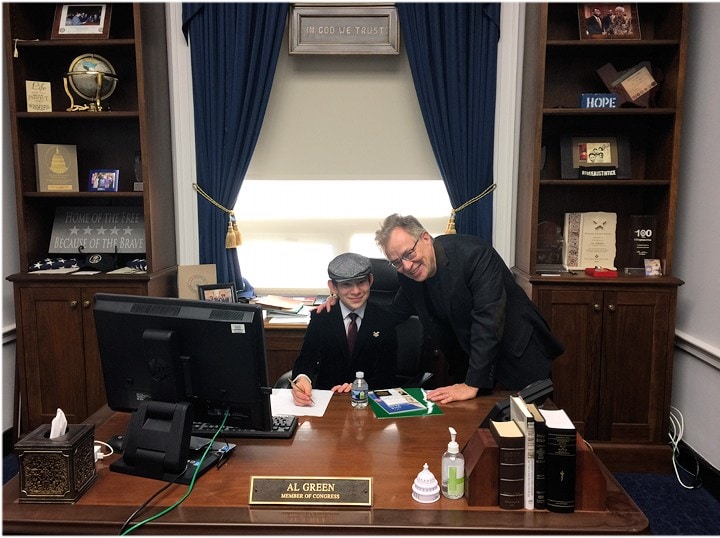 By L.A. "Tony" Kovach – for MHProNews.
Tony earned a journalism scholarship along with numerous awards in history. There have been several awards and honors and also recognition in manufactured housing. For example, he earned the prestigious Lottinville Award in history from the University of Oklahoma, where he studied history and business management. He's a managing member and co-founder of LifeStyle Factory Homes, LLC, the parent company to MHProNews, and MHLivingNews.com. This article reflects the LLC's and/or the writer's position and may or may not reflect the views of sponsors or supporters.
Anar Pitre-CEO Lotus Capital Partners-Vexing Manufactured Housing Institute Claims in Fact Check of Forbes 'What Manufactured Home Communities Investors Need to Know' – Inaccurate MHI Data Shown
Call for Congressional Oversight Hearings of Manufactured Home Industry Regulators Highlighted by Manufactured Housing Association for Regulatory Reform (MHARR); plus MHVille Markets Update
Official HUD Manufactured Housing Production Facts for Dec 2022 plus 2022 Year End Totals Explored by Manufactured Housing Association for Regulatory Reform (MHARR)-"Millions" Needed – Analysis
Facts You Didn't Know – Martin Luther King Jr – Videos, Insightful Quotes, Surprising Revelations, Videos, Reports, and Illustrations in Champion for Human Rights Including Affordable Housing
'Global Disinformation Index' Warren Buffett Ally Bill Gates' Microsoft Org Charged-Cutting Revenue to Conservative Views via Xandr, GDI; plus Sunday MHVille Headlines Recap
#1 Texas' Manufactured Housing Builders Survey Says They are 'Ready for a Rebound' But Data Point in Question, DOE MH Energy Rule Too – Facts, Analysis; plus, MHVille Stocks, Markets Update
Clayton-Next Step Off-Site Built 'White Paper'-Manufactured Homes, ThinkND 'Magic of the Mind-Everyday Illusion, Misdirection, Deception' MHI Members' Claims Analyzed; plus MHVille Markets Update
After Admitted Failure, Manufactured Housing Institute Doubles Down on CrossMods® in AP Terminology Doc Acquired by MHProNews–Are MHI Leaders Sabotaging MHVille Independents? Plus MHStocks Update
Concessions by Speaker Kevin McCarthy in House Speaker's Battle Called 'Most Significant Win for Conservatives in a Decade' By Federalist's Emily Jashinsky Report; plus MHVille Stocks Updates
Manufactured Housing Institute Claims 'Effective Branding' for 'Manufactured Housing'-Seriously? Target Rich Satirical Saturday Examines MHI Claims, Messaging, RESULT$; plus MHVille Stocks Update