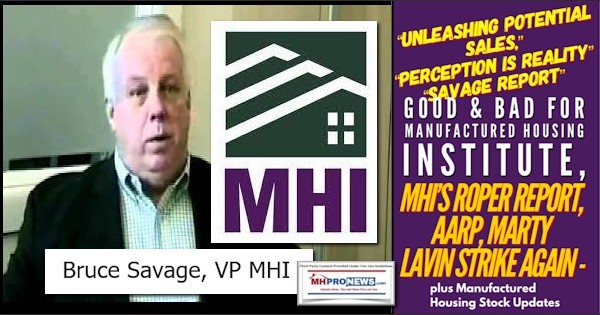 "Members of the Manufactured Housing Institute (MHI) have already started to address many of the recommendations [from the Roper Report]," said then MHI Vice President Bruce Savage. Those recommendations from Savage's report to MHI members included "such as increased attention to customer service and building a stronger resale market for pre-owned homes that helps enhance the appreciation and investment potential of manufactured homes. Additional efforts to implement other research findings and recommendations by the industry will be an important priority for MHI in the coming months." John Grissim, a reporter and author who for some time reported on manufactured housing, called the report "catastrophic." Marty Lavin's assessment was sobering too, as will be shown in this report and analysis. "Looking back" is important because the rear view mirror is clearer than the windshield, observed Warren Buffett. But Buffett ally Bill Gates gave what might be one of the keenest insights into the man who bought Clayton Homes. Said Gates to CNBC 11.8.2019: "I didn't even want to meet Warren [Buffett] because I thought, 'Hey, this guy buys and sells things and so he found imperfections in terms of markets, that's not valued added to society, that's a zero sum game that is almost parasitic.'" The CDC insightfully notes that "A parasite is an organism that lives on or in a host and gets its food from or at the expense of its host." Ouch, but that's how Gates described Buffett's Berkshire Hathaway methodology.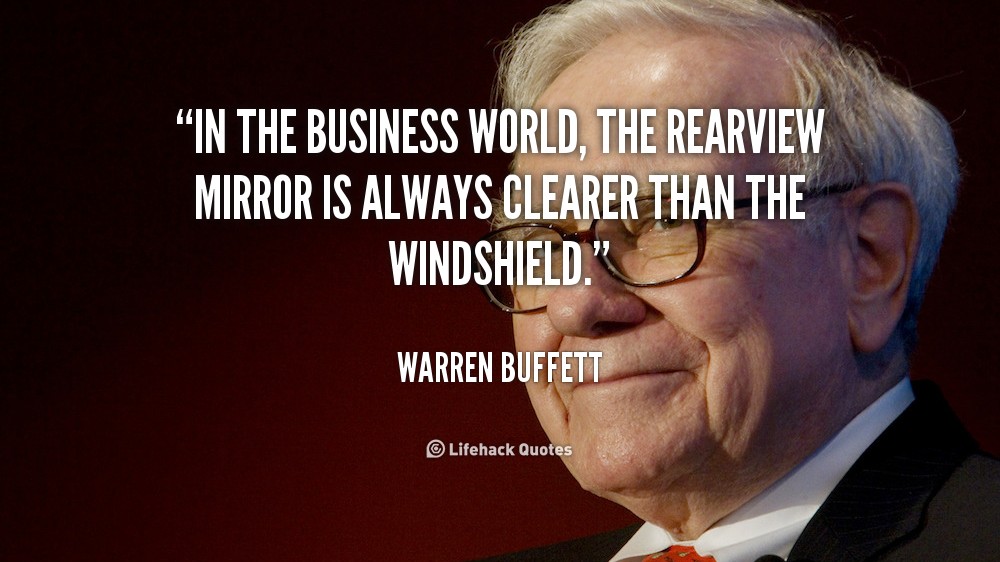 It is with that brief introduction, noting that MHI, Kevin Clayton, and Tim Williams have said several times over the course of some 15 years that they were getting ready to do something that never happened quite as promised that the following insights from Savage are provided in their totality. That will be followed by additional information, more MHProNews Analysis and Commentary, plus our business-daily headlines and macro- plus manufactured housing specific market report.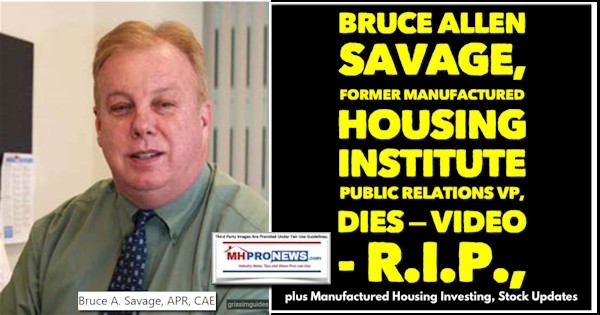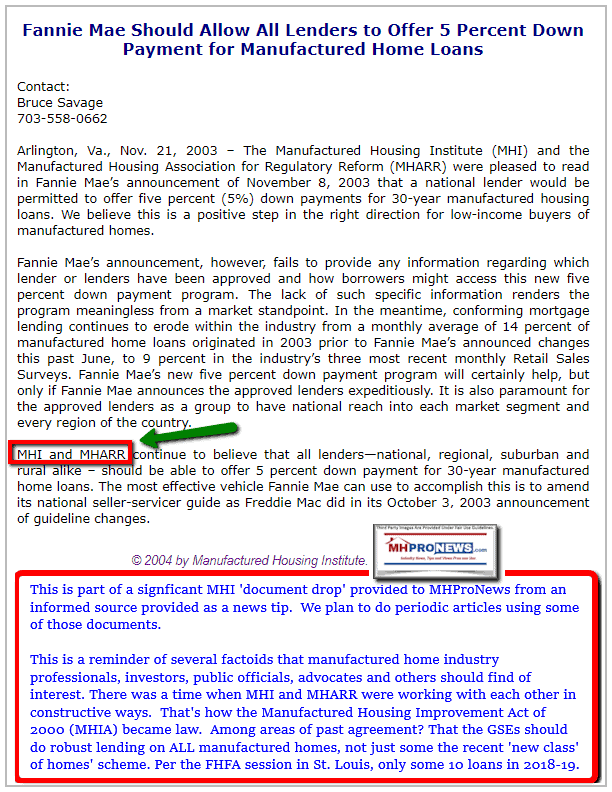 The late Bruce Savage was MHI's communications professional from 1992-2008, per his LinkedIn page.
Savage's comments below were circa 2005-2006, during his time at MHI.  That noted, the document that contained Savage's communications to MHI members about the Roper Report below is undated.
Note that several of the issues promised from Savage, on behalf of MHI, never occurred.
Indeed, as Lavin said some time later, that the leading MHI builders would not implement the recommended national image campaign. Why? Per Lavin, they apparently had not interest in helping competitors, even if that would have raised the overall sales and production levels of the industry at large.
Bingo. That Lavinism hits the bulls eye.
The desire to help the entire industry was lacking then, said Lavin. The evidence suggests Lavin was correct. Because as Savage made clear, the benefits of doing an proper national industry image campaign, then or now, where many. That was a concept MHProNews has supported from our earliest days in manufactured housing industry trade publishing.
Restated, longtime MHI member Lavin and longtime MHI VP Savage's own comments mitigate against the recent or prior claims in the Berkshire era at MHI that they Clayton Homes-Berkshire and big brand dominated trade association was working for the good of all. The facts, trends, history, and evidence all demonstrate otherwise.
MHI and their corporate leaders claiming they would do something is not the same as actually doing what was claimed.  That said, what Savage said is perhaps more relevant in several respects now then then, given the above factual predicates.
Unleashing Potential Sales
National Market Research Campaign Gives Strategic Guidance

By Bruce Savage
Perception is reality, especially in today's marketplace.
This phrase is commonly used among public relations and marketing professionals.  But what is the widespread perception that makes up the reality of manufactured housing?
Concerned members of the industry funded a study in the summer of 2004 to better understand consumer perceptions about the image of manufactured homes.  The study was conducted by the nationally recognized research firm of Roper/NOP World and results were reported to the industry at MHI's Winter Meeting in Memphis in January.
The findings of the survey showed that there are many barriers and opportunities for the industry to address as it works toward expanding the market for factory-built homes.  It also provides strategic guidance on core themes and messages that can help promote the value and appeal of manufactured homes in the housing marketplace.
Roper/NOP World conducted a series of telephone surveys of target audiences, including 726 recent purchasers of manufactured homes and 602 buyers of comparably priced site-built homes from different regions of the country.
Also surveyed were the general population and those identified as the target market for manufactured housing – primarily consumers 25 to 65 years of age with incomes of $100,000 or less and an education level of college degree or less.
Recent manufactured homebuyers had concerns about the home-buying process and follow-up customer service, while those in the general public were unaware of the unique benefits and attributes of today's manufactured homes.
The Home-Buying Process
Manufactured homebuyers did their homework before purchasing a home.
"Manufactured home buyers believe in comparison shopping, visiting an average of 4.2 retailers before deciding on a home," said Roy Baldassari, senior vice president and research group director for Roper/NOP World.
However, once the research was done, most homebuyers were brand-loyal.
"Forty-four percent of buyers bought their homes from retail locations that carried multiple manufacturers.  Fifty-four percent reported that the manufacturer or brand of the home played an important role in their decision and two-thirds said they would buy from the same manufacturer again," he said.
Research also showed that manufactured homebuyers were more likely to look at a variety of homes.  Approximately 40 percent of manufactured home buyers considered other types of homes, while only 24 percent of site-built purchasers consider anything other than a site-built home (only 5 percent considered a manufactured home).
For those purchasing a site-built home, the primary reason for not considering a manufactured home was a general disinterest in manufactured homes, followed by concerns over quality of construction, resale value, safety in bad weather and the social stigma associated with "trailers."
Those buyers of site-built homes who said they might consider a manufactured home cited the need for more information and the location of the home as their primary concerns.
The primary reasons for selecting a home varied widely by the type of home purchased.
"Manufactured home buyers mentioned affordability and availability (getting in the home quickly) as their primary reasons, while site-built buyers focused on location, affordability and size or layout," Baldassari noted.
Manufactured homebuyers agree that the homes' floor plans and the ability to "customize" the home's layout and amenities, along with exterior appearance, are important factors in choosing their home.  Only a quarter of these buyers mentioned "good investment" as a primary reason for their housing choice.
Yet, even though manufactured home buyers cited "getting into the home quickly" as a primary reason for buying, many noted it took longer to get into their homes than they had expected, with a majority saying the time lag was several months longer than expected.
Similarly, site-built buyers reported time lags of one to three months longer than they expected, but unlike manufactured home buyers, they did not cite speed as a significant factor for their purchase decision.
With regard to the critical issue of financing, approximately 80 percent of manufactured home buyers used a loan to purchase their home, with roughly 10 percent reporting difficulty in obtaining financing.  More than two-thirds say their retailer helped obtain financing.
More than 90 percent of site-built buyers purchased their home with a loan, with only 6 percent reported difficulty in securing financing.
Among manufactured home buyers, there were some differences that depended on the size of home purchased.  Single-section home purchasers cited "owning my home rather than renting" more often than multi-section homebuyers as a significant factor in their housing choice, while multi-section buyers were more likely to indicate "layout/floor plans" as the deciding factor in their choice.  These multi-section buyers were twice as likely as single-section buyers to mention the investment potential of their home.  A surprising 48 percent of single-section buyers cited the ability to move their home as one of the primary reasons for their purchase decision.
On the eternal question of what's in a name, there were some significant differences among manufactured home owners.  "Mobile home" is the most common term used by single-section buyers when describing their home.  Only 13 percent referred to their home as a "manufactured home."  On the other hand, multi-section homeowners prefer the term "home" or "manufactured home," followed by "mobile home" and "double-wide."
Satisfaction and Image
On the vital issue of customer satisfaction, neither site-built nor manufactured homes were graded highly by their purchasers.  Fifty-nine percent of manufactured home buyers reported being satisfied with their homes, compared to 74 percent for site-built buyers.  On the purchase process, the level of satisfaction dropped another 8 percentage points for both types of construction.
Satisfaction with the manufactured home retailer stood at 46 percent, while the level of satisfaction for the delivery and installation of the home was 53 percent.
Much of the dissatisfaction with manufactured homes might be traced to timely resolution of problems, with 39 percent of manufactured homeowners reporting a "major problem" in the first year.  More importantly, the majority of purchasers who experienced a problem with their home were not satisfied with how the problem was resolved.  It is important to note that most problems reported were not serious and did not endanger the safety of the occupants.  However, having an initial problem with the home was a major, far-reaching factor in the overall satisfaction of manufactured home buyers.
"Resolving problems for manufactured homeowners is a fundamental issue for the industry when you consider the dramatic differences in satisfaction levels, not to mention the fact that referrals from family and friends are often the primary way for manufactured home buyers to know about this form of housing," said Baldassari.
On the other hand, manufactured homeowners were more loyal than their site-built counterparts.  Seventy-one percent of manufactured home buyers were willing to buy another manufactured home, while only 65 percent of site-built buyers indicated their repurchase loyalty.
Even though manufactured homebuyers expressed strong loyalty, some manufactured homebuyers exhibit low emotional involvement or commitment to their home.  For example, nearly half say that, given a choice, they would prefer to live in a site-built home rather than a manufactured home.  It will be important for the manufactured housing industry to positively reinforce the purchase decision and strengthen manufactured homeowners' emotional involvement with their homes.
Somewhat surprising, given the industry's downturn over the past five years and the negative media during the most recent hurricane season, the overall image of manufactured housing has improved over the past ten years.
This was particularly true among the general public and site-built buyers, with the strongest improvement among the "Influentials" – those one-out-of-ten Americans identified by Roper/NOP World as community leaders who shape the opinions and behavior of others.  Yet, while these groups claim a high level of familiarity with today's manufactured homes, an overwhelming 75 percent of each group would not consider buying or owning one.
Reaching More Home Buyers
As to what these findings mean to the manufactured housing industry, there are some key points that the industry can embrace in its efforts to reposition itself in the housing marketplace.
First, the image of manufactured housing is improving.  The industry has made strides in overcoming lingering negative perceptions, especially among the "influentials" where word-of-mouth and grassroots support is instrumental in setting perception.
At the same time, fundamental issues must be addressed, especially reducing the percentage of problems that buyers experience with new homes and correcting them faster and better than many homebuyers currently experience.
Also, the industry must meet purchasers' expectations before opening the doors to new customers and new market segments.
Taking these steps will improve the overall satisfaction scores, further enhancing the loyalty and repurchase decisions of current homeowners, who are often the industry's strongest marketing force.
While many people claim to be aware of the advances that have been made in the quality, appearance and customization options of manufactured homes, they are not willing to consider buying one.   The more the industry can do to provide consumer education that answers their main objections of concern for quality, home value, safety and image, the better the long-term outlook for industry sales.
A "one size fits all" approach overlooks strengths that manufactured homes offer.  In many regions of the country, a manufactured home offers one of the few ways for a family to achieve the dream of homeownership.  Additionally, manufactured homes provide improved quality and appearance, as well as the ability to customize.  Once current delays in getting into the home are adequately addressed, a manufactured home is capable of fulfilling buyers' desire to move in quickly.
Likewise, the industry must reinforce the message that people who buy and live in manufactured homes make good neighbors and contribute to the overall betterment of the community.
Taken together, these messages provide real potential for reaching more homebuyers.
The next step will be to turn the findings and recommendations of this extensive market research initiative into a consistent and focused marketing effort by all segments of the manufactured housing industry.
Members of the Manufactured Housing Institute (MHI) have already started to address many of the recommendations, such as increased attention to customer service and building a stronger resale market for pre-owned homes that helps enhance the appreciation and investment potential of manufactured homes.
Additional efforts to implement other research findings and recommendations by the industry will be an important priority for MHI in the coming months. ##
###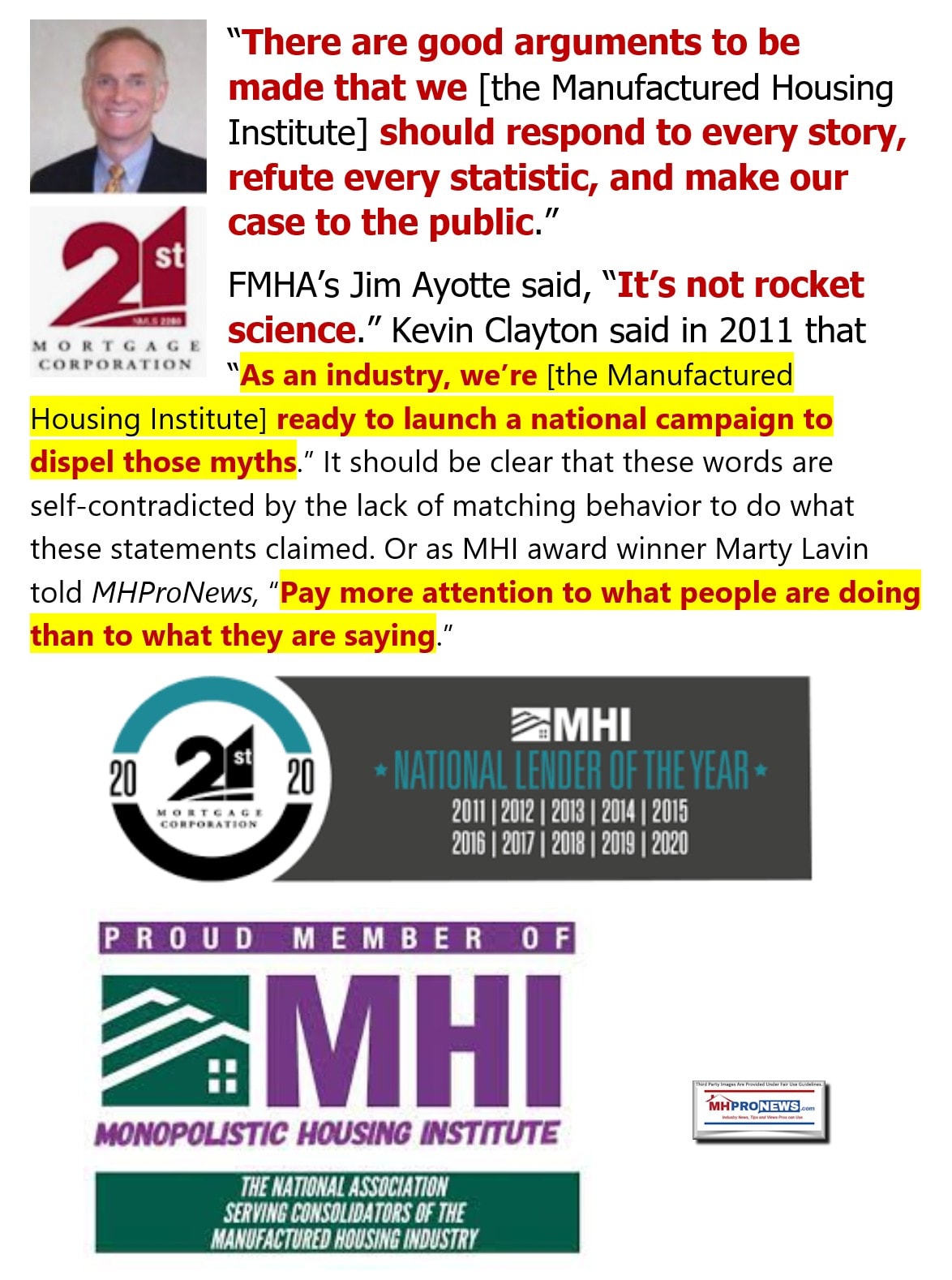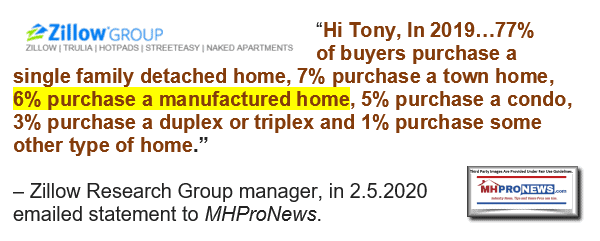 Additional Information, MHProNews Analysis and Commentary on MHI/Savage Report
"The [manufactured home] industry has a lot of weight to lose," said Lavin, who created the useful analogy of a photo he saw of himself that revealed he had gained more weight than he thought. Lavin's analogy continued by saying that "how we'll deal with this latest "candid snapshot" of the appearance of the manufactured housing industry to the world at large. It is not the only camera we've had, The Roper Report was an ugly snapshot about a year ago, and AARP and others have chastened us as well."

Lavin noted that the industry's builders did not want to fund an image campaign, because helping rivals – even if it benefited themselves – was not part of those dominating MHI brand's mindsight. More on that in a planned follow up in the days ahead.
Lavin did not use the phrase "the moat." But he did at various times describe a process that is arguably similar that he later expressed to MHProNews in these terms.

There is a volume of evidence from inside and outside of the Manufactured Housing Institute (MHI) that makes it plain that they have in the Berkshire era of manufactured housing often said one thing, but did another.
It is thus no surprise that MHI has yet to respond to our MHProNews inquiries about these two fresh reports.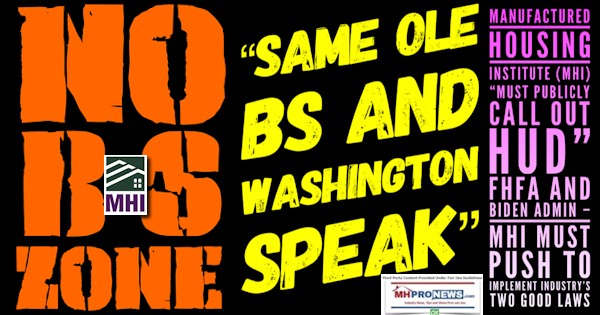 The above is a kind of executive summary for the more detailed report below.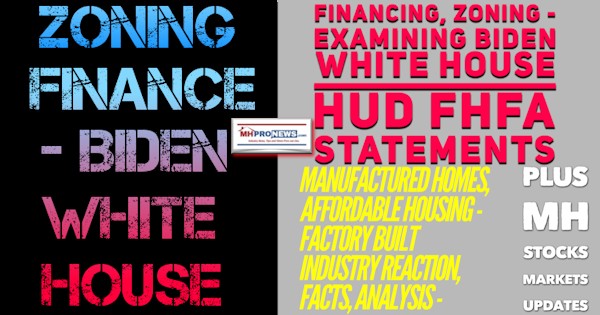 Despite David Goch's claim that MHI defends its image, the experience is perhaps more nuanced. How so? If someone critiques MHI with facts, evidence, and common sense analysis – such as MHARR, Danny Ghorbani, or MHProNews/MHLivingNews have done for years – there is often silence in terms of direct feedback from MHI and its attorneys. The two Goch pull-quotes arguably contradict each other, in as much as MHI claims to want to reflect all and to seek the best possible outcomes. But if so, then why is MHI so sensitive to critiques?  Why has MHI hired outside attorneys to deal with critiques, instead of dealing with the substance that caused those criticism in the first place?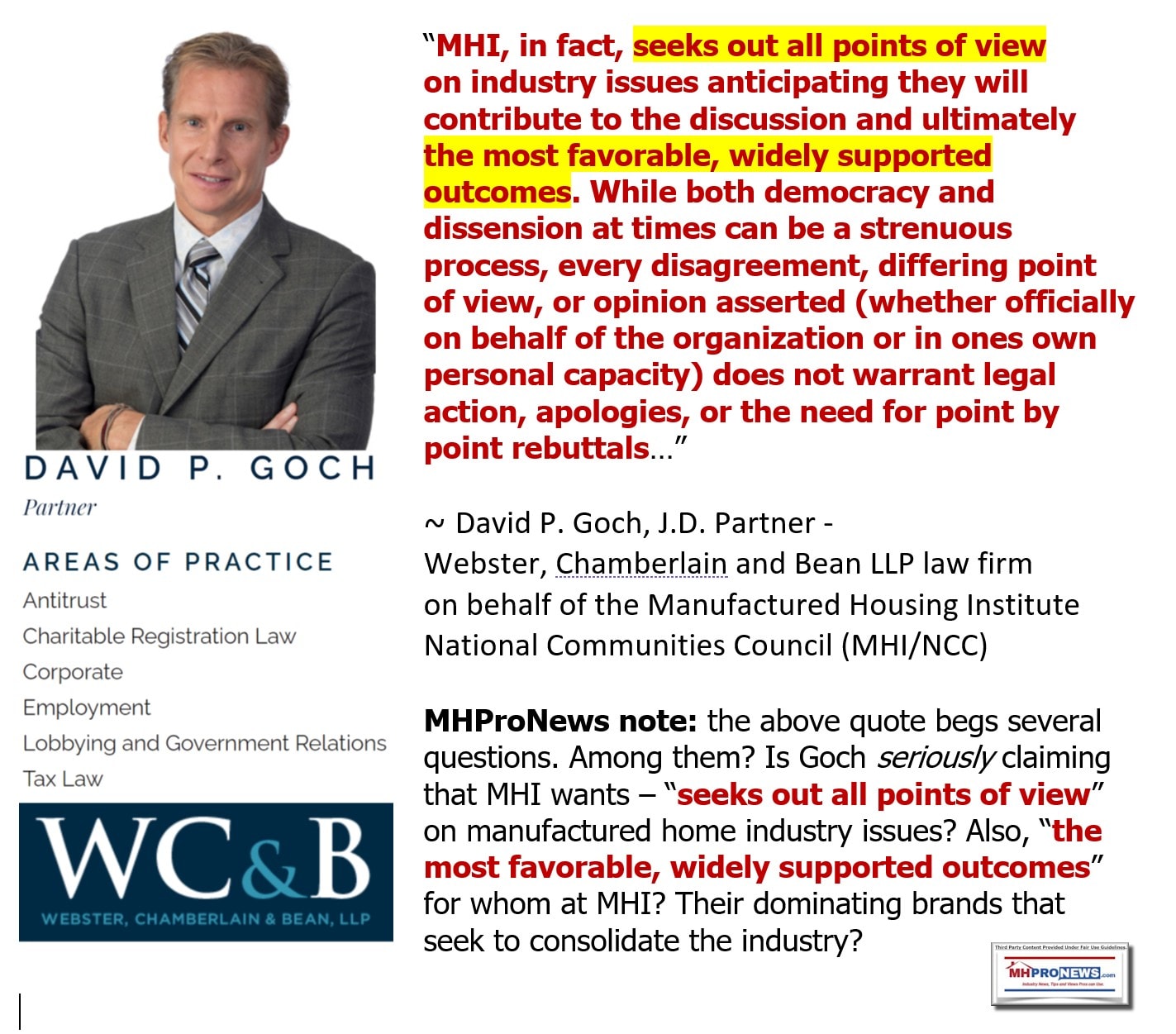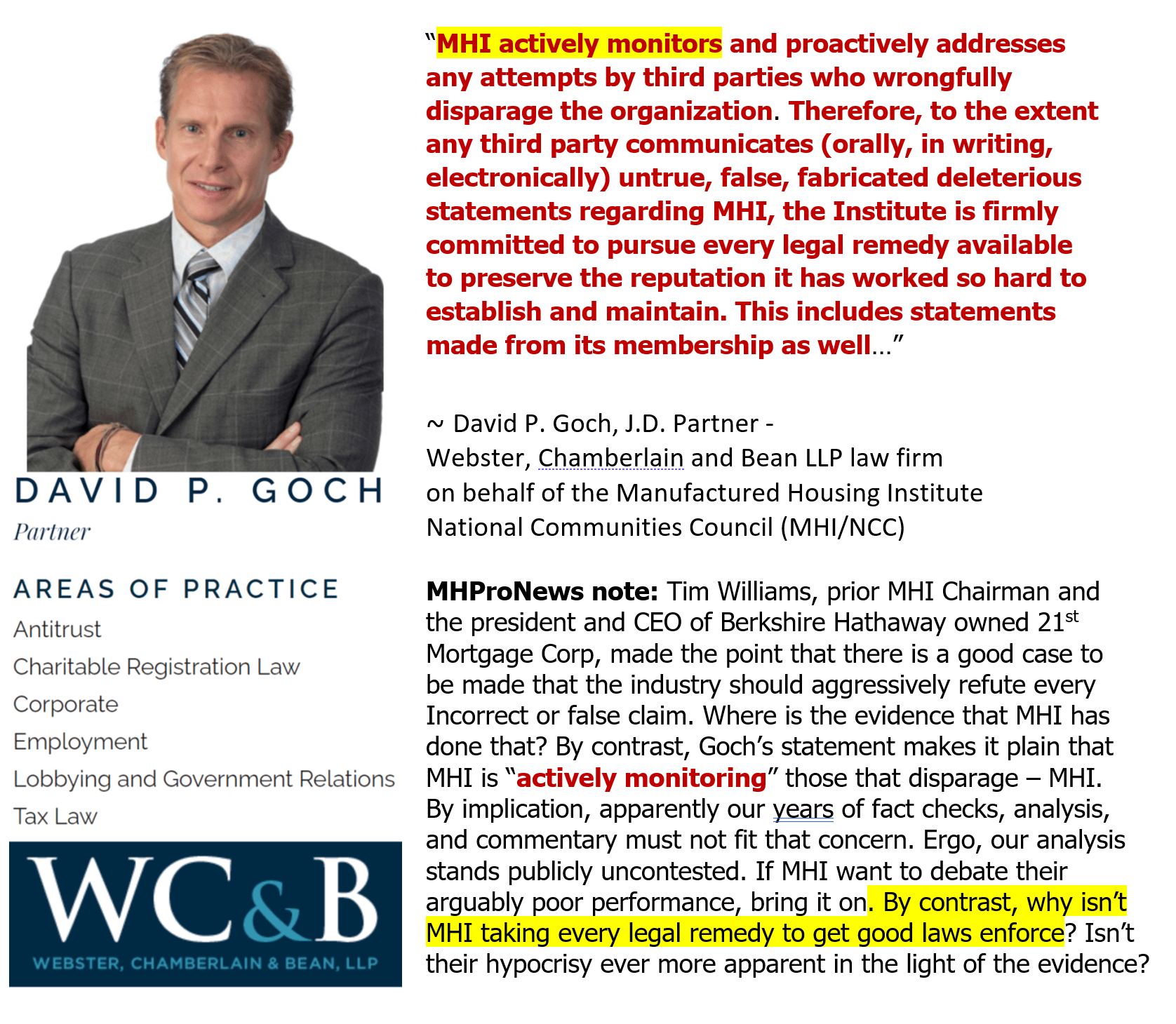 But what MHI does do is engage in doubling down on razzle dazzle, and having their surrogates periodically lash out in an effort to deflect from the troubling trends and realities. But when those razzle dazzle claims by MHI are carefully examined, the claims fall apart. Which leads to the conclusion that MHI is acting on behalf of the few that dominate the trade group, rather than the many which they boastful assert without serious evidence.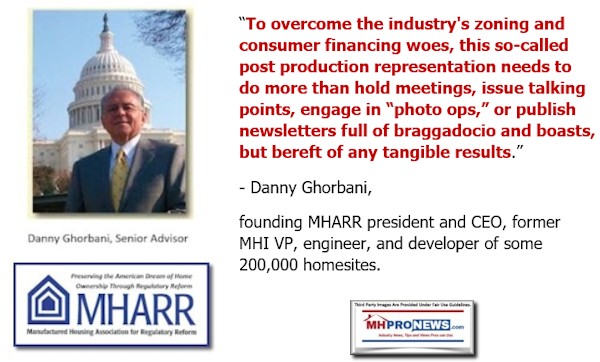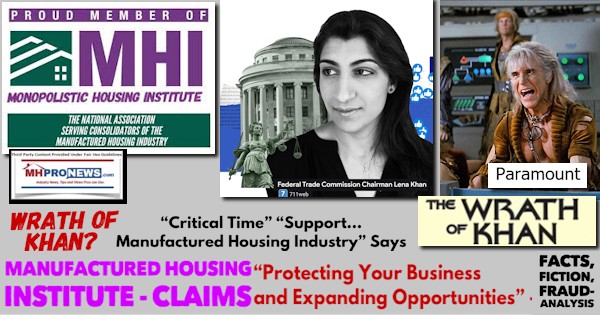 Why is the industry underperforming during an affordable housing crisis?
Because the dominating brands in manufactured housing want it this way, at least for now. There is simply no other rational explanation. Any other hyposis that is tested falls apart when examined. Thus, the only thesis that holds together – as advanced by Samuel Strommen, MHARR, some in MHI/MHEC, MHProNews/MHLivingNews and others – must be the most reflective of reality.

One must believe that MHI is either made up of educated and sometimes seasoned professionals that have fumbled the ball year after year, with a history of unfulfilled promises without a shred of apparent accountability.
The industry has but to get existing laws enforced. Ghorbani, the founding president of the Manufactured Housing Institute (MHI) for Regulatory Reform (MHI) and a former MHI VP that was responsible for an effort that the RV MH Hall of Fame says resulted in the development of 200,000 new homesites for our industry product, ran through the logic in the exclusive MHProNews Q&A below.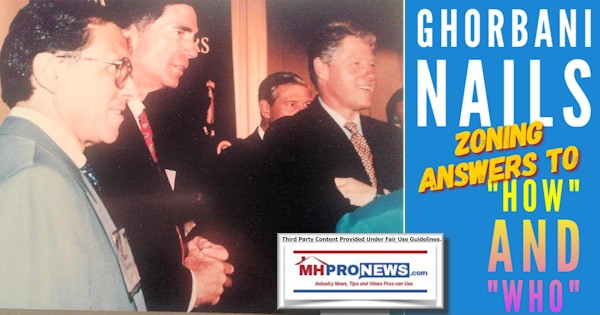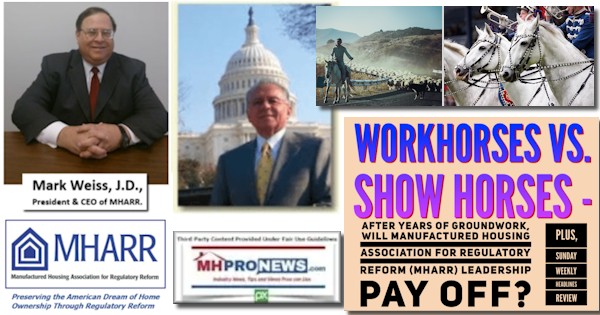 Lavin, as part of a message to MHProNews said the following, referring to a previously cited comment. Citing Warren Buffett's annual letter to shareholders, per Lavin the Berkshire chairman said the following.
"During those years, (the 1990s) moreover, both the quality and variety of manufactured houses consistently improved.
Progress in design and construction was not matched, however, by progress in distribution and financing. Instead, as the years went by, the industry's business model increasingly centered on the ability of both the retailer and manufacturer to unload terrible loans on naïve lenders." (Emphasis by Lavin.)
"A different business model is required, one that eliminates the ability of the retailer and salesman to pocket substantial money up front by making sales financed by loans destined to default… Under a proper model— one requiring significant down payments and shorter-term loans—the industry will likely remain much smaller than it was in the '90s." The italicized emphasis was added by Lavin.
There may well be several truths in that, however Lavin's comments should be considered in the light of the previously quoted from Buffett's longtime buddy, nonprofit, business and political ally, Gates. Because Buffett is a palterer.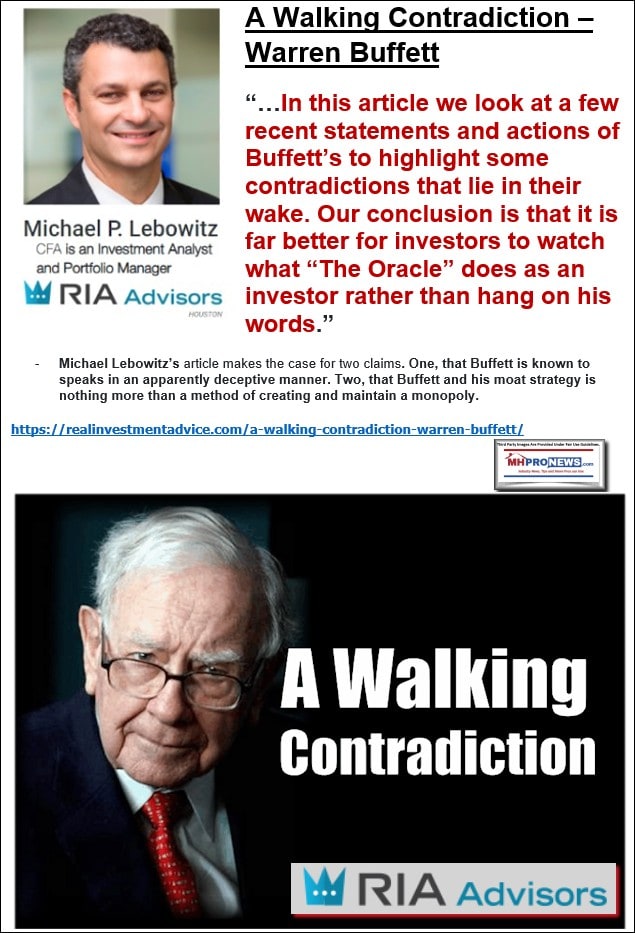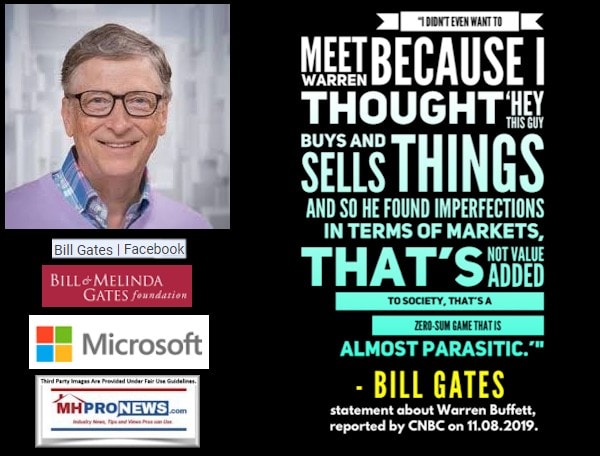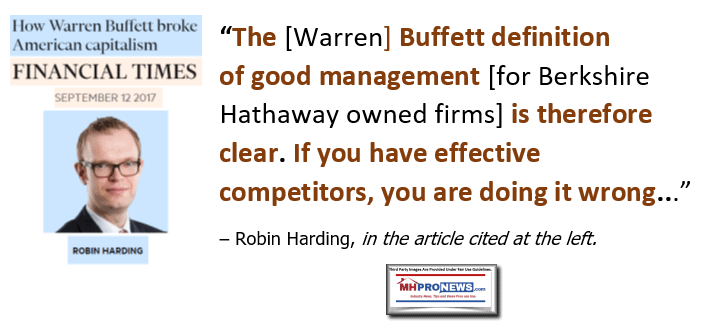 It Those relevant pull quotes and Lavinisms should also be viewed in the light of Andy Gedo's insights, coupled with what Kevin Clayton had to say.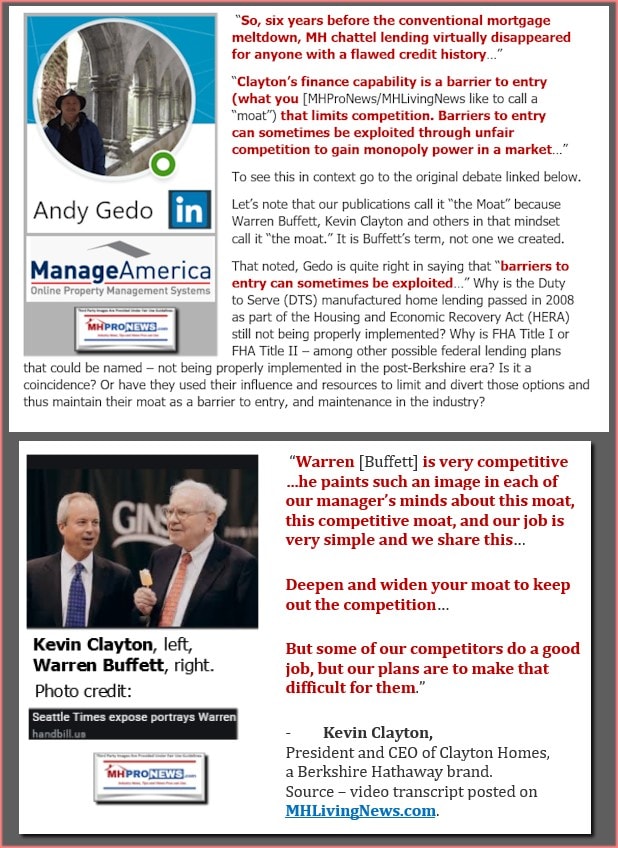 The bottom line is increasingly clear.
Savage was correct in saying that manufactured housing has the potential for being several times larger that it has been in the last 2 decades. Yes, there have been financing abuses. But as Lavin and others have said, those were largely corrected. Those abuses in our industry had similar – and far more costly – parallels in the conventional housing market that resulted in truly economically catastrophic liar loans and related fallacies that lead the economy into a tail spin during the end of the Bush-Cheney White House years and in the early years of the Obama-Biden administration.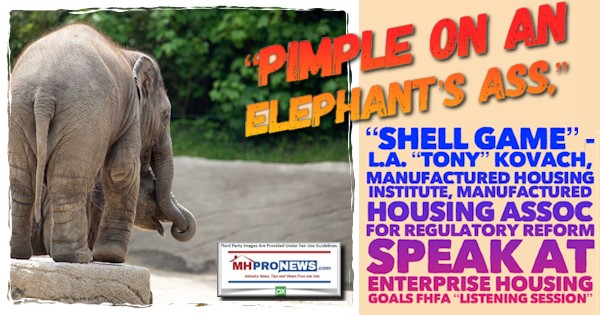 Savage said there are millions of possible sales, if the industry would only deal with its core issues.  Lavin, by implication because he's cited this previously, appears to concur – with this cavate. That the industry must deal with its core issues. More on that in a planned special report that will include detailed Lavin insights, then and more recently.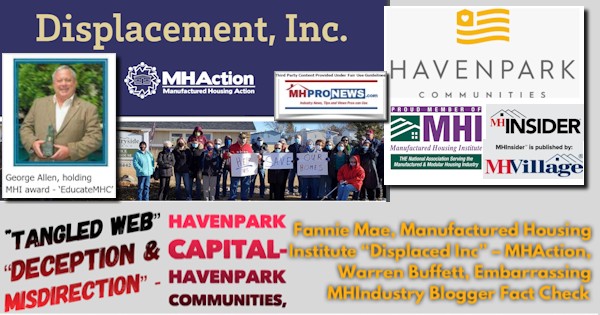 Thus, the bottom line appears to be that the industry tolerates the bad behavior of black hat brands that are often MHI members, in part because it keeps the industry smaller. When numerous offers to for MHI, Berkshire Hathaway, Clayton Homes, 21st Mortgage Corporation, or their outside attorneys to refute these facts, evidence and rational conclusions they have a routine reply.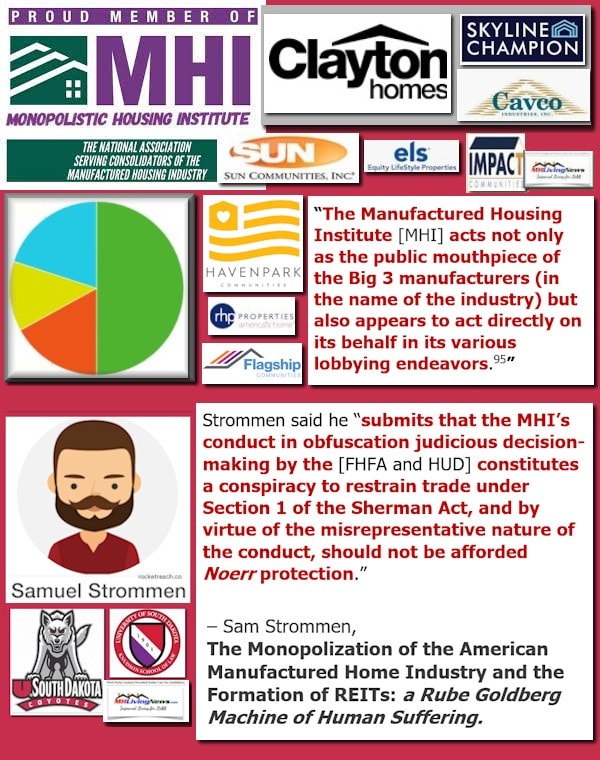 Silence.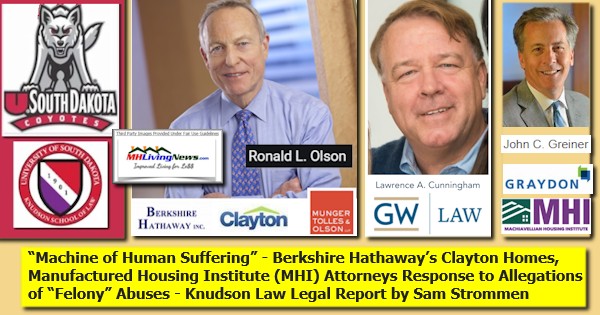 MHProNews acknowledges and thanks Lavin for providing a new and classic batch of information that is relevant to the industry's 21st century underperformance.
There is no other source in manufactured housing that takes the time and effort to pull together these various threads, founded on original sources and factual, evidence-based information, insights, and common sense analysis. MHProNews and MHLivingNews are your go-to source for "Industry News, Tips, and Views Pros Can Use." ©
###
Next up is our business daily recap of yesterday evening's market report, related left-right headlines, and manufactured housing connected equities.
The Business Daily Manufactured Home Industry Connected Stock Market Updates.  Plus, Market Moving Left (CNN) – Right (Newsmax) Headlines Snapshot. While the layout of this daily business report has been evolving over time, several elements of the basic concepts used previously are still the same. For instance. The headlines that follow below can be reviewed at a glance to save time while providing insights across the left-right media divide. Additionally, those headlines often provide clues as to possible 'market-moving' news items.
Market Indicator Closing Summaries – Yahoo Finance Closing Tickers on MHProNews…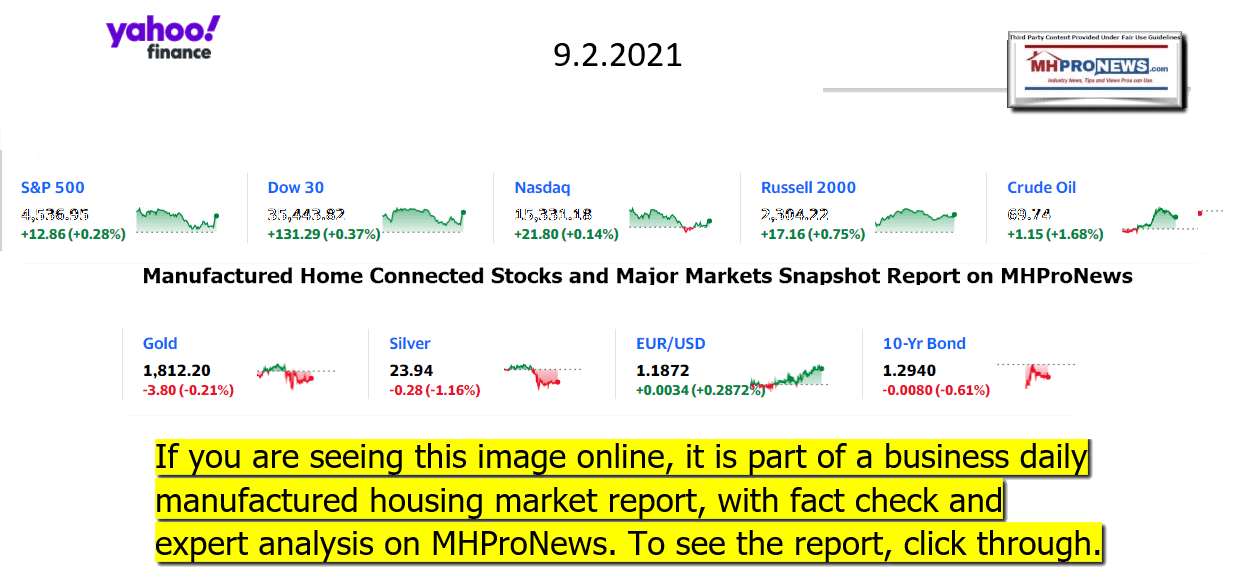 Headlines from left-of-center CNN Business – evening of 9.2.2021 
Gas crisis
A refinery surrounded by water after Hurricane Ida near Cocodrie, Louisiana, U.S., on Wednesday, Sept. 1, 2021. The electric utility that serves New Orleans has restored power to a small section of the city after Hurricane Ida devastated the region's grid.
Biden administration taps emergency oil stockpile as Louisiana pumps run dry
The Delta variant threatens to slow the jobs recovery
Power could be out for weeks in Louisiana. Avoiding long outages will be expensive
Apple relaxes App Store rules for services such as Spotify and Netflix
For misinformation peddlers on social media, it's three strikes and you're out. Or five. Maybe more
One reason house prices could stay sky-high
Mall jeweler Signet's sales soar as millennials rush to get hitched
Weaker sales take a bite out of Chewy stock
Judge conditionally approves plan to dissolve OxyContin maker
Joe Rogan, controversial podcast host, says he tested positive for Covid-19
Analysis: Republican trust in media keeps sinking to new lows
Three ways the Delta variant will hurt the US jobs market
The Audi Grandsphere concept is the company's vision of a self-driving luxury future
Risk Takers 2021: 10 leaders making 10 big bets to push business forward
Sold sign in front of a house
Black Americans are being priced out of the pandemic housing boom
Sir Richard Branson speaks after he flew into space aboard a Virgin Galactic vessel, a voyage he described as the "experience of a lifetime" — and one he hopes will usher in an era of lucrative space tourism at Spaceport America, near Truth and Consequences, New Mexico on July 11, 2021. – "Congratulations to all our wonderful team at Virgin Galactic for 17 years of hard, hard work to get us this far," he said during a live feed as the VSS Unity spaceship glided back to Spaceport America in New Mexico. It reached a peak altitude of around 53 miles (85 kilometers) — beyond the boundary of space, according to the United States — allowing the passengers to experience weightlessness and admire the Earth's curvature.The trip proceeded without drama, and touchdown occurred at around 9:40 am Mountain Time (1540 GMT), about an hour after take-off.
FAA says it's investigating problems with Richard Branson's flight to edge of space
ABC Good Morning America News Show in Times Square, NYC.
ABC News turmoil deepens as outlet's president angers her Disney bosses
WHAT TO WATCH
Watch this rocket go sideways instead of up
Najma Sadeqi, a YouTuber who was killed in the Kabul airport terror attack.
Afghan YouTuber's final video: 'Keep us in your prayers'
'Cover this accurately!': Watch MSNBC correspondent get interrupted live
Astronauts need comfort food too. Here's what's on their menu
Virgin Hyperloop
See what Virgin Hyperloop could look like in the future
Headlines from right-of-center Newsmax – evening of 9.2.2021
Lawmakers Looking at Duplicating Texas Abortion Limits: Report
The Texas abortion law banning almost all abortions in the state already appears to be having a ripple effect. Republican legislative leaders in Florida indicated Thursday they plan to look at whether their state can enact similar restrictions. [Full Story]
Related Stories
Jenna Ellis: Court Should Have Been 9-0 on Texas Abortion Law
Supreme Court Refuses to Block Texas Abortion Ban
Pelosi Promises House Abortion Access Vote
Biden: 'Unprecedented Assault' on Women's Rights
Ida's Aftermath
Death Toll Tops 25 After Ida Remnants Slam Stunned Northeast
Yankees' Double-A Team Stadium Flooded by Ida
Flooding in Ida's Wake Snarls US Northeast Travel
4 Killed in Ida-Fueled Tornado Strike in New Jersey
Biden to Detail Storm Response, Survey Damage in Louisiana
Ida Remnants Bring 'Historic' Flooding to Pennsylvania
Despite Katrina Lessons, Hurricane Response Still Lacking in New Orleans
Ida's Devastation Shocks as Fuel Shortages Hinder Recovery
More Ida's Aftermath
Fall of Afghanistan
Haley: Austin, Milley Implied Afghanistan Now Hostage Situation
Marist Poll: Biden Approval Tanking in Wake of Afghan Withdrawal Chaos
Milley: US-Taliban Cooperation Against ISIS-K 'Possible'
Haley: Austin, Milley Implied Afghanistan Now Hostage Situation
Kinzinger Demands Count of Americans Left Behind in Afghanistan
Effort Underway to Rescue Girls Soccer Team From Afghanistan
Top US General Says He Shares 'Pain and Anger' After Exit
Al-Qaida Back in Afghanistan – Just in Time for 9/11 Anniversary
Rasmussen: 52% Say Biden Should Resign Over Afghanistan
More Fall of Afghanistan
Newsmax TV
Ferguson: Terrorism Again at Forefront Because of Biden
Clyde: Dems 'Privately Agree' Biden Team Must Go |
Gaetz: Indicted Con Man Tried to Extort Millions |
Issa: Taliban Takeover Causing WWII Scenario |
Blackburn: Biden Broke His Promise to the American People |
Comer: Dems Must Prioritize Afghanistan Oversight |
Cassidy: Focus Must Shift From Jan. 6 to Afghanistan |
More Newsmax TV
Newsfront
Trump Takes Aim at Former UN Ambassador Nikki Haley
Former President Donald Trump, in an interview with Vanity Fair, jabs at former United Nations Ambassador Nikki Haley, a possible contender for the Republican Party's presidential nomination in 2024. "Well, every time she criticizes me, she uncriticizes me about 15 minutes…… [Full Story]
Death Toll Tops 25 After Ida Remnants Slam Stunned Northeast
A stunned U.S. East Coast faced a rising death toll, surging rivers, [Full Story]
Florida Lawmakers Looking at Duplicating Texas Abortion Limits: Report
The Texas abortion law banning almost all abortions in the state [Full Story]
Yankees' Double-A Team Stadium Flooded by Ida
The New Jersey field where the Double-A affiliate of the New York [Full Story]
Florida Chiropractor Signs Mask Exemptions for More Than 500 Students
A Sarasota, Florida, chiropractor has reportedly signed more than 500 [Full Story]
Does Biden Know How Many Americans Are Stranded in Afghanistan?
When the last U.S. plane took off from Hamid Karzai International [Full Story] |
Expert Reveals Biblical Error Has Democrats Angry
SPONSOR: Fake news pundits are trying to censor it. Watch now [Full Story]
Alleged Wi Spa De-Rober Charged, Is Registered Sex Offender
The transgender woman who allegedly exposed her partially erect penis [Full Story]
Despite Katrina Lessons, Hurricane Response Still Lacking in New Orleans
Though New Orleans residents pummeled by Hurricane Ida were protected [Full Story] |
New FEMA Policy Will Make it Easier for Blacks to Get Disaster Aid
The Federal Emergency Management Agency is getting ready to announce [Full Story]
Court Rules Robert E. Lee Statue in Virginia Can Be Removed
The Virginia Supreme Court ruled Thursday that a 21-ft bronze statue [Full Story]
3 Ex-Officers Ask to Block Streaming of Trial in Floyd Death
Attorneys for three former Minneapolis police officers charged in [Full Story]
6 Defendant Returned to Jail for Using Internet
A federal judge on Thursday ordered a prominent participant in the [Full Story]
College Prof Examines 'Ethical' Argument That Whites Should Commit Suicide
A Duquesne University professor has come under fire for saying there [Full Story]
Report: De Blasio 'Considering Running for Governor'
New York Mayor Bill de Blasio has begun testing the waters for a [Full Story]
California Could Force Stores to Display 'Gender-Neutral' Children's Toys
The California state legislature passed a bill Wednesday aimed at [Full Story]
FDA Eyes Authorizing Lower Dose of Moderna Vaccine for Boosters: WSJ
FDA considering whether to authorize a lower dose of Moderna's [Full Story]
Biden: Court Ruling on Texas Abortion Ban 'Unprecedented Assault' on Women's Rights
President Joe Biden on Thursday said the U.S. Supreme Court's ruling [Full Story]
Nikolas Cruz's Attorney Seeks to Ban Words 'Killer' and 'Massacre' from Trial
The attorney representing Nikolas Cruz, who is accused of killing 17 [Full Story]
Marist Poll: Biden Approval Tanking in Wake of Afghan Withdrawal Chaos
President Joe Biden's approval rating is sinking in the wake of the [Full Story]
NFL to Allow Social Justice Messages on Helmets
The National Football League will continue to allow players to wear [Full Story]
Defense Bill Sparks Critical Race Theory Debate
A forceful debate over the role of teaching critical race theory at [Full Story]
Capitol Police Consider Re-Erecting Fence Ahead of Sept. 18 Rally
S. Capitol Police have discussed rebuilding a fence around the [Full Story]
Surveillance Videos Subpoenaed in Andrew Cuomo 'Grope' Probe
Six subpoenas for surveillance videos, records of phone calls, and [Full Story]
'Zorba the Greek' Composer Mikis Theodorakis Dies at 96
Mikis Theodorakis, the beloved Greek composer whose rousing music and [Full Story]
Apple Relaxes App Store Rules for Netflix, Others
Apple Inc will let some apps like Netflix Inc provide links to their [Full Story]
China Cracks Down on Showbiz for 'Polluting' Society and Youth
China ordered broadcasters on Thursday to shun artists with [Full Story]
Jobless Claims Reach Pandemic Low of 340,000
The number of Americans seeking unemployment benefits fell last week [Full Story]
Milley: US-Taliban Cooperation Against ISIS-K 'Possible'
It's "possible" that the United States will cooperate with the [Full Story]
Liz Cheney Named Vice Chair of House Jan. 6 Committee
Liz Cheney, R-Wyo., has been named vice chair of the House [Full Story]
14 Reported Dead After Storm Rips Through NY Metro Area
The remnants of Hurricane Ida inundated large swaths of the [Full Story]
Vaccine Resistant COVID-Variant on the Rise in Colombia
The World Health Organization says it is monitoring a new [Full Story]
Finance
Hurricane Squeeze for East Coast Gas Supplies
Tight supplies of gasoline on the U.S. East Coast are being pressured by refinery outages from Hurricane Ida and the shutdown of a major pipeline that supplies fuel to the Southeast. [Full Story]
Dollar Lower after Initial Jobless Claims Data with Payrolls on Tap
S. to Invest $3B in COVID-19 Vaccine Supply Chain
AFL-CIO Leader Calls on Exxon to End Texas Refinery Lockout
UPDATE 1-U.S. Bars Virgin Galactic Rocket Plane Flights Pending Mishap Probe
More Finance
Health
Unvaccinated Should Not Travel This Labor Day Weekend: CDC
Unvaccinated Americans should stay home during the holiday weekend as COVID-19 cases surge due to the highly contagious Delta variant, the head of the U.S. Centers for Disease Control and Prevention said Tuesday. "First and foremost, if you are unvaccinated, we would… [Full Story]
Israel Study Determines Booster Shot Reduces Risk for COVID Infections
Risk of Long COVID Falls by Half in 'Breakthrough' Cases
Could Nose Cartilage Help Repair Worn-Out Knees?
4-in-1 Blood Pressure Pill Safe and More Effective: Study
Manufactured Housing Industry Investments Connected Equities Closing Tickers
Some of these firms invest in manufactured housing, or are otherwise connected, but may do other forms of investing or business activities too.
NOTE: The chart below includes the Canadian stock, ECN, which purchased Triad Financial Services, a manufactured home industry lender
NOTE: Drew changed its name and trading symbol at the end of 2016 to Lippert (LCII).
NOTE: Deer Valley was largely taken private, say company insiders in a message to MHProNews on 12.15.2020, but there are still some outstanding shares of  the stock from the days when it was a publicly traded firm.  Thus, there is still periodic activity on DVLY.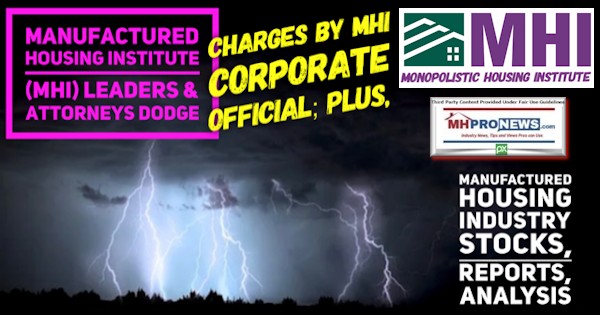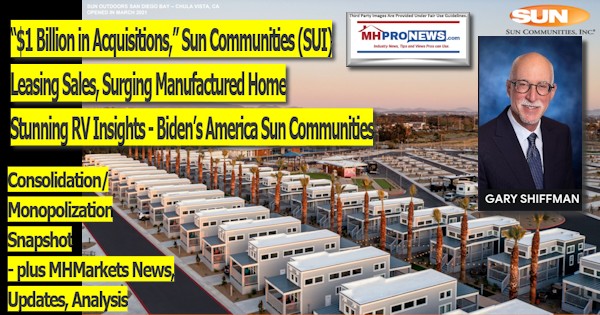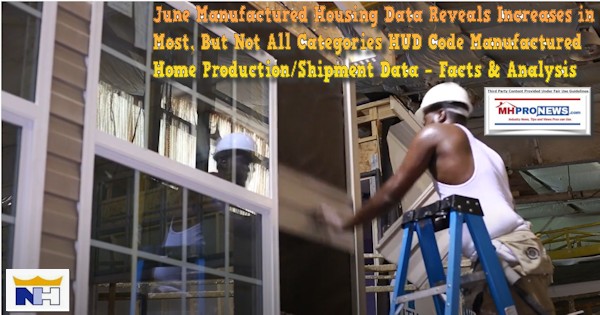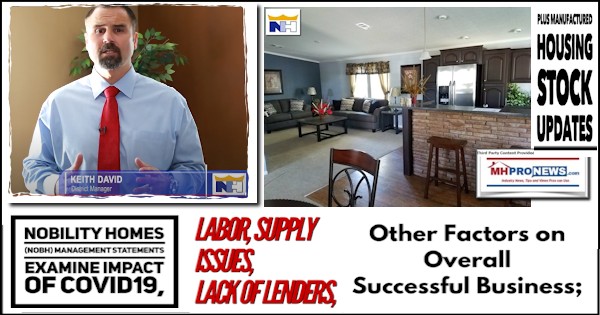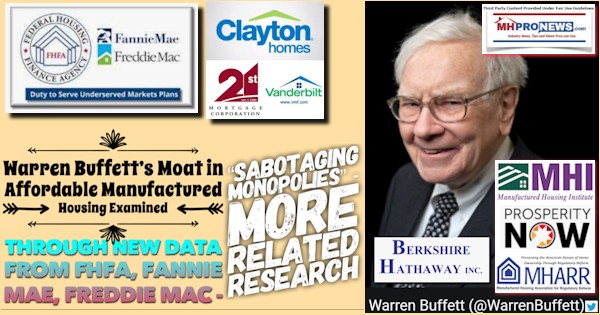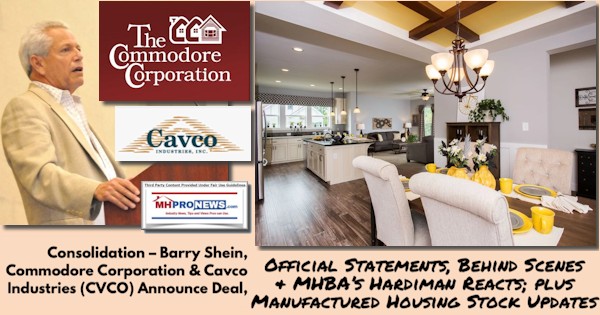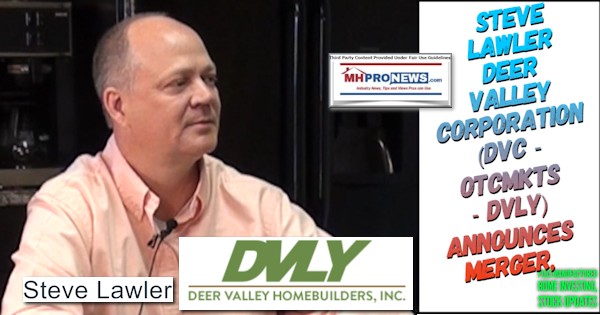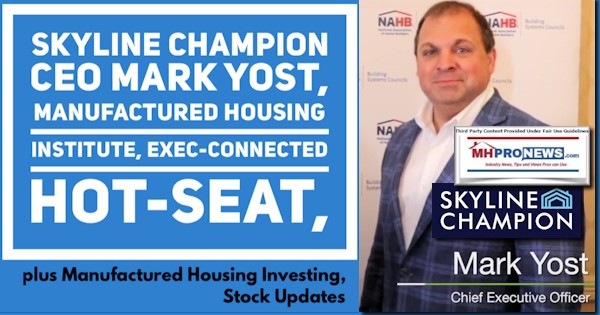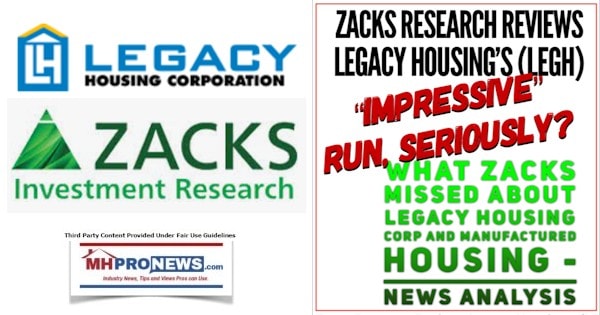 Summer 2021…
Berkshire Hathaway is the parent company to Clayton Homes, 21st Mortgage, Vanderbilt Mortgage and other factory built housing industry suppliers.
· LCI Industries, Patrick, UFPI, and LP each are suppliers to the manufactured housing industry, among others.
· AMG, CG, and TAVFX have investments in manufactured housing related businesses. For insights from third-parties and clients about our publisher, click here.
Enjoy these 'blast from the past' comments.
MHProNews. MHProNews – previously a.k.a. MHMSM.com – has celebrated our 11th year of publishing, and is starting our 12th year of serving the industry as the runaway most-read trade media.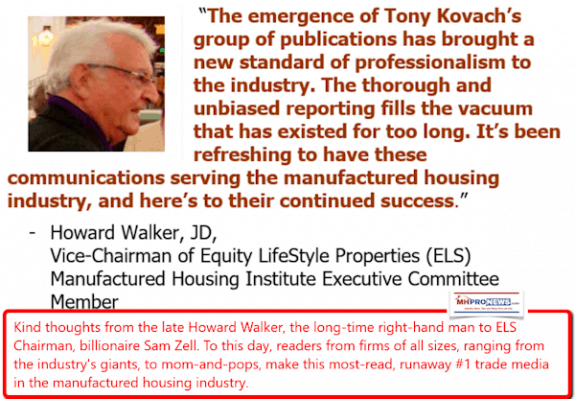 Sample Kudos over the years…
It is now 11+ years and counting…
Learn more about our evolutionary journey as the industry's leading trade media, at the report linked below.
· For expert manufactured housing business development or other professional services, click here.
· To sign up in seconds for our industry leading emailed headline news updates, click here.

Disclosure. MHProNews holds no positions in the stocks in this report.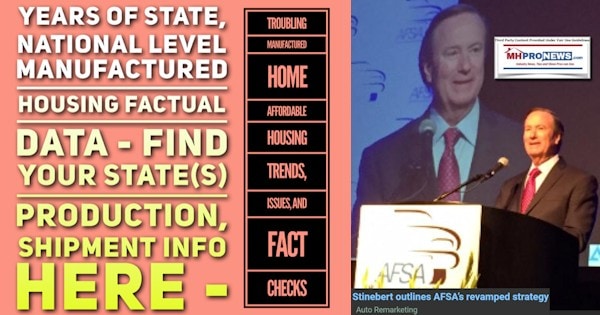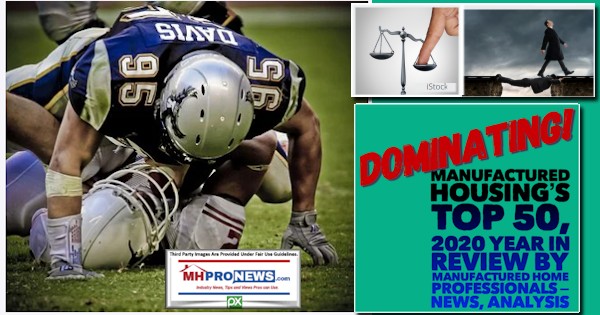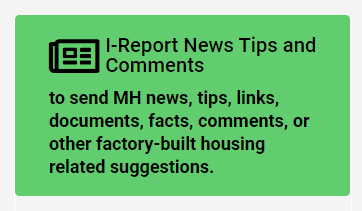 That's a wrap on this installment of "News Through the Lens of Manufactured Homes and Factory-Built Housing" © where "We Provide, You Decide." © (Affordable housing, manufactured homes, stock, investing, data, metrics, reports, fact-checks, analysis, and commentary. Third-party images or content are provided under fair use guidelines for media.) (See Related Reports, further below. Text/image boxes often are hot-linked to other reports that can be access by clicking on them.)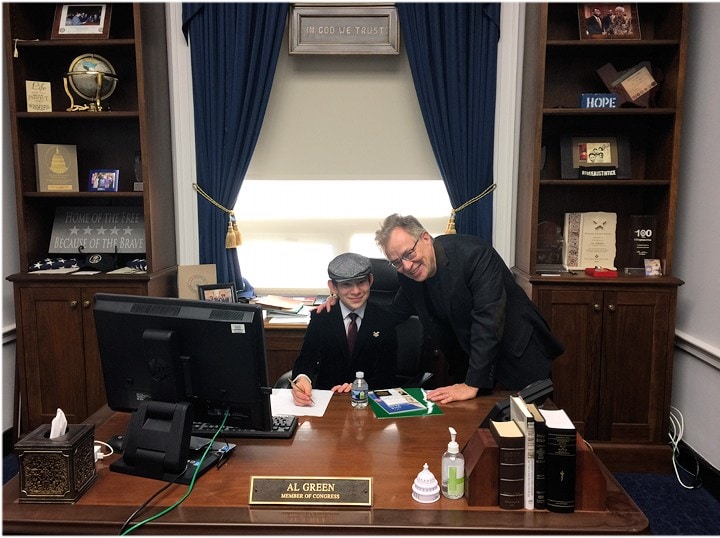 By L.A. "Tony" Kovach – for MHProNews.
Tony earned a journalism scholarship along with numerous awards in history. There have been several awards and honors and also recognition in manufactured housing. For example, he earned the prestigious Lottinville Award in history from the University of Oklahoma, where he studied history and business management. He's a managing member and co-founder of LifeStyle Factory Homes, LLC, the parent company to MHProNews, and MHLivingNews.com. This article reflects the LLC's and/or the writer's position, and may or may not reflect the views of sponsors or supporters.