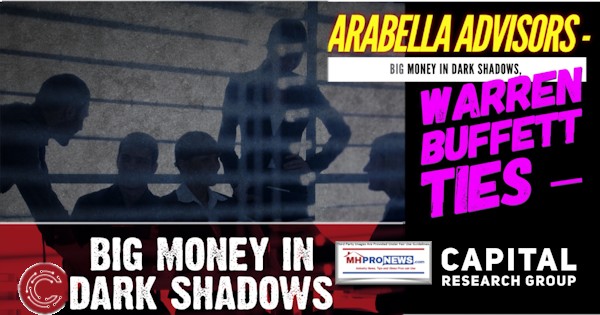 Capital Research Center (CRC) describes itself as a 501(c)(3) nonprofit organization that is "America's investigative think tank." Before diving into their research, and in fulfillment of our pledge in our first article today, let's first set the table with some general political and manufactured housing specific background.
The billionaire Koch brothers were well known for founding a network of nonprofits that advocated for center-right causes. While David Koch died on August 23, 2019, Charles Koch carries on, as a recent report on MHProNews reflected. So, for newer or first-time readers here, it must not be thought that we pull back the veil in only one direction. Indeed, a look at a newly-minted conservative dark money group is planned soon.
That said, on the political left it is often George Soros who is named in terms of the dark money and the progressive causes he champions. Perhaps it is ironic, but it is the Soros funded Open Secrets nonprofit among others that help define what dark money is and help track it.
But as regular and detail-focused MHProNews readers known, Warren Buffett and others are active in this dark money realm too.
Buffett and Soros at times back similar causes. Those nonprofits efforts have been known to directly impact the manufactured home industry negatively through advocacy, media attention that may be problematic in nature, or in forming policy narratives that blunt what should be manufactured housing's potential.
There are several nonprofits MHProNews has previously examined in that context. Today's look will be at the Arabella Advisors, a 501(c)3 nonprofit that per the Capital Research Group's (CRC) 2019 April 17, 2019 report by Hayden R. Ludwig says supports mainly left-wing or progressive efforts.
Let's note that MHProNews' interest in this research is less about the politics, and more about how Warren Buffett uses such groups to advance his agenda in ways that often has harmed the manufactured housing industry. We have long promoted the bipartisan or nonpartisan ideal for manufactured housing.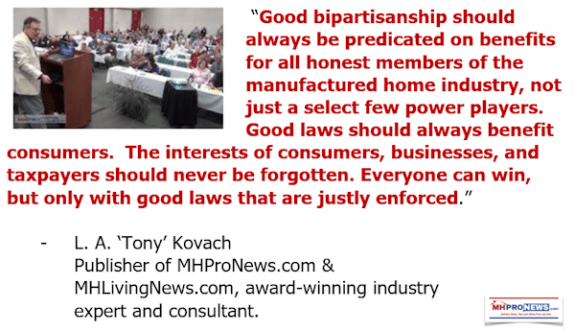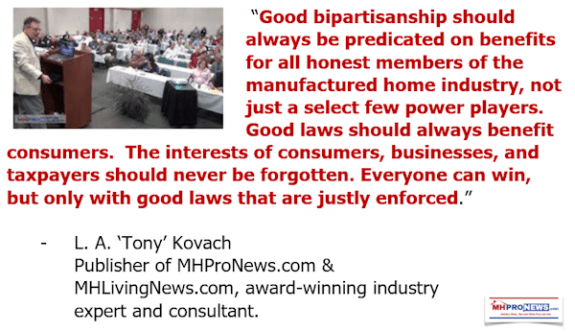 With that backdrop, the following bullets are quotes from CRC on their research into the dark money flowing into and from Arabella.
According to the nonprofit organizations' tax returns, between 2013 and 2017, the Arabella network received a staggering $1.6 billion in contributions, which it has used to advance its donors' agendas through dozens of "front" groups and "astroturf" initiatives. The Arabella network of funds is also growing rapidly: from 2013 to 2017, the network's revenues grew by an incredible 392 percent. Arabella's network often plays host to highly influential groups on the Left. For example, the Democracy Alliance, a network of donors co-founded by billionaire George Soros, has used the New Venture Fund and Sixteen Thirty Fund to host at least eight projects that don't disclose their original funders. While financial information for the 2018 election year has not been disclosed, the Arabella network will likely show continued steep revenue growth.
Some of the nation's largest grantmaking institutions, including the Rockefeller, Packard, and Kellogg Foundations are donors to the funds managed by Arabella. It remains unclear why such large and powerful institutions seek outside philanthropic consulting, but presumably a significant part of Arabella's appeal lies in its ability to obscure large financial transactions.
A left-of-center Politico report on the Sixteen Thirty Fund — a 501(c)(4) under the Internal Revenue Code — described that portion of the empire as a "liberal secret-money network" in which nonprofit groups spend millions of dollars to shape elections and policy "even while criticizing 'dark money' and its effects on politics. . . . They have aired 6,885 broadcast TV ads [during the 2018 election campaign], according to Advertising Analytics, a TV tracking firm—more than the U.S. Chamber of Commerce and almost as many as [the Koch-supported] Americans for Prosperity, two of the five biggest nonprofit political advertisers focused on the House and Senate in the first half of this year."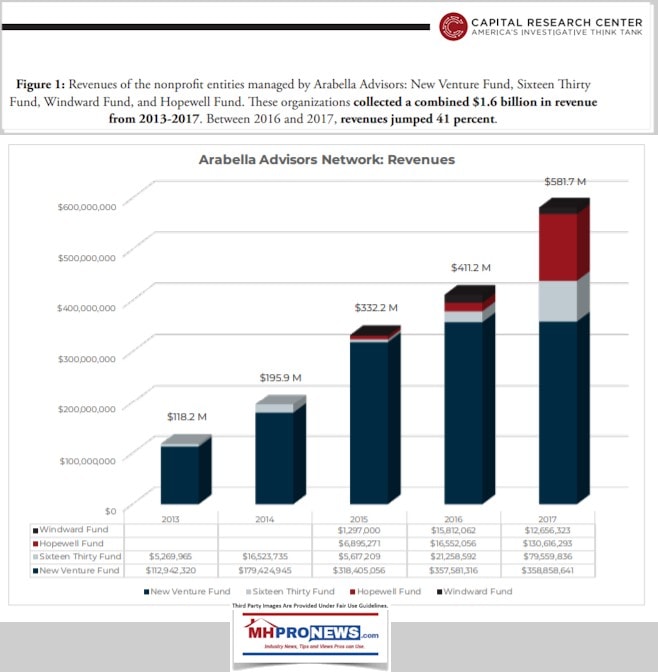 CRC said that "In the last year, mainstream outlets published 47 stories about Arabella Advisors or its four funding vehicles—most mentioning the network only in passing. In contrast, the Koch network appeared 189 times in the same outlets, and the coverage included much more thorough reporting than anything written on Arabella."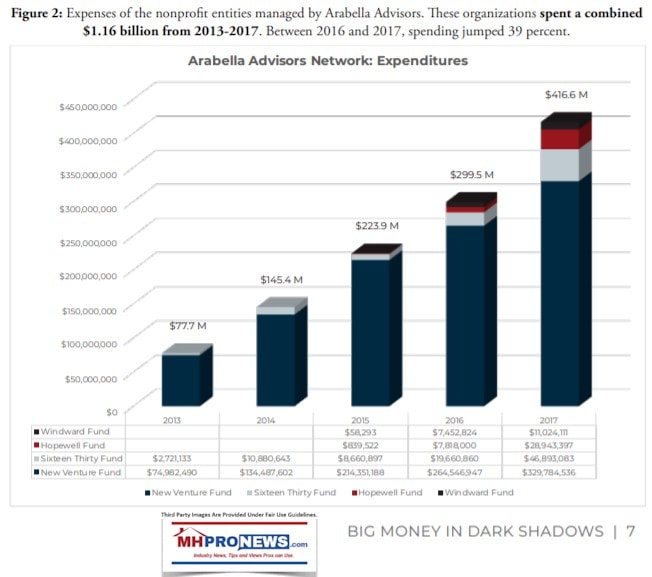 CRC said that Arabella is "a massive "dark money" network created by a former Clinton administration staffer that is quietly leading attacks on the Trump administration, originalist judicial nominees, prolife policies, and much more—and all under the guise of "philanthropy.""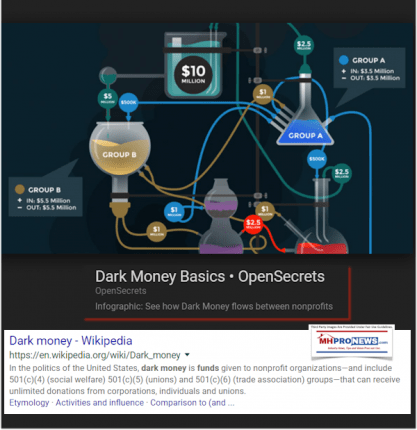 Longtime MHProNews readers will recall several ties between Warren Buffett, the Clintons, and Clayton Homes. More on that shortly.

Worth reported in November 2017 that "Arabella is the largest philanthropy consultancy in America and has a staff of 160, catering to more than half of the 50 largest grantmaking foundations in the country," said CRC, adding that "Eric Kessler founded Arabella Advisors…"
"Prior to joining the Clinton administration, Kessler was national field director for the League of Conservation Voters, a major 501(c)(4) environmental advocacy group that has been described as a "dark money heavyweight" by the left leaning Center for Public Integrity," says the investigative research report, the full version of which will be linked further below as a download.
It merits noting that Buffett's ties to the Clinton Global Initiative (CGI) and the Center for Public Integrity (CPI) have previously been documented by MHProNews.
Recall, among other points, the problematic outcomes reported by mainstream and other media about Clayton Homes role in the post-Haitian earthquake 'relief' fiasco. See the report from the linked text-image box below.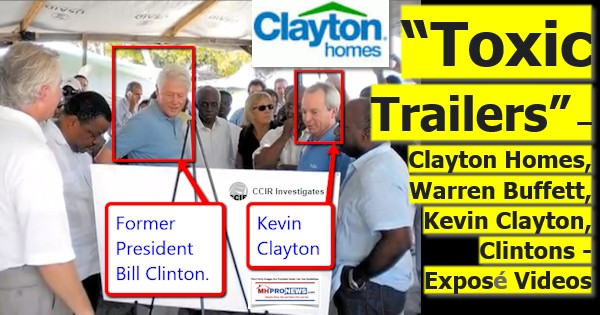 Said CRC, "Kessler later served as a member of the Clinton Global Initiative, an arm of the Bill, Hillary & Chelsea Clinton Foundation; his official Arabella Advisors biography, however, makes no mention of his affiliation with the scandal-ridden Clinton Foundation…" They noted that the Washington Post raised ethical issues about co-mingling foundation and paid work by former President Bill Clinton and his foundation.
In a manufactured home/Warren Buffett related point, research from the Clinton Foundation Timeline said "the Clinton Foundation selected Clayton Homes, a construction company owned by Warren Buffett's Berkshire Hathaway, to build temporary shelters in Haiti. Buffett is an active member of the Clinton Global Initiative who has donated generously to the Clintons as well as the Clinton Foundation. The contract was supposed to be given through the normal United Nations bidding process, with the deal going to the lowest bidder who met the project's standards. UN officials said, however, that the contract was never competitively bid for…"
The same source said, "Clayton offered to build "hurricane-proof trailers" but what they actually delivered turned out to be a disaster. The trailers were structurally unsafe, with high levels of formaldehyde and insulation coming out of the walls. There were problems with mold and fumes. The stifling heat inside made Haitians sick and many of them abandoned the trailers because they were ill-constructed and unusable." Again, note our prior related report linked here.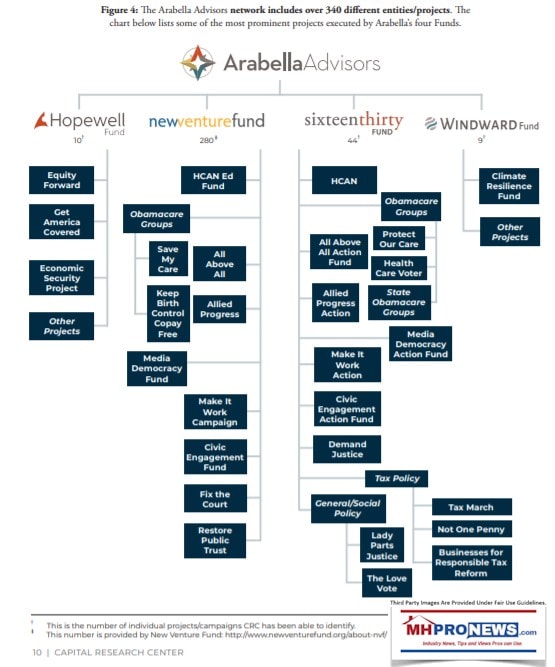 Back to CRC's research, "Most of the grant descriptions from the private foundations keep their donors' intent hidden behind opaque descriptions that say the money is for "project support," without stating which New Venture Fund project in particular (as in a $4.5 million grant by the Susan Thompson Buffett Foundation in 2015)."
CRC stated that donations totaling some "$32 million from the Susan Thompson Buffett Foundation since 2012, nearly $19 million from the Wyss Foundation since 2010, and a staggering $150 million from the Gates Foundation since 2009."
Left-of-center USA Today said that Warren Buffett donated $3.6 billion worth of Berkshire Hathaway shares to five foundations.
Buffett said last summer he will convert 11,250 Class A shares of Berkshire stocks into 16.875 million Class B shares. Roughly 16.8 million of these Class B shares will be donated to five foundations: Bill & Melinda Gates Foundation, Susan Thompson Buffett Foundation, Sherwood Foundation, Howard G. Buffett Foundation and NoVo Foundation. The last four foundations are closely entwined with Buffett and his family, and the 'Oracle of Omaha' sits on the board of the Gates Foundation.
CRC noted that these donations to Arabella connected nonprofits are used to provide financial support for hundreds of 'pop-up' groups, including, but not limited to, anti-Trump Administration efforts, such as the roll-back of ObamaCare, gun-activism, tax policy, or the nomination of now Supreme Court Justice Brett Kavanaugh, among other federal court nominees. They cited "a private memo written by Brock's groups…obtained by the Washington Free Beacon, this network is dedicated to "defeat[ing] Trump either through impeachment or at the ballot box in 2020."
While this may be music to the ears of some never-Trumpers or those on the political left, it is important for those who support President Trump's "America First" "Drain the Swamp" agenda – or HUD Secretary Carson' pro-manufactured housing efforts – to see how the various ways that weaponized nonprofit groups like Arabella – with backing from Warren Buffett and others who are like-minded – can be directed in difficult to detect ways as they follow their leftist/activist agendas.
That's very much in keeping with point Clayton Homes President and CEO Kevin Clayton raised as he gushed about working with nonprofits and educational organizations during his video interview, found near the end of the report linked below.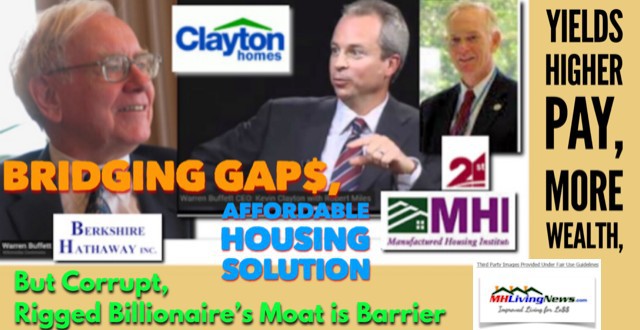 Left-leaning Mother Jones noted on Mar 14, 2019 that "…recently, dark money has favored Democrats." The Center for Public Integrity, funded in part by Buffett, noted on Feb 20, 2018 that "Democrats love decrying "dark money" – political contributions…" but they are getting hypocritically getting the benefits of it.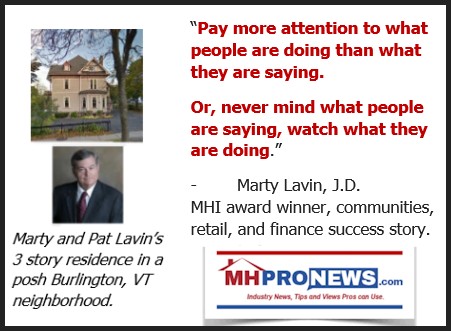 MHProNews Takeaways
The problem of dark money, as noted at the top, is not just a left or right issue. This game occurs on both sides of the two major parties' political aisle, though it seems to favor Democrats in terms of funding, according to numerous sources across the left-right spectrum. Wikipedia lists several beneficiaries of dark money that includes Democratic and Republican candidates.
But from the perspective of impact on manufactured housing, the elephant in the room is Warren Buffett, Berkshire Hathaway, and their connected brands.
The ability for Buffett-funded groups to de facto be able to target people, industries, or organizations, to embarrass or hobble them is made apparent in the Last Week Tonight with John Oliver viral video errantly named "Mobile Homes." While the example below may seem counter-intuitive, don't forget that Zillow documented that interest in manufactured housing is declining. To the general public, millions won't care about the brand, they will simply discount considering a manufactured home, period. How that benefits Buffett and his brands is that it fosters consolidation.  See more at this link here, here, and here.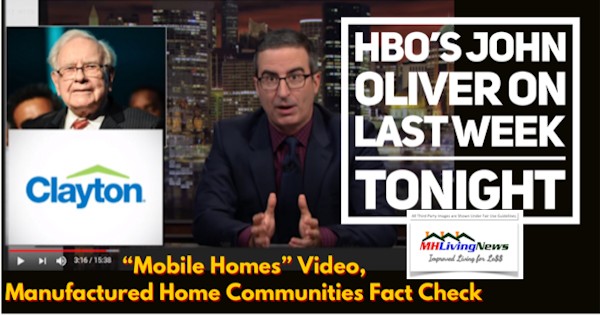 There's more details on this issue to be found in the full CRC document at this link here as a download.
The industry's individual locations logically can't grow to their potential unless they understand the dynamics at play against them. That's a simple principle of SWOT analysis. That's why reports like this matter, especially to MHVille independents, present and potential industry investors.
Publicly Traded Manufactured Housing Firms – Which Source Do You Trust More? Why? MHI, MHARR, Others
This is your second Monday morning installment of the industry's top and most-read source for accountability, fact-checks, and growth-focused manufactured home "Industry News, Tips, and Views Pros Can Use" © where "We Provide, You Decide." © ## (News, analysis, and commentary.)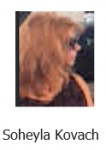 Submitted by Soheyla Kovach for MHProNews.com.
Soheyla is a managing member of LifeStyle Factory Homes, LLC, the parent company to MHProNews, and MHLivingNews.com. Connect with us on LinkedIn here and and here.
Related Reports:
Click the image/text box below to access relevant, related information.
Clayton Homes Annual Report Reviews Truth Hiding in Plain Sight
Senate Democrats – Including 2020 Presidential Contenders – Ask CFPB Protect Consumers Against Predatory Lenders — Point Finger at Clayton Homes, Berkshire Hathaway Lending
"Warren Buffet's Exploitative Mobile Home Investment" Kori Hale in Forbes Rips Clayton Homes, Berkshire Hathaway's Predatory Manufactured Home Practices
Warren Buffett's Berkshire Hathaway, Clayton Homes, 21st Mortgage Corp and their "Strategic Moat," Plus Manufactured Housing Equities Updates
Warren Buffett Would be Okay With Clayton Homes Losing Money, Says Kevin Clayton – But Why?
Clayton Homes and 21st Mortgage's Manufactured Housing "Spies"
Seattle Times -Federal Investigations-Berkshire Hathaway's Clayton Homes, GuruFocus Spotlights Buffett's Clayton's "Unethical," Monopolistic Moat