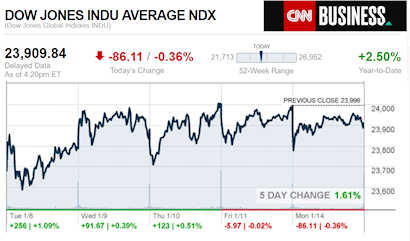 Manufactured home equities closed mixed again today, and the broader markets overall took their second closing dip that started on Friday. Ideally and historically – given that there is an affordable housing crisis – manufactured housing stocks should be more durable than they have been in recent years.  Why the shift, from years gone by?  That will be our investor focus for this evening.
If you're new, already hooked on our new spotlight feature – or are ready to get the MH professional fever – our headline report is found further below, after the newsmaker bullets and major indexes closing tickers.
The evolving Daily Business News market report sets the manufactured home industry's stocks in the broader context of the overall markets.  Headlines – at home and abroad – often move the markets.  So, this is an example of "News through the lens of manufactured homes, and factory-built housing." ©
Part of this unique evening feature provides headlines – from both sides of the left-right media divide – which saves busy readers time, while underscoring topics that may be moving investors, which in turn move the markets.
Readers say this is also a useful quick-review tool that saves researchers time in getting a handle of the manufactured housing industry, through the lens of publicly-traded stocks connected with the manufactured home industry.
This is an exclusive evening or nightly example of MH "Industry News, Tips and Views, Pros Can Use." © It is fascinating to see just how similar, and different, these two lists of headlines can be.
Want to know more about the left-right media divide from third party research?  ICYMI – for those not familiar with the "Full Measure," 'left-center-right' media chart, please click here.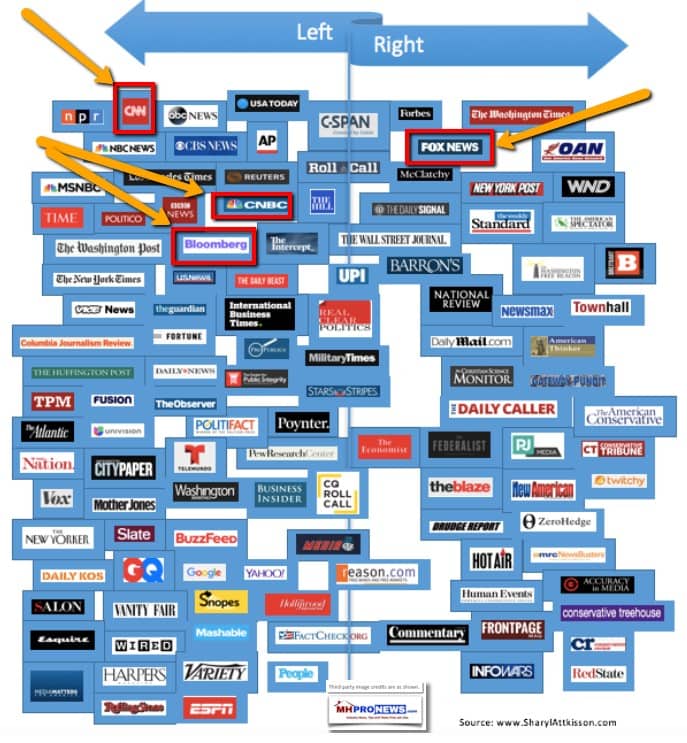 Select bullets from CNN Money…
The other Sears that isn't in bankruptcy
Hometown stores were supposed to be shielded from Sears' woes. That's not how it turned out
What moved the markets today
Citi is the first bank to report earnings, and the results aren't great
Volkswagen will add 1,000 jobs at Tennessee plant
Rival wants to buy USA Today publisher Gannett
Bitcoin is 10 years old. But it won't go mainstream until it's regulated
Wells Fargo has splurged on stock buybacks since fake-accounts scandal
Brexit is a nightmare for currency traders
Carlos Ghosn's wife slams Japan's 'draconian' legal system
Saudi Arabia: We can 'easily' cut oil supply further if global economy stalls
Human trafficking is a global epidemic. And we can all help fight it
Shopping Content by CNN Underscored
These earbuds are an alternative to AirPods
20181220-perspectives-trump-xi-hooper
The Chinese investment boom in America is over
PG&E, utility tied to California wildfires, will file for bankruptcy
How some wellness programs encourage toxic attitudes about body size
Wells Fargo has splurged on stock buybacks since fake-accounts scandal
It's paying $575 million to settle fake account claims
Facebook and Wells Fargo are in bottomless pits of scandal. They each reacted differently
One family's Wells Fargo foreclosure nightmare
Lawsuit says the bank knew for years that auto insurance was hurting customers
This Hyundai got its second Car of the Year award
Ford redesigns 'world's most popular SUV'
See the crazy doors on Lincoln's new $100k car
Jeep will make its first pickup in 26 years
Tesla will cut prices to combat tax credit phase out
Select Bullets from Fox Business…
US economy has good momentum in 2019: Fed Vice Chair Richard Clarida
Stocks fall as China data raises growth concerns
Lawmakers who are forgoing pay amid shutdown
US veteran unemployment rate hits all-time low in 2018
Bernie Sanders looks to raise federal minimum wage with new bill
USA Today publisher Gannett gets $1.36B hostile takeover bid
Gymboree plans to file for bankruptcy
More Americans fleeing high-tax states
IRS launches free tax prep software ahead of filing season
What will the future hold for Sears?
What's Next for PG&E?
PG&E discloses bankruptcy protection plans, stock falls most ever
Now that PG&E is filing for bankruptcy, what happens next?
Chief executive of PG&E steps down
Toyota boss to Trump: No such thing as American-made car
Cadillac president talks electric vehicles, China market
Smaller tax refunds could hurt US auto sales in 2019: Report
Ocasio-Cortez, left-leaning politicians dominate Twitter talk
Here's what MacKenzie Bezos has said about her husband
Amazon may lease large retail space in Chrysler Building: Report
Travis Scott required NFL charitable donation for Super Bowl halftime show: Report
Why this state will pay you $10,000 to move there
Why a cold workout could be more beneficial
Today's markets and stocks, at the closing bell…

Manufactured Housing Composite Value (MHCV)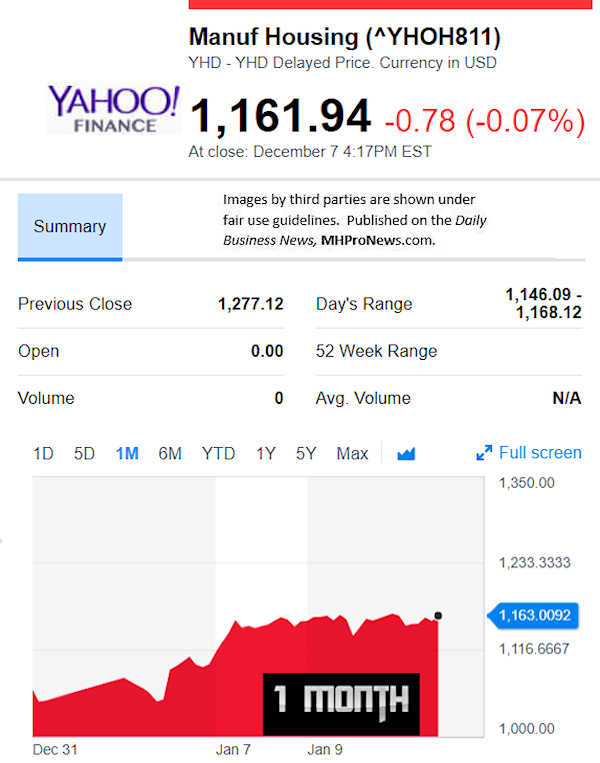 Today's Big Movers
For all the scores and highlights on tracked manufactured home connected stocks today, see the Bloomberg graphic, posted below.
Today's MH Market Spotlight Report –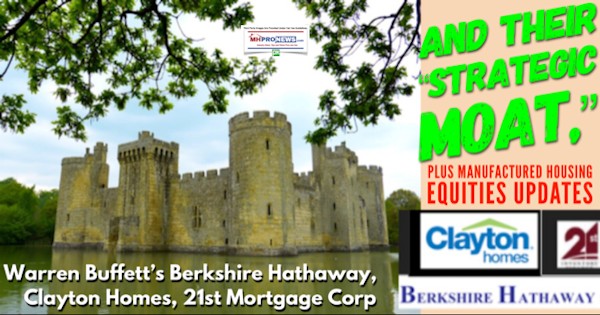 "

Sometimes the best hiding place is the




one that's in plain sight

."
― Stephenie Meyer, The Host.
"

Sometimes it's best to hide in plain sight

."
― David Estes, The Moon Dwellers – both quotes per Goodreads.
The 800-pound gorilla in manufactured housing production is Clayton Homes, a part of the Berkshire Hathaway conglomerate.
Let's start this evening by defining the term, 'the Moat,' as described by Investopedia.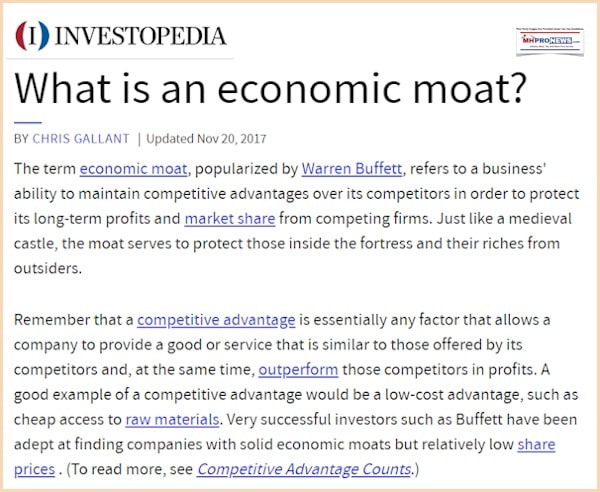 If you want to understand the factory-built housing industry's arguably incredible potential – vs it's poor performance in the last 15+ years – one must understand Clayton Homes and their strategic Moat.
When Jeff Bezos' Amazon Alexa Fund said they calculate the potential of factory built homes at some $330 billion a year, and manufactured housing only did some $6.5 billion in 2017, one must ask, what's going on?
This feature should be viewed as a 'hub' that cross links several related reports.  No one article will cover it all. So Let's tee this up in a simple fashion.
Almost a year has gone by since the Urban Institute asked the insightful question:
"Manufactured homes could ease the affordable housing crisis.




So why are so few being made?"
The first spoke of the hub is this article with videos of Warren Buffett, Kevin Clayton and others, linked below.  It's been updated today with a few more useful items.
America woke up today to division. But perhaps 75 percent (+/-) of the nation's people could come together on a plan that demonstrably could do the following. Increase the U.S. Gross Domestic Product (GDP) by some $2 Trillion Annually, without new federal spending.
The next spoke of the hub is the use of nonprofits and trade associations. We'll keep this simple with this report, linked below, that quotes a former Manufactured Housing Institute president at length.
" During my time at MHI, I was often asked the same question, "What must happen for business to return – for manufactured housing to begin growing again? " My stock answer would usually start with 'financing' and end with a general comment about the need to bring 'value' to our customers."
Hub number three? It's an analysis of a report in the Atlantic, that cites Clayton Homes, and correctly predicted certain trend retail lines.
Examining Derek Thompson's Atlantic Report on 'Mobile Home' Retail Market as Fastest Dying Business In America
Next consider this surprising factoid. 
While the Urban Institute's report was useful to manufactured housing, a close look at it by an informed industry professional would reveal certain flaws. Nevertheless, overall, it was a plus, as were reports by the National Association of Realtors, Bloomberg and others in 2018.  So why didn't MHI highlight those on their website?  How could a trade body that claims it wants the industry to grow miss powerful positive, third party reports to bolster their case? Oversight?  Or part of the Clayton strategic moat?
Manufactured Housing Institute on Urban Institute, Bloomberg, National Association of Realtors Reports Praising Manufactured Homes
For those who may wonder why there aren't more trade associations in manufactured housing, as there are in mainstream housing, the automotive, or RV industries – to name but a few – that's a point that the Manufactured Housing Association for Regulatory Reform has pushed for years.  They assert that Berkshire dominated MHI is the latest iteration of a longer trend.  The bigger firms have long dominated MHI.  If so, a flawed policies at the 'umbrella' association MHI can be used to consolidate the industry by slowly throttling smaller players.  Are MHARR alone in that belief? Apparently not, because a new trade association has recently emerged, accusing MHI of failing independents.
Washington, D.C., January 8, 2019 – The National Association of Manufactured Housing Community Owners (NAMHCO), a new, independent association representing a key manufactured housing industry post-production constituency, has announced a major step in its initial organization and the start of national-level advocacy activities to better and more effectively represent the post-production sector in Washington, D.C.
MHARR's 2017 report examining this issue in depth is linked here.
Washington, D.C., November 15, 2017 – The Board of Directors of the Manufactured Housing Association for Regulatory Reform (MHARR) has authorized the public release of a comprehensive internal study by the Association of the past, present and future representation of the post-production sector (PPS) of the federally-regulated manufactured housing industry.
For a nation that's listened to the phrase 'rigged system' since 2015, that Senator Bernie Sanders and then-candidate Donald J. Trump made popular, it's interesting to note that MHARR points to their concerns that MHI and the Berkshire brands have essentially 'rigged' the Congressionally mandated Duty to Serve (DTS) part of the Housing and Economic Recovery Act (HERA) of 2008.  Here's but one of their takes on the DTS issue.  Keep in mind, it's an attorney who is dotting i's and crossing t's that is writing the following.
https://manufacturedhousingassociationregulatoryreform.org/mharr-exposes-gses-failure-on-chattel-financing-before-congress/
There are numerous voices, past and present, associated with MHI who have been quoted in the report below.  Those varied voices shed lights on different aspects of how the 'moat' was built, even though they were not using that phrase.  Some make it clear that MHI is a tool of Berkshire Hathaway.
Why Is Manufactured Housing Struggling During an Affordable Housing Crisis? Former MHI President, VP, Other's Quotable Insights
That's plenty of reading for a while, right?  But once you or anyone starts to get their heads around this, you'll understand why Maxine Waters, and 3 other Democrats have leveled similar charges against Clayton, their affiliated lenders, as have others across the left-right divide.
As federal investigations press on, one question is, will Democrats and the Trump Administration work to unrig the system?
Bloomberg Closing Ticker for MHProNews…
NOTE: The chart below includes the Canadian stock, ECN, which purchased Triad Financial Services.
NOTE: The chart below covers a number of stocks NOT reflected in the Yahoo MHCV, shown above.
NOTE: Drew changed its name and trading symbol at the end of 2016 to Lippert (LCII).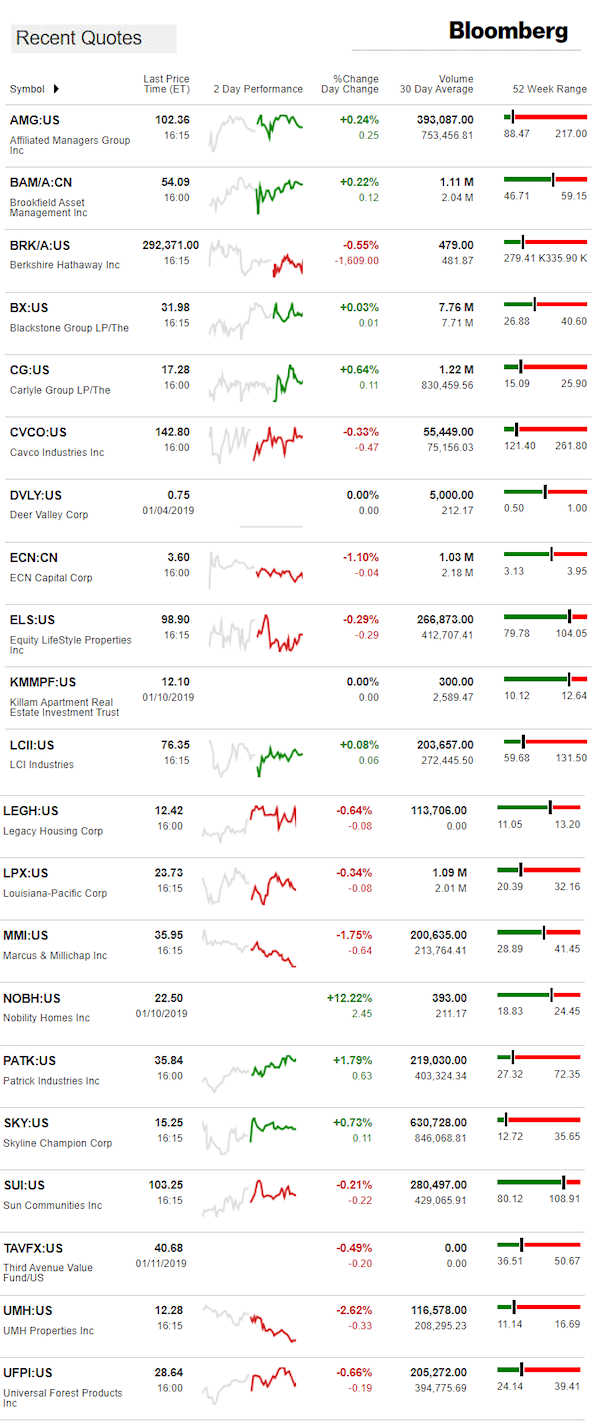 Berkshire Hathaway is the parent company to Clayton Homes, 21st Mortgage, Vanderbilt Mortgage and other factory built housing industry suppliers.
LCI Industries, Patrick, UFPI and LP all supply manufactured housing.
AMG, CG and TAVFX have investments in manufactured housing related businesses.
Your link to industry praise for our coverage, is found here.
For the examples of our kudos linked above…plus well over 1,000 positive, public comments, we say – "Thank You for your vote of confidence."
"We Provide, You Decide." © ## (News, analysis and commentary.)
(Image credits and information are as shown above, and when provided by third parties, are shared under fair use guidelines.)
Submitted by Soheyla Kovach to the Daily Business News for MHProNews.com.