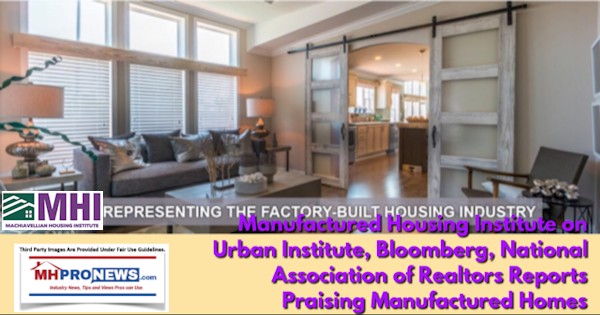 Imagine for a few moments that a law would allow you to place a new HUD Code manufactured home someone wants to purchase in one of the numerous areas where they are currently being zoned out by local officials.  There is arguably no need to imagine that, because that law exists. It is a federal law already on the books. To set the table on this analysis, it is useful to read or refresh yourself on the topic of "enhanced preemption."  That's an important and useful provision under the Manufactured Housing Improvement Act (MHIA) of 2000.
Yesterday, the Daily Business News on MHProNews presented an eye-opening fact-check that underscored where you can most easily find information online when searching Google for "manufactured housing" and "enhanced preemption."  That report can be accessed by clocking on the hotlinked text/image box below.
Surprising Discovery on Manufactured Housing's Enhanced Preemption, Hidden Gem$
Next, imagine that you wanted to tell your fellow Americans the facts about the good news of manufactured housing.  In the course of the year, several third-party research items make the news, which on balance, were favorable to the industry.  You'd want to refer to some of that research, wouldn't you?
Common sense suggests, yes. Just as companies use testimonials to bolster their claims, so too industries, companies, or institutions routinely point to outside research by a third-party that 'makes their case.'
Yesterday, and today, two separate reality-checks are going to make something ever more clear.  Using their own website's search tool, MHI has apparently no content on their own website that says anything about 'enhanced preemption.'
Furthermore, after discovering the above, the industry's most-read trade media – MHProNews – did an additional check.
Is MHI showcasing the positive third-party reports about modern manufactured homes on their own website?
Again, based upon the results shown from their own website search tool, the surprising – shocking, and disappointing – answer is, no.  MHI has made no mention of the positive research on their own website of the reports by the Urban Institute, Bloomberg, or National Association of Realtor research.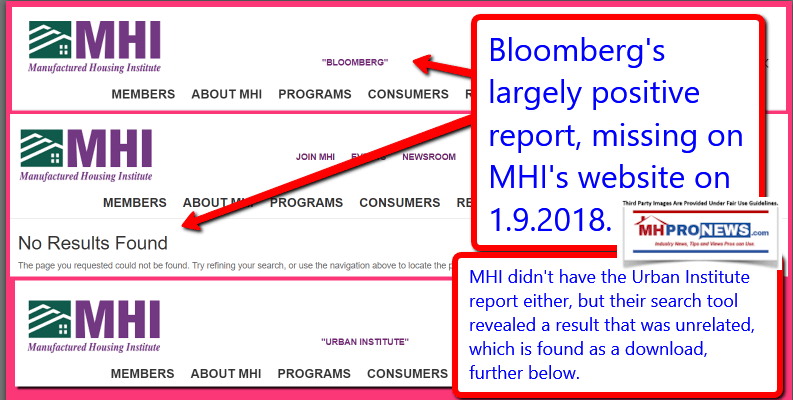 What's going on?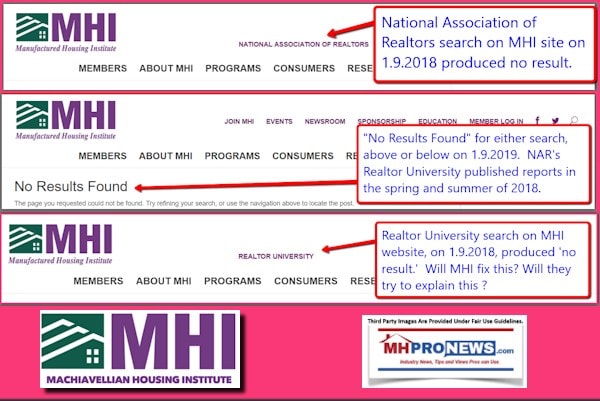 Fair and Balanced…
One of the searches for those 3 positive reports on manufactured housing provided a link to this article linked here, which is reproduced under fair use guidelines for media. The linked article is overall okay. But there is not one word about enhanced preemption, while they do raise the argument of "Affirmatively Furthering Fair Housing" (AFFH).
If challenged, either an appeal to AFFH or "enhanced preemption" would likely have to be adjudicated. An industry attorney observed that while both could be useful arguments to advance the industry's interests, the AFFH argument requires both factual research/evidence but also a legal argument.  By contrast, the Enhanced Preemption assertion requires only a legal argument, a simpler case.
Furthermore, HUD Secretary Ben Carson has already said publicly that "I hear you" to the manufactured home industry's concerns and issues.  Given that the Trump Administration has said that it wants to enforce the law, isn't it just common sense that the simpler argument at least be raised by the industry's largest trade group?
"A New Era of Cooperation and Coordination," is Promised by HUD Secretary Carson, Saying "I Hear You"
In the light of the first report linked above and here, a non-MHARR industry producer emailed yesterday to say that MHI is "as worthless as tits on a boar hog," a colorful, if sexist sounding, assertion.
MHProNews publisher L. A. 'Tony' Kovach represents the growing numbers of industry voices with more sobering concern.  Kovach says that there is a case to be made that the "Omaha-Knoxville-Arlington Axis" – which obviously has made MHI it's favored industry trade group – is allowing actual and artificial headwinds to limit the industry's growth and recovery.  That in turn allows larger companies to slowly, steadily "consolidate" smaller ones that weary of the barriers to remain or enter the industry.

In that view, articles like the two below are window dressing. "You could call these MHI articles razzle dazzle, red herrings, window dressing, or head fakes," Kovach said. "It's like their latest emailed news update.  Not one word about the drop in new manufactured home shipments.  Instead, you have a bunch of photos of people who met in Washington, D.C.  You have plenty of plugs for their next events, which are profit centers. So, where is the actual performance of MHI? As the classic Wendy's commercial asked, 'Where's the beef?'"
The articles on zoning and manufactured housing used in their claimed battle for using more manufactured homes as affordable housing are as linked here.  The images that are shown therein have been added by MHProNews to juxtapose what MHI has done, with the sometimes stark comments by others – including MHI affiliates and members – on the topics of enhanced preemption and the promotion of the industry that they claim to represent.  In the light of such facts, is it any wonder that a new national trade association is taking shape?  Or that rumblings for another to represent independent retailers and others are growing? See the related reports, linked further below. ## (News, analysis, and commentary.)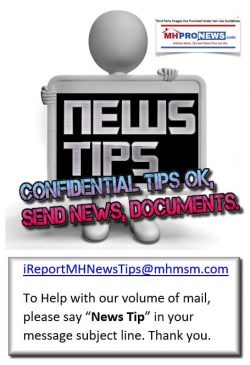 NOTICE: You can get our 'read-hot' industry-leading emailed headline news updates, at this link here. You can join the scores who follow us on Twitter at this link. Connect on LinkedIn here.

NOTICE 2: Readers have periodically reported that they are getting a better experience when reading MHProNews on the Microsoft Edge, or Apple Safari browser than with Google's Chrome browser. Chrome reportedly manipulates the content of a page more than the other two.
(Related Reports are further below. Third-party images and content are provided under fair use guidelines.)
1) To sign up in seconds for our MH Industry leading emailed news updates, click here.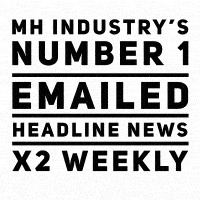 2) To pro-vide a News Tips and/or Commentary, click the link to the left. Please note if comments are on-or-off the record, thank you.
3) Marketing, Web, Video, Consulting, Recruiting and Training Re-sources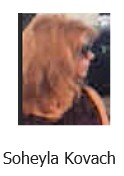 Submitted by Soheyla Kovach to the Daily Business News for MHProNews.com. Soheyla is a managing member of LifeStyle Factory Homes, LLC, the parent company to MHProNews, and MHLivingNews.com.
Related Reports

:
You can

click on the image/text boxes

to learn more about that topic.
New Association Weighs In, Giving Credit Where It's Due, Opportunitie$, But Winds of Change Challenge Manufactured Housing's Future
Two Great Laws Already on the Books NOW,  Can Unlock Billion$ Annually for Manufactured Housing Industry Businesse$, Investor$
Washington, D.C., January 8, 2019 – The National Association of Manufactured Housing Community Owners (NAMHCO), a new, independent association representing a key manufactured housing industry post-production constituency, has announced a major step in its initial organization and the start of national-level advocacy activities to better and more effectively represent the post-production sector in Washington, D.C.