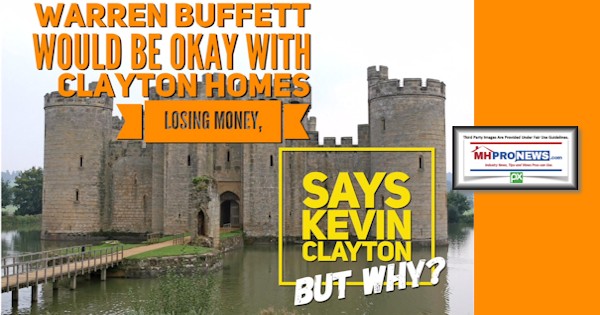 Kevin Clayton said that headline in his own words, as the video interview of him posted below demonstrates. But how does Clayton's statement even make sense? Why would he say such a thing? To understand the answer, and before we get to the video where he said that, various related points need to be understood.
HUD Secretary Ben Carson was correct when he said in Senate testimony earlier this year that modern manufactured homes are "amazing." The linked reports that follow can be read later for more depth, or to document a quote.
HUD Secretary Ben Carson Tells Senators, Today's Manufactured Homes "Amazing" Quality and Value
While the surprising quality of manufactured homes might have been a fairly recent revelation to Secretary Carson, a number of serious researchers have known that for decades. The Daily Business News on MHProNews has painstakingly documented several university-level or nonprofit reports that date back some two decades. One of those is linked below.
"Why Advocates Need to Rethink Manufactured Home Quality," Harvard, GSE, Genz, "High Satisfaction"
What those researchers had in common with HUD Secretary Carson is their own variation on Carson's statement, that today's manufactured homes are an "amazing" value.
Bloomberg is the most recent to spotlight what to most are the pleasant surprises to be discovered in modern manufactured homes.
Bloomberg "New Home for $90,000? Manufactured Housing Is Making a Comeback" Reveals MH Media Challenge
Which begs the question. Given the long-growing affordable housing crisis, why then are manufactured homes a shadow of their former sales levels?
Bloomberg and others are far from alone in their positive impressions. Perhaps the most through contemporary study of manufactured home facts by a third party to the industry has been by Scholastica 'Gay' Cororaton, Certified Business Economist (CBE) for the National Association of Realtors (NAR).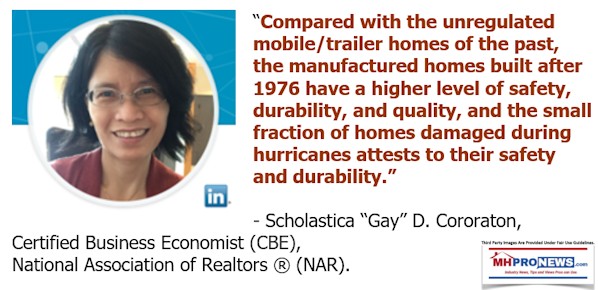 Cororaton more recently pointed to federal and state post-hurricane data that proved just how tough modern manufactured homes are.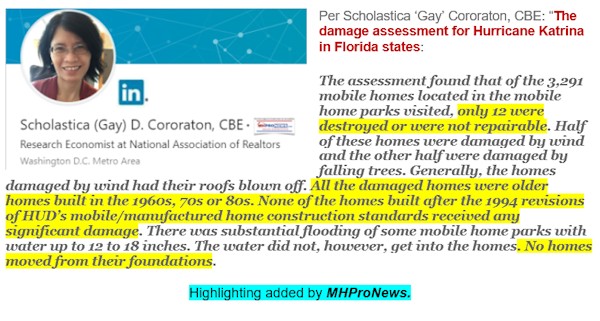 She demonstrated that manufactured homes can be a good investment, a point that Florida Atlantic University (FAU) Professor Ken Johnson made to MHLivingNews last year. 
While local papers routinely have news of old mobile homes that burn, what those locals may not realize is that a pre-HUD Code mobile home is far more at risk than a manufactured home. That link is to National Fire Prevention Association (NFPA) research, that says that manufactured homes are on par with the safety of conventional housing. It's one of several reasons why the terminology matters.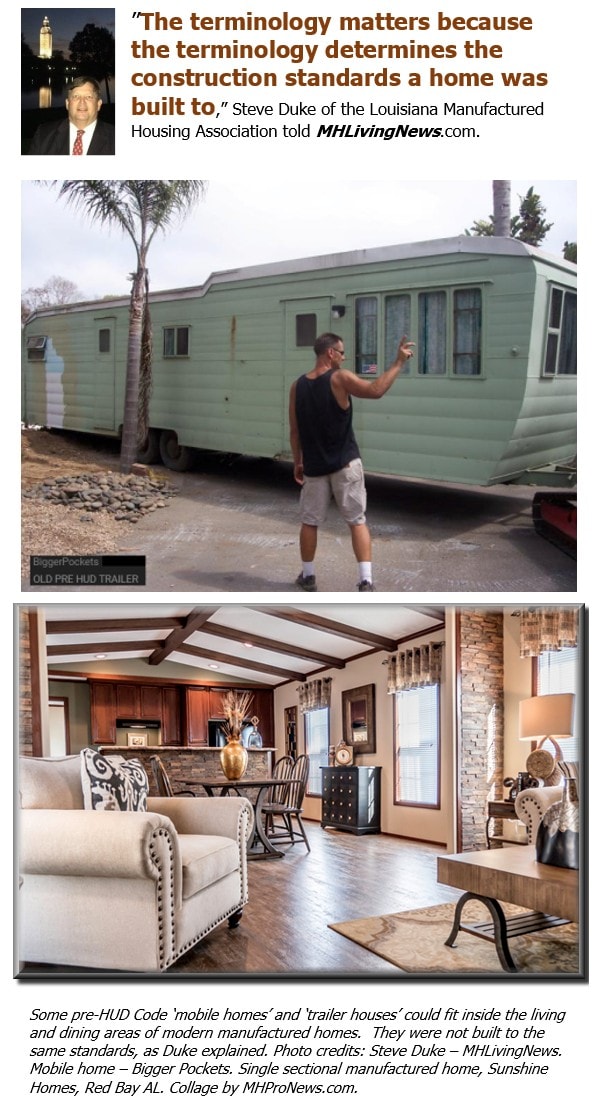 "Manufactured housing" isn't a marketing moniker.
Rather, "manufactured home" is a legal distinction, defined and established by federal law. That law is commonly known as the HUD Code for manufactured housing. A home that sports the red HUD label – a small metal plate affixed to the back end of each single or multi-section dwelling – was built on or after June 15, 1976.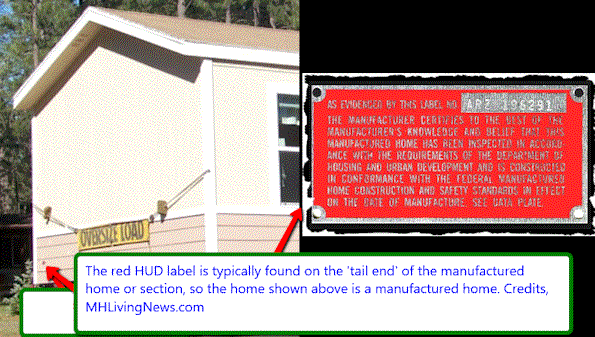 Before that date, there were mobile homes. After 6-15-1976, there have been no more mobile homes. 
Manufactured homes are proof that federal construction, energy, durability, and safety standards can work. Those standards are supposed to preempt local codes. So why has HUD avoided enforcing that for so many years?
Two Great Laws Already on the Books NOW,  Can Unlock Billion$ Annually for Manufactured Housing Industry Businesse$, Investor$
Summed up, many of the things that may have been true 42 or more years ago about mobile homes or the trailer houses before them, are no longer true about manufactured homes today. The video interview linked here walks a newcomer or searcher through the various eras of factory-built homes.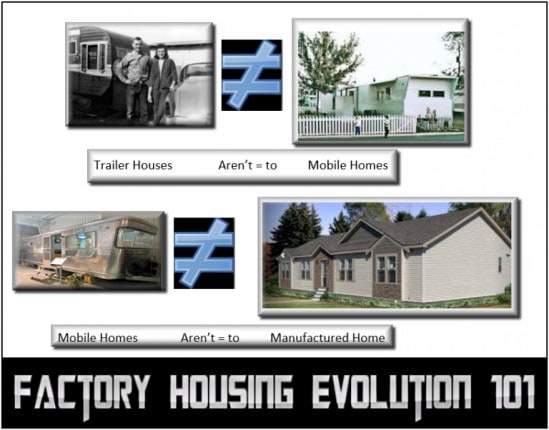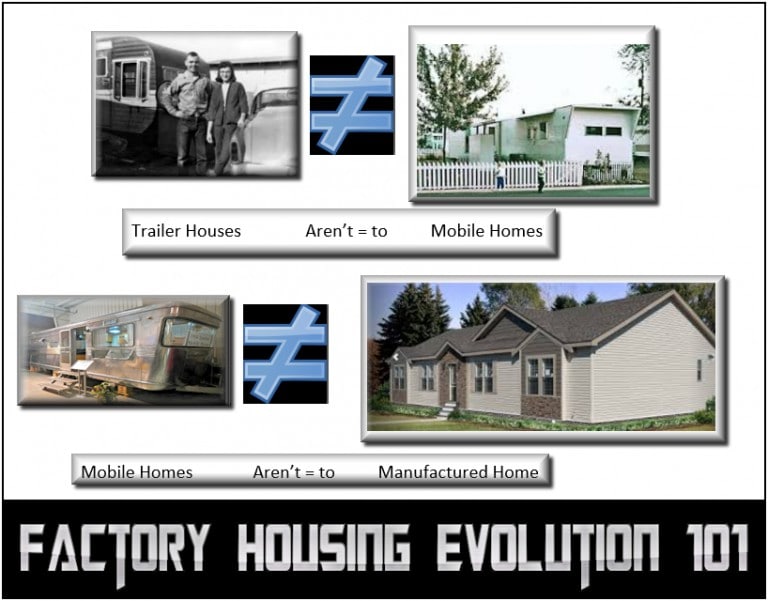 Contemporary manufactured homes are stronger, safer, greener, more energy saving, arguably will last longer, and are still just half the price of building new conventional housing, per US Census Bureau data.
Fresh Facts, Figures, Future of Affordable Housing -Comparisons- Conventional Site-Built v Mobile/Manufactured Home Industry Data
They are the most proven form of affordable housing.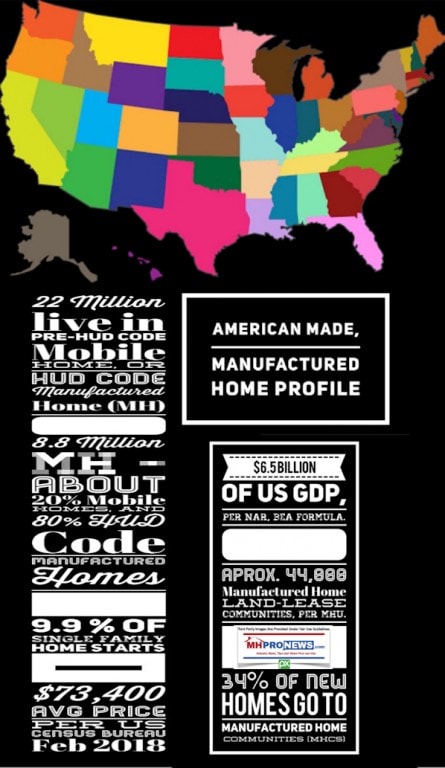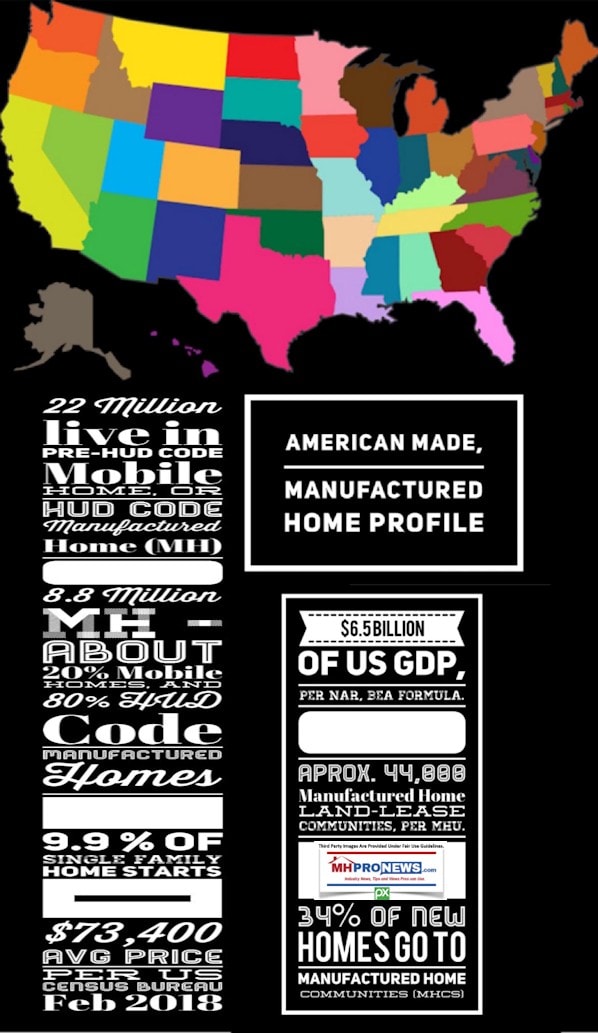 So, what explains the tragic decline of manufactured housing since its last peak of 1998?
Some point to flawed, unsustainable lending in the mid-to-late 1990s, as Triad Financial's Don Glisson Jr. told Bloomberg.
But Harvard's Eric Belsky knew about that manufactured home lending meltdown. He still predicted that because of the superior value proposition, and the growing need for affordable homes, that manufactured homes would surpass conventional housing by 2010.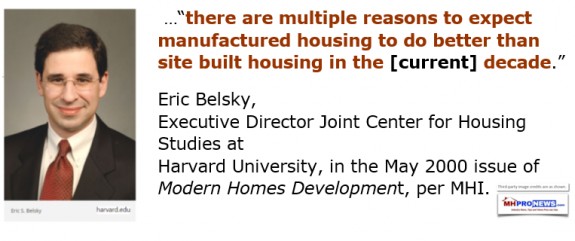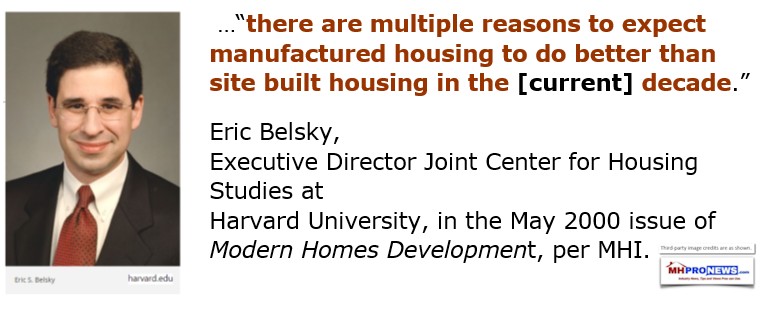 Belsky was proved wrong. But why?
Could he be because he didn't count on the entry of Warren Buffett's Berkshire Hathaway into the space, and thus Belsky could not have known of the disruptive effect Buffett's "strategic Moat" would have on the industry? 
Here is the summary of a possible, evidence-based answer to that $64 billion dollar question. 
1)    Consider the documents from 21st Mortgage Corporation, signed by Tim Williams, their president and CEO, that cut off lending to independents, which pushed them toward Clayton brands.
2)    Direct quotes from Warren Buffett's annual letter of that era, which contradicts claims made by Willams that they were being 'forced' by circumstances to do those letters. 
3)    The video interview with Kevin Clayton, President and CEO of Clayton Homes, who said on video that they had 'plenty of money,' so the answer to that question begins to comes into focus.
4)    It can be summed up by Warren Buffett's own words. They are the words Kevin Clayton repeatedly mentions in the annotated video below.
5)    Buffett was willing to lose money on Clayton Homes for years, says Kevin, so long as their competitive Moat was made bigger and broader. In fact, they did not find that necessary.  But it is worth noting that they have closed roughly 100 sales centers, per Kevin's own statement, since that video was made. Sources in Clayton said to MHProNews that a significant portion of their sales centers were not profitable. So, while the company has been profitable, they were willing to lose money at specific locations, at least for a period of time.
6)    Want evidence that neither Clayton nor MHI has publicly disputed? See the video, documents, and linked articles below. 
7) Note that firebrand Frank Rolfe has blasted MHI for their failure to defend the industry, or to promote good news. Rolfe is a prominent MHI member. A formal statement by an MHI SVP made it clear that they were pursuing 'regulatory reforms' that they didn't expect to achieve, see that, linked here.  More recently, the successor to that SVP told the Washington Post that MHI did not try to mitigate the harm being done by Pam Danner, who was overreaching on regulations at HUD, even though the industry was clamoring for it. By contrast, per that same Washington Post report, MHARR pushed back, and finally achieve Danner's removal.
8) The allegations can be summed up like this. By deliberate action, and/or inaction, the industry was allowed to contract. The result was the Clayton's market share grew rapidly. It fits the Buffett "strategic Moat." Once the powers-that-be decide that the industry should 'recover,' they are then poised to profit handsomely. Market manipulation, hiding in plain sight.  Besides the headline quote from Kevin, notice in the video below that he says that the industry was ready then to do an image/education campaign.  Years later, they are only now getting underway.  While they delayed, there's been even more contraction and consolidation.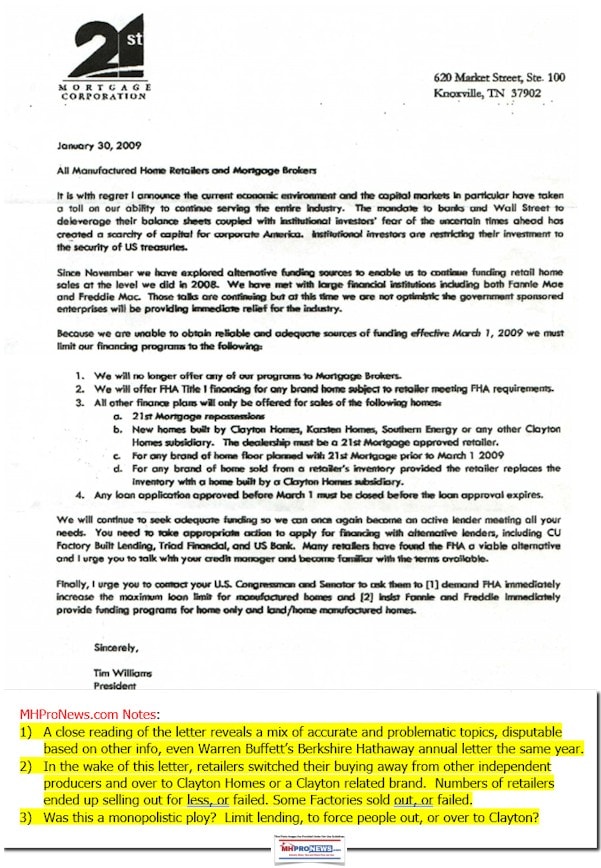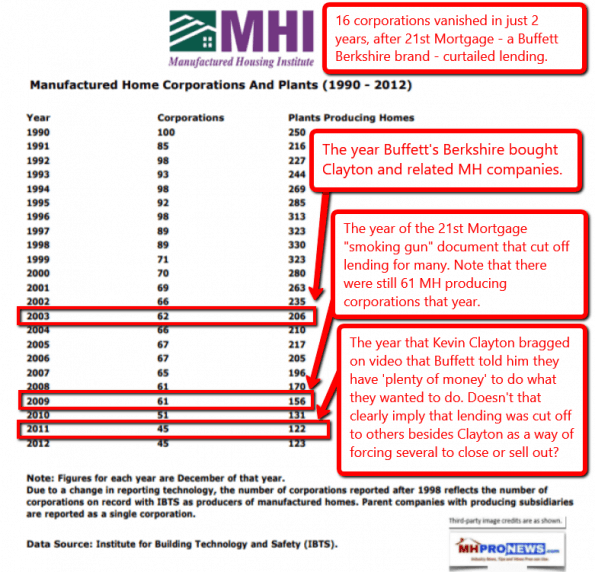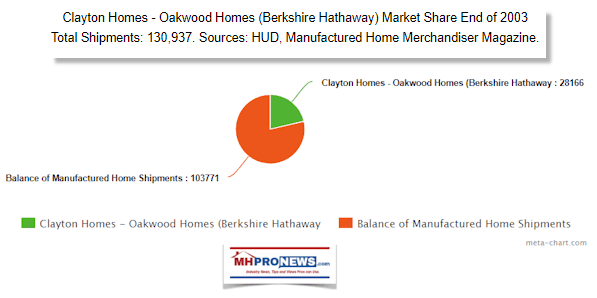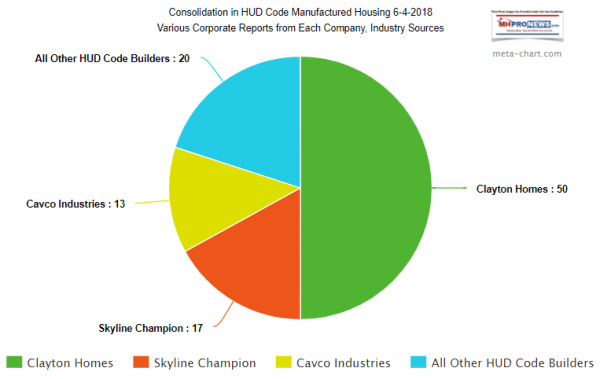 Do Facts Support the Contention?
The tragedy of the relatively low state of manufactured housing can't be understood without context.
And it is a tragedy, because arguably millions of lives have been adversely impacted, and trillions of dollars annually to the U.S. economy have been lost as a result. That $2 trillion dollar data point is from other university level economists, see that report, linked below.
"Thou Shall Not Steal," $2 Trillion Annually Lost to Lack of Affordable Homes, Making the Manufactured Home Case
This is why as time permits, MHProNews and others in MHVille have been periodically exploring with specialized class action contingency law firms an antitrust case.1
Lawsuits for Triple Damages – Anti-Trust, Anti-Monopoly Law, Manufactured Housing, and You
It may also explain why the feds are scrutinizing specific players in the Manufactured Housing Industry.  A leading congressional Democrat and her colleagues called Clayton "a near monopoly," and called on federal officials to investigate.
Seattle Times -Federal Investigations-Berkshire Hathaway's Clayton Homes, GuruFocus Spotlights Buffett's Clayton's "Unethical," Monopolistic Moat
MHProNews has repeatedly offered Berkshire Hathaway brands in the industry a chance to comment, clarify, or refute these concerns. They decline. Ditto the Manufactured Housing Institute (MHI) that Berkshire is believed to dominate. MHI have declined to discuss or debate the matter. Under our system of justice, they are deemed innocent until proven guilty in a court of law, by a plea deal, or other legal arrangement(s). 
The late Howard Walker said he believed in transparency. Where is that evident from MHI or Berkshire?
Howard Walker, Mensch – Equity LifeStyle Properties (ELS), Manufactured Homes Retrospective
Lessons from RVs to MH?
The RV Industry sells units to people who use them for recreational purposes, as their name implies. Certainly, thousands of RVs annually are sold to those who plan to live in them full time.  Whatever the intent of the buyers, the graphic below charts what has happened in that industry.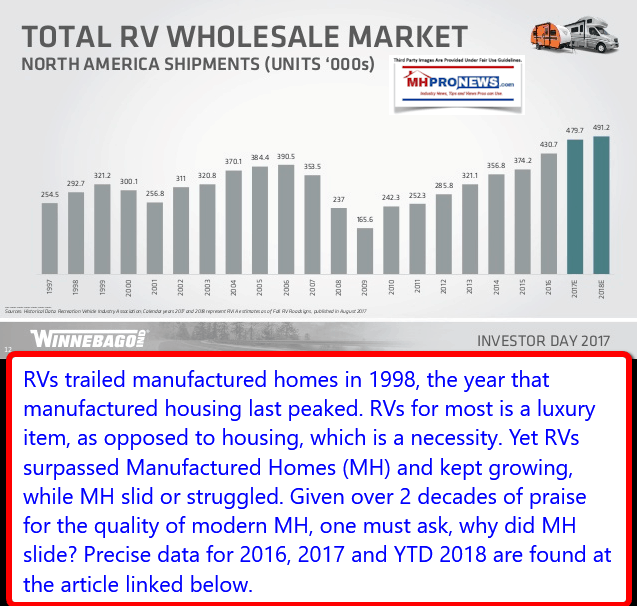 Compare that to this following manufactured housing shipment chart from the NAR's Cororaton.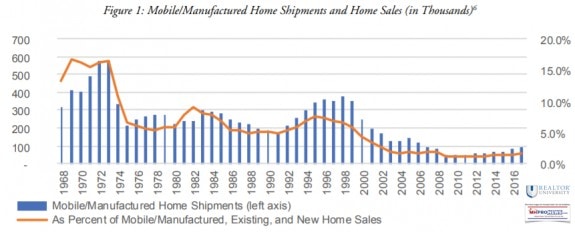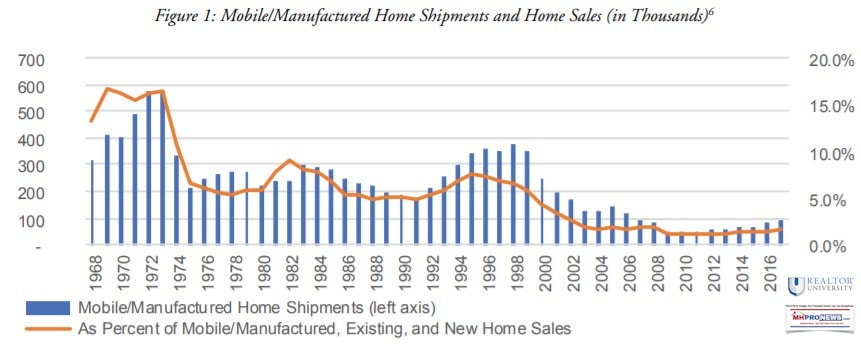 RVs are more costly per square foot than a manufactured home. Housing is a necessity. So why have RVs outsold MH?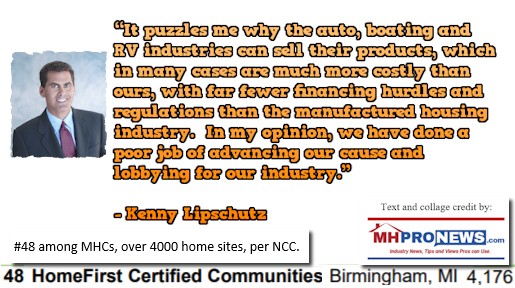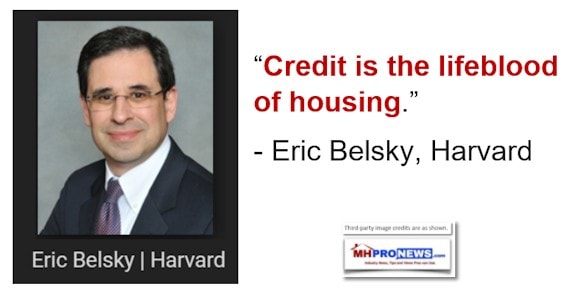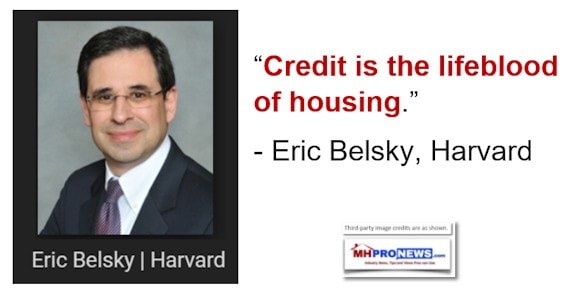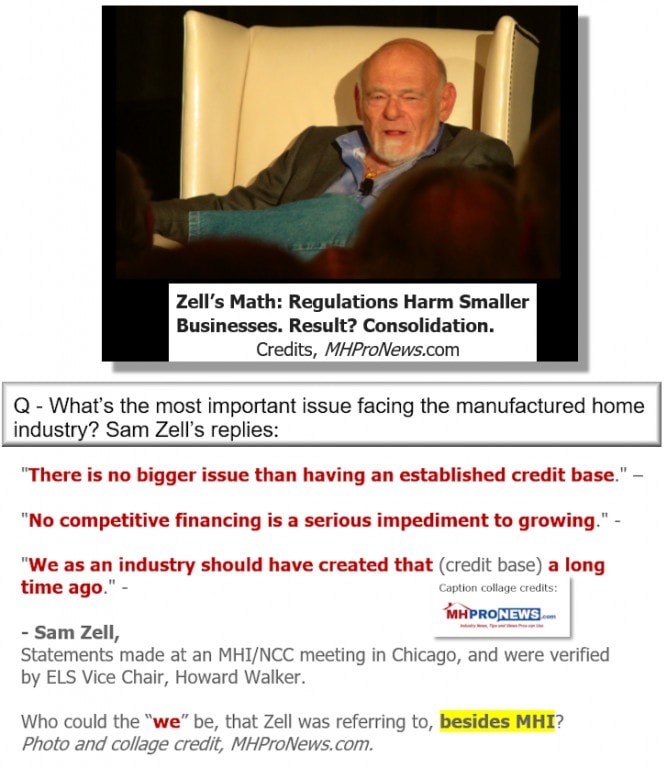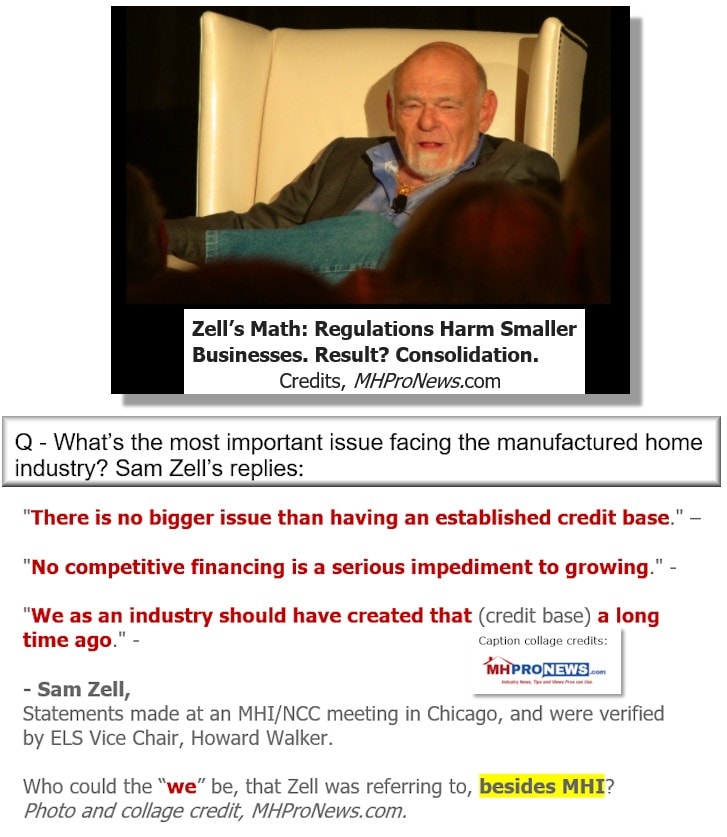 Simple, Yet Details Needed
The sad story of manufactured housing's allegedly manipulated decline is both simple, and complex. But the truth is hiding in plain sight, for anyone prepared to study the matter. 
Why would Buffett allow the industry to slide so low? Arguably, because he likes a bargain. He's said so repeatedly.
Buffett also stressed "the Moat," as has Kevin Clayton.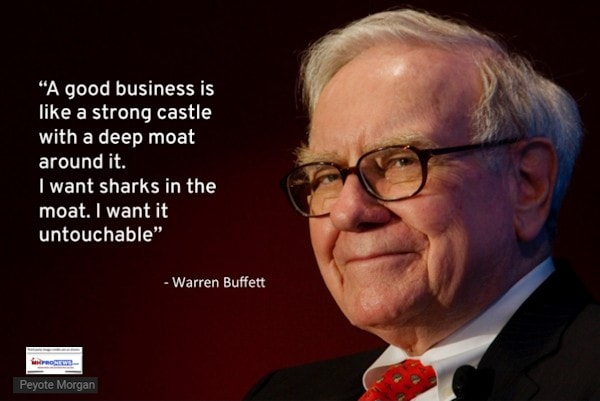 They can attempt now to distract away from their own words, and related concerns.  
Some go along out of fear of what could happen to them.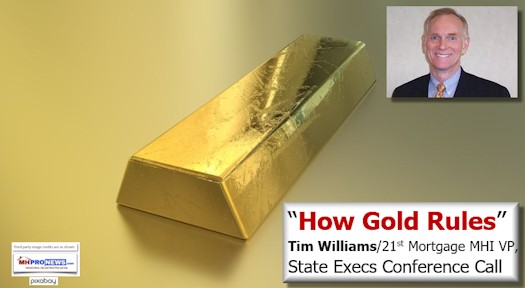 They can certainly mount a defense to those allegations. So why have they tried distracting instead?  Why create a new class of homes, when manufactured homes are already praised?
Isn't the new class of homes just another sidestep? Another razzle dazzle distraction? 
Why wouldn't MHI defend the industry's good name and reputation and regulatory struggles for so long?  It took years of mounting pressure from MHARR and/or MHProNews, plus others to get MHI to do the what they say they're supposed to do, why?
Wasn't it to help big "consolidators" that are there more powerful members?
'Tip of Iceberg' – Rick Rand; Marty Lavin, Communities have 'No Confidence' in Manufactured Housing Institute, New National Trade Group Announced
Doesn't their otherwise inexplicable behavior becomes clear in the light of these insights?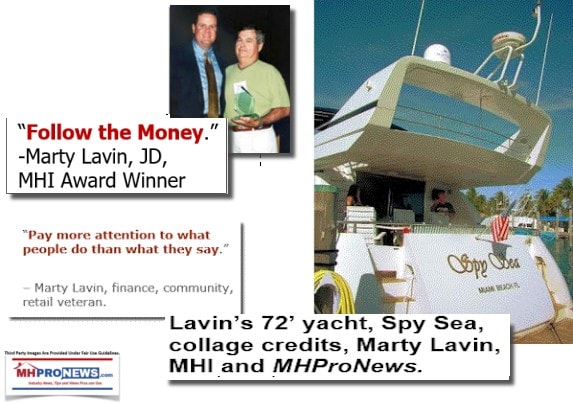 The principal of Occam's Razor says that once the facts are known, the apparent explanation is the likely one. There may be more evidence developing. But is any more evidence actually needed? Don't we have Kevin Clayton, on video, saying how it's done? Doesn't that fit Warren Buffett's own words, and Tim Williams direct action?
The "System is Rigged." So said manufactured housing advocate, Rev. Donald Tye Jr. That's what logic, evidence, and the words of Kevin Clayton, Tim Williams, and Warren Buffet arguably point to, once the facts and evidence are examined.

Given the history and evidence, is there any reason to think that Berkshire brands and their allies won't continue along the same path? What would that mean to independent businesses, consumers, and taxpayers?  
There are people in mainstream media, plus others in regulatory and legal fields, researching these concerns.  
These aren't partisan questions or issues. Rather, They are questions of right, wrong, and justice. "We Provide, You Decide." © ## (News, analysis and commentary.)
Footnote 1. There are already attorneys who have reviewed the material, and find it interesting, meritorious or even compelling. It is the most suitable firm that is being sought, a standard that those involved understand as the most likely to carry a case to a successful conclusion. To date, no attorney we've spoken with that's reviewed the most important materials have said, 'there is no case here.' In short, there is good reason to believe that the evidence speaks for itself, and points to valid antitrust issues.
(Third party images, content are provided under fair use guidelines.)
1) To sign up in seconds for our MH Industry leading emailed news updates, click here.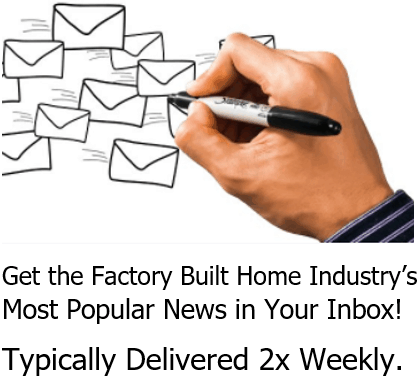 2) To provide a News Tips and/or Commentary, click the link to the left. Please note if comments are on-or-off the record, thank you.
3) Marketing, Web, Video, Consulting, Recruiting and Training Resources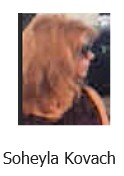 Submitted by Soheyla Kovach to the Daily Business News for MHProNews.com. Soheyla is a managing member of LifeStyle Factory Homes, LLC, the parent company to MHProNews, and MHLivingNews.com.
Related Reports:
"Work With Us Or Die," Threat from Facebook's Brown, per SUN Report
Kevin Clayton, Leslie Gooch Sound-off; Left & Right Agree? Manufactured Homeland, MHI, & You
"Fixing Our Industry's Terrible" Public Relations, a Proven Strategy
For billions of souls who believe, since the time Cain killed his brother Able, history records how dark emotions and desires have motivated some to harm or