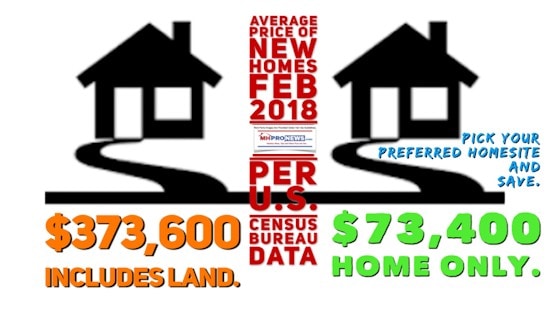 One of the most serious issues in America is the affordable housing crisis.
It should be noted that affordable housing is a non-partisan issue.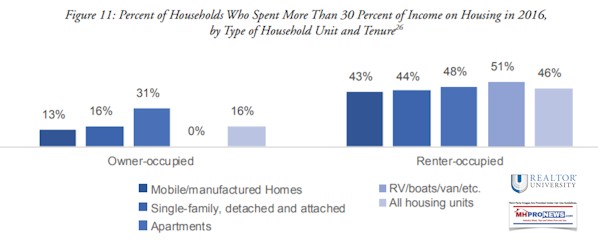 People most commonly live in apartments, other forms of rental housing, and other types of homes.

Those hundreds of millions may be Democrats, Republicans, Independents, or any other political or apolitical view.
The point?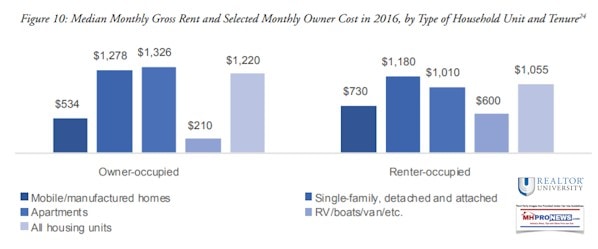 Housing is non-partisan, even though there may be partisan views about it. Politicos or policy advocates routinely have a position on housing issues, perhaps because they recognize that the needs are large and growing.
How great are the needs for affordable homes in the summer of 2018?
They are summed up by Lawrence Yun, Ph.D., Chief Economist at the National Association of Realtors ® as is shown below.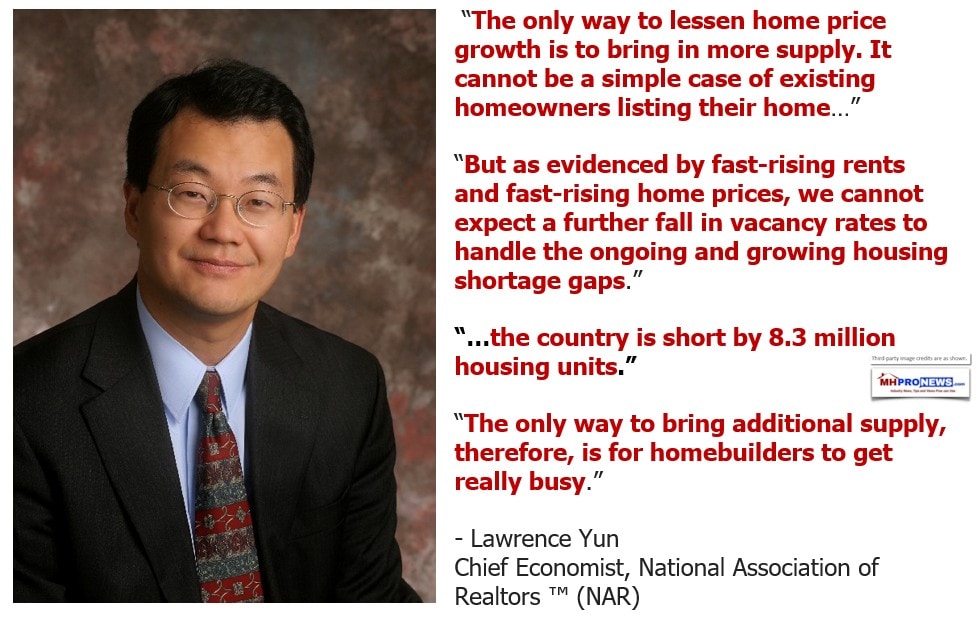 The number of articles and reports to date in 2018 that are favorably reporting on manufactured homes as an important part of the solution for the affordable housing crisis seems to be rising.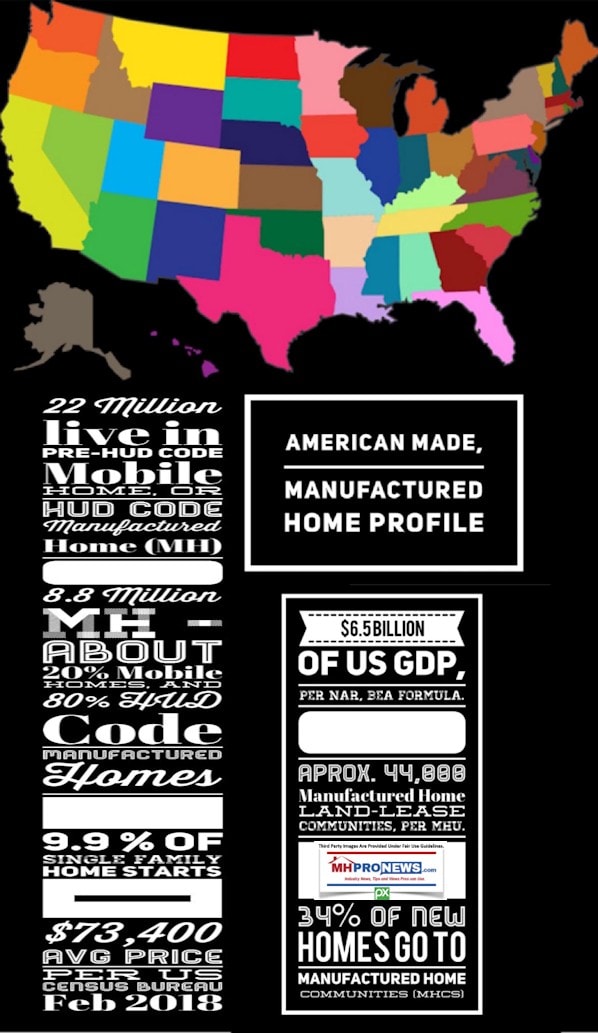 While the thrust of these third-party reports have routinely been positive, an all too common facet has been misinformation on some data or terminology point.
Thus this post will be a data and evidence based effort to provide a rapid reference for third parties looking for more accurate information. Third party sources are as shown.

The manufactured home industry bears some responsibility for the confusion.  The following sourced information, often using data from the National Association of Realtors ® (NAR), Census Bureau, HUD, IBTS, Manufactured Housing Association for Regulatory Reform (MHARR), MHU, or other sources as noted.

Properly Defining Mobile Homes, and Manufactured Home
The National Association of Realtors Journal of the Center for Real Estate Studies did a fact-based report entitled "The Market for Manufactured Homes" by Scholastica 'Gay' D. Cororaton, CBE, Research Economist, National Association of REALTORS®.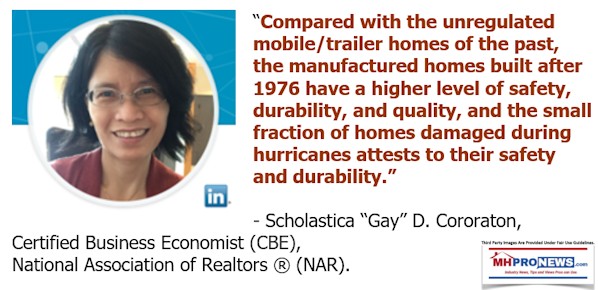 Cororaton's research had some revisions in July 2018 – linked as a download, here – as was a related post on Realtor University's blog entitled "Making the Case for Manufactured Homes."  Their report on manufactured homes starts on page 48.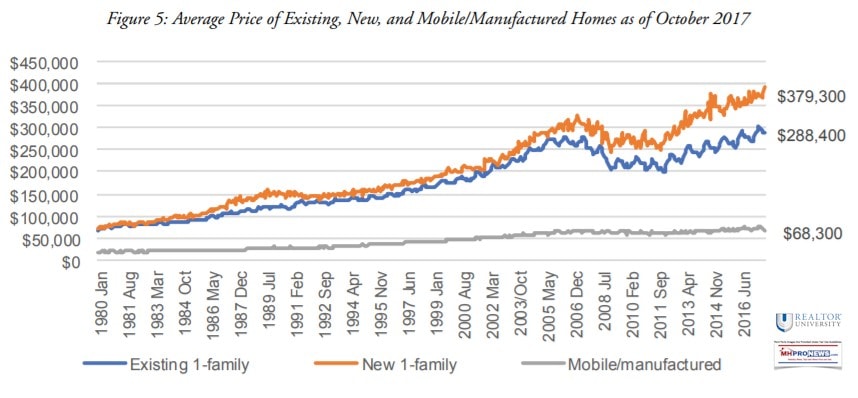 The National Manufactured Housing Construction and Safety Standards
National Manufactured Home Construction and Safety Standards Act as: "A manufactured home means a structure, transportable in one or more sections, which in the traveling mode is 8 body feet or more in width or 40 body feet or more in length or which when erected on-site is 320 or more square feet, and which is built on a permanent chassis and designed to be used as a dwelling with or without a permanent foundation when connected to the required utilities, and includes the plumbing, heating, air-conditioning, and electrical systems contained in the structure."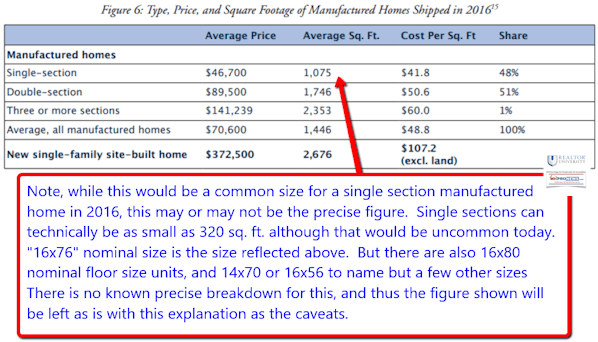 The Department of Housing and Urban Development are the primary federal regulator, and so the standards are often called the HUD Code for manufactured housing.  One simple way to identify a HUD Code manufactured home is if the home bears a HUD label, see photo below.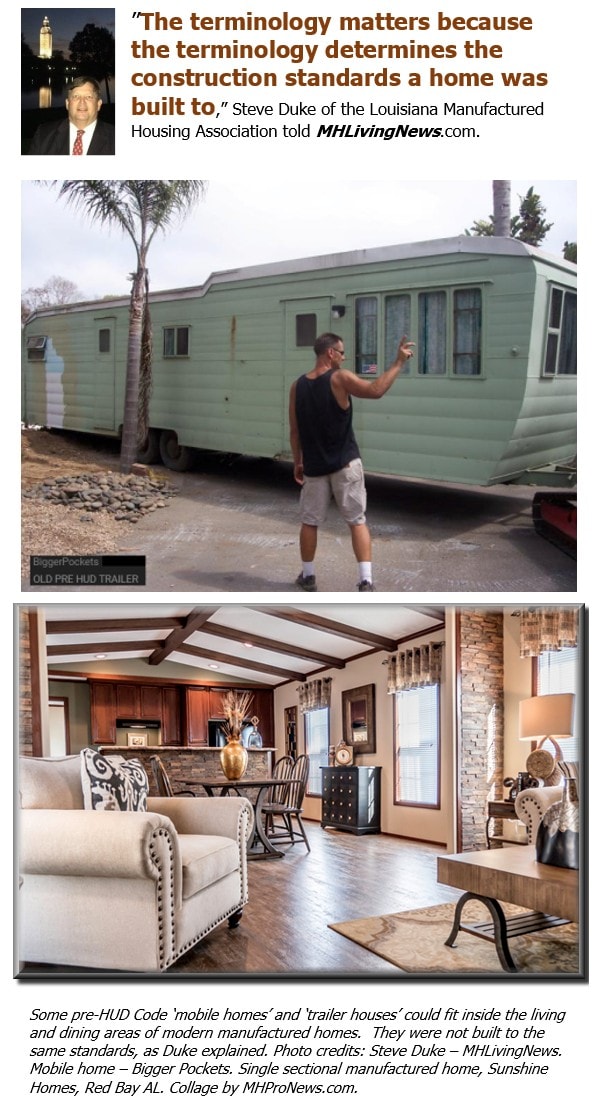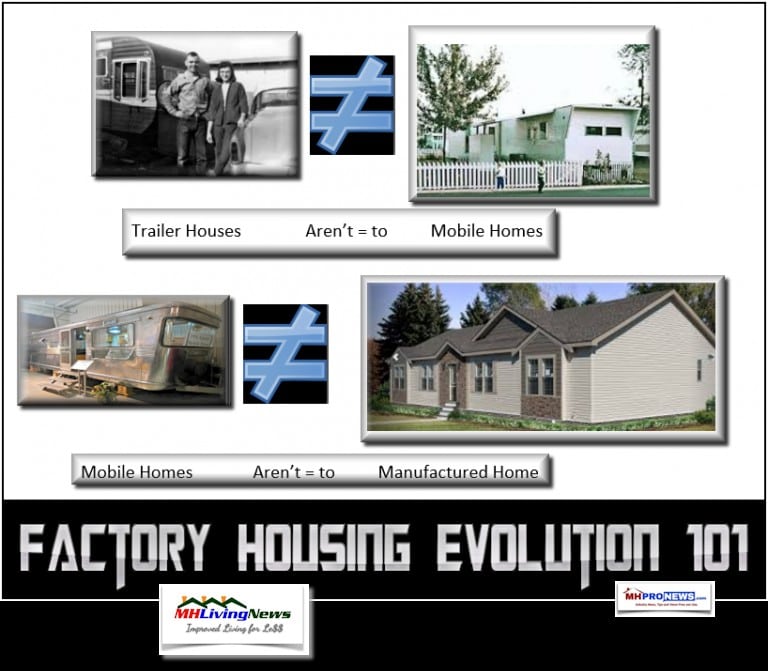 The HUD Code standards went into effect on June 15, 1976.  So, homes built before that date can properly be called a mobile home.
The Manufactured Housing Institute (MHI) has been notified (again) about information that they've published in downloads, advertorials, and on their website that is a mix of accurate and inaccurate information.
They were advised that MHI members and others were included in a BCC addressed to the MHI Executive Committee, plus many on the MHI staff.
The NAR is among other trade associations that have been notified of the ongoing mix of data errors by MHI, which as noted, is a mix of good, bad and meh information coming from the Arlington, VA based trade group.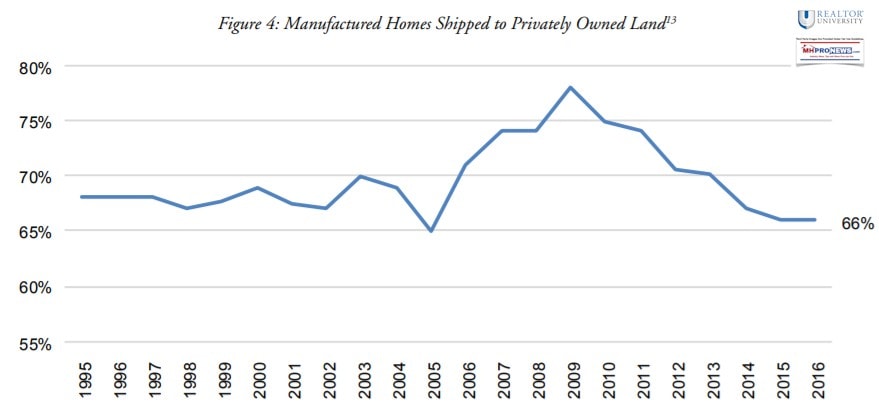 Among the responses to the message to MHI and others?
"Well put, Tony [Kovach, MHProNews publisher].   Thanks for the bcc, too.
STILL seems to be a void in the ether when it comes to a nationwide pro-MH body to represent our industry, not just certain players therein. I won't beat the dead horse about BH/CMH other than to say they are at least 80% at cause for the lack of accurate information going out to the public, and IMHO, it's for the purpose of their moat.  
Glad to see that there are still folks who can see the benefits a financially healthy & industry hearty organization could bring to us as a whole.  There are SO MANY fronts that need to be addressed that it would require a full-time devotion to them, something that business owners seem to be reluctant to do, for whatever (and valid) reasons…" This was part of a longer message from a well known industry professional.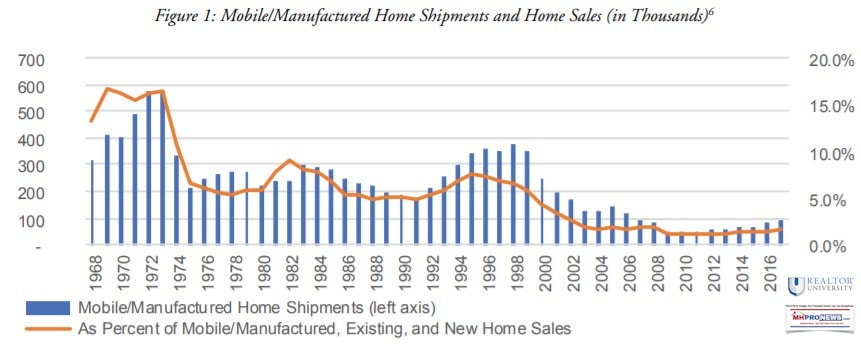 This article may be updated, if MHI makes corrections, and does as NAR thoughtfully did – provide the appropriate credits for the sources of the correction of prior errors.  MHI's leadership will be advised of this article, but frankly, its unnecessary.
Unnecessary, why?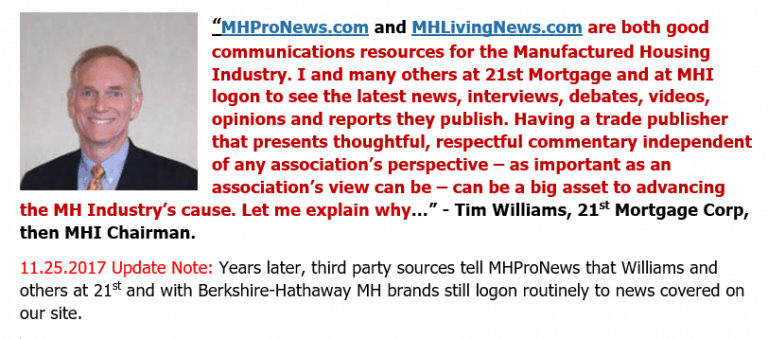 Because as Tim Williams said – and it is still true – MHI members, leadership, and senior staff are among the routine readers of MHProNews.
Our latest 3rd party metrics reflect that our site traffic has more than doubled since Sept 2017.  Our sincere thanks to our readers, and all of those who make this site's fact checks and reports possible. NOTE: as of this date, none of the linked reports have been publicly disputed by sources from BH, CMH or MHI.  "We Provide, You Decide." © ## (News, analysis, and commentary.)
(Third-party images and content are provided under fair use guidelines.) See Related Reports, linked further below.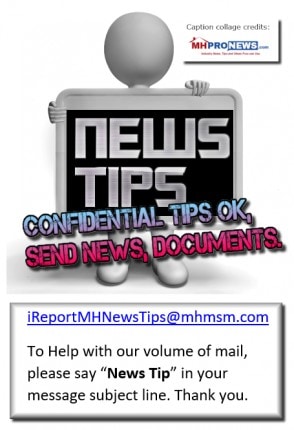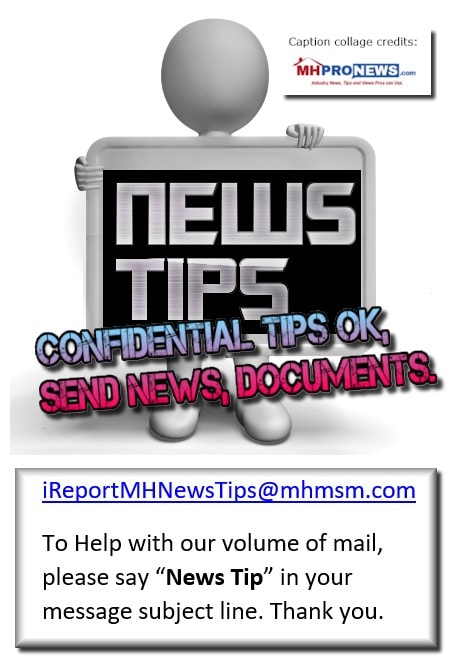 1) To sign up in seconds for our MH Industry leading emailed news updates, click here.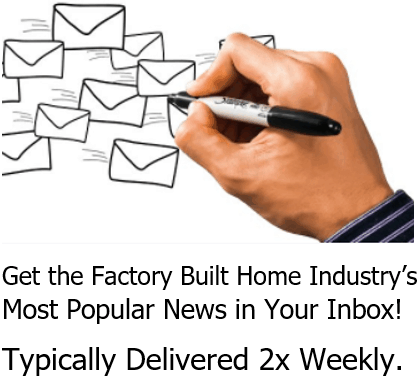 2) To provide a News Tips and/or Commentary, click the link to the left. Please note if comments are on-or-off the record, thank you.
3) Marketing, Web, Video, Consulting, Recruiting and Training Resources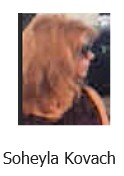 Submitted by Soheyla Kovach to the Daily Business News for MHProNews.com. Soheyla is a managing member of LifeStyle Factory Homes, LLC, the parent company to MHProNews, and MHLivingNews.com.
Related Reports: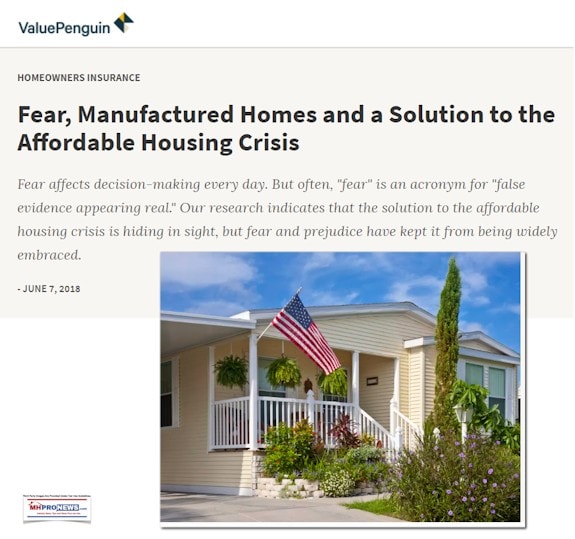 Smoking Gun 3 – Warren Buffett, Kevin Clayton, Clayton Homes, 21st Mortgage Corp Tim Williams – Manufactured Home Lending, Sales Grab?
Duty To Serve, "Complete Waste of Time" per Tim Williams, CEO/21st Mortgage; POTUS Trump, Warren Buffett Insight$
Greener, Stylish Manufactured Homes – Hidden Facts in the Washington Post Manufactured Housing Narrative
New Home Sales Fall to 8-Month Low in June, Data Signals Trouble – or Opportunity in Disguise for Manufactured Housing?
Two Great Laws Already on the Books NOW,  Can Unlock Billion$ Annually for Manufactured Housing Industry Businesse$, Investor$
Race, Equal Opportunities, Affordable Housing, CNN's Lydia DePillis, and the Dinesh D'Szouza Reality Check