From time to time, a variation on the question is asked, 'What happened to the reports about Tom Lackey, Stoney Pointe manufactured home (MH) community, missing titles, owner-carry, SECO and all those consumers who lost their homes?'
The short answer?
Based on the latest reports to the Daily Business News on MHProNews, this is not likely a dead or forgotten travail,
Rather, its more likely the quiet before the next storm.
Why? Because there are several ways that this tragic series of incidents are very much brewing. Let's run through some of the elements.
First, for those not familiar with the matter or who need a refresher, click the link below, or other related reports through this, and at the end of this post.
Spencer Roane w/Southeast Community Owners (SECO), Praises Tom Lackey, Accused of Rent-to-Own Manufactured Home Sales Improprieties
Second, there have been multiple outreaches by media related to this case. They have reportedly contacted Lackey, and numerous others in the industry. Some of those outreaches by media have been referred to, or directly contacted the publisher of MHProNews. Rephrased, we don't think there are possible problems, we've got strong reasons to believe this is ongoing. It could surface perhaps more forcefully in round two than the earlier round of troubling media reports.
Third, there has been legally-related outreaches to MHProNews on several industry issues – including Tom Lackey/SECO/Stoney Pionte – referred to our publisher.
Fourth. Based upon those third-party inputs and outreaches – plus tips from industry readers with ties to SECO – this provides a brief update on what appears to be underway about the allegations swirling around this troubling series of incidents at Stoney Pointe, and their related 'finance' operation in northern Georgia.
We'll begin by reminding readers that allegations are just that; Lackey and those connected to SECO are deemed innocent in the eyes of the law, until proven guilty by a plea arrangement or conviction.
That said:
1) The Georgia Department of Banking and Finance is reportedly investigating. Such matters can take time, as interviews are done, and a case is built. It could be months before something official is heard.
Per industry sources, officials in GA are keenly interested in the contract for title/rent to own related problems. Rephrased, there are indications that not just Lackey will be caught up in this matter legally. Rather, others connected to SECO are = per sources – being scrutinized too.
2) Tom Lackey has reportedly told a small circle of SECO connected contacts that he is suspending his contract for title/rent to own business. Consider that in the context of the above and what follows. Coincidence?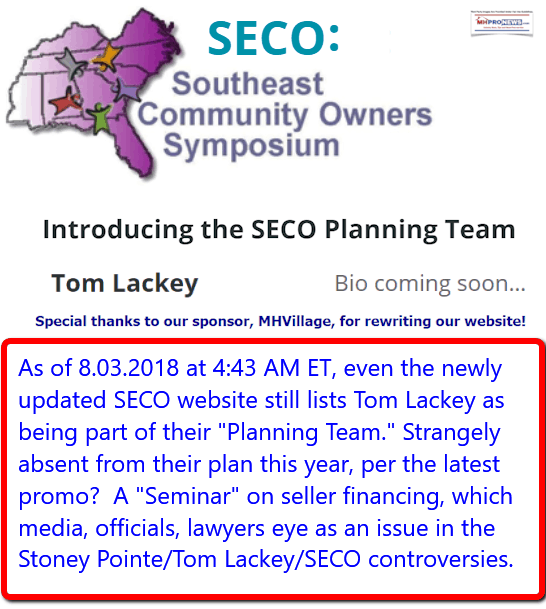 3) SECO has yet to remove Lackey from their planning team. Amazing, but true. There are two well know Vietnam veterans involved in MHVille who are connected to SECO. Vets – which this publication respects and thanks for their service – exhibit at times an interesting type of loyalty. Industry sources close to the matter have mentioned that in this context, as loyalty to Lackey. As noted previously, linked reports can be read later for increased depth on this topic.
George Allen Blasts MHI, NCC Ignoring Own, Spencer Roane, SECO, COBA7, Tom Lackey Controversies
4) There are reportedly at least two levels of legal investigations underway. One is from public officials. The other is from reportedly multiple attorneys interested in filing suits over claims related to the consumers allegedly wronged in this matter.
5) SECO promoters, including MHVillage, continue to promote the next event without any warnings or notices to their past or prospective attendees. Is there possible liability for those involved?  Better ask the private attorneys, public officials, or get your own attorney to explain what the potential risks and ramifications are reportedly connected to this 'vexing mess.'
There are those in MHVille who continue to be silent, or even defend Lackey and SECO's ties to this multi-layered, problematic series of concerns.
While some have thoughtfully informed MHProNews, does the silence of others say to communities and other industry professionals that nothing is wrong? Are they being made aware of the possible ramifications? Are SECO board members, or even those who have previously registered to attend, aware that they could be witnesses? Or worse, possible targets?
How would mainstream media view the industry's promoters and attendees, in the wake of those who allegedly lost their 'investments' with Lackey's operations?
What has been done to past SECO attendees – including those who have done/are doing 'seller financing' and/or 'contract for title' ala Lackey – to mitigate their risks?
There is no immediately evident clues from SECO or MHVillage promotions on any of those very real concerns and questions. Why haven't other industry bloggers or publishers raised these issues, to give potentially hundreds of industry pros fair warning?
For Balance on SECO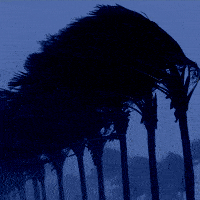 Some long-time SECO believers have messaged and/or spoken with MHProNews.
Among those SECO believers are those who stress the 'good things' being taught and promoted at SECO.
Some provided photos and video of before and after pictures to reflect how communities could be improved.
The Daily Business News on MHProNews has not at any time advocated tossing baby's out with the proverbial bath water.
This publication has long said that most of the industry's professionals strive to do what's right, day by day.  MHLivingNews and MHProNews have made it clear that most of the industry's consumers are happy.  That's proven by both third party research, and our own interviews.
Executive summary. To solve a problem, to tap an opportunity, one must discover the root causes and address those core issues. The common stories read and seen in mainstream news tend to leave the uninformed with the impression that manufactured home owners got a raw deal and are routinely troubled by bad actors in this industry.
The Up for Growth National Coalition just published a new report that says the affordable housing crisis is more serious than many realize, and is growing. While their estimates differ, they come to a similar conclusion as the National Association of Realtors (NAR) Lawrence Yun did.
As the publisher of the MH Industry's top two leading trade media, the record shows that we've very carefully noted – especially in recent months – the need for a "wheat and chaff" discernment approach about sources, groups, etc. No one is perfect. Mistakes that are corrected are arguably what honorable adults in business strive to do.
That said, let this stand as a reminder that 'education' at SECO may – per sources – have in some fashion contributed to what occurred.
Recaps and Lessons 
Certainly – per our sources in media, legal, SECO connected, and the broader MH industry – there is a likely of more 'bad news' to come from outside media and legal issues.
With media and with most legal matters, there are calms before and between the storms. The indications that MHProNews has at this time is that this may be such a period of calm. To be forewarned, is to be forearmed.  We publish these stories, one, because they are real, and two as morality tales in the hopes of keeping good people out of the kind of trouble that the report below reminds us can occur.
Criminal Charges Filed Against Manufactured Home Community Owner
We also publish the far more enjoyable to write about 'good news' stories that others miss or understate.
Ryan Kirk–Investor & Entrepreneur-Gets Positive Media via Airbase Estates Mobile/Manufactured Home Makeovers, Exclusives, Videos
Let anyone connected with SECO carefully consider what their contact might mean to a plaintiff's attorney, or legal authorities in GA, to the media, consumers, and beyond.
What image of the industry and its members does this series of controversies project?
Finally, the related reports below are reminders why it is wise to be transparent. And why – as Dr. Martin Luther King Jr said, doing what's right is always the right thing to do. Ponder that as the first of today's "Industry News, Tips, and Views Pros Can Use." © Where "We Provide, You Decide." © ## (News, analysis, and commentary.)
(Third-party images and content are provided under fair use guidelines.) See Related Reports, linked further below.
1) To sign up in seconds for our MH Industry leading emailed news updates, click here.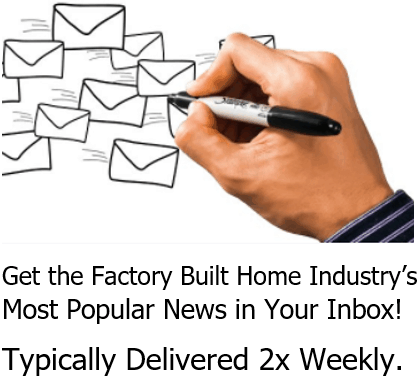 2) To provide a News Tips and/or Commentary, click the link to the left. Please note if comments are on-or-off the record, thank you.
3) Marketing, Web, Video, Consulting, Recruiting and Training Resources
Submitted by Soheyla Kovach to the Daily Business News for MHProNews.com. Soheyla is a managing member of LifeStyle Factory Homes, LLC, the parent company to MHProNews, and MHLivingNews.com.
Related Reports:
Howard Walker, Mensch – Equity LifeStyle Properties (ELS), Manufactured Homes Retrospective
As with any industry, there are problems.  But done properly by honorable professionals, manufactured housing is the proven solution for the affordable housing crisis.
Fresh Facts, Figures, Future of Affordable Housing -Comparisons- Conventional Site-Built v Mobile/Manufactured Home Industry Data