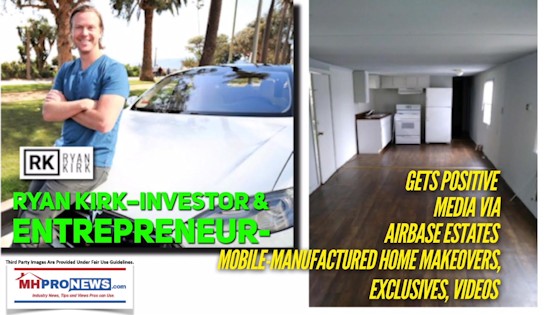 It's an older property, that the photos reveal includes several true pre-HUD Code mobile homes (MH). Ryan Kirk bought Airbase Estates in Montgomery, AL about 9 months ago.  By 'doing what's right' he's making residents happy, looks to have a handsome ROI, and has attracted positive local media coverage.
Are there lessons for other investors, owners and industry pros?
If you're from Wisconsin, can you spell 'You-betcha?'
The Daily Business News reached out to Ryan Kirk directly to find out.
With insights directly from Kirk – blended with available mainstream media and other information – MHProNews has the definitive report-to-date for the manufactured home (MH) industry's professionals or other investors considering MHVille to consider:
what that Airbase Estates property was like,
how Kirk discovered it,
what he's done there that's got residents and local media smiling, and
what Kirk is planning next, and more.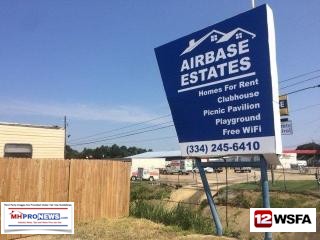 Discovering MHVille, at Airbase Estates, Montgomery AL
Kirk calls Del Rey, CA home, and has been a real estate flipper, entrepreneur, and author.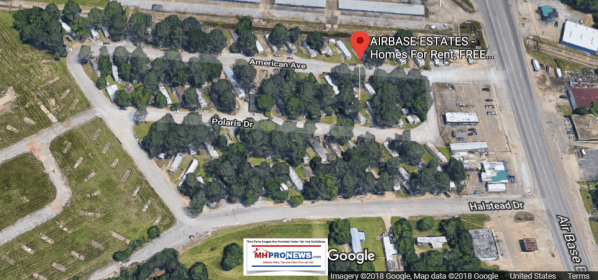 Q) What attracted him into the MH industry?
"The good thing about mobile home parks1 that piqued my interest is it's affordable housing and there's such a growing demand for it," said Kirk to WSFA. 
"Think about the workforce that help run our city. These are the people who cook our foods, repair our cars and work at Wal-Mart.  They need a clean, affordable place to go," per NBCTV12.
It's not an uncommon attraction for investors as well as thousands who are working in manufactured housing (MH) today, in the community sector, but also in all other parts of the MH Industry.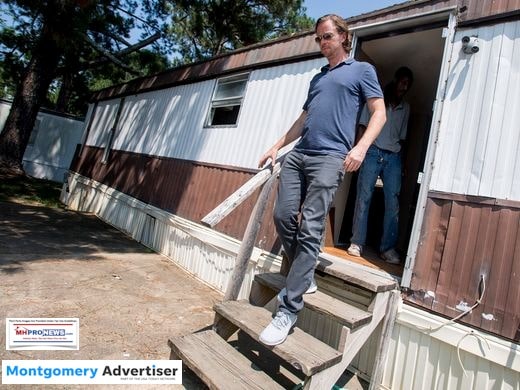 Q) What was Airbase Estates like when he first checked it out?
"The only way I can describe it is that it felt like walking into a third-world country," Kirk said to the Montgomery Advertiser. "It was kind of left behind and forgotten."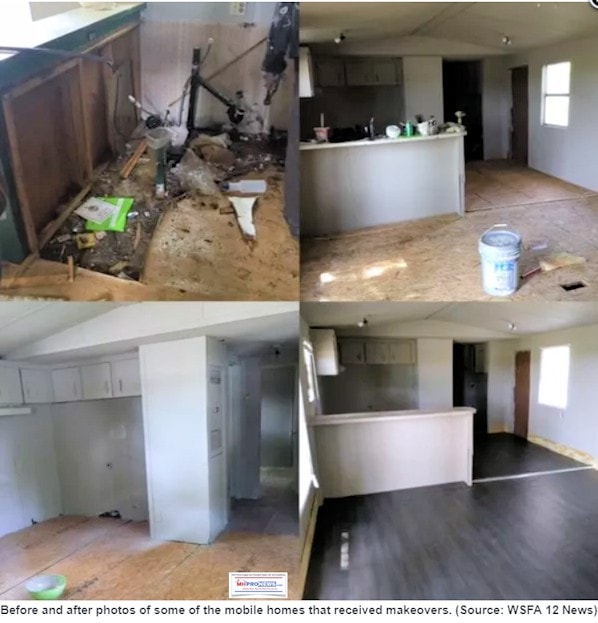 Q) What has he invested, and what is he doing?
WSFA says he's invested $1.2 million, and an average of only about $2500 home per doing repairs.
"So crews are trying to salvage wood where they can, installing used and refurbished appliances, putting down new vinyl flooring instead of hardwood." Kirk told the Montgomery newspaper.  He says other upgrades are modest — a picnic pavilion, a playground for families, a small game room, free WiFi. "The simple things of life," he said.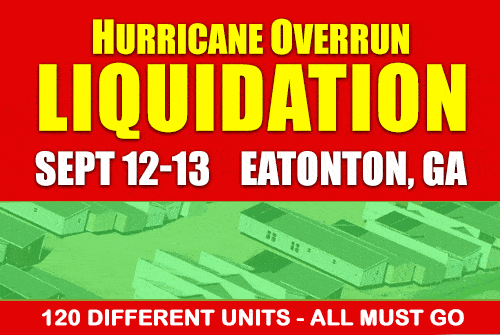 Q) How did he discover the property?
Kirk told MHProNews that he found it through a "real estate broker advertising it," online.
Q) What was he doing prior to discovering Airbase and the MH Industry?
"I'm an author, investor and entrepreneur in Marina Del Rey, CA," Ryan told MHProNews. "I got started flipping single family homes and small apartments in California. I then created all-in-one Software, Funding, Vanity Brand and Education app to help other real estate investors called FlipLogic."
He is clearly an adept marketer, self-promoter and motivated to succeed.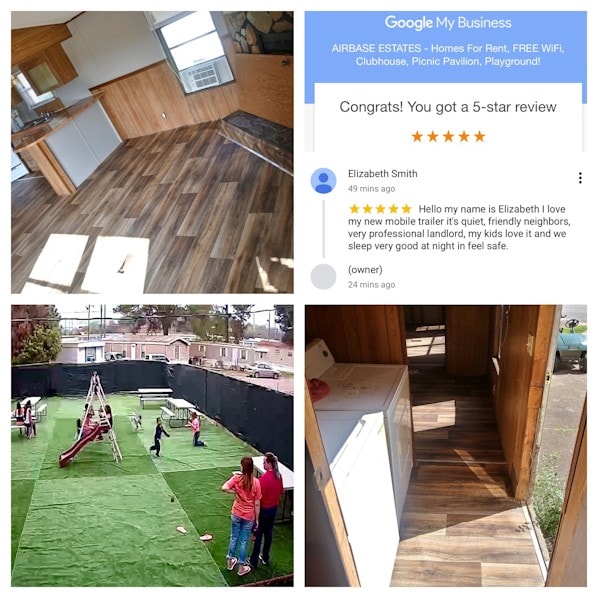 On this date, the average Google rating is 4 stars.
Q) Do Kirk's residents appreciate the changes at Airbase Estates?
"Real nice job. This is the best trailer1 I've ever lived in," said Patricia Taylor, who said she couldn't be more pleased.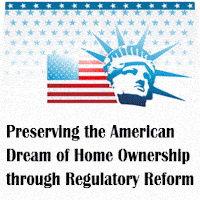 Note that he's raised rates since the takeover.  Residents not only seem to understand, because they see improvements, they welcomed the improvements. Rentals start at a mere $350 a month. It's a balancing act, Kirk said. Pour in too much money, and you take it out of the price range of the people who need the lower cost homes.
That's a comment that many mom-and-pop operations who are close to their residents have told MHProNews over the years.
Q) What has been the biggest surprise for Kirk in the mobile/manufactured home community business so far?
Without hesitation, "Finding good help to add to the maintenance team," he told the Daily Business News on MHProNews.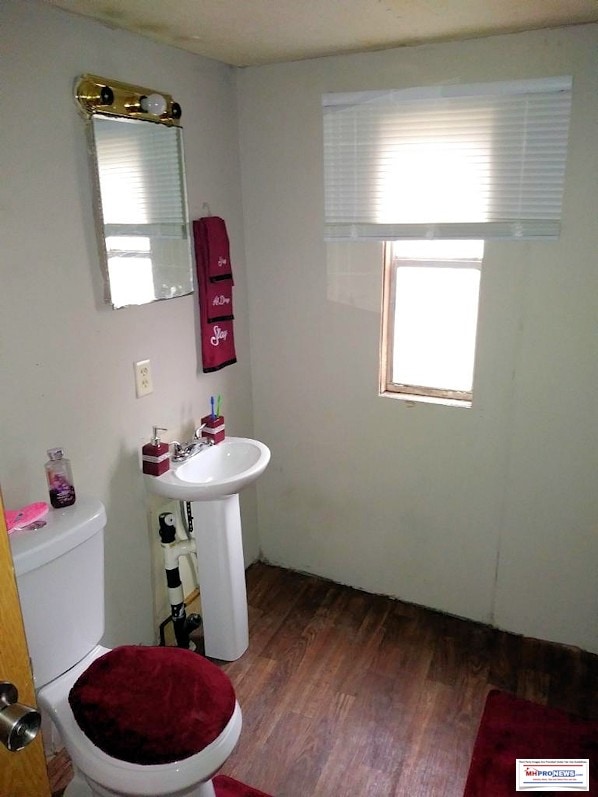 Q) What's your vision for the future?  Do you plan to do more communities, or do you already have other communities?
"This is my first park and I plan on adding more to my portfolio as I go for the cashflow and accelerated depreciation," he said to MHProNews.
Takeaways for Pros, Investors, Affordable Home Advocates 
The takeaways are obvious to those who realize that there are thousands of smaller, aging properties from coast-to-coast that aren't of the kind that the big real estate investment trusts (REITs) are seeking.
While those less expensive properties are of interest to people like Kirk, the competition isn't as intense for 50 sites or less, as for those who want 150-200 sites or more, per many community operators.
Kirk is an example of urban renewal without taxpayer dollars.  He's profitable enough were he sees the opportunity to recoup his investment in a projected 18 months. He wants to do more.  "We Provide, You Decide." © ## (News, analysis, and commentary.)
Footnote 1: several of the homes are true pre-HUD code mobile homes, and some might have been from the trailer house era.  But it is inaccurate to call a manufactured home, a mobile home or trailer.
(Third-party images and content are provided under fair use guidelines.) See Related Reports, linked further below.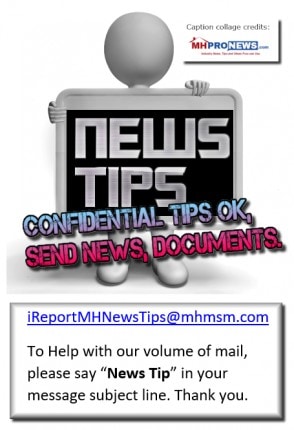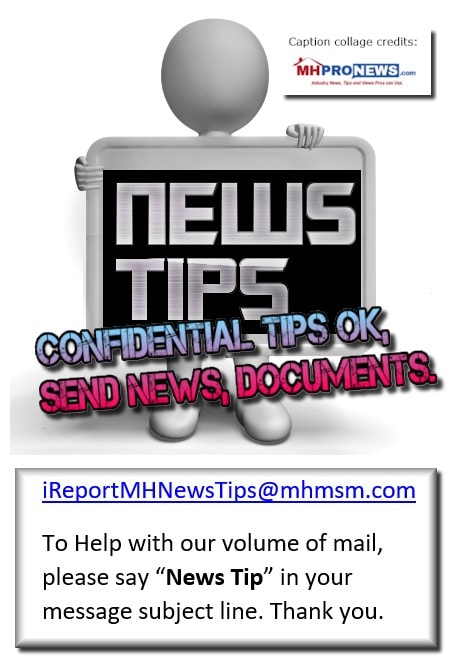 1) To sign up in seconds for our MH Industry leading emailed news updates, click here.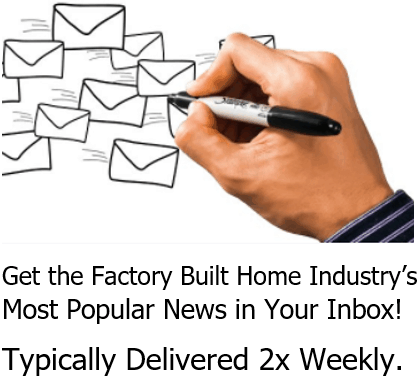 2) To provide a News Tips and/or Commentary, click the link to the left. Please note if comments are on-or-off the record, thank you.
3) Marketing, Web, Video, Consulting, Recruiting and Training Resources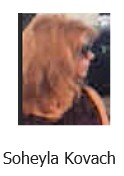 Submitted by Soheyla Kovach to the Daily Business News for MHProNews.com. Soheyla is a managing member of LifeStyle Factory Homes, LLC, the parent company to MHProNews, and MHLivingNews.com.
Related Reports:
Enduring Good Will Value from Good Business Practices, Monday Morning Manufactured Home Sales, Marketing Meeting
New Home Sales Fall to 8-Month Low in June, Data Signals Trouble – or Opportunity in Disguise for Manufactured Housing?