There appears to be considerable confusion about a variety of facts regarding modern manufactured homes, as well as the manufactured housing industry. Why?  Let's tee up this topic, before diving into this relevant research, and today's timely fact check.
Accurate Information Matters
When reading mainstream media reports, or research being done by third-parties at non-profits, universities, etc., there are often modest to significant errors found about manufactured homes.
During live presentations, hundreds of industry professionals have been asked by our publisher a variation of this question. 'Does misinformation about manufactured homes (MH) hurt our MH industry's sales?'
Routinely virtually every hand in the room will go up.
So, by an almost universal acceptance by those motivated enough to attend a seminar, accurate information about MH matters.
The reputation of the MH industry – and to an extent, its integrity – can be influenced by the accuracy of the data about manufactured homes.  Rephrased, inaccurate information logically hurts sales, and harms our industry's image.
Before diving into the focus of this particular fact-correcting analysis, the Daily Business News will remind readers about this potent fact check about tornadoes.  If the general public realized that the odds of not dying during a tornado in 2017 were over 1 million to one in favor of the MH resident, wouldn't people feel more confident about buying a manufactured home?  Just think, only 1 out of a million died during a tornado in 2017.
Per room after room of raised hands by industry professionals during live seminars, thousands of industry pros believe more of the public would by a manufactured home, based upon accurate information.
"Even When We Had a Hurricane, It Wasn't This Bad," Profitably Decoding Post-Windstorm, Survivor of Possible Tornadoes Statement, Impacting Manufactured Home Community, Manufactured Housing Industry
Nevertheless, to date, only MHProNews and MHLivingNews have routinely promoted that kind of data, which is based upon National Weather Service's reporting.
The good news is that some state associations and the NAR (see above) have started to address this, as the report linked above noted.
So, accurate information matters. It matters to:
Investors,
Bankers,
Public officials,
Professionals in or considering the manufactured home industry,
Affordable housing advocates,
Economists,
Media,
Policy makers, staffs, politicos,
and the public at large.  Accurate information is presumably why MHI wants members to fly-in once  a year to Washington, D.C.  and hand out information packages to staff and members of the House and Senate in the Congress.
Why Is There So Much Misinformation About Manufactured Housing?
What contributes to, or is the origin of, some of those factual questions and concerns from third parties?
Let's note for accuracy and fairness that no one source is fully responsible, nor is any one professional exempt, from striving to learn and accurately share the facts about the modern manufactured home industry.  We value input from our readers, and when an error is spotted, we want to correct it.
Each person reading this is to some degree, is either part of the solution, or part of the problem. That's reality.
The Daily Business News will look at what should be a simple issue, which regrettably is being mistakenly proclaimed in error to the public, policy makers, influencers, and the media.
Let's look at a recent data-dispute, and the facts about manufactured housing's contribution to the U.S. Gross Domestic Product (GDP).  The GDP of an industry helps others measure its significance.  The larger the GDP, the more important the industry.
The Manufactured Housing Institute (MHI) has said that manufactured housing's contribution to the United States of America's (USA) Gross Domestic Product (GDP) is "almost $3 Billion dollars."
Others, depending on MHI's data, then repeat that claim.
But is that MHI figure, previously disputed several times by MHProNews, accurate?
We asked the National Association of Realtors ™ (NAR) Scholastica 'Gay' Cororaton, Certified Business Economist (CBE), to explain how GDP is calculated.
Does GDP use wholesale or retail sales figures?  Note, ICYMI, the report linked below reflects corrections made about manufactured housing by Cororaton in a NAR report.  She as an economist understands accuracy, and has made corrections as needed herself, and thanked those who helped with those corrections.
Realtor University, Journal for the Center of Real Estate Studies, Makes Corrections– "The Market for Manufactured Homes," by Scholastica 'Gay' Cororaton, CBE
Here was her on-the-record reply was to MHProNews.
"GDP is measured at the retail price because the retail price determines what  the FINAL user spends.  Not wholesale price because wholesalers still sell to retailers, who then sell to consumers (as the final users)," said economist Cororaton.
She added that "The final users can be consumers, businesses (for fixed investments and inventory), the government, and foreigners (exports)." What that means in part is the sale of FEMA units to the federal government is part of the GDP.
"However, the price of imported goods are excluded (GDP is a measure of domestic production)," NAR's Cororaton said.
She then pointed us to additional authoritative evidence, in the form of the Bureau of Economic Analysis (BEA).
The BEA recently provided MHProNews with the latest GDP data, cited by the Trump Administration in saying that the GDP in Q2 was up 4.1 percent. It doesn't get more official than the BEA, does it? Cororaton emailed a BEA primer on the issue, available as a download, linked here.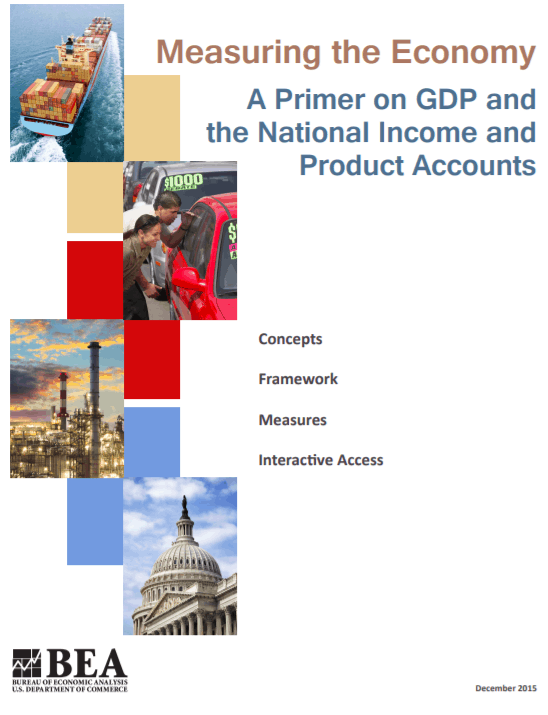 Why Does this Matter to MHVille? Just the Facts…
For some time, MHI has been publishing information that far undervalues the industry's contribution to the GDP.
Using MHI's own information, which has rounded up in some cases, the correct GDP – per the BEA's and CBE Cororaton's formulas – would be over $6.5 billion a year, not "almost $3 billion…"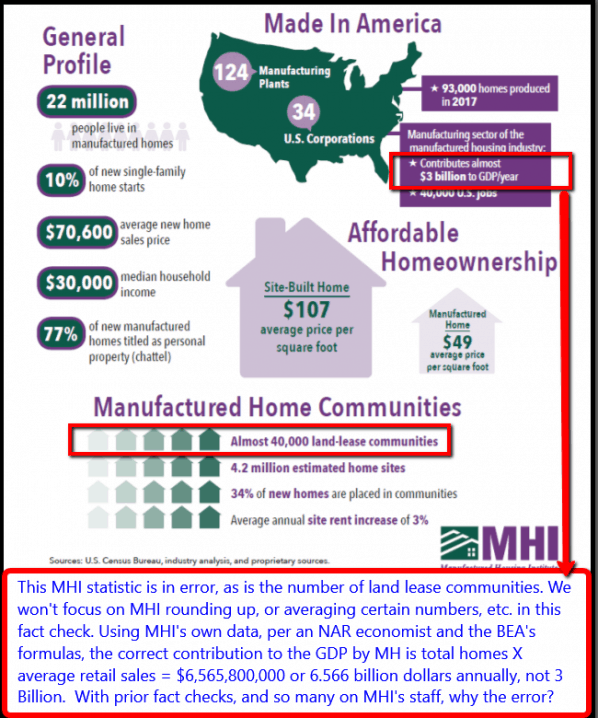 Not only is that a more accurate total, but isn't $6.5 billion more than twice as impressive as "almost $3 billion" for the manufactured home industry?
Then why does MHI use an arguably flawed, and inaccurate total for the industry? Remember, MHProNews has published a higher, more accurate estimated GDP previously and brought that figure to MHI's attention.
Now that an respected economist with NAR is confirming the correct formula, will MHI finally change that erroneous, embarrassing, and industry diminishing, claim? Will MHI check their math, and make the necessary corrections?
Only Two Possibilities
1)        MHI can ignore the error, as they have other mistakes and apparent spin or hypes about some of their claims (think S 2155, for a regulatory example). An example is the correct count on communities. Once more, it's MHI's own members, past and present, that have said their current manufactured home community count is too low.  Their June 2018 data, reflects a change that is still inaccurate.  Why?
Frank Rolfe, Dave Reynolds, George Allen, Manufactured Home Community Controversy Continues
Note that when we published that article linked above, MHI said that the count was "37,524 land lease communities." In their June 2018 updated graphic, shown above, they now say "almost 40,000."  Why not make a more complete and accurate correction?
As a result of their ongoing unwillingness to correct such data points, not only media and researchers, but corporations have published incorrect information to potential investors.
So, based upon past experience, it is entirely possible that MHI will ignore the facts, and keep claiming a data point that's debatably embarrassing to the industry. Or:
2) MHI can do what's right, and make the correction, which is the minimum that they should do. But will MHI do as NAR's Cororaton did, and credit the sources for the correction?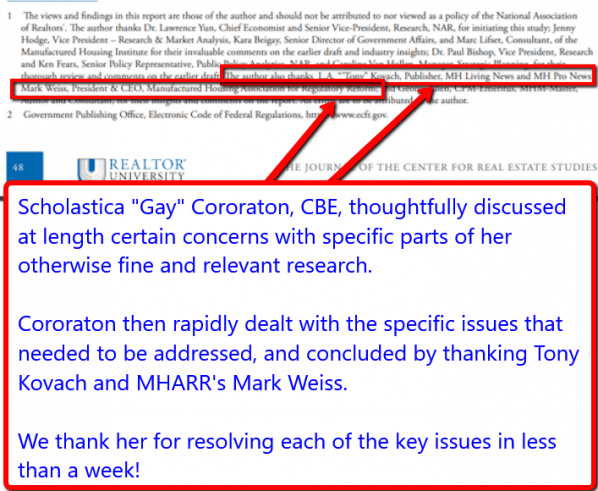 Adults make mistakes.
But don't mature adults admit error, make corrections, and then move on? What will MHI do? What will their action or inaction say about the organization? How will MHI's actions reflect upon the industry?
Two state associations have broken ranks with MHI, over their stated concerns that MHI has failed to represent their interests.  More recently, they've launched a new national communities association (see related reports, linked further below).
State Associations, Companies Quit Membership in Manufactured Housing Institute, (MHI), One Explains in Writing, 'Why?'
Why would MHI understate, after they've been informed previously about the error?  How can they claim it is accidental?  What other reason might make sense?  Could it be that they are trying to understate the industry's size, to discourage new entries into the industry? Isn't that similar to what MHI President, Richard 'Dick' Jennison did by understating the industry potential for more rapid growth? What CEO of a national association argues for slower growth? It sounds pretty to say 'sustainable,' but the industry sustained several times this sales level in the past. Who benefits from slow growth?  What normal non-profit organization rewards a CEO like that, with a bonus, contract extension and more pay?
A respected non-MHARR industry voice has challenged retailers to organize and leave MHI, similar to what communities are starting to do. He believes that the majors have "weaponized" certain aspects of national association's work, using these words:
"…If retailers would bow up and tell the MHI manufacturers they want dues paid to a new association rather than MHI there will be change. I do believe the majors have weaponized regulation that further entrench their companies or widens and deepens their moat. Keep my name off it please but I'll support the efforts if [there] is enough backbone out there."
MHI members are encouraged to get MHI to change their incorrect reporting of data, just as they are encouraged to get them to be more transparent on other past errors.  See the Howard Walker related report, linked below.  Is there any excuse for repeatedly making the same mistakes?  "We Provide, You Decide." © ##(News, analysis, and commentary.)
(Third-party images and content are provided under fair use guidelines.) See Related Reports, linked further below.
1) To sign up in seconds for our MH Industry leading emailed news updates, click here.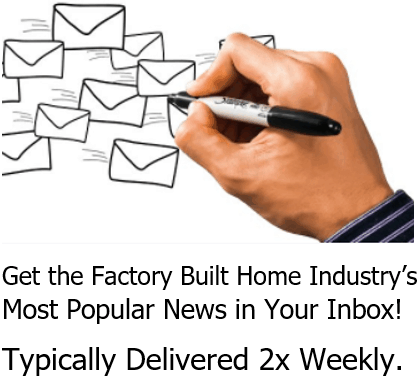 2) To provide a News Tips and/or Commentary, click the link to the left. Please note if comments are on-or-off the record, thank you.
3) Marketing, Web, Video, Consulting, Recruiting and Training Resources
Submitted by Soheyla Kovach to the Daily Business News for MHProNews.com. Soheyla is a managing member of LifeStyle Factory Homes, LLC, the parent company to MHProNews, and MHLivingNews.com.
Related Reports:
New Manufactured Home Industry National Association Related Statements
Howard Walker, Mensch – Equity LifeStyle Properties (ELS), Manufactured Homes Retrospective
'Tip of Iceberg' – Rick Rand; Marty Lavin, Communities have 'No Confidence' in Manufactured Housing Institute, New National Trade Group Announced