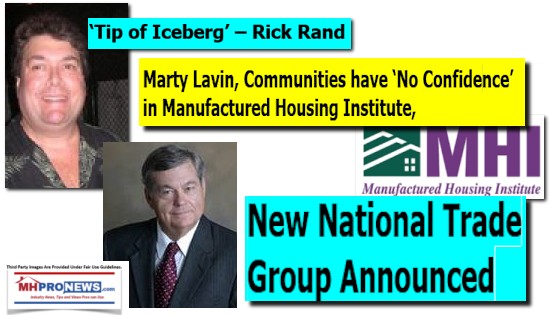 "We are at the tip of the iceberg," for the manufactured home industry's opportunities, said Rick Rand of Great Value Homes in WI.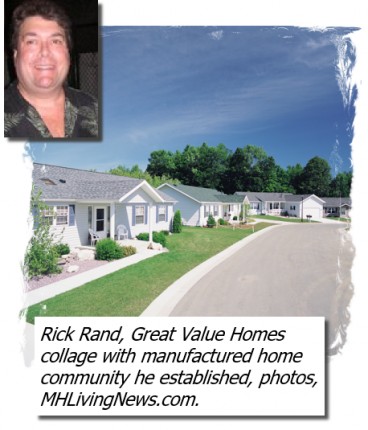 Rand – a Manufactured Housing Institute (MHI) board member, and award-winning communities veteran – would not weigh in on the latest controversies about the Arlington, VA based trade group.
Posturing
As the Daily Business News previewed last night, and per the Masthead prediction earlier this week, MHI is posturing. They are doing a 'victory lap' to their members about the passage of a Dodd-Frank rollback bill, which included the MHI-backed MLO provision.
But even as MHI is attempting to rally their troops, others have walked out of the Arlington-based trade group.
Some of them have been pushing and organizing a new post-production trade association  for manufactured housing.  The word is that the new communities group has already been formed, and will be formally announced, per industry sources.
State Associations, Companies Quit Membership in Manufactured Housing Institute, (MHI), One Explains in Writing, 'Why?'
MHI award-winner Marty Lavin had several things to say about the Arlington, VA based trade group. But Lavin stopped short of calling for a new association.  "Good luck," he said about that, because he is not convinced that it will work.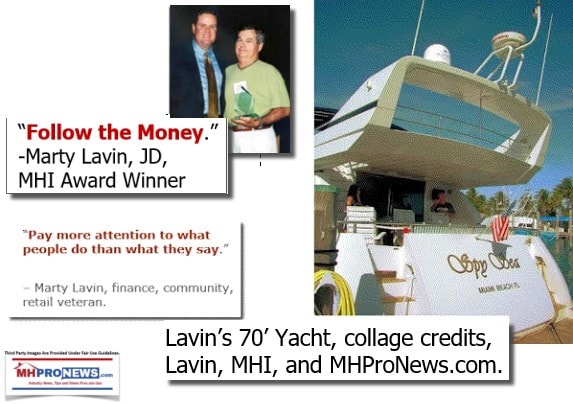 While Lavin and Rand wouldn't 'go there' – yet – on the new association mood and movement, Lavin did unload on MHI on several levels.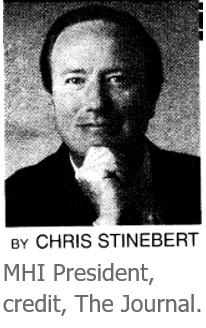 "In my opinion, Chris Stinebert was the most effective [MHI President] by far, but he was in thrall to the big boys,' said Lavin in an on-the-record statement.
"Chris knew where his dinner came from. The job he now has shows his worth. Left alone he would have been very good," Lavin told the Daily Business News via text.
"But none of them [the MHI presidents] are effective because of their strict loyalty to the "big boys," who determine their job retention," said Lavin, who spent decades in volume manufactured housing retail, had a GM dealership, manufactured home communities, and was a finance expert who served on numerous MHI boards and task forces.
Lavin was asked about the effectiveness of MHI for their broader membership, beyond the big boys? He said that MHI presidents should not be seen as loyal "to the association's [members] or [the MH] industry."  It was a stinging rebuke for Arlington.  He elaborated.
"Look at every [MHI] Chairman in the last 30 years. Any plain Jane boys there?  Say like Doug Gorman,  you or me? Never happen," the attorney, volume retail, communities and finance veteran modestly said, in as much as Lavin is an industry success story in his own right.
Lavin added, "So the association [MHI] is not there for the "industry," unless the interests of the Big Boys join the industry's."
Ouch.
Former MHI Member Sounds Off
Speaking via email to MHProNews about the passage of S. 2155, an award-winning, former MHI member had this to say.
"Typical MHI…making a big deal out of something that Congress would have easily given to the industry…years ago, if the selfish folks had not kept it hostage to their other demand, which they knew darn well all along they will never get…what a rip-off of the honest and trusting industry folks by these rogues and their enablers."
The reference to the "other demand" was about the points-and-fee rule that has debatably kept the Preserving Access to Manufactured Housing Act from passing for years. Was that points-and-fees rule MHI leadership stubbornly clung to for years – and the multi-millions of dollars of failed efforts – now DOA?
Rephrased, will MHI still pursue the points-and-fees rule? Let's wait and see…if they even bother to directly address it, unless they are pushed into discussing it. That alleged lack of transparency has dogged MHI in recent years.
AZ, NV, with Allen and SECO? The New National Association
Sources with ties to George Allen, and Spencer Roane-led SECO are telling MHProNews that that two communities associations that exited MHI last year – NV and AZ – are announcing the launch of a new national communities trade group.
The western manufactured home communities leadership will be addressing members of George Allen's "round table" later this year.
One source speculated that this may be Allen's last roundtable meeting.
A representative of the AZ and Nevada communities group also plan to address the Spencer Roane led SECO conference later this year, as the western communities associations are looking to recruit new members for their reportedly formed national group.
Spencer Roane w/Southeast Community Owners (SECO), Praises Tom Lackey, Accused of Rent-to-Own Manufactured Home Sales Improprieties
Among the calls and messages to MHProNews on this new association topic yesterday was a range of enthusiasm-to-concerns over the nascent project. Some examples of those concerns included, but are not limited to:
Will the AZ and NV association's new national effort lead to members of state associations peeling off?
Will there be a split among Allen and Roane's following, especially in the wake of problematic mainstream media reports about a SECO board member?
There is insufficient insight to address those or other concerns at this time.
But in principle and with qualifiers, MHProNews editorially supports the formation of a new national post-production trade group, which will presumably draw a number of new members from MHI.  Given the right effort, it can be successful.
The prototype for that is the Manufactured Housing Association for Regulatory Reform (MHARR), which launched decades ago, and is still going strong today as a voice for the industry's independent producers.
MHI Member blasts Jennison, and MHI "Deceptions"
One caller familiar with the new development launched into a colorful tirade against Jennison, who the caller said "kisses -ss," and does exactly what his "bosses" want him to do for them.  It was a clear echo of the view that Lavin expressed, from an entirely different part of the nation.
Another message to MHProNews expressed the notion that the Washington Post article did serious harm to MHI's credibility, since Lesli Gooch told the "leftist," and "anti-Trump" newspaper (message quotes), outraged "that MHI made no move to have Pamela Danner removed from HUD."  Expletives peppered that message, while thanking MHProNews for its detailed coverage on that topic.  A recent report on that Washington Post story that favorably mentions MHARR's effectiveness is linked below.
Greener, Stylish Manufactured Homes – Hidden Facts in the Washington Post Manufactured Housing Narrative
The View from the Masthead
The word "Masthead" has more than one meaning;
the highest perch on top of a sailing ship,
and the listing of those who are the "pecking order" for a newspaper, or other media publication.
Each use of the term masthead at its core implies a greater visibility, and thus greater insight.
"Once you understand the realities of the industry vs. it's various claimed dynamics, it becomes clearer what must be done to advance the cause of manufactured housing," said L.A. "Tony" Kovach, whose name is on the MHProNews Masthead – or editorial – blog.
"Once the good people of the industry were clearly and repeatedly exposed to the realities of MHI, it was only a question of time that a few things would occur.  One, that those with the stamina and backbone would break ranks with MHI. Two, that MHI would be forced to pivot on a variety of previously flawed positions," Kovach opined.
"We don't have to know every nuance and angle to know that the laws of human nature are as powerful as the law of gravity. In science and with people, there are certain things that occur in a genuine leadership vacuum. Voices from associations like MHARR – or the community associations of AZ and NV – are examples of what forward thinkers, once awakened to reality, will do," Kovach said. He offered qualified encouragement to the effort.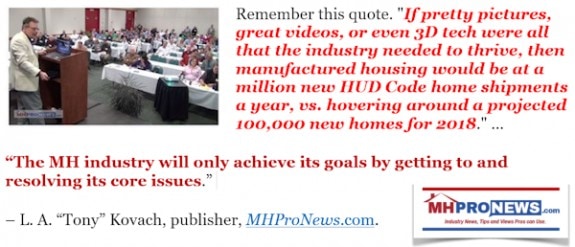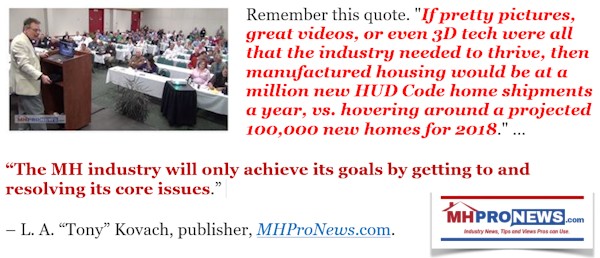 Because MHProNews gathers insights from a wide array of sources, the insights from 'the masthead' are often uniquely accurate.
There are several developments and related announcements expected in the next few days, perhaps after the Memorial Day weekend.
The Wrap
Drawing to a close for this report, Rick Rand's enthusiasm for the future of manufactured housing being at "the tip of the iceberg" of the industry's great potential is arguably correct.  While Rand or Lavin didn't say it, the formation of a new association – which MHARR, this publication and others have been calling for – could be a welcome development for the industry.
It is worth mentioning that at one time, manufactured housing had numerous regional and national trade groups.  So, this nascent effort by AZ and NV has precedent.  In fact, it is arguably overdue.
MHARR has not weighed in on the new effort, but it has been promoting a new post-production group's formation, as one of the related reports linked below will detail.
Media Tips to MHProNews: there is also word from mainstream media sources about an issue related to part of the above, which could hit the wires soon. Stay tuned here for more from the leading MH "Industry News, Tips and Views, Pros Can Use." ©  ## (News, analysis, and commentary.)
(Third party images, content are provided under fair use guidelines.)
Related Reports: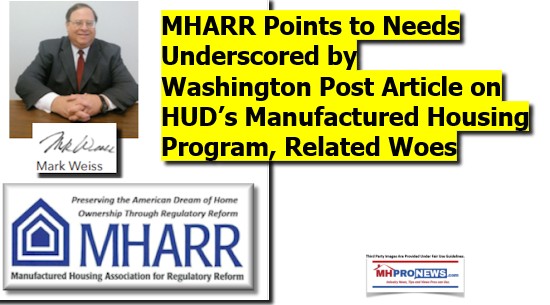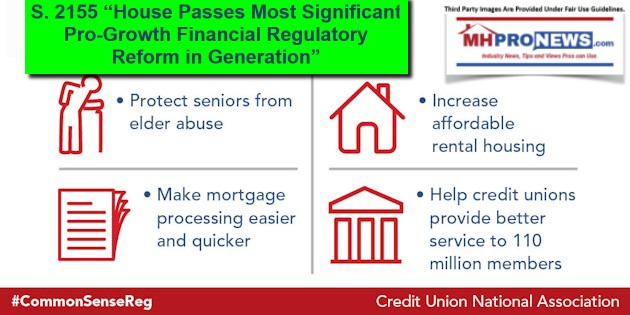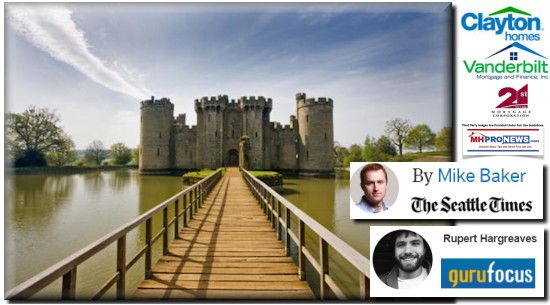 Executive summary. To solve a problem, to tap an opportunity, one must discover the root causes and address those core issues. The common stories read and seen in mainstream news tend to leave the uninformed with the impression that manufactured home owners got a raw deal and are routinely troubled by bad actors in this industry.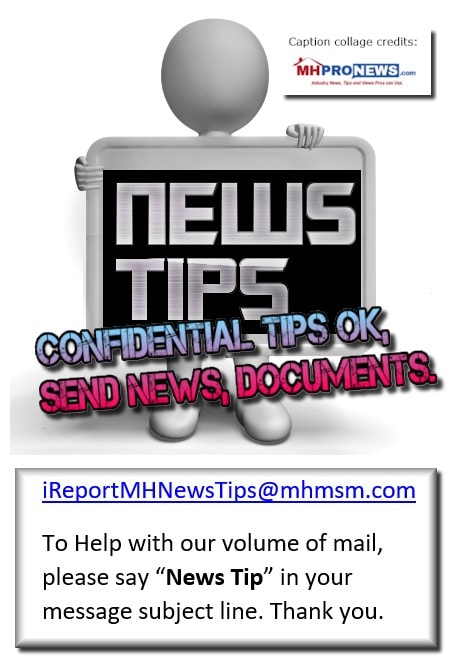 1) To sign up in seconds for our MH Industry leading emailed news updates, click here.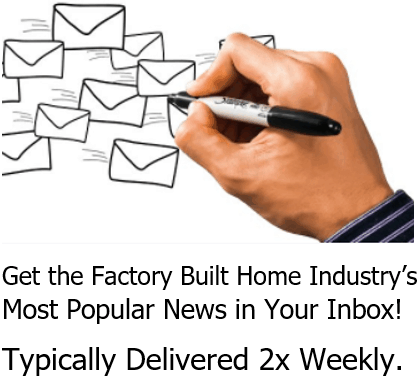 2) To provide a News Tips and/or Commentary, click the link to the left. Please note if comments are on-or-off the record, thank you.
3) Marketing, Web, Video, Consulting, Recruiting and Training Resources

Submitted by Soheyla Kovach to the Daily Business News for MHProNews.com.
Soheyla is a managing member of LifeStyle Factory Homes, LLC, the parent company to MHProNews, and MHLivingNews.com.