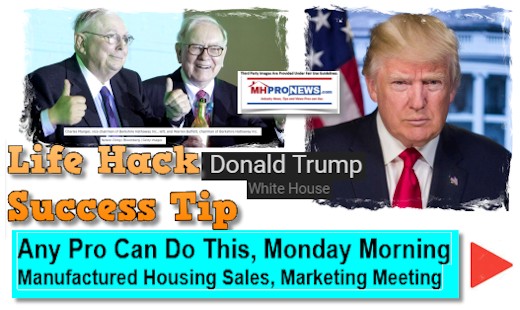 Today is going to be DIFFERENT.
Open your minds for something simple, yet profoundly effective for those who dare embrace it.
It's a Success Tip that Warren Buffett's over half-a-century partner Charlie Munger believes in and practices.
It's this.
Reading for understanding.
Reading, and being able to admit that you were mistaken about something.
Reading with an open mind, looking for the opportunity, the gem that the reading is bringing to you.
When MHProNews first launched, our URL – the base web address – was and remains MHMarketingSalesManagement.com. Marketing, Selling, and Management are at the core elements of any successful enterprise.
We encouraged readers almost a decade ago to devote 15 minutes a day to reading. That was back before we introduced the industry's first and still only Daily Business News, which is this module or blog within our broader trade media website.
Today, the goal should not be for 15 minutes a day. That isn't nearly enough to keep up with your industry and the world that impacts your industry. An hour a day is the minimum.
You can split that hour-a-day of reading and viewing into 10-to-15 minute segments. You can do it all at once. How, where and when you invest that hourly daily has a lot of flexibility.
Watch the video, and see what Munger does.
Charlie Munger is a billionaire. He is the vice-chairman of Berkshire Hathaway, the conglomerate that dominates much of manufactured housing. Munger takes reading with him, everywhere he goes. For example, he shows up early for meetings, and is reading before and after the meeting.
So Munger is wasting no time! He is reading during what for others might be down-time!
If you are reading and viewing at least an hour a day on MHProNews and MHLivingNews.com – and you do so for a deep understanding – that habit will transform your career, and your professional life.
That hour-daily habit would likely lead to improvements in every other area of you life too.
Foundational For Success
We don't hide the fact that we believe in faith, flag, family, fellowship, and free enterprise. We celebrate what each of those words represent, because each are and should be cherished ideals.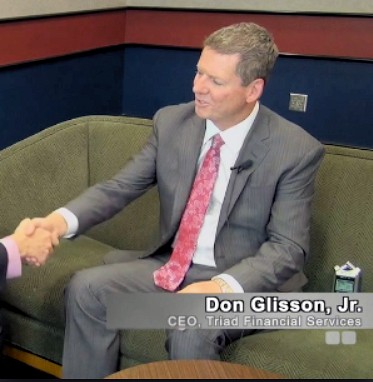 Don Glisson, Jr. – the president of Triad Financial Group – told me a few years after we launched that he thought we were crazy to start MHProNews when we did. It was late 2009. The industry had just neared the finish of its worst year in over 50 years.  He said that as he publicly congratulated for our success in becoming the most popular trade publication in the industry's history.
Third-party statistics prove that we are still the industry's leader in trade media, by a country mile. MH "Industry News, Tips, and Views Pros Can Use" © is more than a tag line.
That's a mission we are committed to, in order to help industry pros and investors like you become all that you can be.
We practice what we preach.
We read and read, then we write what the evidence tells us we should know, which then suggests which way to go.
In our consulting, professional business development services, marketing and sales coaching, it is all based upon observations, evidence, feedback, real world experiences, and ongoing refinement.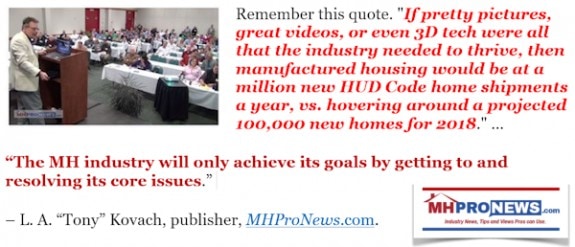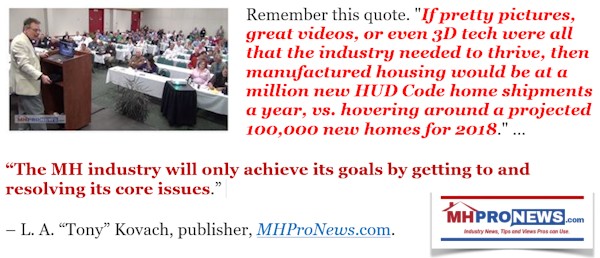 For a time, we trusted the 'industry leaders' to a certain degree. But we admit that on some things, the industry's leaders were mistaken in what they said and did. To the degree we listened, we were off.
The evidence of why the industry's so-called 'leaders' have been wrong is in the chart below.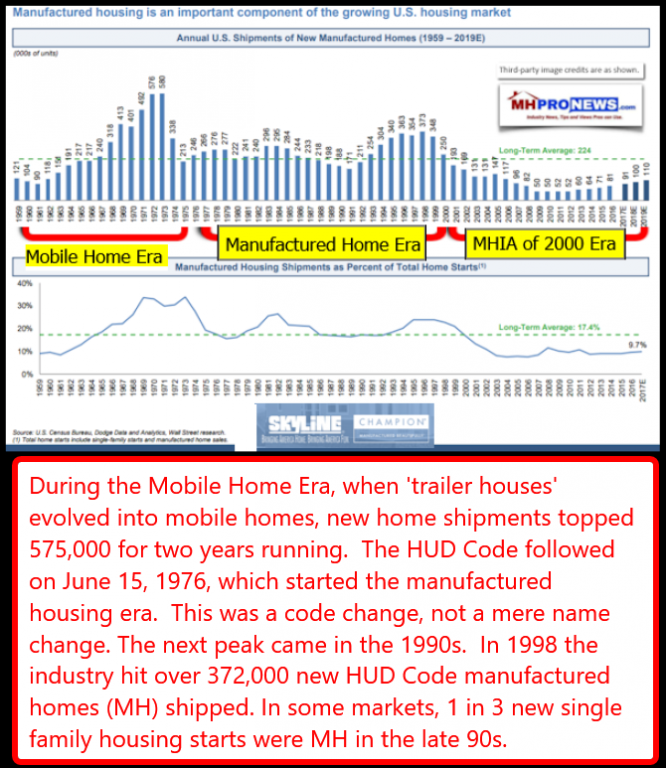 If what those leaders wanted us all to do was so dang smart, why did the manufactured housing rumble and tumble as fat as it did?
When the nation has an affordable housing crisis, why will there only be about 100,000 new manufactured homes built this year?
The answers for that and more are found in reading for understanding.
The Trumpian View
Donald J. Trump has a similar belief to Munger's and Buffett's in this respect. The billionaire builder and businessman turned populist President of the United States (POTUS) believes this.  It pays to know all that you can about something that impacts your profession.
That Trumpian view is more than reading.  But it includes reading, plus viewing, asking questions, and listening to the answers. It requires the search for understanding.
Reading and viewing here and on MHLivingNews.com an hour a day. Every day. Do that for a year. Then, a year from now, tell me in an email, call, or other message what that practice did to make your professional life more profitable and effective.
Take that challenge.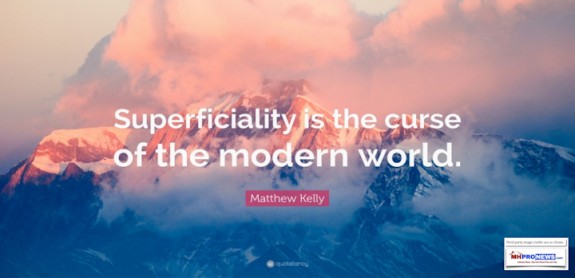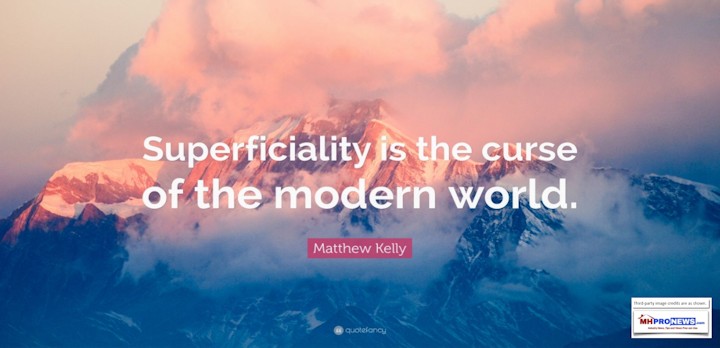 Read for understanding, no less than one hour a day. Enough said for today. ## (Manufactured housing related marketing & sales news, analysis, and commentary.)
(Third-party images are and content are provided under fair use guidelines.)
Related References:
Is it Better to Be Candid, or a Kiss-Up? Monday Morning Manufactured Housing Sales, Marketing Meeting
Style or Substance? Lesson from Most Hated in America – Monday Morning Manufactured Home Sales, Marketing Meeting
What are the FACTS about Manufactured Housing Industry Traffic vs. Real Estate? MHVillage, MHProNews, Manufactured Housing Institute Data
'You Are Either Clayton Homes, or You're Not' – Monday Morning MH Sales Meeting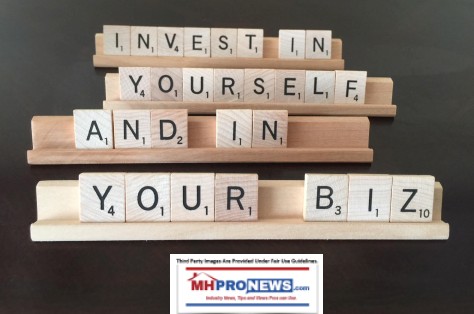 By L.A. "Tony" Kovach – Masthead commentary, for MHProNews.com.
Tony is the multiple award-winning managing member of LifeStyle Factory Homes, LLC, the parent company to MHProNews, and MHLivingNews.com.
Office 863-213-4090 |Connect on LinkedIn:
http://www.linkedin.com/in/latonykovach
Click here to sign up in 5 seconds for the manufactured home industry's leading – and still growing – emailed headline news updates.