"Who controls the past controls the future. Who controls the present controls the past." – George Orwell, per Goodreads.
What does that quotation mean? 
"The meaning of this statement is that someone can redefine who they are and, in fact, what a society is by being able to change the perception of how the past is configured.  For example, dictatorships are very passionate in the idea of "rewriting history."" – Ashley Kannan, CE, per eNotes is her explaining of the meaning of the George Orwell quote under the top featured image. 
"A quotation by media of a source is not meant to imply an endorsement of everything that quoted source has ever said or done. Rather, a quote is supposed to be an accurate reflection of a statement made by an attributed source, with the quoted statement being worthy of consideration." – L. A. 'Tony' Kovach, MH Industry expert, publisher of MHLivingNews.com and MHProNews.com.
The Critical Battle Over Equal Opportunity for Affordable Home Ownership  
There may be no more important topic to an aspiring person, couple or household of any race or other protected class than the possibility of home ownership and affordable housing. 
Numerous sources from across the left-center-right spectrum agree that home ownership is a reliable path to increased personal wealth. A careful "wheat and chaff" curation of the best ideas can yield a pro-growth agenda where a rising economic tide could lift all boats.
In 2017 and 2018, MHProNews had occasion to point to the fascinating case of Donald Tye, Jr.
Tye describes himself as an actively retired minister, who has earned his living in business and by providing certain services. He says he is skeptical of both major parties.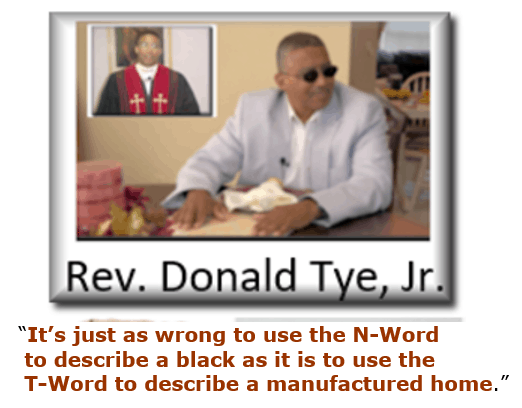 Tye's connection to affordable housing is that his parents bought a pre-HUD Code factory built home, and installed it on an infill lot near Cincinnati, OH.
Tye made various thought-provoking statements cited in the graphics shown herein.  He is passionate about the notion that manufactured homes ought to be allowed as infill in urban and suburban areas. Tye came to believe that quality, affordable manufactured homes are arguably permitted via the "enhanced preemption" clause protected by federal law for such infill urban or suburban placements, due to the language in the Manufactured Housing Improvement Act of 2000 (MHIA).
Two Great Laws Already on the Books NOW,  Can Unlock Billion$ Annually for Manufactured Housing Industry Businesse$, Investor$
Tye also discovered just how few people know about the MHIA and it's enhanced preemption provision.
The Trump Administration, Affordable Housing and Modern Manufactured Homes
Housing and Urban Development (HUD) Secretary Ben Carson, MD, has praised manufactured homes in various hearings before Congress.
"Move, Open, Live" De Rose Industries & Senator Thom Tillis' Mobile Home Comments
Secretary Carson also made an interesting appearance at the Manufactured Housing Institute's (MHI) supposedly final Las Vegas conference last April.
President Trump's family business is known to have ties to a rising international unicorn modular builder, Revolution Precrafted Properties. 
President Trump has also made warm public comments about a factory builder, see those articles later, linked above and below.
President Trump Spotlights Factory Home Builder in Speech, Proven Promotion, Support of Industry Advancement
Vice President Mike Pence, per MHProNews sources, is known to be familiar with HUD Code manufactured homes. VP Pence's public statements reflect the proper industry terminology, a potential sign of respect and understanding of manufactured homes. 
These factoids suggest the following.
The Trump Administration has shown several positive signals to the manufactured housing industry. The president and vice president have both spoken several times about "enforcing the law," as a generic statement that's been applied to several issues. 
Against that background, consider that Secretary Carson has said that those who own a home have an average net worth of about $200,000. By contrast, Carson said that those who rent have an average net worth of only some $5,000. 
The Trump Administration has signaled their support for affordable home ownership, as well as a desire to reduce federal outlays for subsidized housing. Are those two incompatible? Or logically, doesn't the one – affordable home ownership – naturally result in less need for subsidized rental housing? 
While there are claims of racism lodged against President Trump, those routinely come from political opponents. Where were those voices before he announced his campaign for the presidency? What we know is that the president has touted dozens of times – with apparent pride – falling unemployment levels. He seems proud that increased employment among blacks, Hispanics and females have resulted in record low unemployment for those groups.  
As a builder himself, President Trump addressed the National Association of Home Builders (NAHB), and the National Federation of Independent Businesses (NFIB). The NFIB, per our sources there, has said they have hundreds of manufactured housing operations among their roughly 325,000 members.
CNN's Lydia DePillis, and Affordable Housing
Senior economic writer for CNN, Lydia DePillis, recently published an interesting column entitled, "How Washington could actually make housing more affordable." Her article linked to a Bush Administration report by HUD that made several useful statements in favor of manufactured and modular homes.
Thus, it is reasonable to presume DePillis is at least aware of modern manufactured homes. 
DePillis also cited a study previously referenced by the Daily Business News, published by the National Bureau of Economic Research (NBER). "Housing Constraints and Spatial Misallocation," by Chang-Tai Hsieh, Enrico Moretti. It's NBER Working Paper No. 21154, issued in May 2015, and revised in May 2017. It argues that there's about a $2 trillion dollar economic drag, because of the lack of affordable housing. Rephrased, the U.S. economy would gain an additional 2 trillion dollars a year in GDP, given more access to affordable housing where it is needed. Note that Chang-Tai Hsieh is at the Booth School of Business, University of Chicago. Enrico Moretti, is at the University of California, Berkeley, Department of Economics.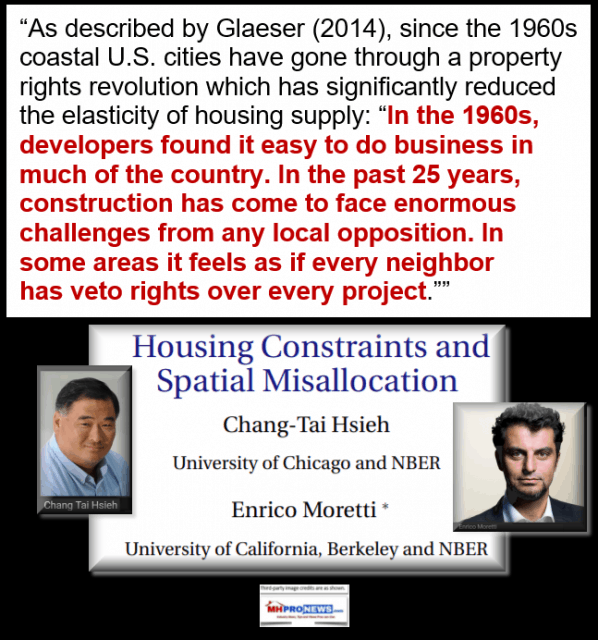 Their research is not light reading, which is to say that its highly technical. 
But the logic of Hsieh, Moretti, and the Not in My Back Yard (NIMBY) HUD Report cite by DePillis all mesh well with the factoids cited by Dr. Carson and Rev. Tye.  The pull quote below is from the HUD NIMBY report that follows it.
Which brings us to the following thoughts from Dinesh D'Souza. Consider Tye's question above, why isn't manufactured housing more utilized, as you ponder the insights below.
D'Souza's Research
D'Souza is a controversial author and docudrama movie maker. He came from India, and is as dark skinned as many blacks or other racial groups. So it would be difficult to say he's a racist. 
His movie, "Hillary's America" is available on Netflix. He argues that there's been lots of "plantation politics" at play in the U.S. for decades. Those huge projects that Rev. Tye branded as warehousing people like cattle, are part of the backdrop for policies that have increased poverty among blacks and other minorities for decades. Set the time aside to do what millions of others have done, watch D'Souza's interesting, sometimes comical, and often troubling "Hillary's America" with an open mind. 
Then cross check his claims.  
Per Google, 81 percent liked that D'Souza's movie.  
D'Souza, who's into history, would likely concur with the George Orwell quote at the top, shown again in the image below. Odds are good D'Souza would agree with the other Orwellian quotations also posted in this column. 
Disparate Threads, Left-Center-Right, and a Solution for the Affordable Housing Crisis That's Hiding in Plain Sight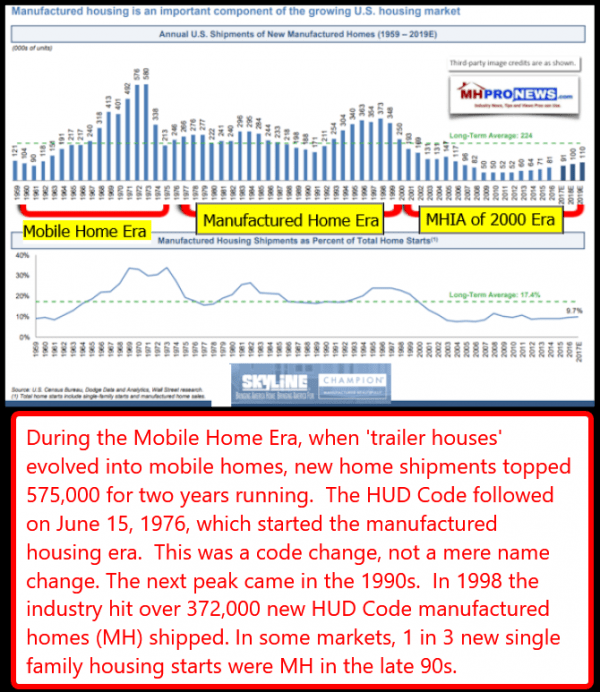 There is arguably no shorter path to increasing the wealth of millions than there would be by implementing federal laws regarding HUD Code manufactured homes.
DePillis did not directly mention manufactured homes, but she did cite the study in which they were being promoted.
Realtor University, Journal for the Center of Real Estate Studies, Makes Corrections– "The Market for Manufactured Homes," by Scholastica 'Gay' Cororaton, CBE
In the newly revised document and post, "Making the Case for Manufactured Homes," Realtor University's Journal for the Center of Real Estate Studies featured Scholastica 'Gay' Cororaton, who took a deep 30-page, fact-packed dive into manufactured housing.  Let's pivot from the above to the political and economic landscape, that's shaping housing and other policies. 
The president has been scolded by elites across the Democratic and Republican divides, depending on the subject. He's arguably more of a pragmatist than a traditional member of either major party. 
Like Democratic President John F. Kennedy, or GOP President Ronald Reagan did, POTUS Trump, enacted big cut taxes. He's sliced regulations.  
The result is the same as what Kennedy and Reagan experienced, rising investments and growing GDP.
The bottom line from all of the above – seemingly disparate threads – is this quote. 
"There is no faster way to lift millions out of poverty, "out of the projects," than by a robust implementation of the enhanced preemption and other aspects of the Manufactured Housing Improvement Act (MHIA), an authentic support of manufactured homes (MH) by the Government Sponsored Enterprises (GSEs) and the need for HUD, FHA, and Ginnie Mae to make revisions to the Title I, Title II, VA and Rural Housing (USDA) programs for MH.  
Doing so – per the application of the logic of "Housing Constraints and Spatial Misallocation," by Chang-Tai Hsieh, Enrico Moretti – could unlock $2 trillion dollars a year in additional GDP for the U.S. That in turn would result in millions of new jobs, which would be a natural supply-and-demand boost for wages.
The net result would raise millions from poverty into greater prosperity, by making their part of the American Dream of Home Ownership possible, thanks to quality affordable manufactured homes." – L. A. 'Tony' Kovach, award-winning industry expert, and publisher of MHProNews, MHLivingNews. 
What's holding manufactured housing back from achieving that is the lack of additional support for industry voices like the Manufactured Housing Association for Regulatory Reform.
Focus on More Financing, HUD Program Reforms, Aimed at Increasing Manufactured Homes Sales, Meeting with Assistant Secretary–Federal Housing Commissioner, Brian Montgomery
See the prescient video, shown above.  Keep in mind it's now about 16 months since that video was recorded. That's prescience.  
That's a lot to chew on. But it boils down to massive opportunities for forward-looking, long-term thinkers in the private sector who are willing to unlock the aspirations of millions via free enterprise. The above realities would naturally lower poverty in America, and increase the personal wealth of millions now trapped in subsidized housing or rentals.

Federal expenditures for subsidized housing, or other poverty programs, would naturally fall as personal wealth grew. The politics of poverty and race could be ended by successfully lifting millions up, instead of keeping them trapped and dependent.  Readers can consider the rationale found in the report, linked below.
It's a common sense application of the principles cited.
Various voices may quibble over details and credit, but this "wheat and chaff" approach is how the claimed aims of the left, right and center could be practically met.
The linked related reports provide additional references and details that spell out why this makes sense, and suggest why this hasn't already been done. Because that Bush era HUD document DePillis cited reminds us that this is a discussion that's been going on in America for decades, with no real change in sight.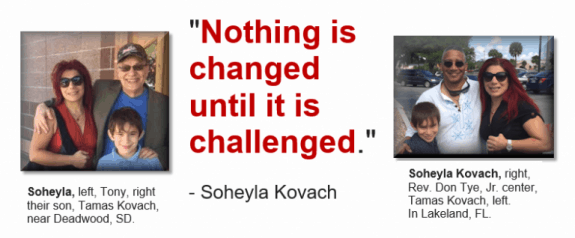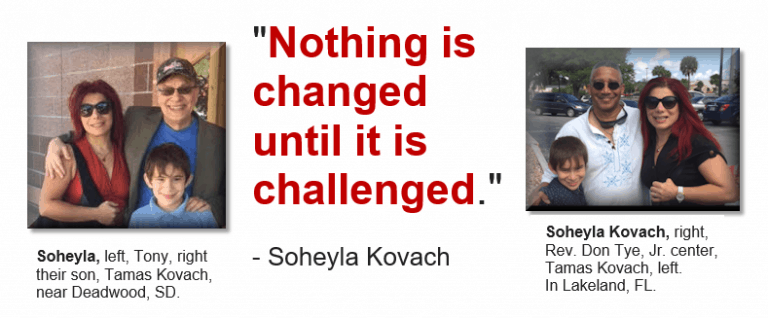 Isn't it time for pragmatic solutions? Isn't it time to lift millions of people up?  "We Provide, You Decide." © ## (News, analysis, and commentary.)
(Third-party images and content are provided under fair use guidelines.) See Related Reports, linked further below.
1) To sign up in seconds for our MH Industry leading emailed news updates, click here.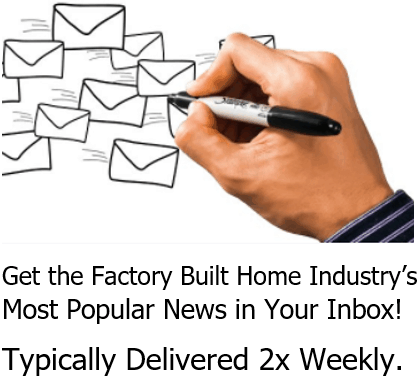 2) To provide a News Tips and/or Commentary, click the link to the left. Please note if comments are on-or-off the record, thank you.
3) Marketing, Web, Video, Consulting, Recruiting and Training Resources
Submitted by Soheyla Kovach to the Daily Business News for MHProNews.com. Soheyla is a managing member of LifeStyle Factory Homes, LLC, the parent company to MHProNews, and MHLivingNews.com.
Related Reports:
YIMBY vs. NIMBY, Obama Admin Concept Could Unlock $1.95 Trillion Annually, HUD & MH Impact
Harvard's Joint Center for Housing Studies 2018 – Affordability, Manufactured Homes, and Modular Housing Report
"Why Advocates Need to Rethink Manufactured Home Quality," Harvard, GSE, Genz, "High Satisfaction"
Why didn't Harvard's Eric Belsky's predication come to pass in the decade it was made?  Part of the answer lies in the article, linked below.
Smoking Gun 3 – Warren Buffett, Kevin Clayton, Clayton Homes, 21st Mortgage Corp Tim Williams – Manufactured Home Lending, Sales Grab?