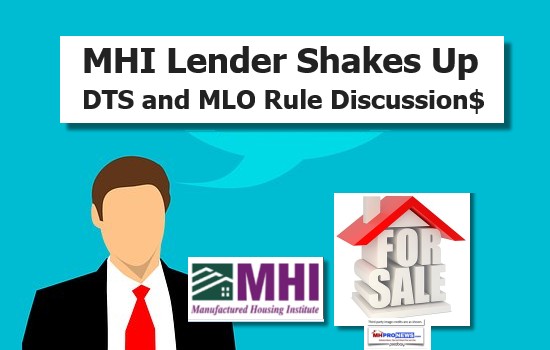 A veteran Manufactured Housing Institute (MHI) lender's controversial comments to the Daily Business News are bound to shake up discussions about two hot button industry topics.
Those two subjects are:
the Duty to Serve (DTS) Manufactured Housing, mandated by Congress a decade ago, and
the Mortgage Loan Originator (MLO) Rule, established by the Consumer Financial Protection Bureau (CFPB) during the Obama Administration, and run under Richard Cordray's leadership for several years.
A senior lender in manufactured housing, whose company is an MHI member, said that Triad Financial Services turned over their data to the GSEs "about 5 or 6 months ago."
The same informed source said that Credit Human, formerly known as CU Factory Built Lending, committed to turning over their data to the GSEs as well. That hand-off was reportedly more recent.
Therefore, the two Berkshire Hathaway owned lenders – 21st Mortgage Corp and Vanderbilt Mortgage and Finance (VMF) – were the 2 major holdouts.
The industry's larger chattel lenders split along 'party lines,' with Berkshire Hathaway not providing data to the GSEs, and non-BH lenders providing data to Fannie Mae or Freddie Mac.
That loan performance data, said the GSEs, was needed to responsibly implement home-only "chattel" loans.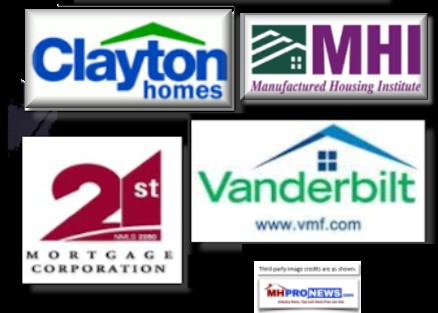 The comments confirmed once more the public statement in Tunica that Fannie Mae's Paul Barretto made earlier this week, that Berkshire Hathaway failed to provide them with any relevant data.
According to Barretto, that meant that the bulk of the data they had was from the Conseco loan pool, which dated back to the late 1990s and early 2000, and were widely known for problematic origination and thus poor loan performance.
The combination of comments by the MHI lender and Fannie Mae's Barretto underscored key revelations that help explain a decade of delays in implementation of the Congressionally mandated Duty to Serve Manufactured Housing.
That lack of data claim was in turn was used by the GSEs to do only a relatively modest pilot program by Fannie and Freddie. Those pilot projects are to be rolled out over 3 years, in support of the most affordable permanent housing in America.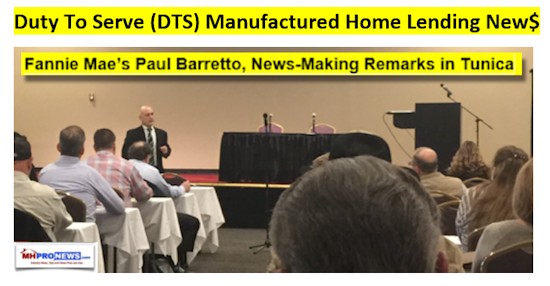 Preserving Access…err…S. 2155
Once more, the potential for the Manufactured Housing Institute (MHI) to make a deal on the Mortgage Loan Originator (MLO) Rule – which some in media are mischaracterizing as "steering" – directly with the non-profit consumer groups was asserted by an MHI member lender.
Why does it matter?
First, because while the odds of passage on S 2155 are up, it is no guarantee that the manufactured housing amendment to the bill will survive a House/Senate conference committee.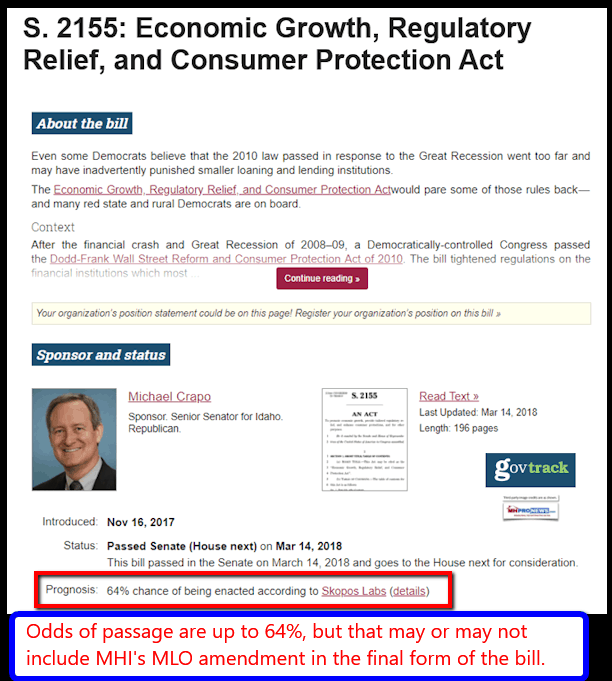 As or more important, the recent reveal by the lender and Barretto both belie MHI's official claim that they've been 'doing everything possible' to advance the cause of more lending in manufactured housing.
If Barretto's public comment in front of dozens of industry pros, plus the MHI lender and other sources are to be believed, then what MHI claims "just ain't so."
As MHProNews exclusively reported, the lender noted above confirmed what other sources have already said, which is that the non-profit "consumer groups" were ready to deal on the MLO rule, so long as the points and fees that mostly Berkshire Hathaway lenders wanted would be dropped from Preserving Access.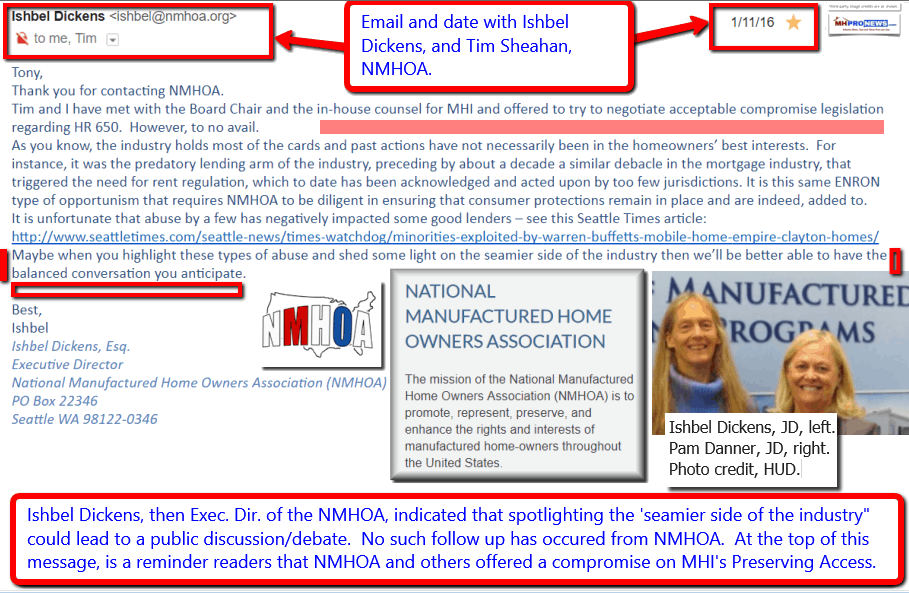 As the MHI member lender told MHProNews, the art of compromise is the essence of political advancement.
Yet, "MHI's leadership" was unwilling to compromise at all.
To rephrase, and emphasize – per our sources — MHI allegedly misled their own members and the industry at large. 
Why?
The likely answer has been supplied by the Manufactured Housing Association for Regulatory Reform (MHARR), which tacitly supported Preserving Access, but felt that bill had no chance for passage.
MHARR President and CEO, Mark Weiss, JD, said that every day that DTS isn't fully and robustly implanted is "a gift" to the Berkshire Hathaway owned lenders.

The same logic can be applied to S 2155.  By creating a burden for competitors, the larger Berkshire Hathaway companies could endure the discomfort, knowing it would cause their industry competitors even more pain.
MHARR has called for a congressional investigation of the DTS matter, and has hinted at other possible steps that they may take.  MHI's failures – whatever the cause or motivation – to get meaningful relief, has resulted in hundreds of once independent retailers and several HUD Code home producers vanishing in a few short years.  That fact is demonstrated by MHI's own data.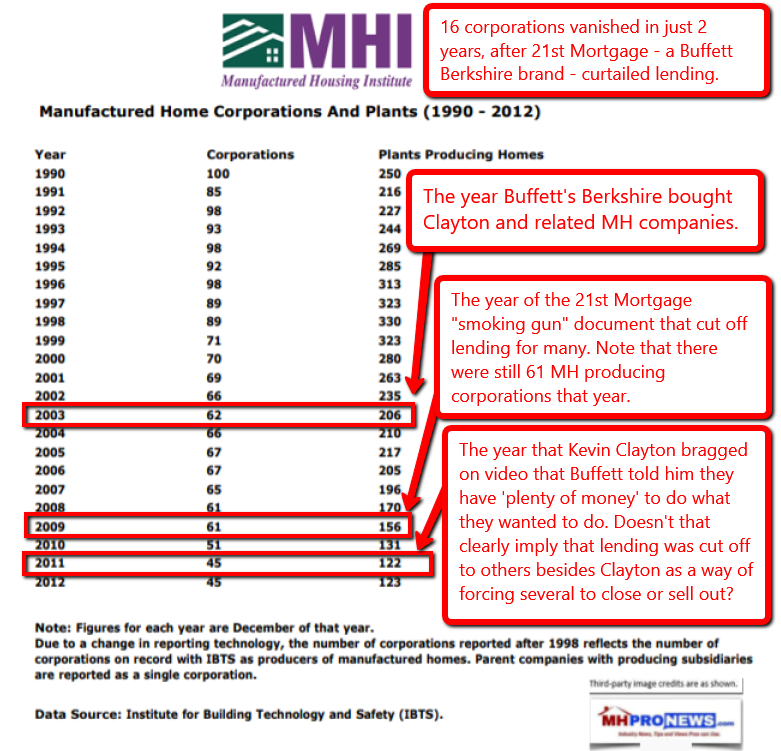 State Association Voices Largely Silenced 
Even more state association executives have privately confirmed for the Daily Business News what then MHI Chairman, Tim Williams, said after he took over a conference call.  Williams reportedly threatened and pushed reluctant state executives to promote the Preserving Access to Manufactured Housing Act with their state members (see Gold Rules report, linked below along with other resources for more details).
Yet, former MHI Vice President Jason Boehlert said in a formal statement that Preserving Access was unlikely to pass while then President Barack Obama was in the Oval Office. And it was Warren Buffett who supported then POTUS Obama's reelection effort.

Those numerous and clear disconnects between what MHI claimed, and what Warren Buffett did are so blinding, some fail to see it.
But a growing number are grasping the apparent sham of MHI saying one thing, while Buffett was personally working for the opposite.
The only logical implication is that MHI's elected and staff leadership were driving the MH Industry at large into years of wasted and costly efforts.
Why?
Publisher L. A. 'Tony' Kovach has observed what other voices inside or outside of MHI have said. Berkshire Hathaway owned companies benefit if the Preserving Access bill passes, or not.
Furthermore, the longer more new HUD Code home shipments are diminished, the more retailers and communities sell out for less than their value, or are forced out of business.
That in turn would lead to more closures of the independent HUD Code producers, who once supplied the failed or consolidated independents retailers and communities.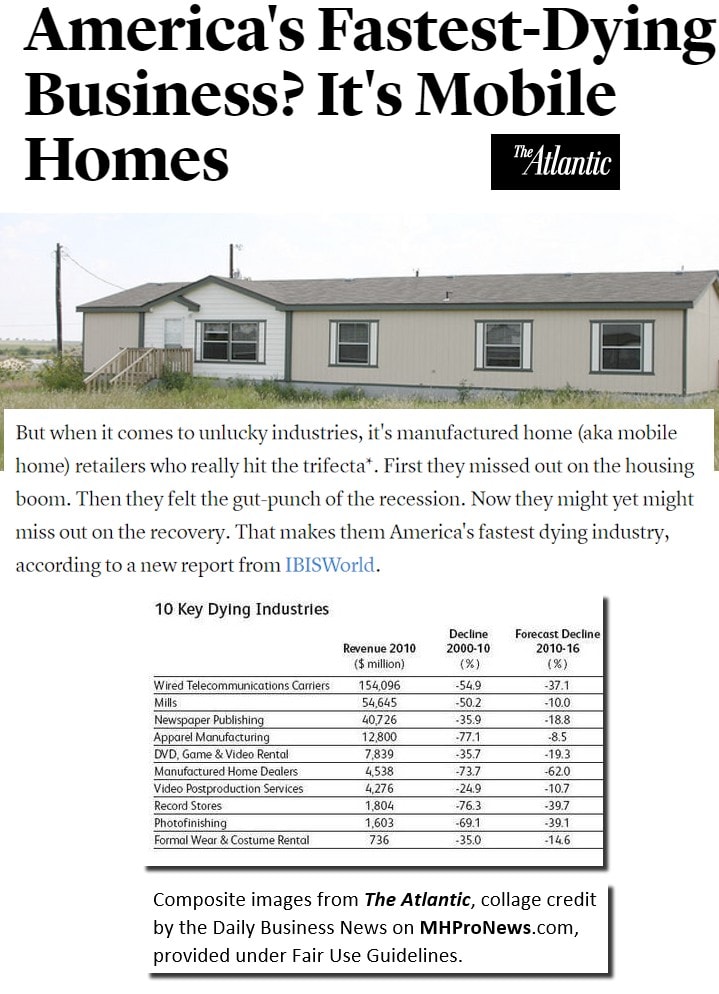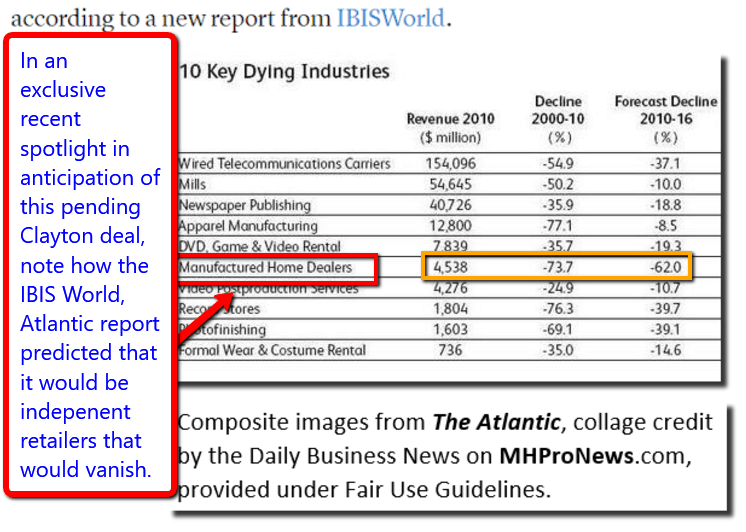 So while the affordable housing crisis rages, manufactured housing had the brakes put on it.  Frank Rolfe, an MHI member, said last year that the industry is its own worst enemy.

It's a process the fits perfectly with Warren Buffett's "the Moat" principle, which the two posted videos below confirm.  But for someone to really understand the issues Kevin Clayton and Buffett himself raise, they must do what Buffett does.  Invest the time to research and read.
What Buffett says in brief about "the Moat" – increasingly seen as a monopolistic plan – Kevin Clayton confirms in detail.
This is parallel to the reasons why the Nation recently named Buffett as a monopolistic player in industries, including manufactured housing.
The Nation specifically pointed a finger at Clayton Homes, and their Berkshire Hathaway sister companies.
They Win, While a Growing Number of Independent Businesses Lose…
 …or is There Another Option?
MHProNews has received multiple contacts from veteran attorneys who believe that an antitrust case could be made, by federal authorities, but also by independent businesses suing under civil antitrust laws that carry triple damages.
Among those attorneys are those who would do the case on contingency.
Meaning, the law firm collects only if they win the case or come to an agreed upon settlement. With many contingency cases, the attorney doesn't require the normal hourly fee.  The reason an attorney does a case on contingency is because they believe they can get more by taking a percentage of a case, then the hourly fee would be. That reduces the risk for the plaintiff, while increasing the drive by the suing law firm.
As the nation is caught in an economic vice that the affordable housing crisis has fueled, manufactured housing is – as MHLivingNews touted years ago – the solution that's hiding in plain sight.
MHI's shadow boxing on regulatory issues has stymied and delayed the industry's recovery. The very professionals who are paid to promote the industry, in this view, have been rewarded for failure to achieve any meaningful regulatory relief.
Given several on-the-record statements by
Clayton Homes CEO, Kevin Clayton,
Tim Williams of 21st Mortgage,
Warren Buffett's well publicized principles,
and documents obtained by MHProNews on 21st letterhead,
there is mounting evidence which seems to support the allegations that the thousands of industry retailers – and numerous producers – failed or sold out cheap, all while MHI postured 'advocacy' on their behalf.
Some believe that the push for S. 2155 compromise now, is precisely because of the 'heat' that MHI has been getting from MHProNews coverage of their problematic handling of Preserving Access.
As was reported yesterday, a growing number of the industry's professionals have taken these MHProNews reports seriously.
While some continue to believe MHI et al, others were in Tunica this week taking practical steps to distance themselves from options linked to Berkshire Hathaway owned brands.
The Return of Common Sense?
"Common sense says you don't feed a dog that's proven to bite your or others' hands," says Tony Kovach.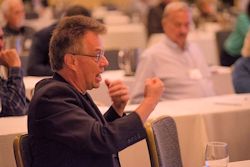 "The pattern seems to be this.  MHI takes the wrong position on an issue, and only after extended pressure, do they finally relent and pivot to the more logical stance for industry independents.  So there is no glory for them in finally taking a correct step, after months or years of allegedly bad ones.
Meanwhile, the majority of the industry's independent members have suffered. Some have sold out for less than the true value of their business, or lost their once successful businesses altogether. No wonder law firms are interested in working a legal action against this sort of behavior on contingency." Tony Kovach said.
While MHProNews naturally values on-the-record comments, such off the record insights from the lender noted above can be invaluable for the industry's independents.
The concept can be digested in minutes.
But to fully digest the nuances of what is taking place, one must do as Warren Buffett himself does: it may take a few hours of reading for all of the facts to be fully understood.
Buffett sees the value of studying the issues, but how many independent professionals do? Will more dig deeper in the days ahead? "We Provide, You Decide." © ## (News, analysis, and commentary.)
Related Reports: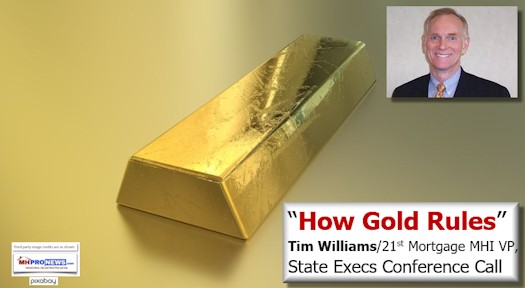 Progressive "Nation" Reports on Monopolies Cites Buffett, Clayton, Others – MH Industry Impact?
Busted! "Failure Bonus" Paid-Richard "Dick" Jennison, CEO Manufactured Housing Institute-per MHI Document$
Warren Buffett, "the Moat," Manufactured Housing, Berkshire Hathaway, Clayton Homes, 21st Mortgage, Vanderbilt, Wells Fargo, NAI…
"Follow the Money" – Controversial Urban Institute Report on Manufactured Housing
Killing Off 100s of Independent Manufactured Home Retailers, Production Companies – Tim Williams/21st Mortgage "Smoking Gun" Document 2
Keith Anderson, CEO Champion Homes, MHI 'New Class' Monopoly Concerns Memo, 'Harms Owners, Independents'
Inside Scoop Mulvaney-CFPB and MHI, Berkshire Hathaway Company Meeting Detail$
State Associations, Companies Quit Membership in Manufactured Housing Institute, (MHI), One Explains in Writing, 'Why?'
Lawsuits for Triple Damages – Anti-Trust, Anti-Monopoly Law, Manufactured Housing, and You
Plot Twist – Duty to Serve – Freddie Mac CEO Layton Called to Accountability w/Congressional, Administration Leaders Over New Manufactured Home Lending Revelations
Study Recommending New Manufactured Housing Association for Independent Retailers, Communities, Lenders, Others Released
(Third party images, cites are provided under fair use guidelines.)
Click here to sign up in 5 seconds for the manufactured home industry's leading – and still growing – emailed headline news updates. You'll see in the first issue or two why big, medium and 'mom-and-pop' professionals are reading these headline news items by the thousands. These are typically delivered twice weekly to your in box.

Submitted by Soheyla Kovach to the Daily Business News for MHProNews.com.
Soheyla is a managing member of LifeStyle Factory Homes, LLC, the parent company to MHProNews, and MHLivingNews.com.