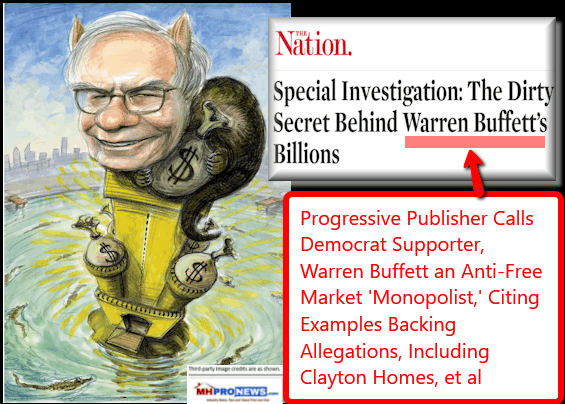 It's a threat to this industry, and the majority of Americans, unlike any the U.S. has experienced before.
Who says?
'The Nation,' a self-described progressive publication in a series of reports on monopolies that specifically mentions manufactured housing, and Warren Buffett's brands.
But as other reports linked reflect, this isn't a left-right issue.  It entirely non-partisan.  What makes the Nation's take on this particularly interesting is precisely because Buffett touts progressive views.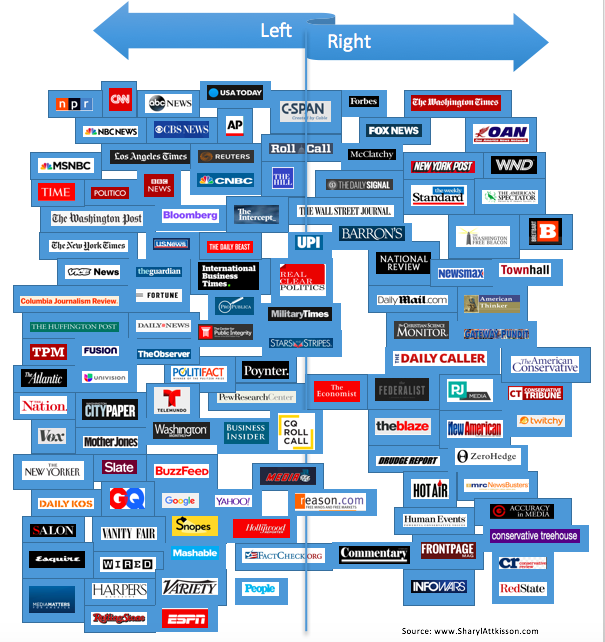 "Buffett makes no secret of his fondness for monopoly. He repeatedly highlights the key to his personal fortune: finding businesses surrounded by a monopoly moat, keeping competitors at bay. "[W]e think in terms of that moat and the ability to keep its width and its impossibility of being crossed," Buffett told the annual Berkshire Hathaway meeting in 2000. "We tell our managers we want the moat widened every year.""
Warren Buffett, "the Moat," Manufactured Housing, Berkshire Hathaway, Clayton Homes, 21st Mortgage, Vanderbilt, Wells Fargo, NAI…
That's a very similar point raised by MHProNews on our ongoing series of reports on the Berkshire Hathaway, Buffett's "the Moat," and the video interview with Kevin Clayton, where Clayton Homes CEO speaks about the moat and allegedly anti-competitive practices freely several times during the 57 minute video.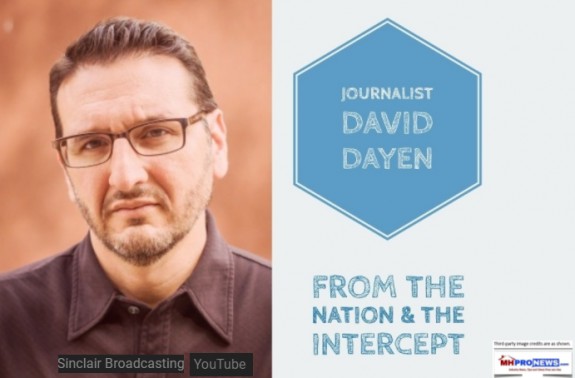 "America isn't supposed to allow moats, much less reward them," writes David Dayen in The Nation special report.
"Our economic system, we claim, is founded on free and fair competition. We have laws over a century old designed to break up concentrated industries, encouraging innovation and risk-taking. In other words, Buffett's investment strategy should not legally be available, to him or anyone else."
The Nation is making a point that the problem of monopolistic practices goes beyond Buffett and Berkshire, but it clearly says includes him and his brands, Clayton Homes among them, as will be noted further below.
A different report linked below includes a video with experts that raise that same concern as The Nation's special report.
So the Nation's concerns are clearly not a one off. It's a growing chorus, from sources as far right as Breitbart, to as far left as the Nation, and others in between.

Rephrasing, manufactured housing professionals, legal authorities, and regulators can't ignore these growing number of concerns.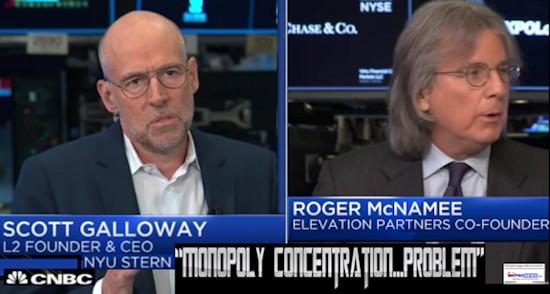 "Over the past 40 years, however, the United States has not only failed to build bridges across monopoly moats; it has stocked those moats with alligators. Two-thirds of all US industries were more concentrated in 2012 than in 1997, The Economist has documented. Since the Reagan era, the federal government has abandoned antitrust enforcement, with markets for products like eyeglasses, toothpaste, beef, and beer whittled down to a few suppliers. This consolidation has vastly inflated corporate profits, damaged workers and consumers, stunted economic growth, and supercharged economic inequality."
That could roughly sum up MHProNews concerns about the impact of monopolistic practices on manufactured housing, consumers, and small to mid-sized businesses that aren't Buffett dominated Manufactured Housing Institute (MHI) 'insiders.'
"But Buffett's example has helped intensify US monopolization, as other investors mimic his approach of finding companies surrounded by moats. The ownership class has subsequently built up unwarrantedly large holdings, concentrating its investment in companies that further increase market power. In other words, Buffett isn't following America on the road to oligarchy; he's leading it."
Isn't that pattern occurring in manufactured home production, retail, and lending?  But also with manufactured home land-lease communities, and suppliers too?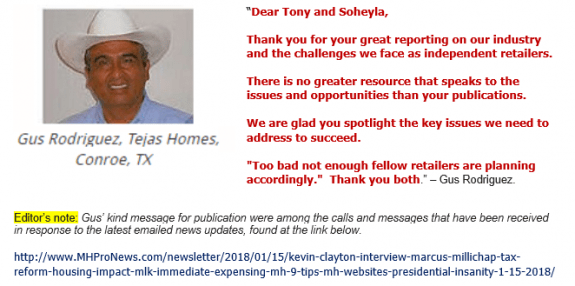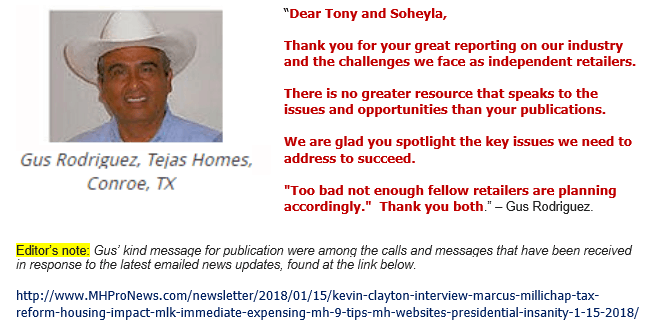 The following quote from the Nation also mirrors and dovetails the Daily Business News analysis of the same event, some weeks ago. Which is again to say that facts and reason are non-partisan.
"Americans falsely look to these oligarchs to solve our problems, allowing them to amass more power. For example, the recent joint effort by Buffett's Berkshire Hathaway, Amazon, and JPMorgan Chase to transform the US health-care system is vague and rather mundane—most large companies try to drive down health-care costs by leveraging their size. But when three of the age's biggest monopolists follow the trend, it's uncritically treated as front-page news, sending health-care stocks plummeting. A stray press release from Buffett can move billions of dollars in his favor."
Buffett, Bezos – Time Announcement to Drop Market Ahead of SOTU? Plus MH Market Update$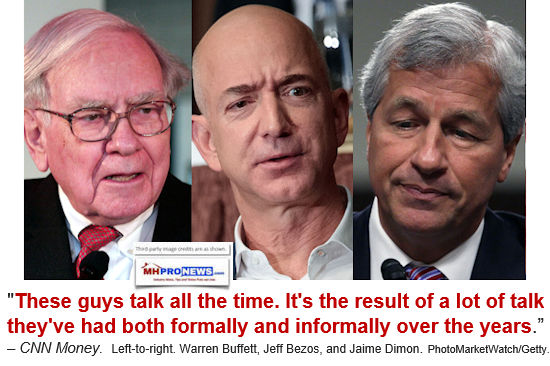 "Warren Buffett should not be celebrated as an avatar of American capitalism;" says Dayen, "he should be decried as a prime example of its failure, a false prophet leading the nation toward more monopoly and inequality."
In a different article, The Nation cites Senator Elizabeth Warren (D-MA) taking a shot at both Presidents Obama and Bush over their lack of response to the rising threat to the economy, small businesses, and jobs from monopolies.
In Dayen's analysis, he isn't just calling Buffett a monopolist, he's arguably calling him a hypocrite, as the graphic below from the same article demonstrates.

The Nation's Series on Monopolies Lays Out How Its Done…
"…Insurance premiums don't get immediately paid out in claims; while the cash sits, Buffett can invest it. This is known as "float," and Berkshire Hathaway's float has ballooned from $39 million in 1970 to approximately $113 billion as of last September. It's a huge advantage over rival investors—effectively the world's largest interest-free loan, helping to finance Buffett's pursuit of monopoly," said Dayden.
The Nation cites examples in aviation, Internet, and banking among its examples of how Buffett's alleged monopolies operate.
"As of last September, Buffett's financial-industry holdings approximate an astonishing $66.9 billion—more than 37 percent of his portfolio. He is Wells Fargo's largest shareholder, and he recently became the largest shareholder in Bank of America as well, the result of a post-financial-crisis deal allowing Buffett to convert an injection of capital into common stock. That conversion earned him $12 billion overnight. A similar crisis-era investment in Goldman Sachs spawned a $3 billion payday."
Note too that Clayton Homes is classified under financial services on Berkshire's annual report.
Warren Buffett's Annual Report to Berkshire Hathaway Shareholders, Clayton Homes and Manufactured Housing
Another monopolistic play of Buffett's cited by the Nation are news outlets. That too was part of MHProNews' recent reflections on the Berkshire annual letter, linked above.
Those media holdings of Buffett's matter to manufactured housing, because of the following simple question.
Why doesn't Berkshire Hathaway leverage their media assets to reply to every negative news story that comes out that could be debunked about manufactured housing?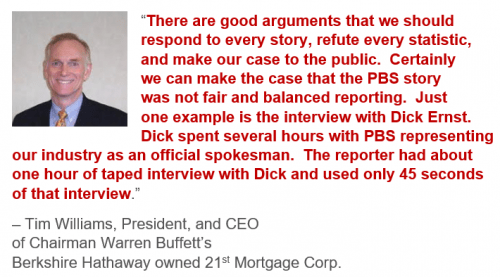 MHProNews analysis of the question yields a simple answer.  Bad press is arguably one more method of widening "the Moat," because Buffett's brands can better withstand such media pressures, while smaller players in manufactured housing are more likely to suffer.
"Among his first investments were newspapers, including the 1977 purchase of the Buffalo Evening News. Buffett immediately targeted the News's rival, the Courier-Express, by launching a Sunday edition. By 1982, the Courier-Express was out of business, and Buffett's local monopoly became his largest single investment. Even today, despite the Internet, Buffett owns 31 daily newspapers, most of them local monopolies," wrote Dayen.
Clayton Specific
Then comes the Nation's comments on Clayton, and the Preserving Access to Manufactured Housing Act.
"A more brutal example involves Berkshire Hathaway subsidiaries Clayton Homes, the nation's largest mobile-home builder, and Vanderbilt Mortgage, its companion lender. A series of journalistic investigations in 2015 found that the companies targeted minorities with high-pressure sales tactics, issuing loans swollen with hidden fees. African-American, Native American, and Latino borrowers received higher interest rates, even if their fellow white borrowers earned less. When the loans failed, Clayton repossessed and resold the homes, earning more fees each time. The Consumer Financial Protection Bureau's complaint databases are littered with hundreds of comments about Clayton and Vanderbilt. "This type of behavior by any lender is despicable and absolutely intolerable," wrote one complainant."
The Nation focuses on Buffet's defense, but it is worth noting that Berkshire's Vice Chair, Charlie Munger admitted in a video interview with CNN posted below that he presumes some mistakes have indeed happened.
"I have no doubt that somebody somewhere has cheated some poor person," Munger said near the end of this 3 minute clip.  "There are going to be episodes of trouble," Munger said of Wells Fargo and other banks they hold a large stake in. As MHProNews has spotlighted, Wells does manufactured home lending too, and lends on manufactured home communities.
Berkshire Vice-Chair Munger is right in defending manufactured housing's service to the low income buyers, which does provide laudable opportunities for home ownership. But Munger exaggerated his claim that everyone in the industry was making bad loans to people with bad credit. Companies like Triad Financial never did, and weathered the storm well as a result.
Another exaggeration by Munger is the 97 percent success rate claim on loans to those with poor credit.  That's a 3 percent default rate per year.  As an award-winning industry lender told MHProNews, that statistical implies that during the first 7 years of the loan, that's a total of a 21 percent default rate.
One can argue that's still good for the other 79 percent who are successful. So, why did Munger phrase it as he did?
While making some interesting admissions, part of Munger's statements gloss over troubling realities.  The challenge raised by industry professionals that called in today voiced to MHProNews is this.  One must have a level of industry knowledge to truly understand all that is occurring.
Furthermore, small businesses are busy running their businesses.  They don't always have time to dig into in-depth reports, no matter how important.
That too is part of Buffett's 'plan,' as the quotes in the report linked and the Clayton video interview also linked from this page reflect.
"Perverse"–Warren Buffett-Dodd-Frank, CFPB, Manufactured Housing, Loans, Independent Businesses Fact Check$
Kevin Clayton Interview-Warren Buffett's Berkshire Hathaway, Clayton Homes CEO
Back to the Nation's narrative…
"Buffett has publicly defended the businesses, which earned $744 million in 2016. He even tried to attack the credibility of a critical reporter, because the reporter's sister worked at a law firm that sued Clayton. In 2017, Buffett vowed that Clayton Homes would grow, despite admitting that it foreclosed on one out of every 40 properties the previous year—over three times the national average," said the Nation.
"Last December, the House of Representatives passed a bill to further deregulate the manufactured-home industry, eliminating consumer protections and disclosure requirements under statutes like the Truth in Lending Act. If the bill becomes law, Clayton Homes salespeople could legally steer borrowers to high-cost loans, which traditional mortgage brokers are barred from doing. As Maxine Waters, ranking Democrat on the House Financial Services Committee, said on the House floor, "This bill makes it easier for financial titans like billionaire Warren Buffett to earn even more profits, at the expense of some of the most vulnerable consumers in this country," said Dayden.
Progressive "The Nation" Blisters Buffett's 'Monopolistic' Practices as Harmful to Americans & Business
Perhaps easily overlooked is an important revelation in the very beginning of Dayden's column, the relationship between Buffett, Moody's and the housing/mortgage collapse.
"After the worst financial collapse since the Great Depression, three officials from the Financial Crisis Inquiry Commission visited Warren Buffett at his office in Omaha, Nebraska. They wanted to ask America's most successful investor about his 24 million shares in the credit-rating agency Moody's. The commission would later identify Moody's and other rating agencies as "key enablers of the financial meltdown," for granting super-safe triple-A ratings to securities that were backed by junk mortgages. Trillions of dollars' worth of rotten financial instruments—the fuel of the crisis—"could not have been marketed and sold without [the rating agencies'] seal of approval," the commission concluded."
Recall that MHProNews made a similar point, in saying that what Kevin Clayton called the professorial Buffett may well have seen what was coming, and he prepared his manufactured housing interests to take advantage of it.
"During that May 26, 2010, meeting [with officials], Buffett deflected responsibility for Moody's actions. "I knew nothing about the management of Moody's," he told the federal investigators, explaining candidly why he owned so much stock: Moody's faced practically no market competition," stated the Nation.
More will follow as MHProNews will continue to examine other aspects of the Nation's series, including bi-partisan calls for a breakup of the monopolistic companies, such as Berkshire Hathaway, and Clayton Homes, for how their activities are apparently harming the American economy, millions of citizens, small businesses, and taxpayers.
Until then, the links shown reflect facts that the Nation may not have known, but news tips to MHProNews has uncovered.
MHProNews reached out once more earlier today to Clayton, MHI and others – who declined comment. A download of the full column by Dayen, is linked here. The link to his thoughtful article on The Nation, is below.
America's favorite investor loves monopoly, not free markets.
"We Provide, You Decide." ©  ## (News, analysis, and commentary.)
Why is MH Not Roaring?
Urban Institute Ask for Correction in Analysis of their Manufactured Housing Research, "Follow the Facts," "Follow the Money"
"Starting" Dip in Home Sales, New Crisis Says Housing Experts
Don't be the last to know. Over 1,000 new subscribers in the past 2 months. Thousands More "Get It."
Sign Up Today! Click here to sign up in 5 seconds for the manufactured home industry's leading – and still growing – emailed headline news updates. You'll see in the first issue or two why big, medium and 'mom-and-pop' professionals are reading these headline news items by the thousands. These are typically delivered twice weekly to your in box.
(Third party images, and cites are provided under fair use guidelines.)
Connect on LinkedIn:
http://www.linkedin.com/in/latonykovach 
Follow us on Twitter:
ManufacturedHomes
@mhmsmcom  

By L. A. "Tony" Kovach,
managing member, LifeStyle Factory Homes, LLC. dba,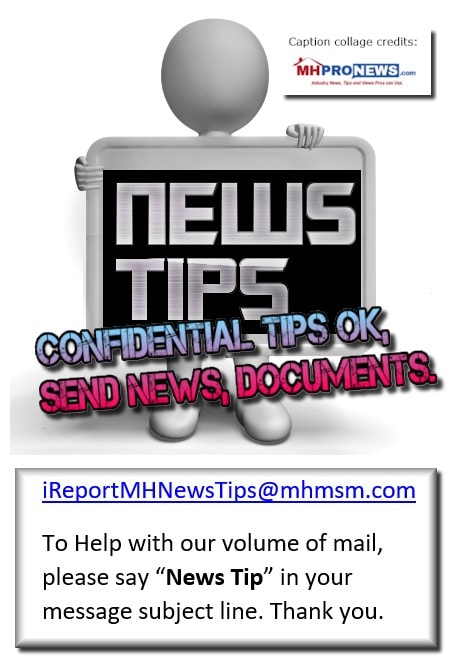 MHProNews, and MHLivingNews.com.