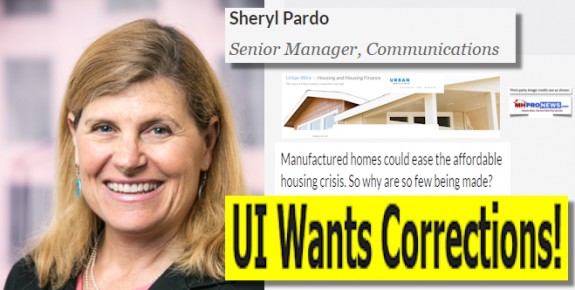 Award winning investigative reporter and best-selling author, Sharyl Attkisson begins her research with a simple premise.
"Follow the money."
The award-winning Attkisson knows from experience that the connections and trail that money creates can be revealing.
In analysis of the Urban Institute research on their controversial report on manufactured housing, MHProNews followed the money, as well as followed the tips and clues that the basics of journalism dictates. Who, What, When, Where, Why, How – and regarding money – How Much?  
Urban Institute Asks for Only 1 Correction
The Urban Institute (UI) asked the Daily Business News for all the links that related to our reports on their problematic manufactured housing study. They were provided, via email, for accuracy.
UI representatives were also asked several questions, particularly focusing on failures to disclose apparent conflicts of interest.  One of those messages, is linked here and from the still of part of the message, shown below

Those apparent Conflicts of Interest (COI), were not disclosed on the page the UI article is found.
They admitted in writing they have not, and don't plan to, update their article.    Their one 'ask' for correction, is below.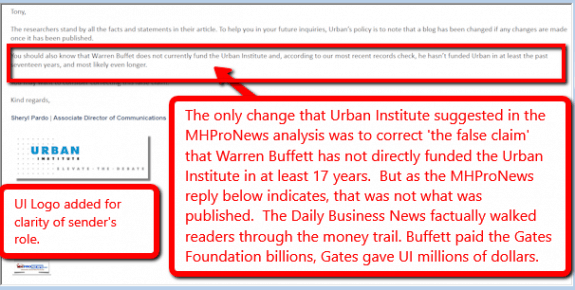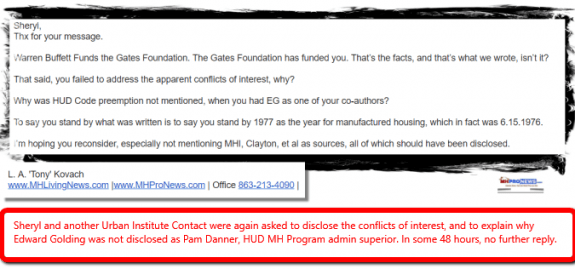 Those COI's included their sources of funding, which indirectly included Warren Buffett's who gave billions of Berkshire Hathaway stock to the Gates Foundation, which in turn has given millions to the Urban Institute. Buffett is a lifetime trustee of UI, and sits on the board of the Gates Foundation, per Who's Who.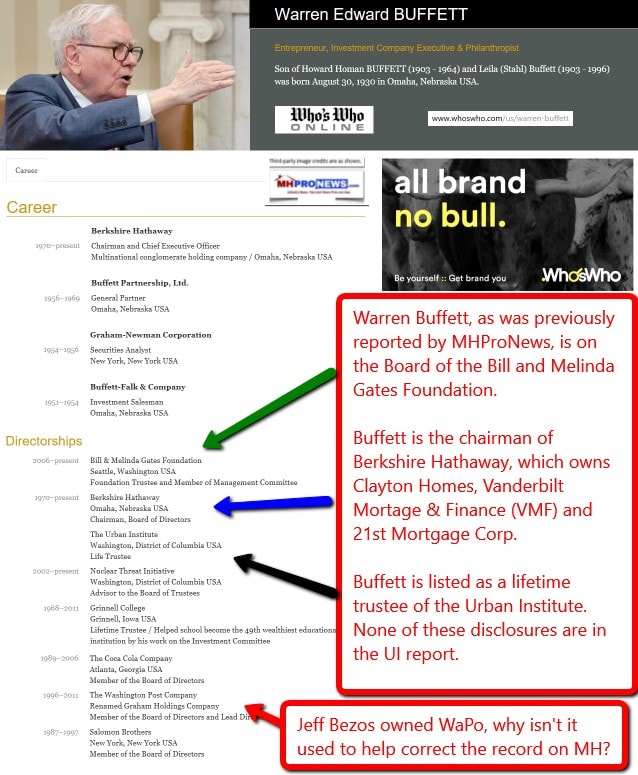 Other failures to disclose included:
Edward Golding, who worked at HUD, and whom Pam Danner, the manufactured housing program administrator periodically reported to, per multiple sources. UI did not deny that claim.
That the Manufactured Housing Institute (MHI), and Berkshire Hathaway owned divisions in manufactured housing, i.e. Clayton Homes, et al, were promised 'anonymity' for their participation in the report. While anonymity is used by media to protect sources, it is not commonly used in serious university or non-profit research.
Given that their report names the upcoming HUD top-down review of the manufactured housing program, it seems clear that their report is designed to influence that, as the UI website suggests that is part of their mission – to influence policy makers, media, researchers, "

stakeholders

" and others.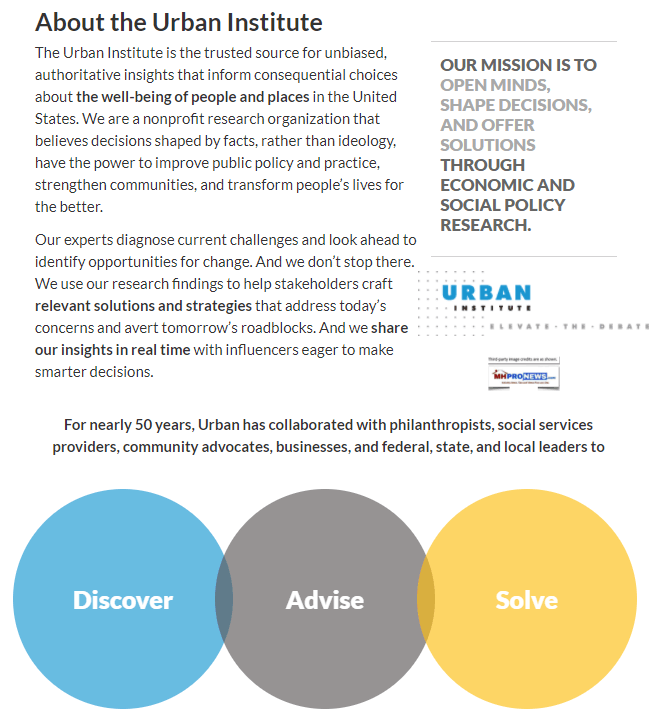 Typically, as noted, university and serious non-profit research follows certain standards, one of them being full disclosure that could create the appearance – or actually reflect – a conflict of interest. That was entirely missing in the Urban Institute's published findings.
The Urban Institute's reply was revealing.
There was only one change the Urban Institute asked for, which their email shown above reflects.  They entirely ignore the issue of consolidation of the industry, which MHI's own research indirectly underscores.
After several days elapsed  for their review of what was published by MHProNews as an analysis, that was the only item they asked to see changed.
But the Daily Business News Report never said that Warren Buffett directly funded the study, MHProNews replied as was linked above. We've asserted at each stage only the facts – following the money – from Warren Buffett to the Gates Foundation, and from the Gates Foundation to the Urban Institute.
The Urban Institute De Facto Admissions 
While stating that they stood by their research, and failing to correct even the year when manufactured housing came into the existence (they wrote 1977, when the actual date is June 15, 1976), UI has clearly declared their unwillingness to make any changes at all.
Was the Urban Institute Misled, Duped, or Part of a Manufactured Housing Industry Scam?
Zoning, Appreciation and Manufactured Housing
Yet, when one looks at the issue of zoning, for example, several items that well-informed industry professionals know were overlooked.
That's revealing, because UI also decided to ignore any explanations for how a supervisor to Pam Danner at HUD – one Edward Golding, a co-author of their research – was not disclosed, and how such issues as enhanced preemption of manufactured housing was not even mentioned.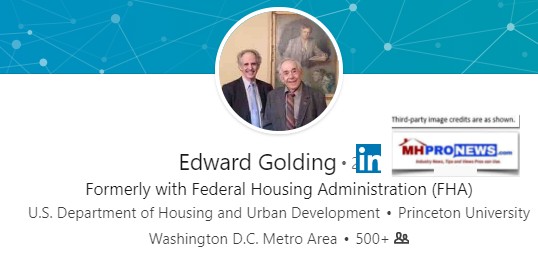 MHProNews sources that provided news tips, confirmed that Edward Golding had to sign off on several item related to the manufactured housing program that Pam Danner administered for HUD. We're were told by those sources that Golding was interested in manufactured housing, and is known to have discussed the enhanced preemption called for by the Manufactured Housing Improvement Act of 2000.
As was previously reported in other analysis, UI did have some useful, and accurate information.
But what was missing – including conflicts of interest disclosures – makes their work problematic if it is relied on by third parties that don't know manufactured home industry, it's rich history, 'industry dynamics,' and 'industry politics.'    Consolidation, allegations of monopolistic practices, and more are common concerns, which are backed by documentable evidence.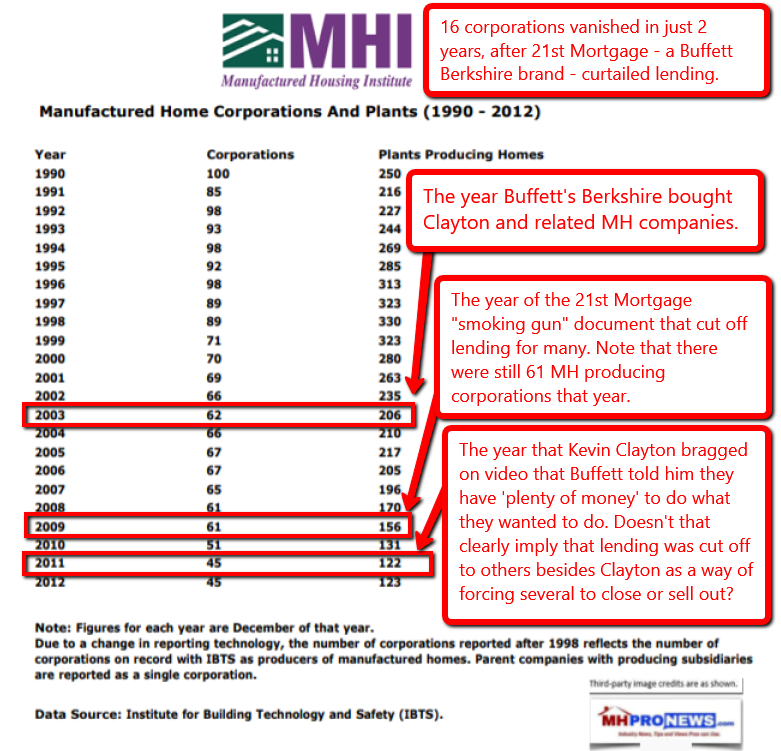 Since the Urban Institute report mentions the upcoming HUD top down review, and based upon UI's own website that says their aim is to inform public discussion and debate, it can be assumed this document will be used by the Manufactured Housing Institute (MHI) and others, who helped craft it in the background, per sources at UI.
"Follow the Money" – Controversial Urban Institute Report on Manufactured Housing
The UI research doesn't mention at all how Berkshire Hathaway lenders have admitted in group settings to have failed to provide data that the Government Sponsored Enterprises (GSEs) requested, that were supplied by other industry lenders.
That in turn was used by the GSEs to delay and only recently agree after almost a decade to start a modest pilot program for chattel lending.
No mention was made on the impact on manufactured housing by problematic media reports, or by tainted, incomplete research.  Two of many possible examples are linked below.
Fires, News Media Reports Impact Manufactured Housing Sales, Manufactured Housing Institute (MHI), Clayton Homes Reaction
An eye-opening statement from a National Weather Service (NWS) expert reveals that tornado related risk of death for residents of mobile or manufactured homes are being improperly warned, and reported. Before diving into that exclusive, written statement from NWS, it is instructive to look at the safety, durability, and quality issue about factory-built homes in a broader way.
And no one can fully appreciate the manufactured housing industry today without understanding Warren Buffett's "The Moat," principles and how they are applied, as Kevin Clayton said in an in depth video interview, see those links below.
Warren Buffett Wants an MH Shark Tank – Clayton, 21st, MHI, 'Gift that Keeps Giving'
Warren Buffett, "the Moat," Manufactured Housing, Berkshire Hathaway, Clayton Homes, 21st Mortgage, Vanderbilt, Wells Fargo, NAI…
Returning to the point about the impact of media, which in turn influences the public, and thus zoning. What depresses demand will impact resale values, and thus the discussion on appreciation. The facts about DTS and preemption are also must-read to understand why the industry will struggle until preemption is enforced.

Marty Lavin Lashes the Manufactured Housing Institute's (MHI) Latest Initiative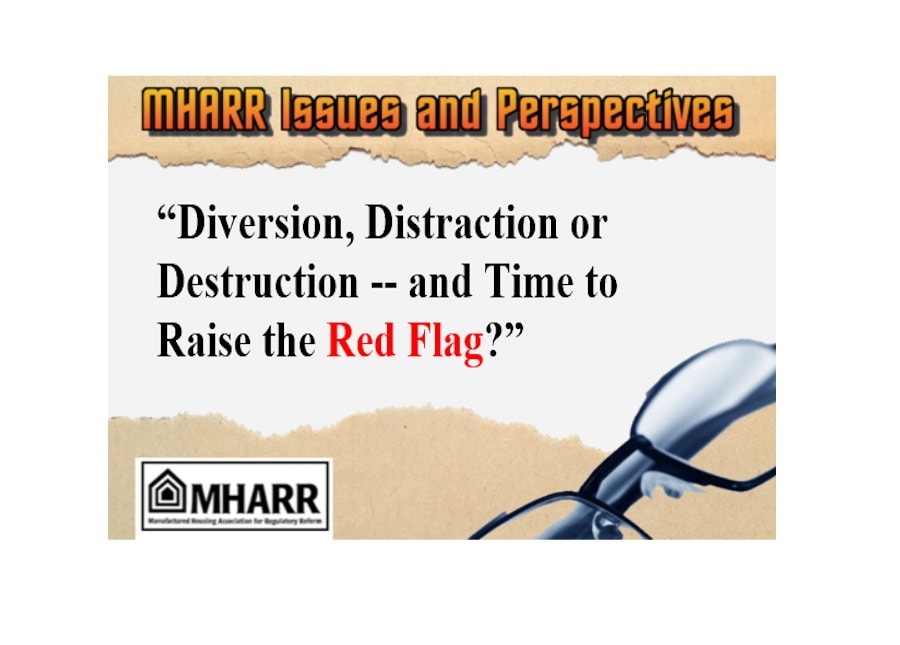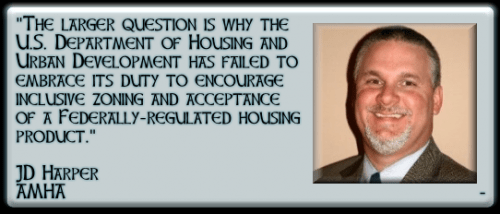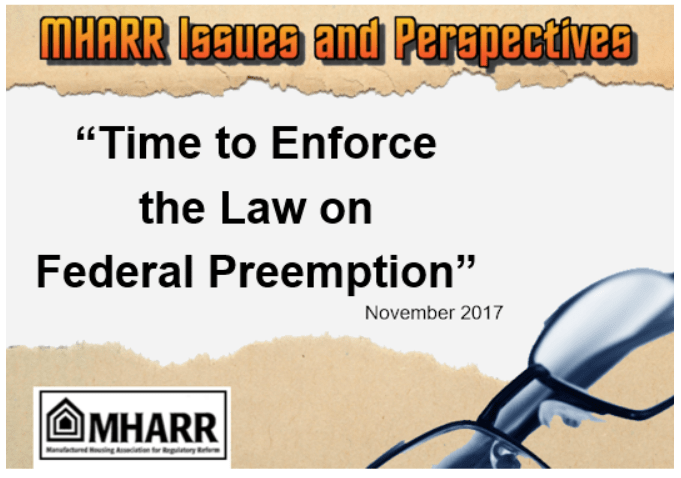 Two Great Laws Already on the Books NOW,  Can Unlock Billion$ Annually for Manufactured Housing Industry Businesse$, Investor$
Journalist Attkinsson's principle is much the same as the one that MHI award winner, Marty Lavin has said many times.  "Follow the money." Lavin adds an interesting, and useful, caveat. "Pay more attention to what people do, rather than what they say."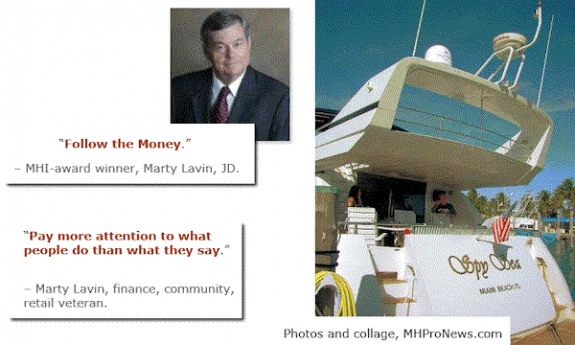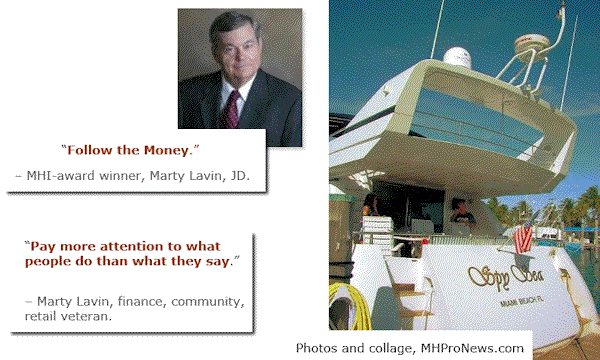 MHProNews has applied those principles for the busy professionals of the industry, spotlighting the circuitous way the money and information has flowed to this 'UI research,' because the one of the goals of their report seems to be the rapidly approaching HUD call for comments about the manufactured housing program.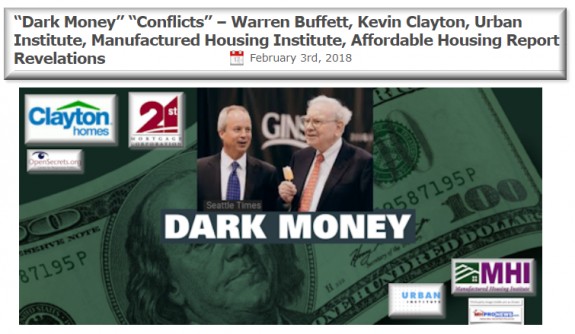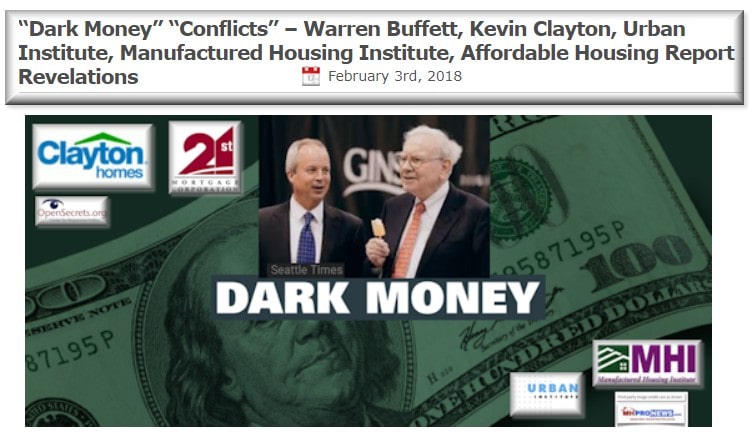 Expect that the problematic –  and arguably flawed – UI research will be used by MHI and those that they get to do similar comments letters to HUD.
"We Provide, You Decide." © ## (News, analysis, and commentary.)
NOTICE: Watch for one more Special Report on HUD's reaction to Claims Attributed to the Manufactured Housing Institute (MHI) , planned for later today, 2.15.2018.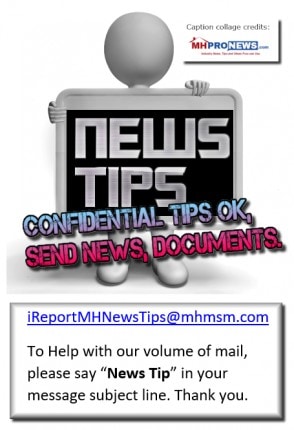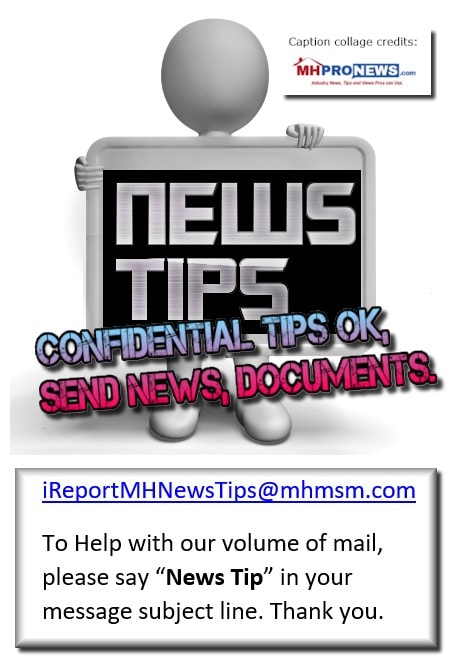 Thousands "Get It." Sign Up Today! Click here to sign up in 5 seconds for the manufactured home industry's leading – and still growing – emailed headline news updates. You'll see in the first issue or two why big, medium and 'mom-and-pop' professionals are reading them by the thousands. These are typically delivered twice weekly to your in box.
Follow us on Twitter:
ManufacturedHomes
@mhmsmcom

Submitted by Soheyla Kovach to the Daily Business News for MHProNews.com.
Soheyla is a managing member of LifeStyle Factory Homes, LLC, the parent company to MHProNews, and MHLivingNews.com.