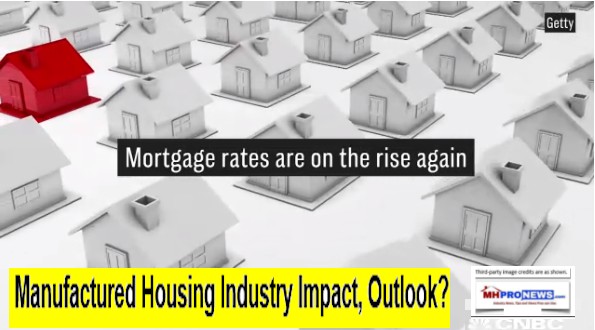 Redfin, CNBC and Mortgage Daily News are among those focused on what rising interest rates would mean for the conventional housing market.
That's important to manufactured housing professionals whose businesses are focused, on selling to home buyers.
First, the impact on conventional housing report of rising mortgage rates, then the analysis of what it could mean for manufactured housing buyers, and sellers.
Redfin's New Study
Mortgage rates have not been at 5 percent since 2011.
Rates are already at about a four year high, says CNBC.
Industry sources say they are moving back towards 5 percent.  That is still historically low, especially for those who recall the high rates of the early 1980s. But tens of millions never experienced the days of 15 to 18 percent mortgage interest rates on conventional housing.  So, all they know are rates under 5 percent.  For many, 3.5 percent mortgage money was their 'norm.'
Per Redfin's survey of 4000 consumers,
A 5 percent rate would cause more than a quarter of today's homebuyers to slow their plans.
Just 6 percent said they would drop their plans to buy altogether.
About one-fifth of consumers said 5 percent rates would cause them to move with more urgency to purchase a home, fearing rates would rise even further.
Another fifth said they would consider more affordable areas or just buy a smaller home.
"Tight credit, lack of inventory and high demand are the major factors that tell us there's no housing bubble, despite rapid price increases," said Redfin's chief economist, Nela Richardson. "There are still many more buyers than the current housing supply can support, with no major relief in sight."
The under 2-minute video covers some of these stats, but also provides other insights.
Booming Demand
As regular Daily Business News readers know, sources such as the National Association of Realtors ™ (NAR), and the National Low Income Housing Coalition (NLIHC), believe there is already a need for some 8 million affordable housing units in America right now.
So demand is there.  Manufactured home sales are rising, as the article linked below showing 2017 new home shipment totals reflects.
HUD Code Production Beats 2017 Expectations December 2017 Annual New Manufactured Home Shipment Totals Released
What About Manufactured Housing's Impact to Reach Buyers Pushed Out of Conventional Housing?
Traditionally, when interest rates rose, that meant more buyer shopping at manufactured home sales centers.  But that traditional pattern may not hold, without specific engagement efforts at the local market level.
For those who have learned the ways to connect with the mainstream housing market shoppers, the loss to site built houses means possible gains for manufactured housing.  Readers can insert "Monday Morning Sales" into the Daily Business News search box above the banner ads on the top right to see numerous topics that provide more details; one of those are linked here.
The challenge, as thousands of manufactured home industry professionals boil down to a few issues.  A look at one of those recent updates on a related topic, is linked below.
Fires, News Media Reports Impact Manufactured Housing Sales, Manufactured Housing Institute (MHI), Clayton Homes Reaction
An example of a retailer who is already selling to site built customers, is in the short video below.
For those unwilling to adapt their sales and marketing, some may lose customers, because higher rates will impact manufactured housing lending too.  Without reaching out to more qualified buyers, deals will be lost.
But the Redfin study suggests that 20 percent of those conventional buyers will be seeking options.  Zillow's 2016 study suggested that less than one in ten will even think about a manufactured home, and only about 4 percent of those they surveyed will buy one.
" For more than a decade, Zillow® has been helping millions of Americans do their homework." With those words, begins Zillow Group's Forward to their "CONSUMER HOUSING TRENDS REPORT 2016." Perhaps unwittingly, many of the facts Zillow's interesting and in-depth housing report on consumer desires brings forth, indirectly point to reasons why manufactured housing could be growing at an ever-faster rate than the double-digit growth it is already enjoying .
The bottom line is that those who do an active local market outreach, rising rates could spell opportunities in disguise.  For those who don't, it could mean a loss of some business they've been getting as those higher lending rates for home buyers hit in the days ahead. ## (News, analysis, and commentary.)
NOTICE: Watch for a Special Report on HUD's reaction to Claims Attributed to the Manufactured Housing Institute (MHI) , planned for later today, 2.15.2018.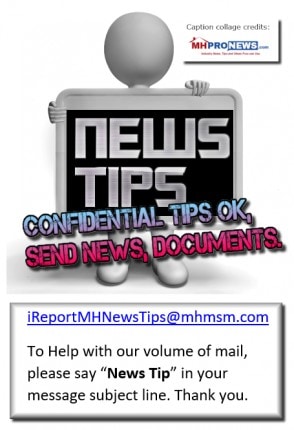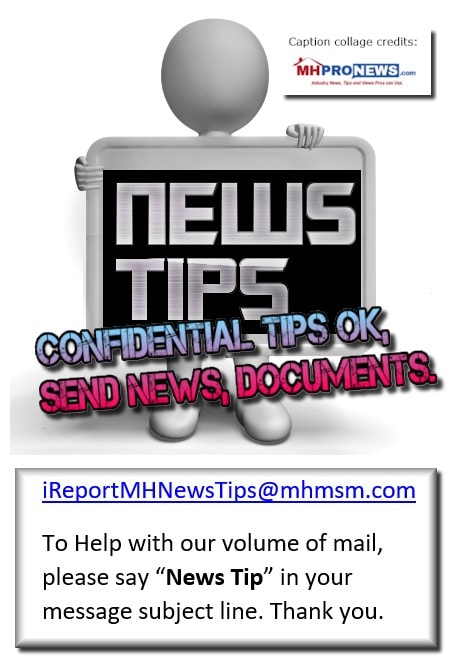 Thousands "Get It." Sign Up Today! Click here to sign up in 5 seconds for the manufactured home industry's leading – and still growing – emailed headline news updates. You'll see in the first issue or two why big, medium and 'mom-and-pop' professionals are reading them by the thousands. These are typically delivered twice weekly to your in box.
Follow us on Twitter:
ManufacturedHomes
@mhmsmcom

Submitted by Soheyla Kovach to the Daily Business News for MHProNews.com.
Soheyla is a managing member of LifeStyle Factory Homes, LLC, the parent company to MHProNews, and MHLivingNews.com.