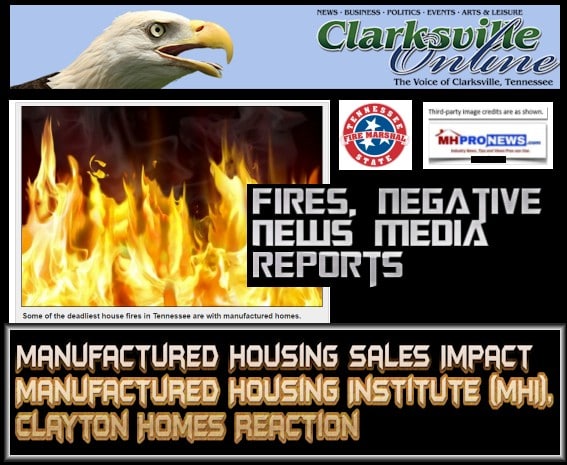 The screen capture below is a case of a picture is worth 1,000 words.  It is a composite from a page one Google search this morning for "mobile home" news.
Note that each of these page one search results reveals a news report that negative.   Every day, such media reports are part of the problem for the industry's image.

Under 'Manufactured Housing' news screen capture below, the pattern shown above largely holds true.
The Tennessee Fire Marshal's story about manufactured housing and fire dangers was number 2 today on a Google search this morning, but was a top linked search result at one point last week.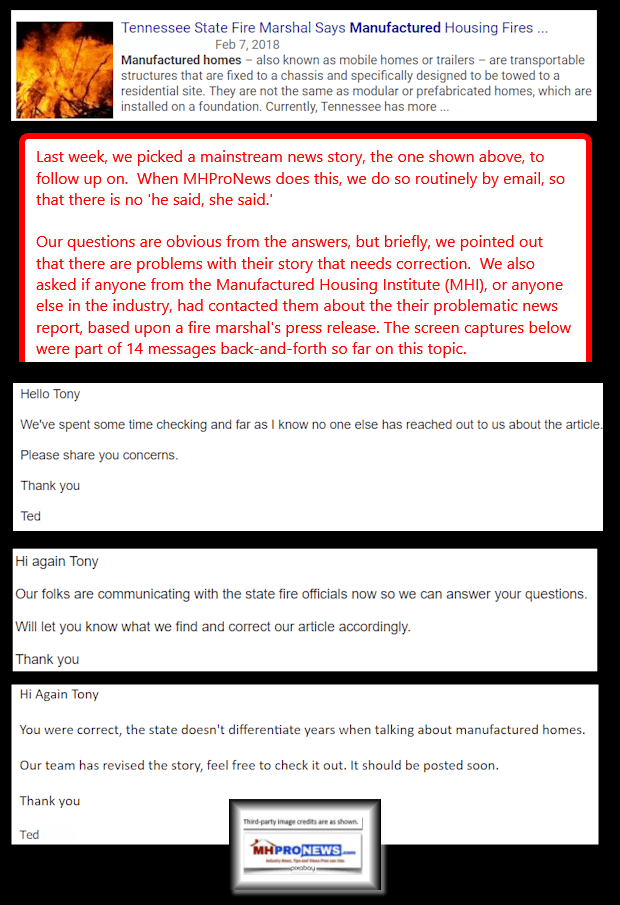 The Daily Business News reached out to some of the media that picked up that Fire Marshal's release.
Per a top management source at one of those news outlets contacted, when asked if the Manufactured Housing Institute (MHI), or others in manufactured housing (for example, the Tennessee Manufactured Housing Association, or Clayton Homes, as this is their home state) contacted them about this news item, what did that news media's management source tell MHProNews?
Their responses to our inquiries are shown in the screen captures shown above below.  Reportedly, nada, zip, zilch.
By contrast, MHLivingNews has done fact-based reports like the one below for years.
Every unplanned, uncontrolled fire outside of a fireplace, grill or pit is often a story about tragic injuries, deaths and/or property damaged or destroyed. A recent fire reported in Champaign County, Ohio, was no different.
As noted in the graphic above, often, but not always – such communications are done by MHProNews via email. That makes 'he said, she said' denials later difficult.  It is routinely in black-and-white.
An eye-opening statement from a National Weather Service (NWS) expert reveals that tornado related risk of death for residents of mobile or manufactured homes are being improperly warned, and reported. Before diving into that exclusive, written statement from NWS, it is instructive to look at the safety, durability, and quality issue about factory-built homes in a broader way.
This pro-active outreach by MHProNews is how we broke the story on tornado deaths and mobile homes, or last year on the Michigan State University (MSU) tornado death story, to mention just two examples.
Urban Institute and Manufactured Housing
When the Urban Institute (UI) issued their report, they cited three reasons for manufactured housing sales to be as low as they are today. After acknowledging that "manufactured homes could ease the affordable housing crisis. So why are so few being made?" quoting the UI report:
"Yet the number of manufactured units shipped remains low for three reasons.
Restrictive zoning

…

Restrictive or unavailable financing

…

Lower appreciation

…"
Why didn't their research mention the impact of negative news media on the industry's sales?  Arguably, it is implied in their point #1.  But it isn't mentioned, much less a separate 4th, point.
Was the Urban Institute Misled, Duped, or Part of a Manufactured Housing Industry Scam?
How is that possible, for serious researchers? When MHLivingNews, MHProNews, and several mainstream media sources have hit that very theme as harming manufactured housing acceptance, and thus sales?
MHI told the industry that media engagement would be part of their plan for their public relations professional.  MHI's problematic advertorials and lightly viewed YouTube videos clearly haven't moved the new manufactured home shipments needle.
MHProNews' publisher – at an MHI event – explained the necessity for media engagement, which includes correcting the record on negative or problematic reports or stories.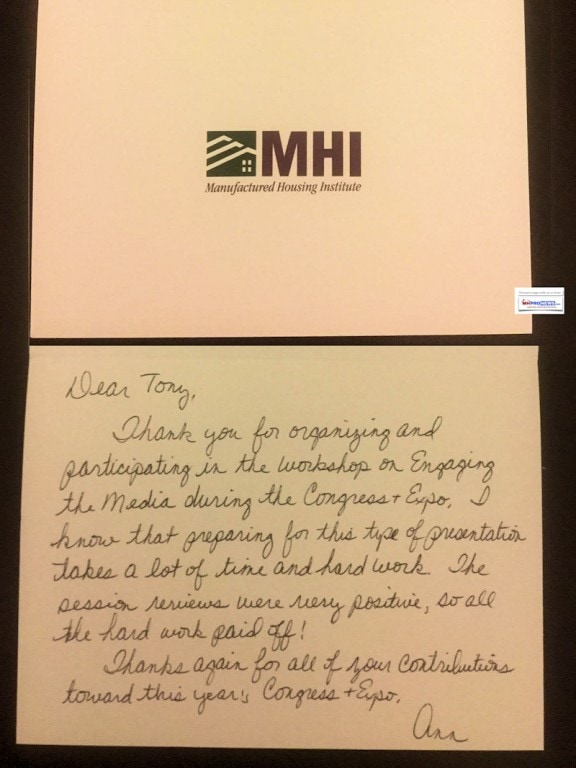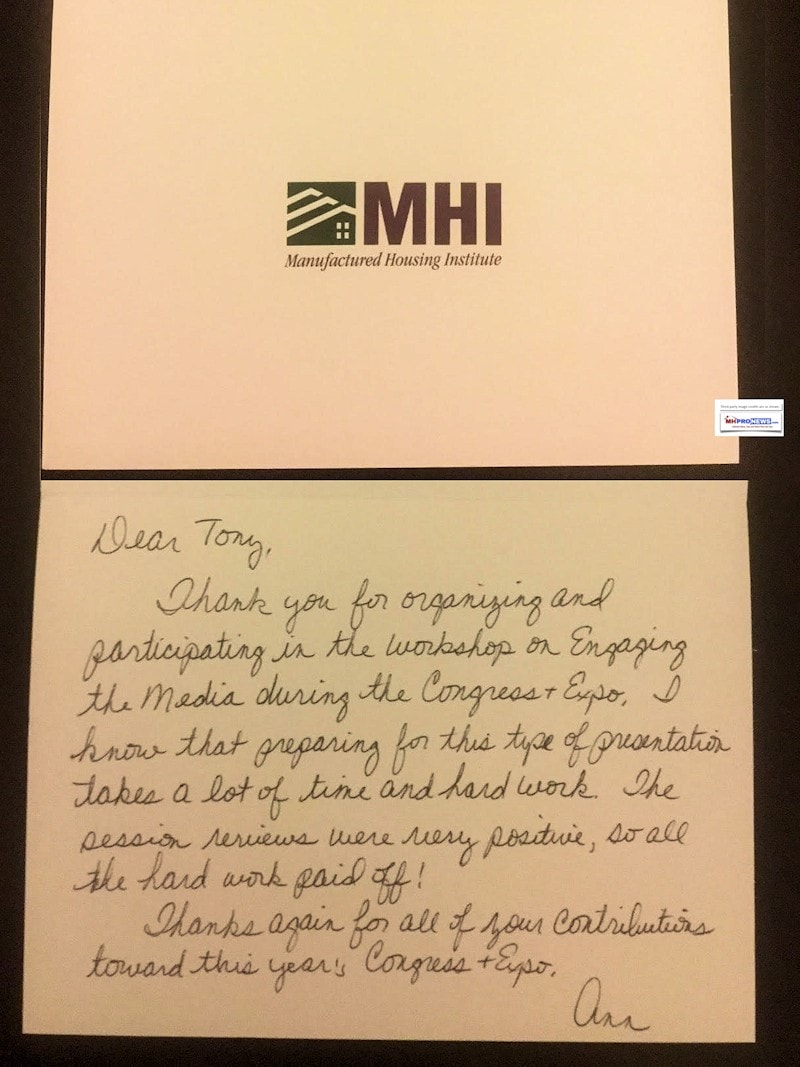 8 million plus affordable housing units are awaiting, and there are numerous sources targeting that affordable housing market. Is MHI part of the problem, or part of the solution?
What does the evidence from MHI and their big company members suggest on the question above?
Why does MHI or other big companies routinely fail to task their PR people do what was a promised; namely, to engage the media on such problematic reporting issues? "We Provide, You Decide." © ## (News, linked context, analysis, and commentary.)
NOTICE:
More news stories are developing as a result of a news tip from a dedicated industry pro has come in. Got a tip? We give credit, or keep your name off-the-record, as needed.
(Image credits are as shown above, and when provided by third parties, are shared under fair use guidelines.)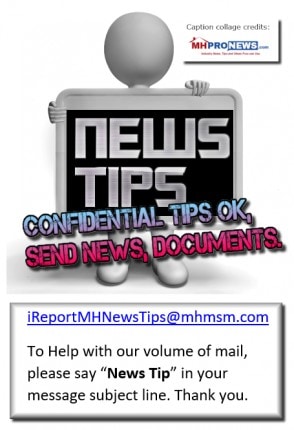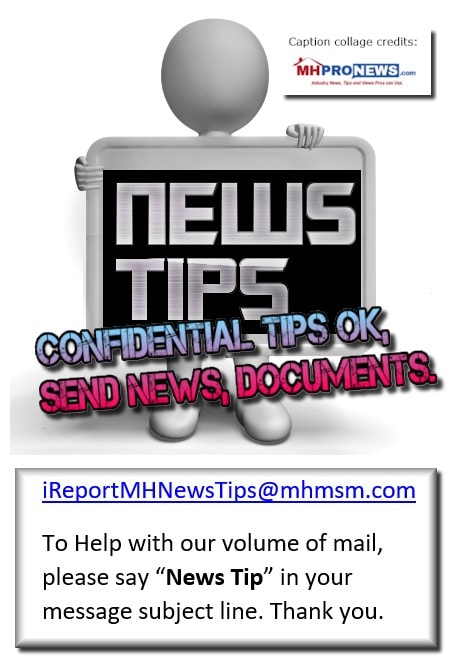 Thousands "Get It." Sign Up Today! Click here to sign up in 5 seconds for the manufactured home industry's leading – and still growing – emailed headline news updates. You'll see in the first issue or two why big, medium and 'mom-and-pop' professionals are reading them by the thousands. These are typically delivered twice weekly to your in box.
Follow us on Twitter:
ManufacturedHomes
@mhmsmcom

Submitted by Soheyla Kovach to the Daily Business News for MHProNews.com.
Soheyla is a managing member of LifeStyle Factory Homes, LLC, the parent company to MHProNews, and MHLivingNews.com.