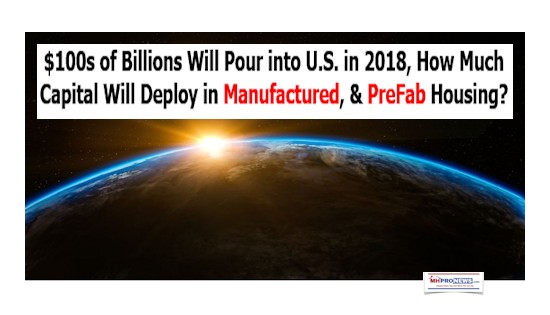 Executive Summary
The combination of the new tax law, a growing economic boom, and talk by Apple and other tech giants of bringing back to the U.S. some $200-$400 Billion dollars in 2018 alone will create a search for valuable ways to deploy that capital.
With the affordable housing crisis widely publicized, housing is a trillion-dollar a year sector that is poised for even more growth.
As real estate and investment mogul Sam Zell has observed, when others are looking right, go left. Where is "left" in the housing industry?
A sector that has drawn – arguably for the wrong reasons – resistance and pushback.  Who says?   Harvard, among others.
There are already billionaires – including Zell and Warren Buffett – plus thousands of others deeply involved making plays in manufactured housing.  That said, it's still very much a 'boutique' industry compared to others.
Plus, some of the ways the industry is being pursued are controversial, and feed into the negative narrative and perspective.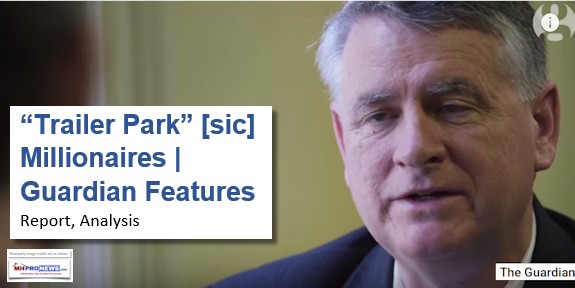 It is precisely because of the mistaken understanding and several arguably problematic practices that can make manufactured housing of interest to those willing to pursue the industry in a best practices, professional, and ethical fashion.
The truth is never misguided. There may be better times or better ways to share the truth. But those are prudential judgments, that are very much compatible with the truth. In circumstances where persuasion: among people, in education, marketing political, or other scenarios matters, there are times when an upward compromise can advance the truth.
In an industry which for decades has focused on short term thinking, and short term plays, positive and promising reports are often overlooked, and quickly forgotten.
Kid Rock owns and loves a multi-sectional manufactured home, seen several times next to his Rolls Royce in his new hit music video, Po-Dunk . In one video – intentionally or not – multi-millionaire performer Kid Rock has taken aim at the stereotypes about manufactured homes, and the Americans who select this lifestyle.
So manufactured housing isn't a quick buck.
Rather, it should be seen as a long term play, as Buffett's has been.
Warren Buffett, "the Moat," Manufactured Housing, Berkshire Hathaway, Clayton Homes, 21st Mortgage, Vanderbilt, Wells Fargo, NAI…
A general overview of housing growth, and expectations of capital pouring into the U.S. are summarized from CNBC reports and a video, below.
That's followed by quotes, comments, and links that lay out facts – including the just-announced merger of manufactured home producers Champion Home Builders and Skyline Corp (SKY). Their stock surged on the news.
Per CNBC
"Apple, tech companies to bring back $400 billion in overseas cash to the US: Estimate," reports CNBC.
In another report form them yesterday, the following.
"By all measures, a construction boom is shaping up for 2018
The construction industry added 30,000 jobs last month, according to the Labor Department.

That brings the sector's 2017 gains to 210,000 positions, a 35 percent increase over the previous year.

Construction spending is also soaring, up to a record $1.257 trillion in November, according to the Commerce Department.

Optimism among construction contractors is also at a record high

."
Voices within Manufactured Housing, Plus Reports that Point to Potential
As the leading source for manufactured home industry trade news – which also uniquely provides proven and praised professional services – MHProNews is a useful resource for seeing the reasons why the industry's potential has not been fully tapped.
(Note: to get our popular emailed headline news updates,
generally twice weekly and read by thousands of industry pros, click here.)
Or as Sunshine Homes President John Bostick – a client company whose experienced serious growth at a pace far higher than the industry at large has said – "Easy doesn't pay well."  But intelligent, sustained effort can yield, as it has for them, growth rates that are more than double those of the industry at large, and in the more attractive residential product side.  That's where the biggest opportunities are in manufactured housing, without ignoring the that there is also growth potential for commonly pursued 'entry level' manufactured homes.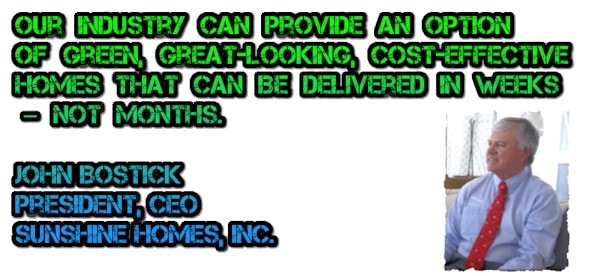 Investor Take Away
This is one of those 'look left' opportunities within the manufactured home industry. While much of the industry pursues 'entry level,' or 'shade and shelter' product, the results being achieved by Sunshine and others using more upscale product reveals what real estate research also reveals.  This is where arguably the growth opportunities are in manufactured homes today.
This isn't easy, but smart money is deployed and being attracted in manufactured homes and communities, using this approach.  An example is shown in the video below.
Third Party Reports, Quotes that Point to far Greater Potential
Recent concerns over housing affordability for low-income households appear to be difficult to resolve by developing policy options that focus only on traditional single-family owner-occupied dwellings and/or rental apartments. In terms of developing a housing policy that would improve the quality of housing for lower income families, it seems appropriate to explore the merits of an often-ignored alternative, namely manufactured housing. – Eric Belsky, Harvard.
"Credit is the lifeblood of housing".Eric Belsky, Harvard.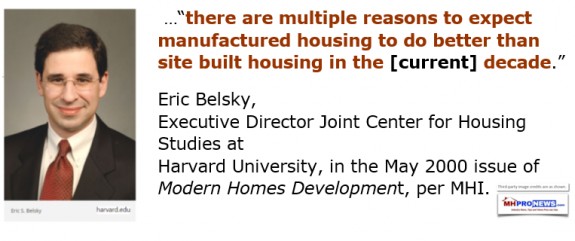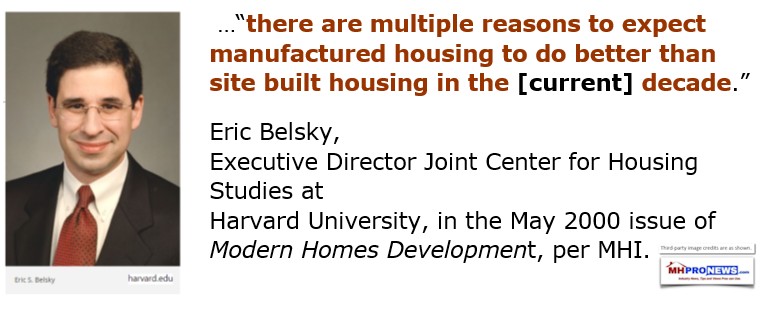 ELS' Sam Zell – Compliance Costs Destroys Smaller Businesses = Consolidation
The National Association of Realtors' ™ (NAR) Chief Economist, Lawrence Yun, estimates the immediate need for 8+ million housing units.
NAR's Yun – No Quick Fixes Spell$ Manufactured Housing Opportunitie$
NAR's findings are similar, but from a different perspective, than the National Low Income Housing Coalition's research revealed.
NLIHC CEO Responds on HUD's Worst Case Housing Needs Report, MH Leader Reacts
Several tech sector giants are making related plays in PreFab or Modular housing – precisely for the kinds of reasons that Belsky cited. But they have not yet made announced moves into far more affordable manufactured housing 'done correctly.'
Plans for Floating Modular Cities, "Seasteading" is Becoming Reality
Are Americans Hunting for the Single Sectional Manufactured Home Alternative?
Survey Top 2017 PreFab, Modular, Tiny and 3D Printed Housing News Stories
How Other People's Pain (Artificial, Accidental, and/or By Design), Creates Opportunities, and
Why What Looks Like Headwinds Can Be Reversed With Bold, Long Term Strategies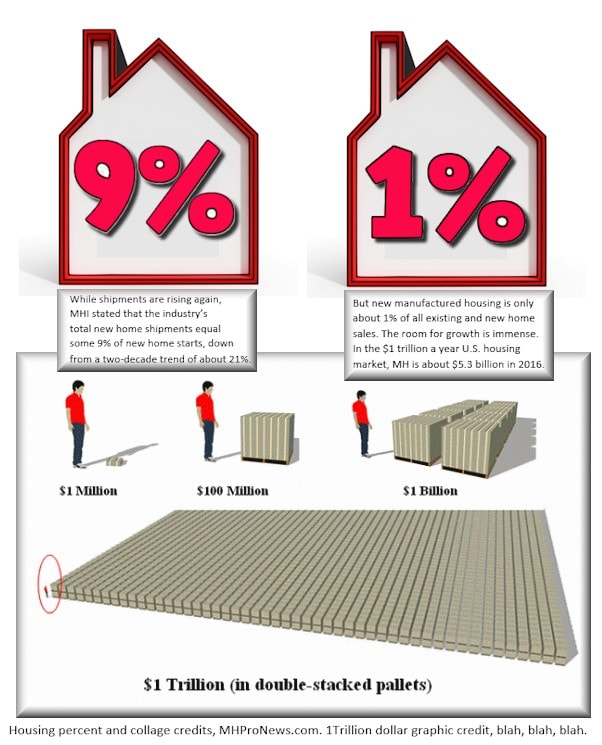 Killing Off 100s of Independent Manufactured Home Retailers, Production Companies – Tim Williams/21st Mortgage "Smoking Gun" Document 2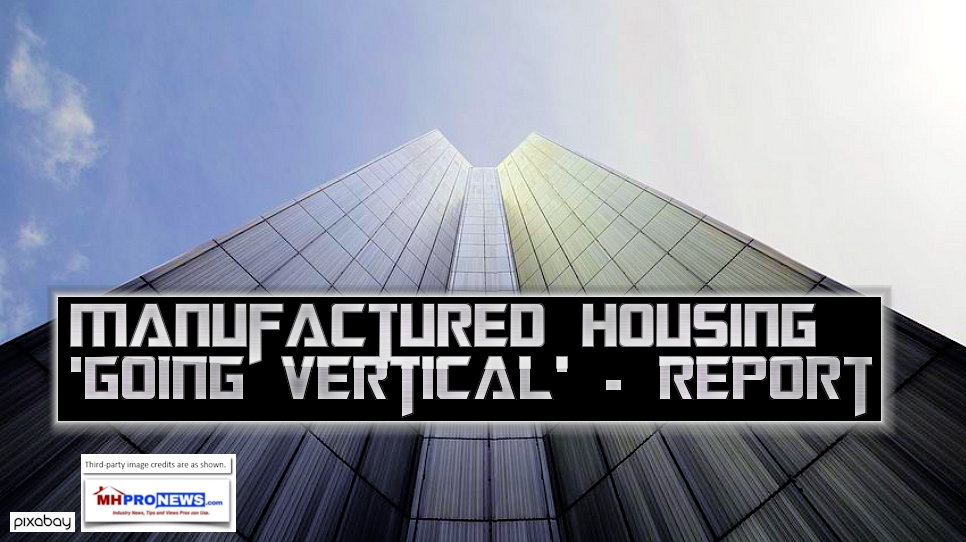 Applying Zell's mantra of looking where others aren't as focused, and exploring the causes of why manufactured homes aren't already soaring yields some surprising insights for those willing to make the long term plays, as Warren Buffett and Sam Zell have done.
But it is arguably precisely by ignoring some of the problematic parts of the Buffett dominated Manufactured Housing Institute (MHI) moves that the greatest opportunities may be found.  Because they are either clumsy in carrying out their own agenda, and/or clever in setting the table in a way that is choking off smaller firms that is leading to an accelerated consolidation of them by larger ones.
Manufactured Housing Institute VP Revealed Important Truths on MHI's Lobbying, Agenda
Duty To Serve, "Complete Waste of Time" per Tim Williams, CEO/21st Mortgage; POTUS Trump, Warren Buffett Insight$

Thus, when the truly bold 'move' for growth by the giants are finally made – and they themselves are signaling that they are close to doing so – the big money can be earned.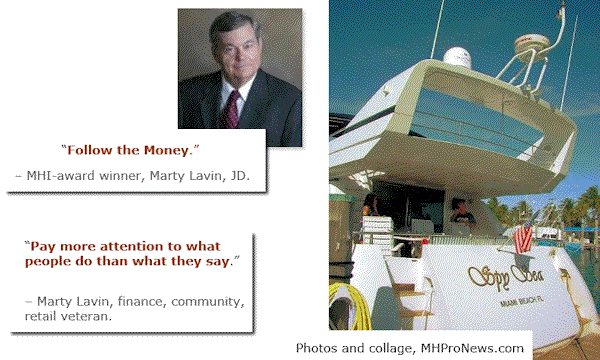 "Perverse"–Warren Buffett-Dodd-Frank, CFPB, Manufactured Housing, Loans, Independent Businesses Fact Check$
Accelerated growth is already being earned in local markets.
Manufactured Housing Monday Morning Sales Meeting: Finance & Industry Facts, Figures, Sales Tip$ Improving Best Practice$
Smart players are already in, and going deeper in.
Sam Zell, Randy Rowe, John Bostick, Terry Decio, Joe Stegmayer, Marguerite Nader, Barry Noffsinger – Manufactured Home Industry Interviews
" I'm tired of being the best kept secret. I'm ready to help house America." – Terry Decio, Skyline Homes, to MHProNews. What happened? The Rest of the Story, 1… Several of the brands that the industry knows today are not the same brand as they were a decade or more ago.
2018 Outlook-Crisis Spell$ Opportunity, Per Leonard Kiefer, Freddie Mac Data
With hundreds of billions coming into the U.S. expected in 2018, will some of that find its way into MH?  Would it surprise anyone if it does, given that billions have already gone into community and other acquisitions?
While housing becomes more and more expensive across the United States, there's a simple solution. For those who either want to be frugal and still get great quality or those who have limited funds, but desire to be a homeowner – the answer, suggests and HousingWire – could be modern manufactured homes.
"…lower rates of crime than you would expect, because they had pride of ownership …" – William P. McCarty , PhD – University of Illinois at Chicago, Department of Criminology, Law and Justice "What may be surprising to real estate licensees is the level of energy efficiency available …"
Programing Notice
The next Monday Morning Sales Meeting will have more on what current players – even modest ones – can do in their local markets to tap into the solution for the affordable housing crisis hat is hiding in plain sight. That will be published Monday, January 8th. "We Provide, You Decide." ©
(News, analysis, commentary.)
(Image credits are as shown above, and when provided by third parties, are shared under fair use guidelines.)

Submitted by Soheyla Kovach to the Daily Business News for MHProNews.com.