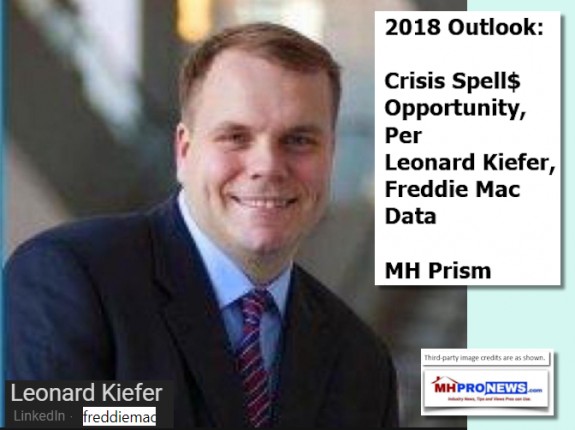 "For over two years, since at least 2015, I've heard one common theme: housing supply is tight. It's difficult to find a home, particularly for first time homebuyers," said Leonard Kiefer, Deputy Chief Economist at Freddie Mac, in a post on LinkedIn.
Kiefer quips, "…if you think housing markets are tight this year, wait until next year. The market is likely to be even tighter next year, and the year after tighter still. What's going on?"
Besides crunching numbers and analyzing data, Kiefer says he naturally speaks to housing and mortgage professionals. Working at mortgage giant Freddie Mac, that's no surprise.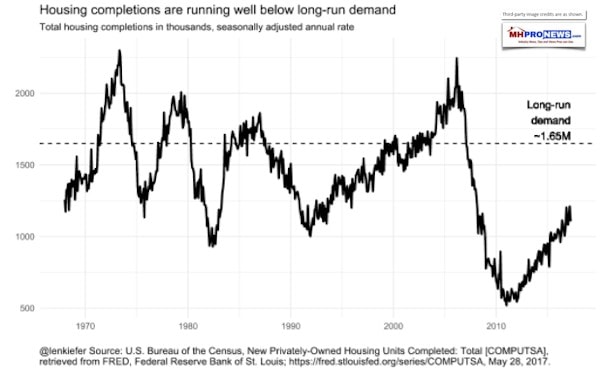 "The U.S. population and housing stock are slow moving. Houses are durable; lasting decades, more than a century in some cases. People too. It takes a while for things to change," said Kiefer, noting, "The United States is a vast nation, with over 300 million people, 125 million households, and 130 million housing units."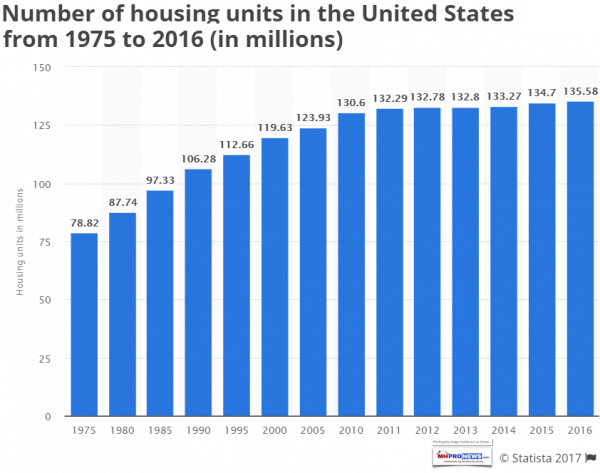 Citing the National Association of Home Builders (NAHB), he then notes that "it takes about seven months to build a single-family home. An apartment takes longer, around a year."
That's significant to manufactured housing pros on several levels, including, but not limited to the fact that with lead-times on a factory order hovering around 4 months in a number of cases, plus the time needed for arranging financing, and installation, there are markets in the U.S. where HUD Code home builders are starting to lose the time advantage.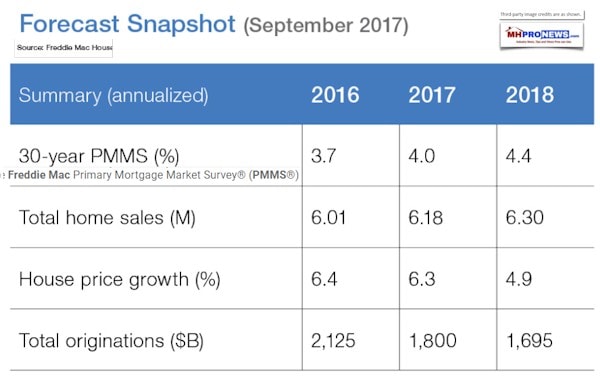 Kiefer doesn't mention the sexual revolution per se, but he does obliquely, by citing some statistics.
"One of the key differences between young adults today and prior generations is delayed marriage. Per the report, in the 1970s 8 in 10 people were married by the time they turned 30, today it's not until the age of 45 that 8 in 10 have married," he said, using Census Bureau data.
The deputy chief economist then says that, "1.1 million annual rate of completions is well below what we need to match long-run demand."  The nation, he says, needs about 1.6 million units per year.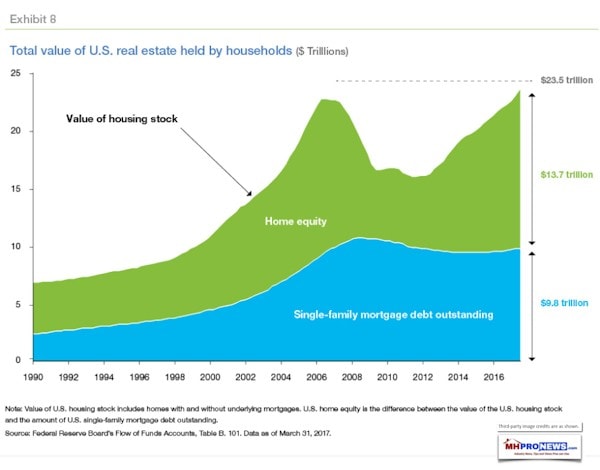 Kiefer also says that completions data doesn't account for some 200,000 housing units lost temporarily to various factors, or some 350,000 permeant demolitions, based upon 2011-2013 data.
So, when secondary house (vacation, etc.) demand (about 5.6 percent, or 100,000 plus units per year, citing the NAHB) and replacement of demolished houses (1.1 million less 350k) are factored in, the U.S. needs about 1.65 million housing units to be built annually, Kiefer stated.
GSE/MH Related…
FHFA Publishes Fannie Mae's and Freddie Mac's Underserved Markets Plans for Duty to Serve (DTS) Program
NAR's Yun's Take, Plus Manufactured Housing Analysis…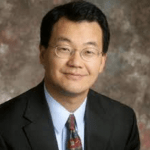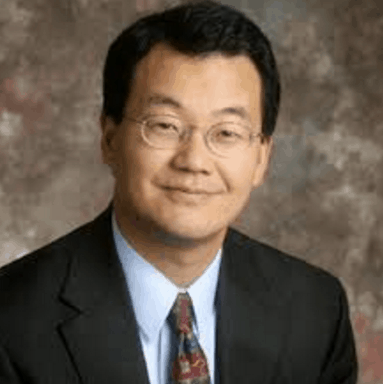 As regular Daily Business News readers know, the National Association of Realtors ® (NAR) Lawrence Yun said, "The inventory of homes for sale continues to shrink."
"This shortage of housing inventory is the principal reason why home prices have been outpacing people's income growth for the past five consecutive years," Yun said, adding:
"The only way to lessen home price growth is to bring in more supply.
"The only way to bring additional supply, therefore, is for homebuilders to get really busy."
NAR's Yun – No Quick Fixes Spell$ Manufactured Housing Opportunitie$
The NAHB, along with federal data that says that unemployment is dropping, and some 6 million jobs are open and waiting to be filled, all point to a need for more skilled labor.
Factory-builders have a similar labor lament, especially in 2017's post-hurricane season. But there's a difference that factory-builders could cling to, when they look at crisis, and see that it spells opportunity.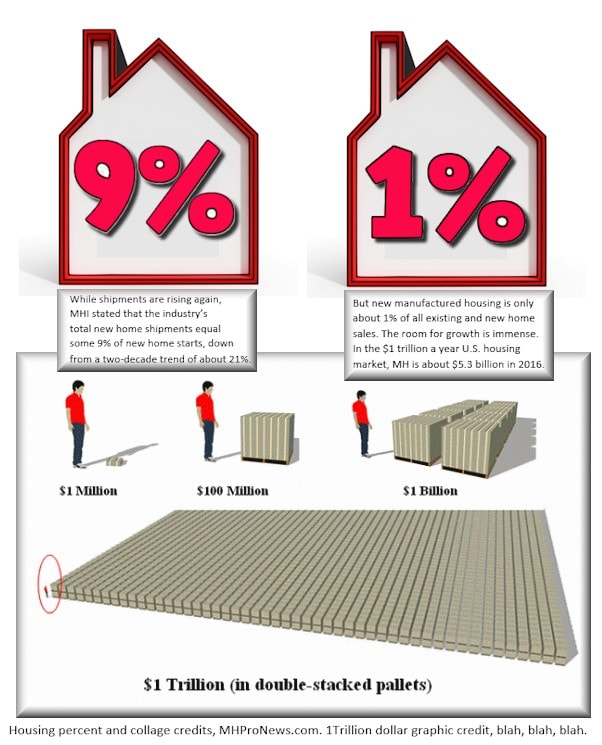 Namely, that a factory building environment lends itself better to worker training than many site-builders could achieve, unless stick builders are using production-style methods.
Why Hasn't Manufactured Housing Taken Off?
A variety of trends have brought the manufactured home industry to this point of opportunities, but limited or blocked by various problematic perceptions, and often artificial roadblocks.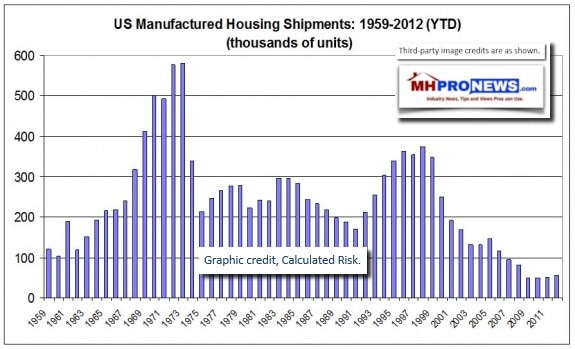 Among the factors that objective thinkers can consider are the actions, and in actions, of the industry's largest players.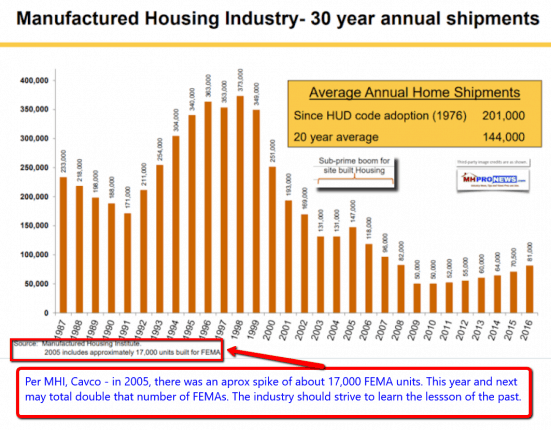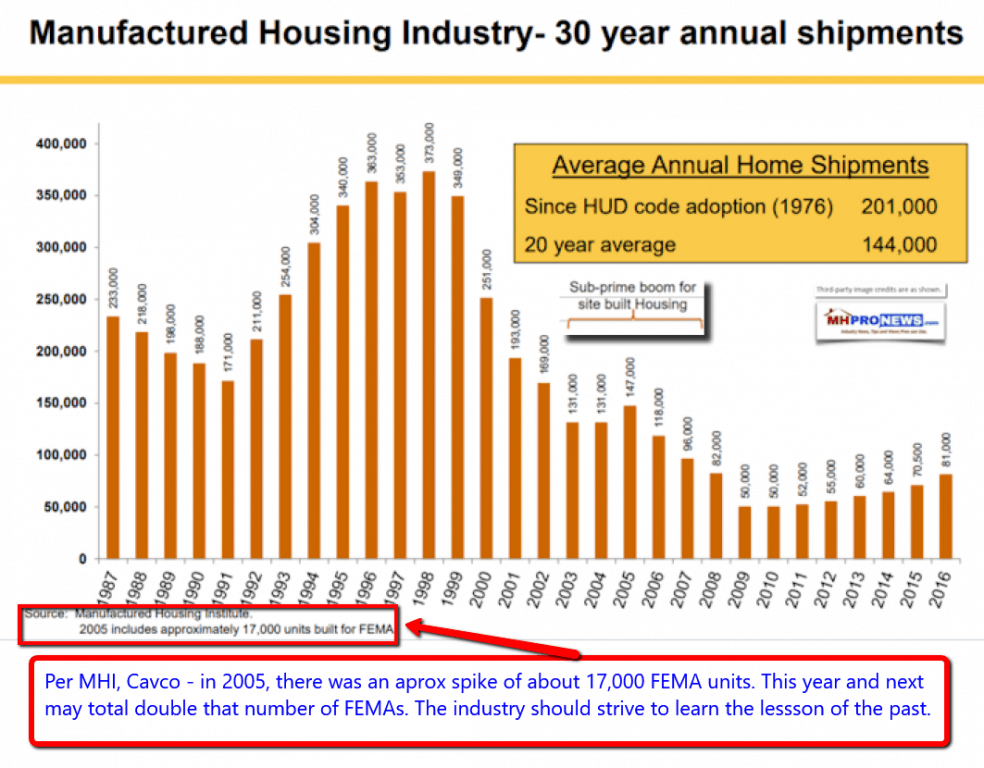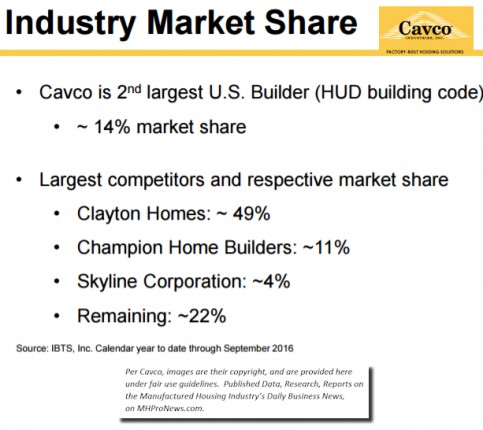 As their own data sets show, Clayton and Cavco are growing at a slower pace than the HUD code manufactured home industry at large.
Warren Buffett, "the Moat," Manufactured Housing, Berkshire Hathaway, Clayton Homes, 21st Mortgage, Vanderbilt, Wells Fargo, NAI…
Yet, a Harvard University study some years back had projected manufactured housing as being poised to overtake conventional home building.  What happened?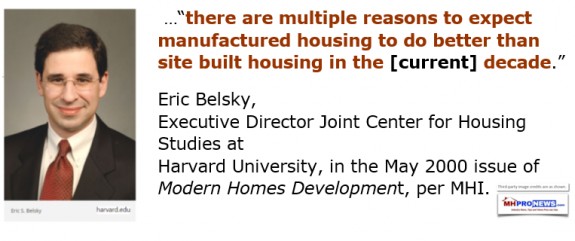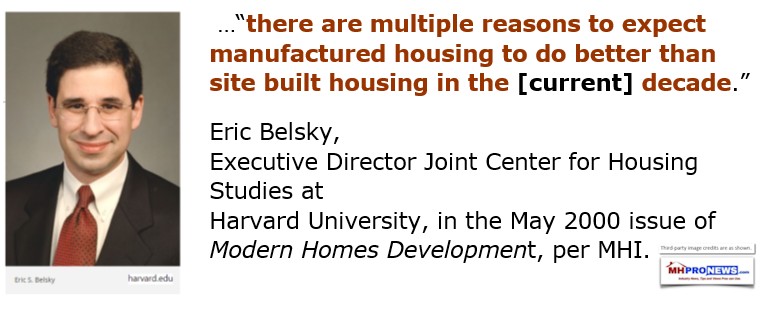 Appealing Manufactured Housing Institute (MHI) Marketing, Finance Booklet Reviewed
Meanwhile, there's the Manufactured Housing Institute (MHI).  The Arlington, VA based industry trade association is widely seen as dominated by Warren Buffett's Clayton Homes and related brands owned by Berkshire Hathaway.
MHI – for whatever reasons one might posit – has clearly been ineffective in aiding the industry at filling that void, or even achieving their own stated goals.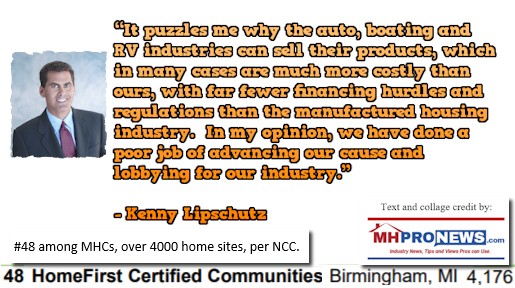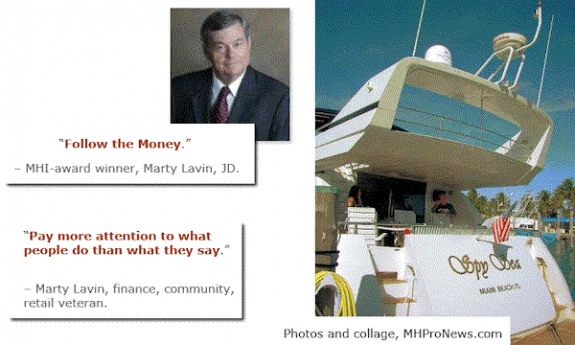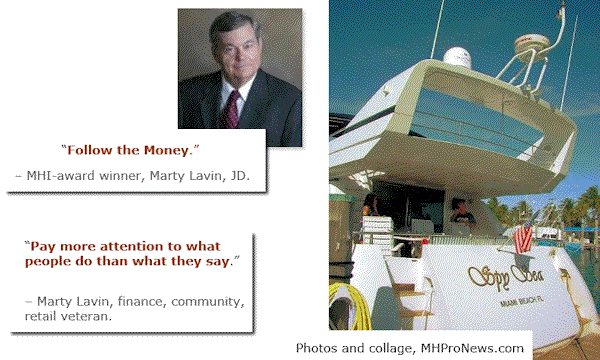 In fact, MHI's president argued for slow growth, in response to a softball interview question.
MHI's president urged slow growth based upon the notion of sustainability.  Meanwhile, some non-MHI companies like Sunshine Homes have demonstrated an ability to sustainably grow with high customer satisfaction at more than double the industry's average rate. They've done so in part by serving the upper end of the industry's spectrum, which Credit Human's Barry Noffsinger has identified as the market generally served by conventional housing builders (see Noffsinger's 16 minute video seminar, above).
Several parties are talking about a post-production association; that may or may not take shape.
Study Recommending New Manufactured Housing Association for Independent Retailers, Communities, Lenders, Others Released
Even if it should, would it be ready to rapidly impact these immediate American housing needs?
Abhorred Vacuum
The maxim that nature abhors a vacuum is playing out in factory home building. Non-HUD Code prefab builders are targeting the affordable housing space.
The circumstances as they stand may leave the industry's independents with an observation expressed by UMH President and CEO Sam Landy.  Namely, that every company and organization is ultimately responsible for its own marketing and promotion.
KYPs, and the $64 Billion Dollar Question-Monday Morning Manufactured Housing Sale$ Meeting
Given that independent communities/retailers who take the bull by the horns have seen robust growth, Landy's point makes sense.
"We Provide, You Decide." © ## (News, analysis, commentary.)
Notice 1: Looking for our emailed MH Industry headline news updates? Click here to sign up in 5 seconds. You'll see in the first issue or two why big, medium and 'mom-and-pop' professionals are reading them by the thousands, typically delivered twice weekly.
Notice 2:  Want sustainable growth?  Join the Manufactured Housing Revolution team's proven marketing and other MH Professional Services, click here.
(Image credits are as shown above, and when provided by third parties, are shared under fair use guidelines.)

Submitted by Soheyla Kovach to the Daily Business News for MHProNews.com.