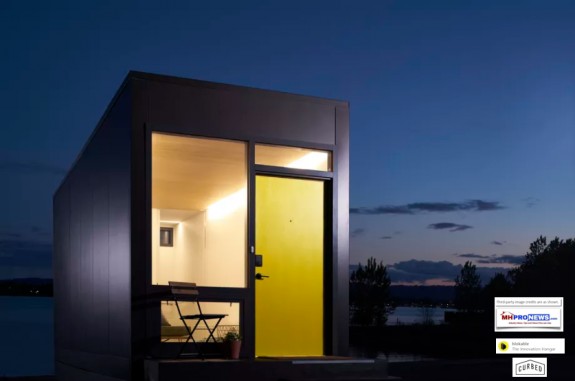 This report should be viewed as a book-end to yesterday's Daily Business News report that Microsoft founder, Bill Gates, is planning a 'state of the art' city of the future west of Phoenix, AZ.
It's only been four months since the Daily Business News spotlighted, Blokable.
That firm also has a tech-connection behind the bold start-up.  Among the backers?  Ties to Microsoft, and Amazon.
Our previous report to Blokable, is linked below.
The Amazon veteran executive has said there's no way that the housing crisis can be solved by using current construction methods.
"There's no way the current way we're building is going to solve the problem," Aaron Holm said, per Curbed.  
Are industry professionals who read Holm's comment going to dismiss the notion that Bill Gates is going to see conventional construction as the centerpiece for his planned City of the Future, Belmont?
Bill Gates' Subsidiary Belmont Plans Smart City of Future, What Role Will Factory Built Homes Play?
Blokable, Refresher
The Blokable units are costly when calculated on a per-square foot basis, far higher than HUD Code manufactured homes.
The base-units are designed for workforce housing, the homeless, vets, and other 'lower cost, higher density' types of uses.
Holm said they have three project now underway.
The first MicroBloks, per Curbed, are scheduled for installation in January in:
Seattle, working with a firm called Compass Housing Alliance,
in East Palo Alto, CA with a non-profit named Soup, and
in the Vancouver area with the local housing authority.
"These units will cost between $58,000 and $85,000, depending on the level of customization and furnishing," crowed Curbed.
The units are…"18 to 34 feet in length, cost $150 to $350 per square foot," says Curbed, which then misstates reality of this type of pre-fab – vs. others – by claiming that by "manufacturing [Blokables] in a central facility, both the design and building processes are cut in half."  Clearly, they're higher than many modular builders, and far higher than upscale manufactured homes too.
But when you watch this video presentation by Holms himself, below, notice that some of the facts cited by Curbed are stated differently by the former Amazon exec?  Note too the investor interest?  And the 'shot' taken at manufactured housing?

These Developing Stories Reflect the True State of Manufactured Housing, in Nov 2017…
Nature abhors a vacuum.
Yes, there's tremendous opportunities and some are capitalizing on them, as yesterday's 15 minute video seminar report – linked further below – reflected.
The Curbed story also underscores why even some housing focused media writers can get obvious facts wrong (i.e. $150 to $350 per sq foot isn't half price of conventional SF housing costs, or other disconnects between what Curb reported and what Holm himself said on the video above).
There clearly are forward thinkers and doers in manufactured housing (see yesterday's post on MH Best Practices, linked below).
But so long as the industry in general allows the drift of the image of manufactured housing to continue, the rise of 'single wide' and manufactured home alternatives are bound to continue.
Manufactured Housing Monday Morning Sales Meeting: Finance & Industry Facts, Figures, Sales Tip$ Improving Best Practice$
Clearly, there are serious efforts to improve the industry's image at the local level.  More could join them, as was noted in the report above.  But until the relatively modest shipment levels the industry is currently in are lifted far higher, the industry is arguably operating in a vulnerable, endangered zone.
See yesterday's manufactured home related, best practices report, above. "We Provide, You Decide." © ## (News, analysis, and commentary.)
(Image credits are as shown above, and when provided by third parties, are shared under fair use guidelines.)

Submitted by Soheyla Kovach to the Daily Business News for MHProNews.com.