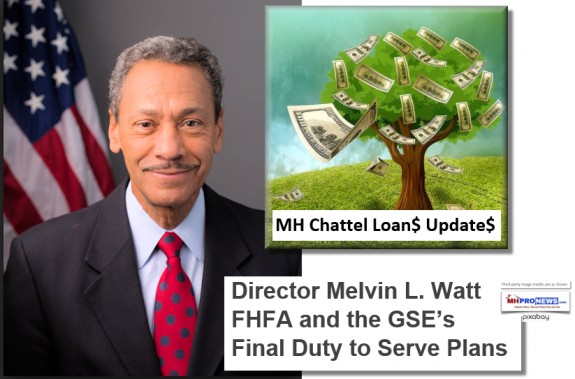 "The Federal Housing Finance Agency (FHFA) today published Fannie Mae's and Freddie Mac's (the Enterprises) Underserved Markets Plans for 2018-2020 under the Duty to Serve program," said the FHFA in a release to the Daily Business News. "The Plans become effective January 1, 2018."
"FHFA issued a final rule on December 13, 2016 to implement the Duty to Serve provisions mandated by the Housing and Economic Recovery Act of 2008.  The statute requires the Enterprises to serve three specified underserved markets – manufactured housing, affordable housing preservation, and rural housing – by increasing the liquidity of mortgage financing, for very low-, low-, and moderate-income families," said their release.
"The rule requires each Enterprise to adopt a three-year Underserved Markets Plan to fulfill this mandate.  The activities proposed by the Enterprises to achieve the objectives in their Plans will continue to be subject to FHFA review and approval to ensure compliance with the Enterprises' Charter Acts, safety and soundness, and other conservatorship and regulatory requirements," per FHFA Director Melvin L Watt's statement.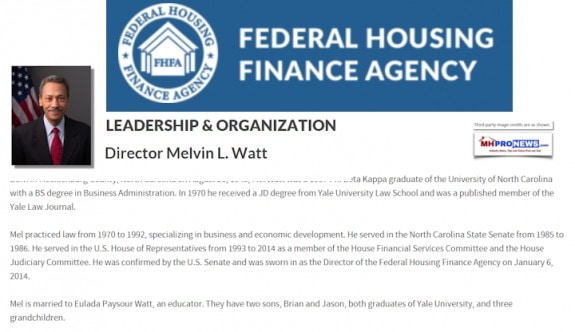 "I congratulate Fannie Mae, Freddie Mac and FHFA staff for the work they have done to reach this significant milestone.  The tough challenges associated with implementation are still ahead, however, to ensure that the Plans meet affordable housing needs in underserved markets around the country.  FHFA looks forward to working with Fannie Mae, Freddie Mac and stakeholders to ensure that the Plans serve their statutory purposes and do so in a safe and sound manner," said Watt.
Freddie Mac's plan is below.  Both plans are available as downloads, further below.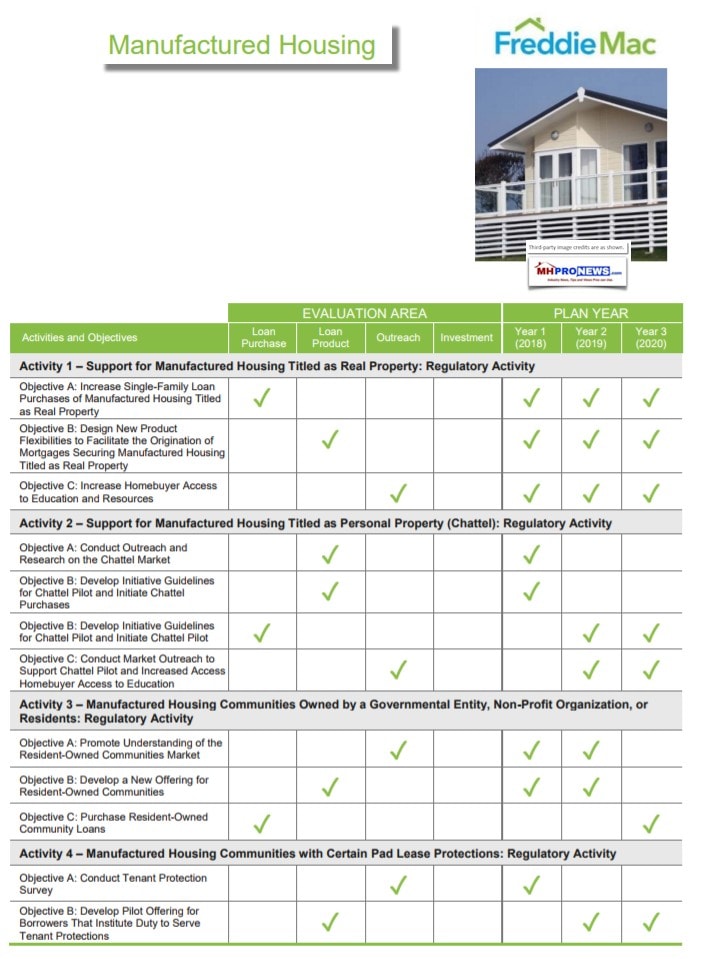 Disclaimers
Disclaimers in the various programs reflect that fact that changes can occur.
Quoting the Fannie Mae Disclaimer provides an example, as follows, "Implementation of the activities and objectives in Fannie Mae's Duty to Serve Underserved Markets Plan may be subject to change based on factors including FHFA review for compliance with the Charter Act, specific FHFA approval requirements and safety and soundness standards, and market or economic conditions, as applicable."
Fannie Mae's DTS plan included the following statement.
Do What We Do Best:
"Our commitment to affordable housing is more than just a series of regulatory requirements, it is a fundamental component of who we are as a company. What we were established to do and Duty to Serve Underserved Markets Plan for the Manufactured Housing Market Effective 1.1.2018 MH5 what we do best is to facilitate a secondary market by purchasing mortgages – and that is what we need to do in this market. In some instances – like with chattel – we have to build a scaffold to get there by conducting research, enhancing or developing loan criteria, and assessing performance before creating opportunities for mortgage acquisitions. In some instances we are already there – as reflected in a simple commitment to purchase more manufactured housing mortgages where we can safely do so." per Fannie Mae's published plan, which has been obtained by MHProNews, and is linked below.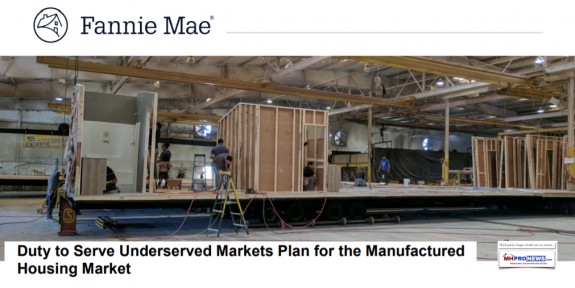 Fannie Mae's DTS plan is available as a download, linked here.
Freddie Mac's DTS plan is available as a download, linked here.
It will be close to a decade since the Duty to Serve (DTS) was first passed into law as part of the Housing and Economic Recovery Act (HERA) 2008.
See related report for the MH industry impact and the impact of constriction of credit in manufactured housing in the report linked from the image collage above.
MHARR's Perspective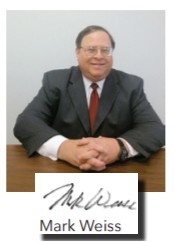 Terrible FHFA Duty to Serve Rule Leads to Useless Fannie And Freddie DTS Chattel Plans – by Mark Weiss, JD, President and CEO of MHARR.
More DTS Related Industry Reports, and Commentaries.
New Long-Term, Market Rate Loans in Manufactured Home Communities, Report, Reactions
Duty to Serve (DTS) Manufactured Housing "Confidential Documents," Draft and Downloads, FHFA, GSEs
I appreciate the way that MHAAR respectfully criticized my commentary on the Federal Housing Finance Agency's (FHFA's) final rule to implement the "Duty to Serve" (DTS) requirements as being "far too charitable," but the criticism was misdirected. My comments neither praised nor denigrated the FHFA for the DTS final rule.
We at MHARR have the greatest respect for Jim Ayotte, but his recent commentary on the final Duty to Serve (DTS) rule issued by the Federal Housing Finance Agency (FHFA) is far too charitable. It's one thing to see the proverbial glass as half full versus half empty.
 "More of the Same," Leader Says About Fannie Mae Duty to Serve Meeting
A few select previous Daily Business News, Industry Voices, and other published reports and commentary are found at the links above. ## (News, analysis, commentary.)
2 Week Notice. MHProNews will be on a somewhat modified publication schedule from now through January 2nd, resuming normal scheduling in 2018. More details, click here.
Notice 1: Looking for our emailed MH Industry headline news updates? Click here to sign up in 5 seconds. You'll see in the first issue or two why big, medium and 'mom-and-pop' professionals are reading them by the thousands, typically delivered twice weekly.
Notice 2:  Want sustainable growth?  Join the Manufactured Housing Revolution team's proven marketing and other MH Professional Services, click here.
(Image credits are as shown above, and when provided by third parties, are shared under fair use guidelines.)

Submitted by Soheyla Kovach to the Daily Business News for MHProNews.com.