"Great announcement, huh?  Here's my take and on-the-record comments," said ROC USA President, Paul Bradley to MHProNews. 
Bradley was commenting on an article by Patrick Barnard in Mortgage Orb, that ran under the headline, "New 30-Year Loan Program for Manufactured Homes Launched in New Hampshire."
"Getting a jumpstart on its mandate from the Federal Housing Finance Agency (FHFA) under the new Duty to Serve program that takes effect in January," stated Barnard, "Fannie Mae is partnering with the New Hampshire Housing Finance Authority (NHHFA) to bring greater liquidity to manufactured home financing market."
"New Hampshire is one of the first states to pass legislation recognizing manufactured homes located in resident-owned communities as real property. This is in contrast to other states, where manufactured homes on leased or communal lands are only recognized as personal property and thus are not eligible for mortgages," per Barnard's article.
Bernard added that, "In those cases when a manufactured home is located on leased land, typically the only way to finance it is via a chattel loan. This creates an affordability issue because chattel loans carry much higher interest rates compared with 30-year fixed-rate mortgages."
Often Overlooked Background
Regular MHLivingNews and MHProNews readers should note that while rates may be higher on a personal property, home only or "chattel loan," that a federal study by the Government Accountability Office (GAO) documented that the payments on manufactured homes are still lower on average than other forms of housing.
As part of a longer comment, linked here, Bradley stated that Fannie Mae has been making "home only" loans in approved ROC's since 2008.

That dovetailed with a statement last year from Titus Dare with Eagle One Financial, who told MHProNews that the GSEs had been making some home only loans.
Bradley told MHProNews, "…understand that MH in land lease communities in NH is titled as real estate.  Hence, a lender makes a mortgage loan even if they're financing only the home. Such a mortgage does not include the land and does not disrupt the underlying commercial financing."
ROC's president also said that something similar could be achieved by other community owners.
"Now, two things:
This is the very construct that land lease owners could establish.  In fact, it's what Freddie Mac went to market with in the mid-2000s with a leasehold loan product that required titling as real estate.  Several states created an "opt in" real estate titling law for MH to take advantage of the program.  And, since, the Uniform Law Commission passed an opt in titling law for states to adopt.  It's all in waiting.
Residential mortgage loans will carry longer terms and lower interest rates than chattel even if the GSEs enter the chattel market with pilots next year.  That's because mortgage loans are going into existing and very large securities.  Chattel will have a different securitization path.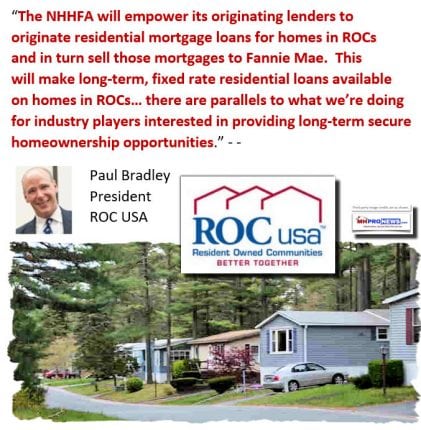 So, as I've said in several industry talks I've given on the subject, there are parallels to what we're doing for industry players interested in providing long-term secure homeownership opportunities."
Both Bradley and a source in Washington told MHProNews that the Mortgage Orb's report was in fact a limited program.
But as the industry attempts to navigate the internal and external challenge to achieving meaningful lending by the GSEs, this report, per Bradley, is a "Great announcement."   ## (News, analysis, commentary.)
(Image credits are as shown above, and when provided by third parties, are shared under fair use guidelines.)

Submitted by Soheyla Kovach to the Daily Business News for MHProNews.com.