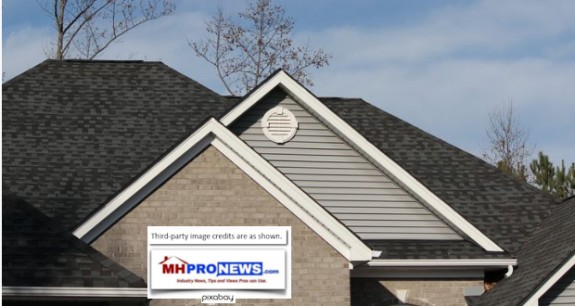 The final S&P CoreLogic Case-Shiller Home Price Indices Report to be issued in 2017 provides a snapshot of the October 2017 data.
It also yields and opportunity for manufactured home industry professionals to consider.
4 Top Lines for Manufactured Housing Consideration from
S&P CoreLogic Case-Shiller Home Price Indices
A) Thousands of manufactured home sales every year are directly connected to the sale of a conventional, site built house.
B) The Higher Conventional Housing Prices Go, Creates Opportunities for Residential and Entry Level Manufactured Homes.
C) As some reports have indicated, manufactured homes can and have appreciated side by side with conventional housing.
Let's dust off some common sense. Or as some may quip – tongue-in-cheek – as uncommon sense. Manufactured homes aren't weaker than standard conventional housing, they are as strong or stronger. Two videos with award wining professionals prove that point, by using common sense and actual video footage, to the realities vs.
D) As conventional housing rises, more may consider manufactured homes.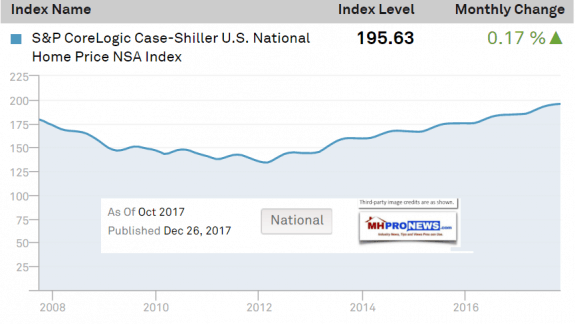 October 2017 S&P CoreLogic Case-Shiller Home Price Indices Data
"Data released this week for October 2017 shows that home prices continued their rise across the country over the last 12 months," per their release to the Daily Business News.
"YEAR-OVER-YEAR The S&P CoreLogic Case-Shiller U.S. National Home Price NSA Index, covering all nine U.S. census divisions, reported a 6.2% annual gain in October, up from 6.1% in the previous month," their research said.
"The 10-City Composite annual increase came in at 6.0%, up from 5.7% the previous month. The 20-City Composite posted a 6.4% year-over-year gain, up from 6.2% the previous month. Seattle, Las Vegas, and San Diego reported the highest year-over-year gains among the 20 cities," per their October report.
Their data reflect similar findings from the National Association of Realtors ®  (NAR).
NAR's Yun – No Quick Fixes Spell$ Manufactured Housing Opportunitie$
For more on that NAR report, click the link above.
For the latest U.S. Census Bureau data on manufactured homes, click the linked report above. ## (News, analysis, commentary.)
2 Week Notice. MHProNews will be on a somewhat modified publication schedule from now through January 2nd, resuming normal scheduling in 2018. More details, click here.
Notice 1: Looking for our emailed MH Industry headline news updates? Click here to sign up in 5 seconds. You'll see in the first issue or two why big, medium and 'mom-and-pop' professionals are reading them by the thousands, typically delivered twice weekly.
Notice 2:  Want sustainable growth?  Join the Manufactured Housing Revolution team's proven marketing and other MH Professional Services, click here.
(Image credits are as shown above, and when provided by third parties, are shared under fair use guidelines.)

Submitted by Soheyla Kovach to the Daily Business News for MHProNews.com.