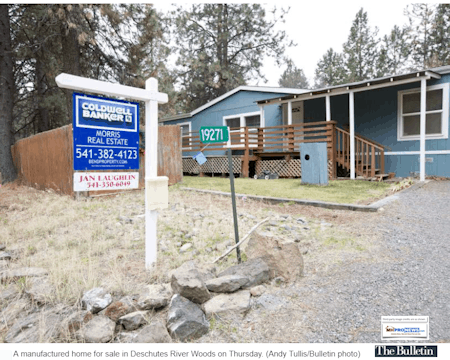 "Manufactured homes are getting more attention in Central Oregon as a surging real estate market leaves behind many would-be buyers of traditional houses. Prices are up, and homes are spending less time on the market," says Kathleen McLaughlin, the "technology reporter" with the Bend Bulletin, in Bend, Oregon.
"The same category of manufactured homes spent an average 75 days on the market, down 24 percent over last year," wrote McLaughlin.
"There's a huge demand in that price range, whether it's stick-built or manufactured," said Jan Laughlin, a real estate broker with Coldwell Banker Morris.
A quick-check by the Daily Business News of listings on Zillow underscored the points McLaughlin described.
Under $250,000, the most common listings were manufactured homes, some condos, and a few houses – or buildable home sites.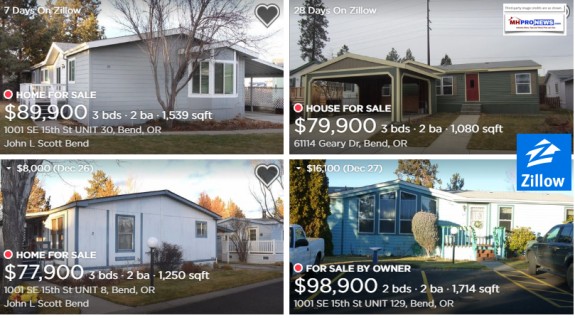 "The median price of manufactured homes without land in the Bend area also has been marching up," McLaughlin stated. "The latest reliable data from the Realtors' association showed the median price in the second quarter at $70,000, an 8 percent increase over the same period of 2016."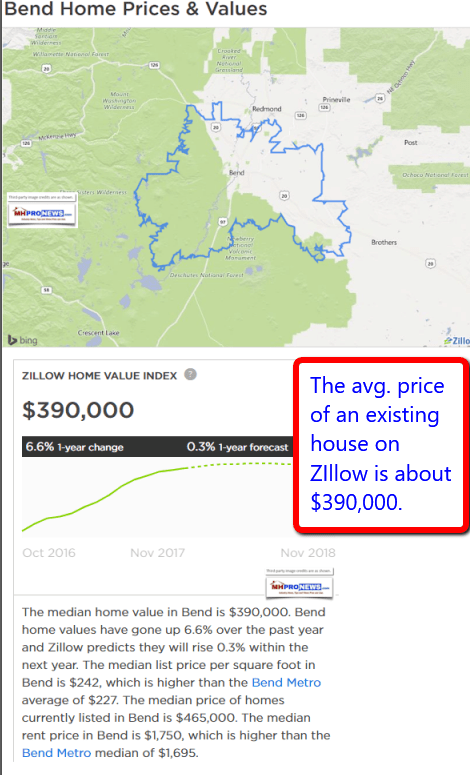 Jeff Newberry, a local housing inspector, told the Bend Bulletin that the fact that manufactured homes are supported by steel beams is an advantage. "Even ones built in the '70s," Newberry said, "you're not going to see structural problems."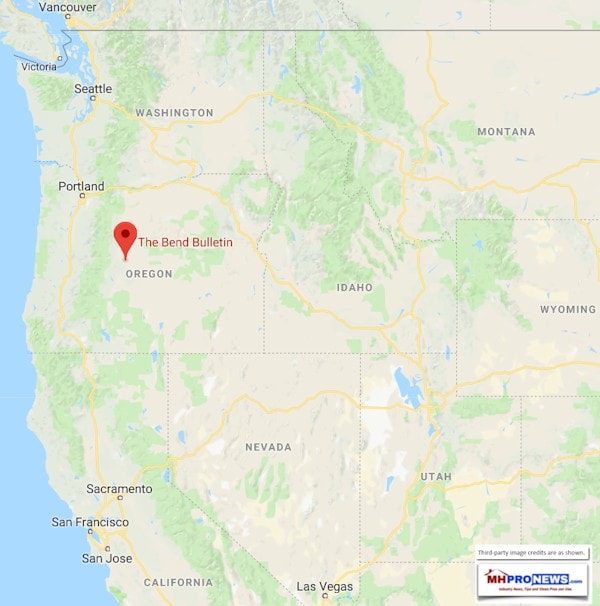 Props, Kudos to McLaughlin…
McLaughlin did a superior job of providing accurate terminology, and shared largely accurate information about manufactured homes.  While there are some nuances that could have been handled differently, for an industry outsider looking in, she deserves props.

The technology reporter noted that a local land-lease community was expanding.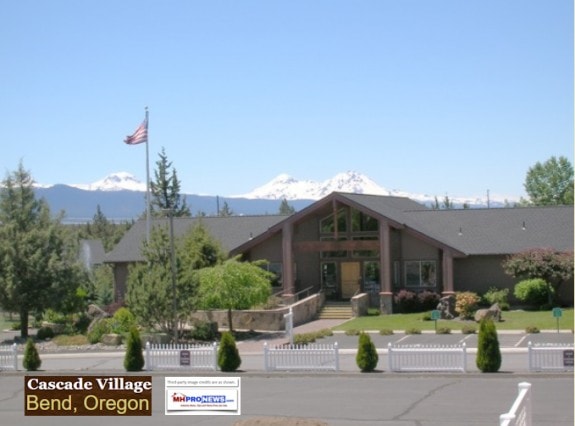 And as noted above, manufactured home values were rising in a land-lease, as well as on fee simple (land/home package) properties.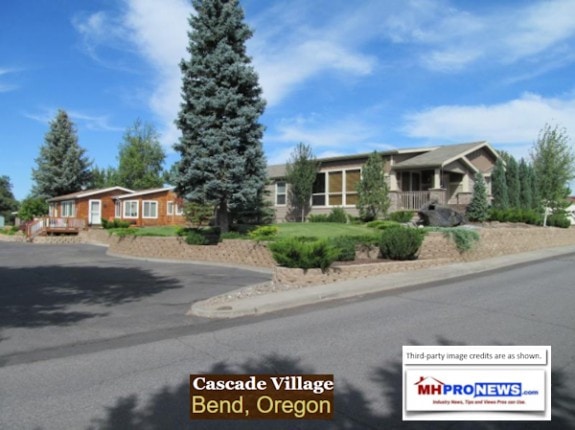 "Cascade Village," an 89-home site "55-and-older community on the north side of Bend, will add 80-100 new sites over the next five years, manager Jackie Elliott said. The owners are also planning a second clubhouse, indoor pool and pickleball courts," she wrote.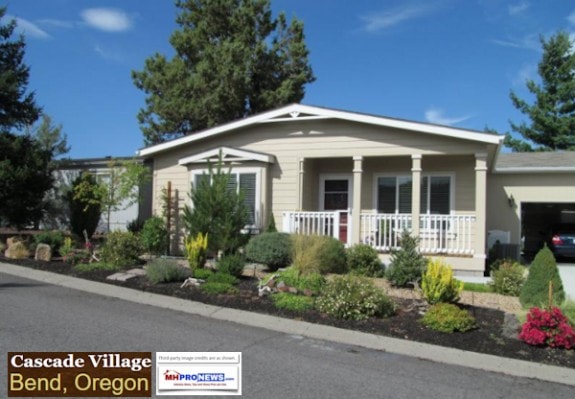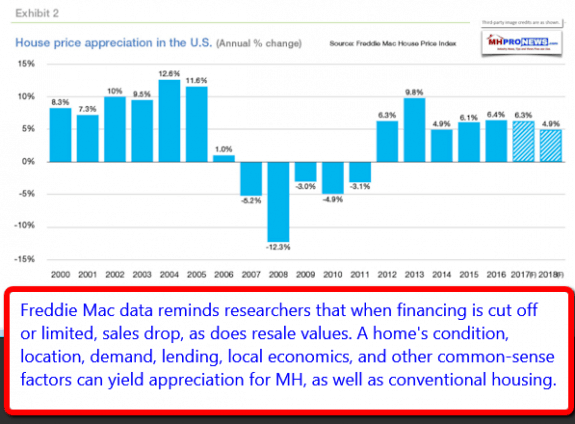 Manufactured Home Industry Marketing/Sales/Communications Takeaways?
As MHLivingNews and MHProNews has reported several times over the years, manufactured homes can appreciate – or lose value – for the same reasons as conventional housing does.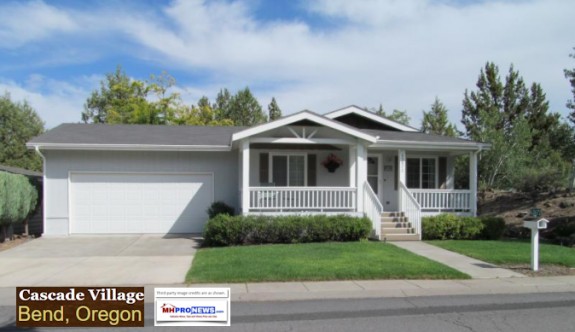 The Government Sponsored Enterprises (GSEs) apparently didn't get the data they said they needed to do a robust entry into chattel lending.
Duty To Serve, "Complete Waste of Time" per Tim Williams, CEO/21st Mortgage; POTUS Trump, Warren Buffett Insight$
But another part of the challenge may be a failure to apply the common-sense laws of supply-and-demand to the manufactured housing industry.
When manufactured housing is properly understood and supported at the local market levels, years of consulting/service experience reflects that sales rise.  Then, home manufactured home resale values do too.
As HUD's PD&R and other third-party research has revealed, manufactured homes can and do appreciate, side-by-side with conventional housing.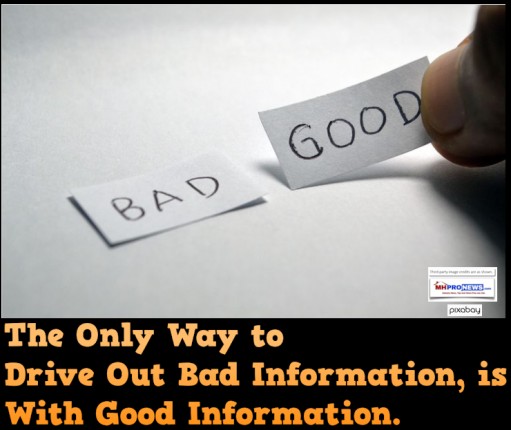 Kid Rock owns and loves a multi-sectional manufactured home, seen several times next to his Rolls Royce in his new hit music video, Po-Dunk . In one video – intentionally or not – multi-millionaire performer Kid Rock has taken aim at the stereotypes about manufactured homes, and the Americans who select this lifestyle.
Affordable Housing Crisis Solution Hiding in Plain Sight
MHLivingNews used the phrase "The Solution to the Affordable Housing Crisis is Hiding in Plain Sight," which has since been picked up by a growing number of mainstem media reports and commentary.
"…lower rates of crime than you would expect, because they had pride of ownership …" – William P. McCarty , PhD – University of Illinois at Chicago, Department of Criminology, Law and Justice "What may be surprising to real estate licensees is the level of energy efficiency available …"
With millions of new housing units needed,
NAR's Yun – No Quick Fixes Spell$ Manufactured Housing Opportunitie$
and a half-million annual new housing unit shortfall a reality,
2018 Outlook-Crisis Spell$ Opportunity, Per Leonard Kiefer, Freddie Mac Data
the solution for enhanced growth that forward-looking manufactured home professional should consider is learning, and applying, the principles that have proven profitable in several markets, from border-to-border.
KYPs, and the $64 Billion Dollar Question-Monday Morning Manufactured Housing Sale$ Meeting
"We Provide, You Decide." © ## (News, analysis, commentary.)
Notice 1: Looking for our emailed MH Industry headline news updates? Click here to sign up in 5 seconds. You'll see in the first issue or two why big, medium and 'mom-and-pop' professionals are reading them by the thousands, typically delivered twice weekly.
Notice 2:  Want sustainable growth?  Join the Manufactured Housing Revolution team's proven marketing and other MH Professional Services, click here.
(Image credits are as shown above, and when provided by third parties, are shared under fair use guidelines.)

Submitted by Soheyla Kovach to the Daily Business News for MHProNews.com.