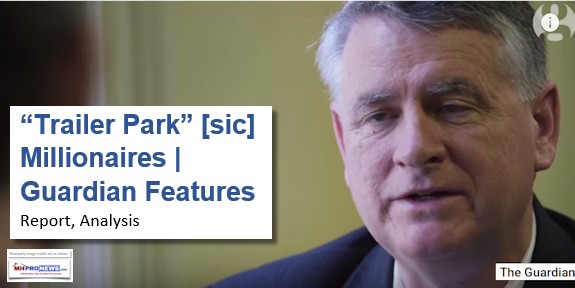 "It's the industry's other image campaign," quipped Marty Lavin, JD, an MHI award winner, to MHProNews.
Marty Lavin Lashes the Manufactured Housing Institute's (MHI) Latest Initiative
How do the 'two campaigns' compare?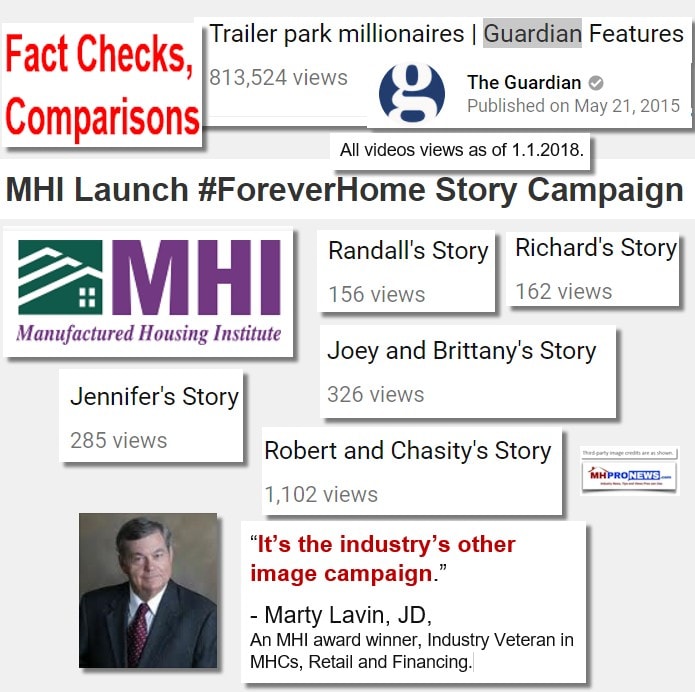 The Manufactured Housing Institute (MHI) launched the video part of their "image campaign" on November 15, 2017.  There are over a thousand views of the 'top' view, but as the graphic of screen captures above demonstrates, most of the MHI videos have only a few hundred views on all their other sponsored videos.
2 ½ years after the Guardian Features had a reporter do some interviews that led to the video posted below, there are over 800,000 views on this one video.  That video, is shown below.
Keep in mind, there are thousands of news videos posted that have "mobile homes," "trailers" [note: again, their improper use of terminology, not ours] besides this video from Guardian Features.
On the one hand are some 22 million Americans, which third party surveys say are happy with their lifestyle.
https://www.manufacturedhomelivingnews.com/manufactured-home-owners-satisfaction-survey-redux/
On the other hand, are news stories that often feature a bleaker view of "mobile homes," "trailer parks," [sic] and those who are in this industry.

What Guardian Features Said
Here's the bulk of the text below the Guardian Feature's video.
"Trailer park [sic] millionaires: how to get rich on housing for the poor."
"Some of the richest people in the US, including billionaires Warren Buffett and Sam Zell, have made millions from trailer parks [sic] at the expense of the country's poorest people," stated the Guardian.
That statement is demonstrably inaccurate, on more than one point.  For example, Buffett sold off Clayton Homes owned communities.
Thomas: Buffett Should Buy Manufactured Home Community REIT, Plus MH Market Update$
"Seeing their success, ordinary people from across the country are now trying to follow in their footsteps and become trailer park millionaires. The Guardian went to Orlando to learn the tricks of the trade from Frank Rolfe, the self-appointed dean of Mobile Home University, as he led would-be investors around a trailer park [sic] for sex offenders," stated Guardian Features.
There are many reasons why manufactured housing isn't soaring in an era of a growing affordable housing shortage. Is Marty Lavin's "The industry's other image campaign" one of them?
If so, what does MHI really believe their advertorials and videos will get the job done?
Note that while the Guardian does correctly show that Rolfe is improving the communities that he and his colleagues buy, the comments from viewers suggests that part of the message is lost.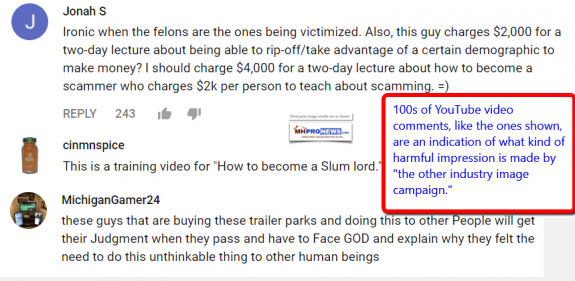 While Rolfe is popular and respected by many in the industry, mainstream news stories like this one – and another recent incident that included his operation that will be featured in the days ahead – leave some in manufactured housing with the impression that Rolfe makes their jobs harder.
Manufactured Home Community Best Practices Debate, Rentals vs. Sales and Accounting Methods
Rolfe told an audience in the video shown below what he now (then) thought was the better choice of terminology today.

What say you about these controversial topics?  "We Provide, You Decide." © ## (News in review, 2017, millennials, analysis, commentary.)
Notice 1: Looking for our emailed MH Industry headline news updates? Click here to sign up in 5 seconds. You'll see in the first issue or two why big, medium and 'mom-and-pop' professionals are reading them by the thousands, typically delivered twice weekly.
(Image credits are as shown above, and when provided by third parties, are shared under fair use guidelines.)

Submitted by Soheyla Kovach to the Daily Business News for MHProNews.com.