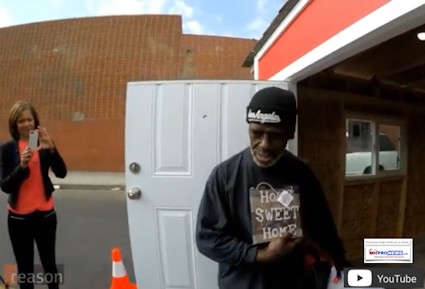 "Elvis Summers crowdfunded $100,000 to build dozens of tiny homes."
But as this video by Reason spotlighted for over a million viewers, "City officials looking to pass a $2 billion housing plan tried to shut him down."
It's a classic example of what's wrong with the challenges that are in some ways made worse by public policies.
It's also an example of the push-back – NIMBY – from area residents, who felt that their neighborhoods were being dragged down by these houses on wheels.
In deep-blue California, in one of the wealthiest states in the nation, thousands are on the streets.
A non-taxpayer funded, private solution was shut down.
A "…39-year-old struggling musician from South LA thought he had a creative fix," reported Reason. "Elvis Summers, who went through stretches of homelessness himself in his 20s, raised over $100,000 through crowdfunding campaigns," which used professional volunteer contractors to built the humble shelters.
No doubt these tiny houses met no building codes. But they were nevertheless safer, more secure and better looking then the tents, cardboard boxes or tarps that they were built to replace.
The video does a fine job of shown the various perspectives in this tragic story. ## (News, NIMBY, analysis, commentary.)
Notice 1: Looking for our emailed MH Industry headline news updates? Click here to sign up in 5 seconds. You'll see in the first issue or two why big, medium and 'mom-and-pop' professionals are reading them by the thousands, typically delivered twice weekly.
(Image credits are as shown above, and when provided by third parties, are shared under fair use guidelines.)

Submitted by Soheyla Kovach to the Daily Business News for MHProNews.com.