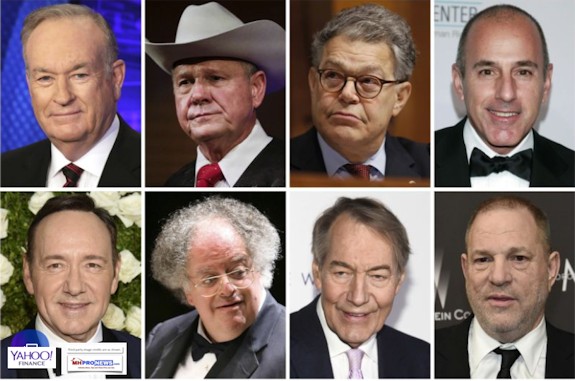 The top story for the year wasn't about the president and his administration. That was number 2.
That's according to a survey of U.S. editors and news directors that first occurred in 1936.
The Associated Press (AP) says that the sexual misconduct allegations was the top story for the year in 2017.
MHProNews covered it, and it was later picked up as a topic by others in the industry.
The Daily Business News spotlighted several of the allegations, including insights of an industry attorney on the subject.
To see that expert's comments, the report is linked below.
Sexual Harassment-Not Just Hollywood, Media, Politicos-Manufactured Housing Workplace Claims, High Profile MH Cases Too?
For those who've carefully reviewed the report link above, keep in mind a new revelation from manufactured housing – see that as part of a larger industry report, that's linked here.
It's also important to keep in mind a series of revelations regarding this issue of sexual harassment.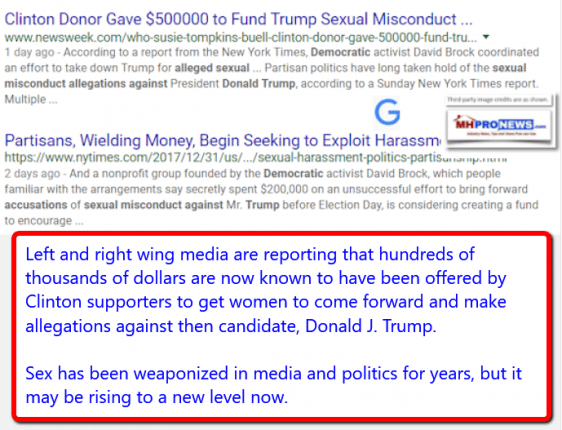 While the examples above are from left-0f-center media, the right-leaning media has covered the same topic too. To learn more about left-right media facts, see the report below.  As regular Daily Business News readers know, this publication strives to use sources across the media spectrum, for balance.
Reports, Reflections on Media Tilt, Bias, Ignorance, and Manufactured Housing
On the 9th day of Christmas, it may be worth reflecting on this simple, but important point.  Without ethics being based in eternal truths, how can Intractable issues – like what is sexual harassment – be objectively understood and navigated?
A Problem Without Seeking Understanding, and Solutions, is Whining
The two videos below could easily be misunderstood, if they are not watched to completion.
They should perhaps begin with a review of the video posted on the story just above, because they all are examples of UnCommon sense that is much needed in our times.  
There's not enough law enforcement, or courts, to intimidate people into goodness. What's necessary is self-control. Ethical, respectful behavior = a more just and stable society. That's freedom. So, consider these as practical tips, from someone that designed us.
Morality and self-control are steps along the path to increased freedom. Don't believe it?  Why not ask God? "We Provide, You Decide." ## (Top news 2017, analysis, commentary.)
Notice 1: Looking for our emailed MH Industry headline news updates? Click here to sign up in 5 seconds. You'll see in the first issue or two why big, medium and 'mom-and-pop' professionals are reading them by the thousands, typically delivered twice weekly.
Notice 2:  Want sustainable growth?  Join the Manufactured Housing Revolution team's proven marketing and other MH Professional Services, click here.
(Image credits are as shown above, and when provided by third parties, are shared under fair use guidelines.)

Submitted by Soheyla Kovach to the Daily Business News for MHProNews.com.