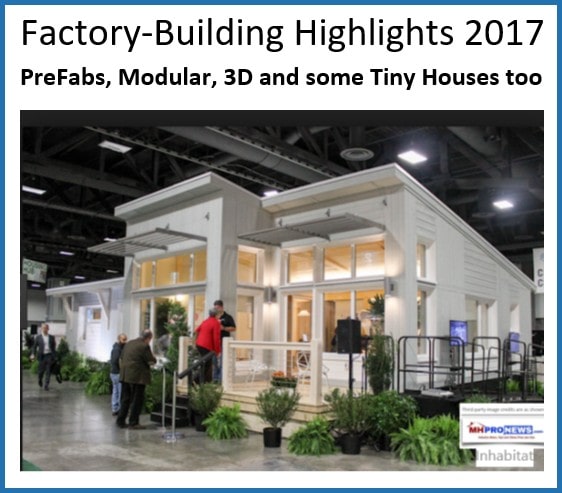 MHProNews tends to focus on HUD Code manufactured homes, but we routinely spotlight other forms of factory-built housing. We've done so for years.
This Daily Business News flashback 2017 year-in-review will be a series of links, that will let you click on some of the dozens of stories that we've published this year about the various forms of prefab, modular, 3D, and tiny house stories.  But this column will close with a link on MHLivingNews about manufactured home shopping tips.
The "Top Ten" Container Home Designs in the U.S., 2017 – Video
Chicago – Massive Modular Project by European Operation Coming
For a generation growing up in often countercultural ways, ÖÖD is bound to hit the right notes with many. But let's take a look at what's being said by others, and then do a quick comparison. " crows Prefab goes in disguise with these sleek tiny dwellings from Estonian company ÖÖD.
Factory Built Home Companies, True Game Changer – Here, Now – Impact on Manufactured Housing?
Kasita – Dumpster Inspired Design Tiny Modular – Stackable, Emergency MOD, ADU – Enters Factory Built Housing
Jana Kasperkevic, Tiny Houses, Manufactured Homes & Financing
http://www. mhmarketingsalesmanagement.com/blogs/daily-business-news/are-americans-hunting-for-the-single-sectional-manufactured-home-alternative/
Giant L&G Sees Modular as Natural Evolution in Housing, Brit & U.S. Ties, Report & Video
Squamish Over Vancouver? BC Tiny House Controversy, Leadership, MH Parallels
It sounds good. It looks cool. The video will make many think, 'hey, this could be an option for me some day.' But is this the real deal in affordable housing, just over the horizon? Or are the missing facts in this prefabricated home design's story – missing for a reason?
The Top 10 American Corporations, Manufactured Homes, and PreFab Housing
Faced With Housing Shortage, Nation Turns to Unused Containers
Inside MH – Not Every Democrat, Not Every Republican – Politically Incorrect, Factually Accurate
As populations around the world continue to grow, a recurring theme is the need for housing. More directly, many nations have declared a " housing crisis " and are looking for solutions. One of the nations where the need is most pronounced is the United Kingdom or UK, where a report by Cast CEO Mark Farmer entitled; "The Farmer Review of the U.K.
Meet the Modular Housing Builder Google Picked, and their "Industrial Cathedral"
Disclosures. Among the most common requests we get from home shoppers is a variation on this question. How do you recommend we determine which company or location to buy from? Because the responsibility for due diligence is with the buyer, this article is being provided as a public service.
"We Provide, You Decide." © ## (2017 Year in Review, political cartoons, commentary, analysis.)
(Image credits are as shown above, and when provided by third parties, are shared under fair use guidelines.)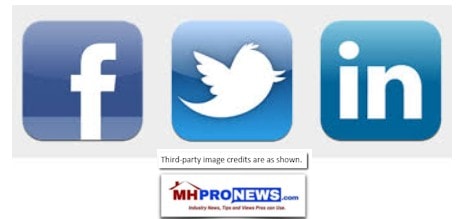 New Year's Resolution: This writer already has one of the largest LinkedIn followings in the manufactured home industry. But we've frankly not asked for Twitter, or Facebook followers. That changes, starting today. If you want to keep up with posts relevant to the industry, you can connect via the links below.
https://www.linkedin.com/in/latonykovach/
https://twitter.com/LATonyKovach @LATonyKovach
https://www.facebook.com/tony.kovach.71
2 Week Notice, MHProNews will be on a somewhat modified publication schedule from now through January 2nd, resuming normal scheduling in 2018. More details, click here.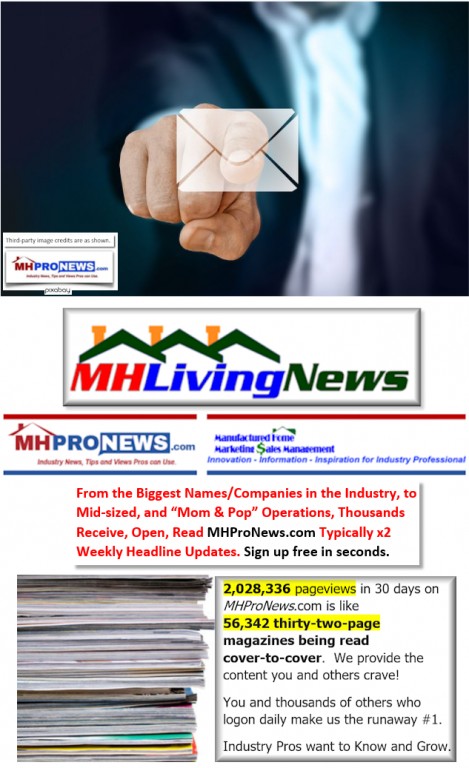 Note 1: Thousands do it. You, your team, and industry colleagues can sign up to the MH Industry leading headline news/updates – typically sent twice weekly – please click here to sign up in just seconds.
Note 2: For media, business development, training, or other professional services, click here. The more pros like you that use our services over any others, the more we can protect, educate, and promote the Manufactured Housing Revolution.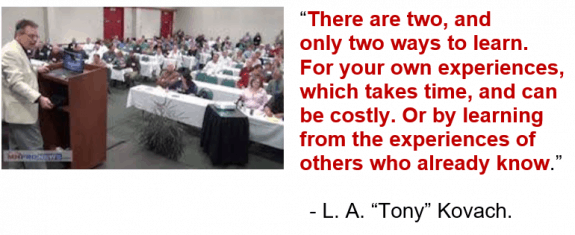 Kovach is the award-winning managing-member of LifeStyle Factory Homes, LLC,
parent to MHProNews, and MHLivingNews.com.
Both are #1 in their categories.
Kovach is one of the most endorsed and recommended MH industry professionals in all of manufactured housing.