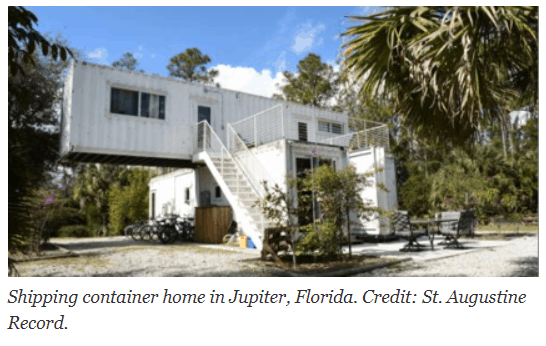 In Palm Beach County, Florida, shipping containers are getting a new lease on life in a very interesting way.
The containers are being turned into what Jupiter real estate agent Rick Clegg is calling an "up cycled eco retreat," a white, two-story house that looks like a rustic steel cabin.
"I call it 'up cycled' because we are taking a container and repurposing it by bringing new life to it," said Clegg.
According to the St. Augustine Record, these structures are gaining a following as part of the "tiny home movement," where people live in smaller spaces that are typically more affordable than traditional houses.
So much of a following, that Hollywood-based builder The Container House recently built such for an out-of-town client.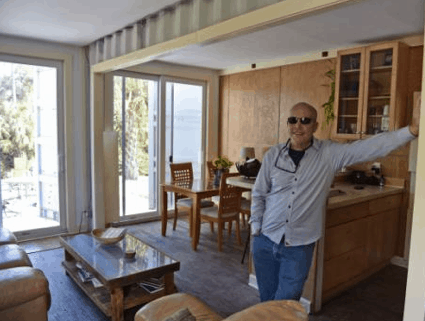 "It looks like a regular house. You won't see the containers. You can't tell," said Container House owner Rodrigo Bernstein.
"It's different, something that is not conventional."
The home was constructed from three shipping containers, has two-bedrooms, two-bathrooms and checks in at 1,000 square feet.
Bernstein says that the average cost for these modular container homes runs between $80 and $120 per square foot, in addition to costs for items such as permits and planning. He also noted, that unlike manufactured homes, his homes cannot be built and shipped.
"It has to be built locally. I cannot build and ship it. It has to pass all the inspections on-site. It's the same process as a traditional house," said Bernstein.
Just south in Miami, a company called Little River Box Co. specializes in converting shipping containers into temporary or permanent businesses, like barbershops and bars.
And it seems to be gaining in popularity, as one of the company projects involves using ten containers for a mixed-use development, with offices on the upper floor and restaurants and retail units on the lower floor.
"Between the modularity and the shippability [of the containers], the sky is the limit," said Little River Box Co. co-founder Gayle Zalduondo.
"There is a lot versatility and possibilities for creativity and innovation for using containers in the construction industry," said Ryan Anderson, a Fort Lauderdale business developer who co-founded Wyn-Box with two Miami architects. Their company also offers modular structures for housing and businesses.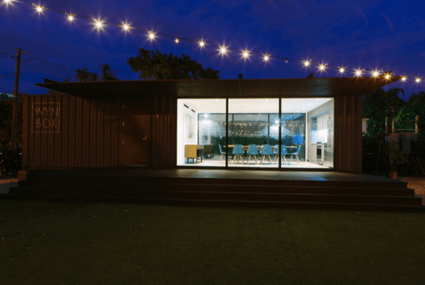 "When you tell somebody that you want to build a home out of a shipping container, and you've never seen one, it can sound unappealing," said Anderson.
"When someone sees a well-done project, they open their minds to the possibility … this is for someone who wants to live in something more unique and creative. This makes a little more of a statement."
The Daily Business News has covered the user of shipping containers as a housing option, as well as the "tiny house movement" recently, including the growth of modular as a solution in Sweden, and the zoning challenges that tiny homes can face. ##
(Image credits are as shown above.)

RC Williams, for Daily Business News, MHProNews.