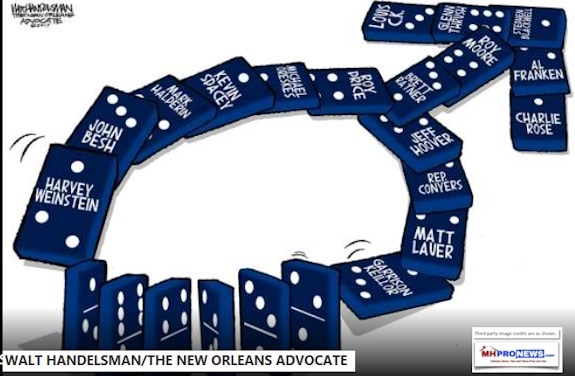 Stating the obvious brings often clarity to an issue. Cartoonists are akin to others in the media in this respect.  They typically have a left-or-right of center tilt, or agenda.
13 ½ months ago, some never believed that Donald J. Trump could win the race for the White House, much less be sworn in as the 45th president.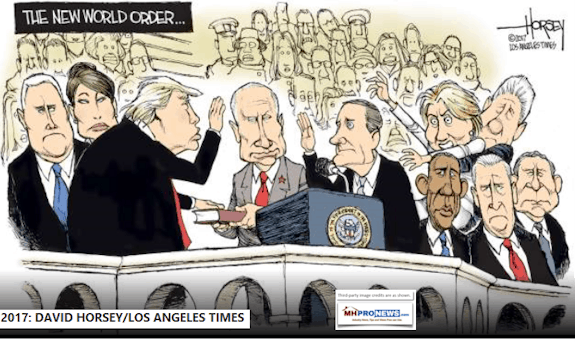 Tens of millions expected Secretary Hillary Clinton to be inaugurated instead.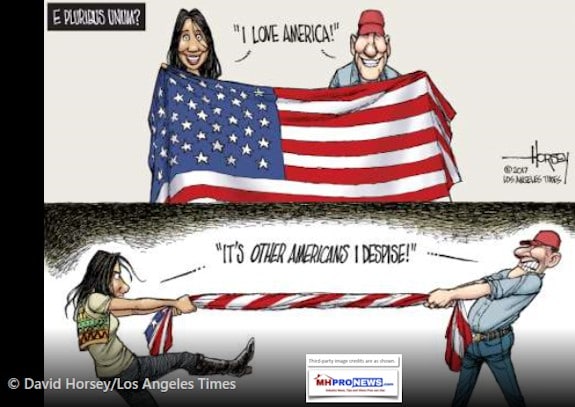 Obviously, some of the smartest, and most successful professionals and experts were just flat wrong.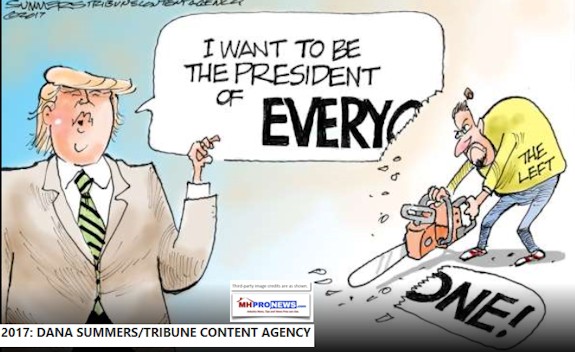 Before and after the Trump Campaign's upset victory, there were voices that predicted economic meltdown, doom, and gloom.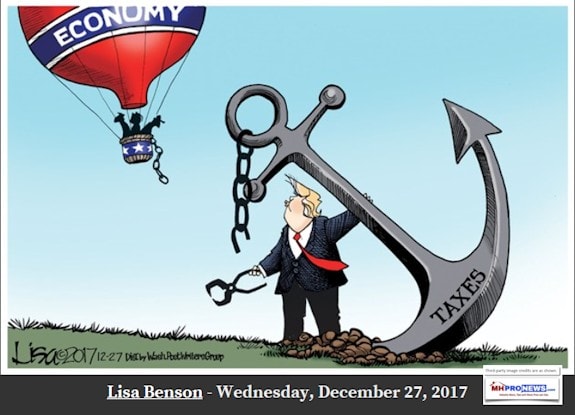 As part of the Daily Business News' coverage of "News Through the Lens of Manufactured Housing," © we've reported both sides, and have since documented that those naysayers have been proven wrong. The economy under president Trump is the best it has been in some cases in over 10 to 15 years or more.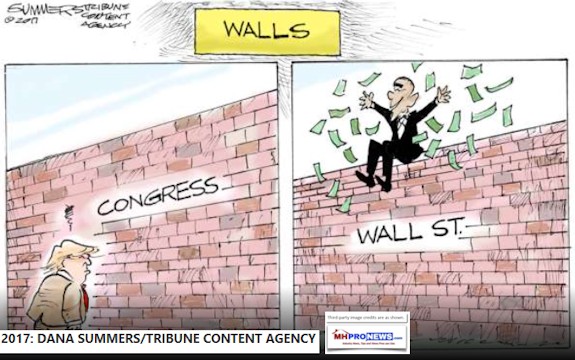 Some of his opponents have called the president a tyrant, or a would-be dictator. Perhaps they are just using an attack on the person, an old debaters trick.  Or perhaps theyn't thinking about the fact that every regulation President Trump cuts is reducing federal power, and thus his own power as the chief executive.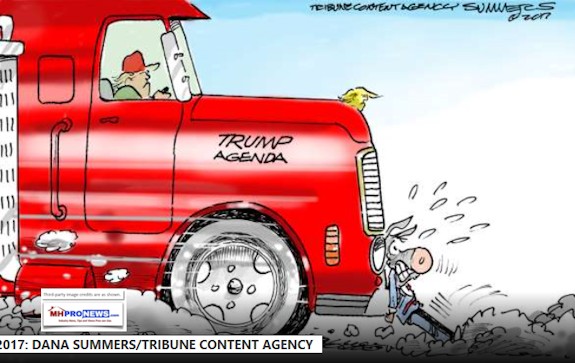 Manufactured housing's biggest challenges could be summed up in these words:
Regulatory/Zoning/Taxes.
Image/Education/Public Perceptions.
Financing/Investment/Training.
Corruption/Monopolies/Improper Vision for the industry and its potential.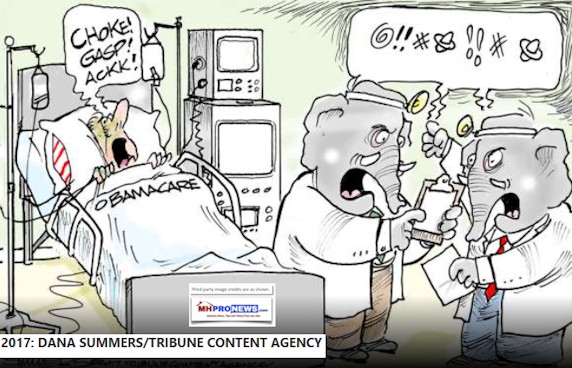 With those thoughts in mind, and looking at the candidates in the 2016 field, editorially, we supported now President Donald J. Trump.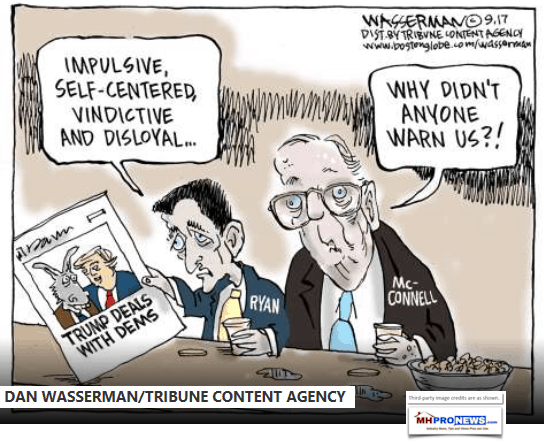 We did so believing pre-election that Donald J. Trump would be willing to take on the regulatory and other challenges.  By contrast, we also believed that Secretary Hillary Clinton would keep the status quo of the past decade plus.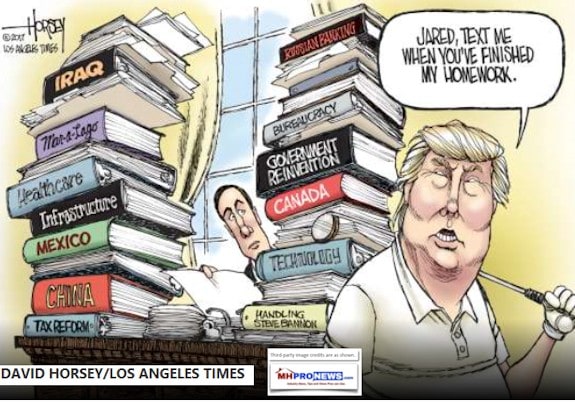 Manufactured housing (MH) has been steadily rising for years, but is still struggling compared to its historic levels and current potential.  Not always with MH in mind, but the forces inside and outside of manufactured housing that have held the industry back have very much worked to keep the status quo going.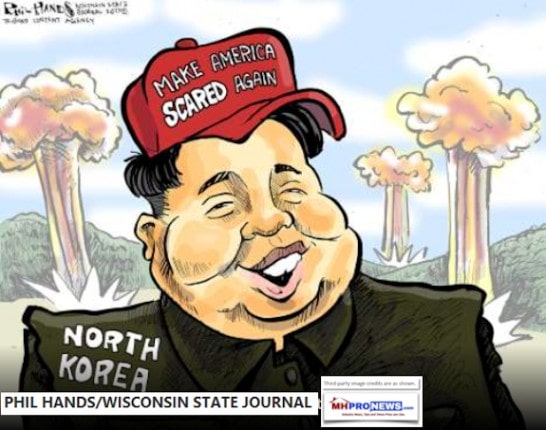 What happens in D.C., in state and local markets politically and economically absolutely impacts the factory built home industry in general, and the HUD Code manufactured home industry in particular.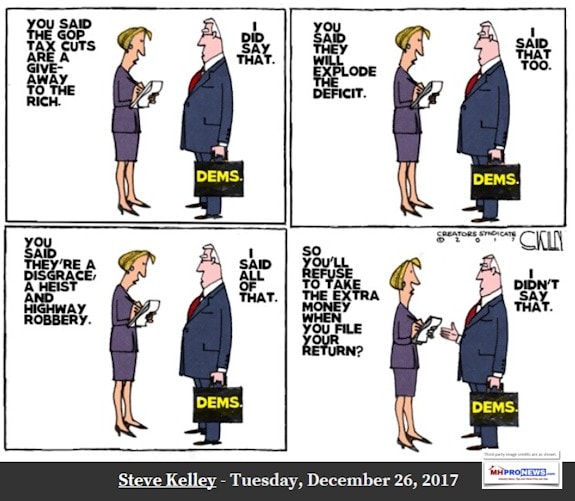 So, look for continued coverage in 2018 of the newsmakers and events that frame the landscape that limits – or gives more freedom – to HUD Code manufactured homes.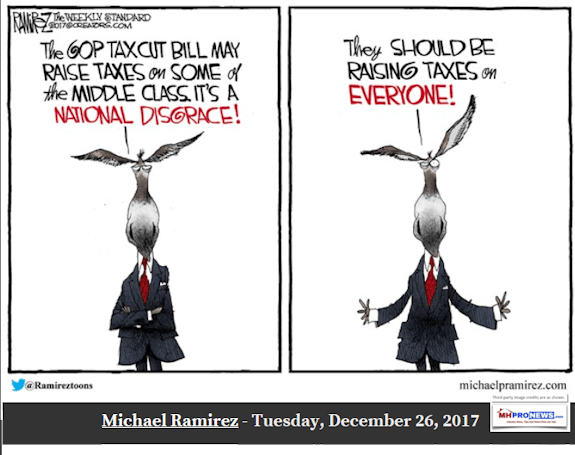 Look too for more periodic cartoon features, to help make pithy and light-hearted points that make people…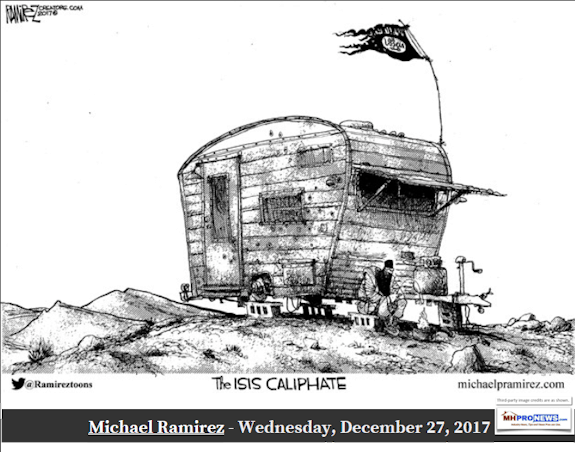 …think.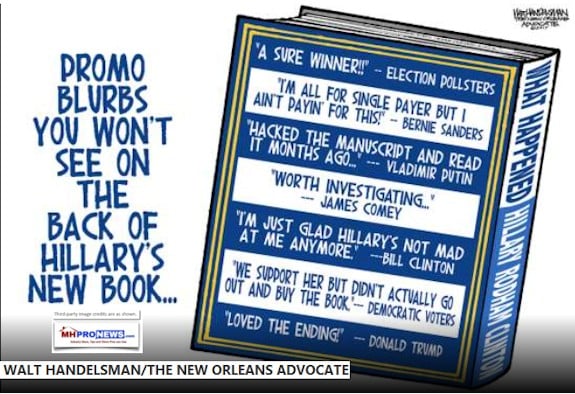 Because as Zig Ziglar observed, the first step to solving a problem is to first admit that a problem exists.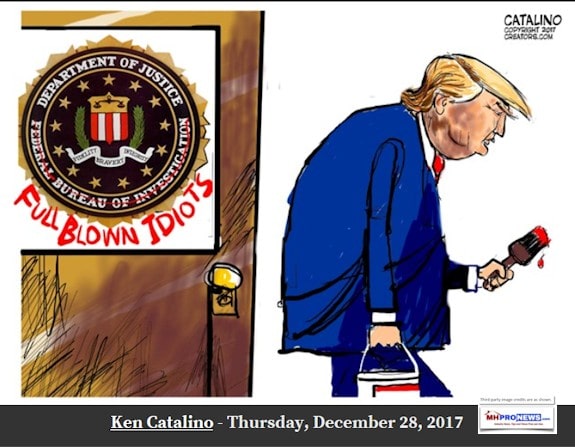 Or as business guru Steven Covey noted in his famous 7 Habits of Highly Successful People, "Seek First to Understand, then to be Understood." Understanding and that open minded-search for the truth are crucial for sustained success in any profession, including factory-built homes.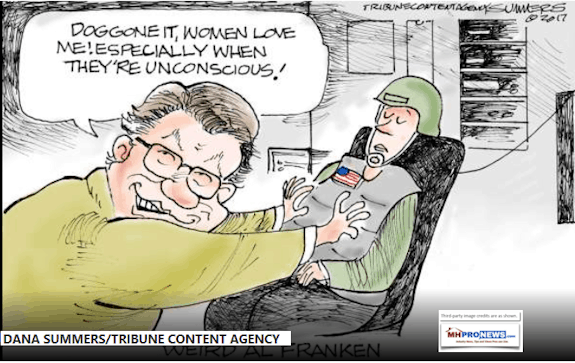 The True Meaning of the Word, Radical
Some misuse or misunderstand the meaning of the word, radical.  It comes from the word root, in Latin, radix – and the meaning is to get to the root cause of an issue or problem.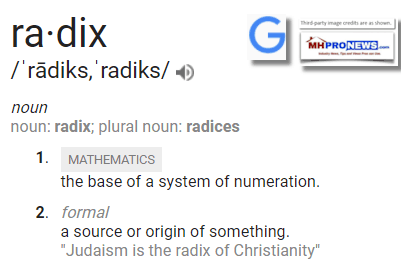 Instead of mowing weeds, and watching them spring up, or ignoring the weeds, and using wishful thinking, MHProNews has set out to get to the root issues that have limited the industry, and then to provide the solutions for that root issue.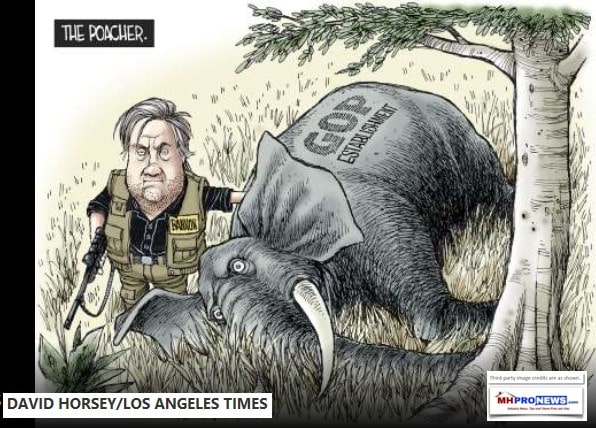 This has been, and remains, the runaway # 1 trade publication in all of manufactured housing.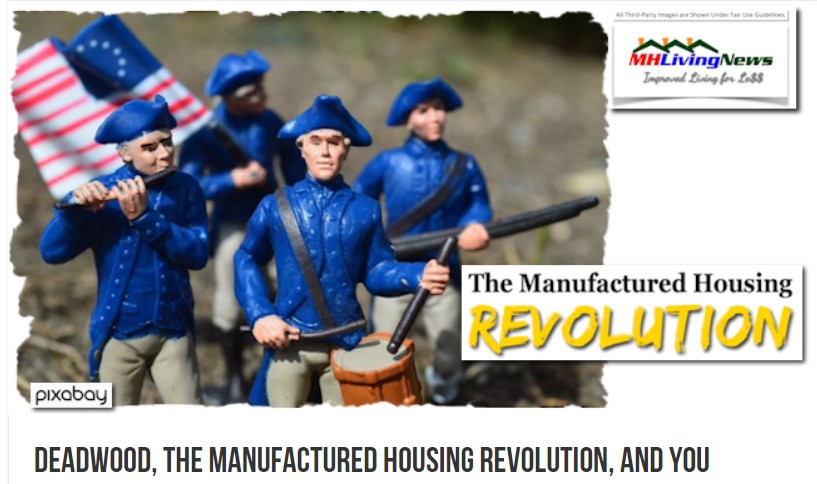 Join us as we continue our quest in support of the Manufactured Housing Revolution.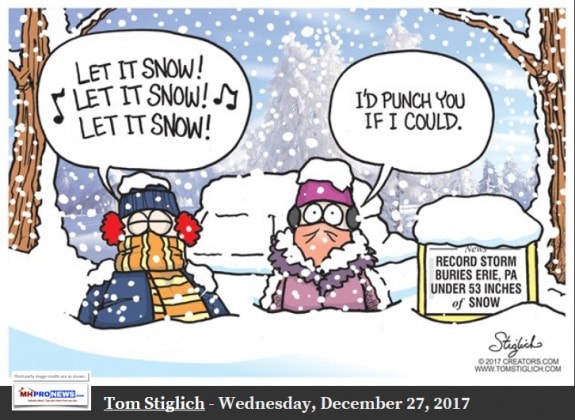 "We Provide, You Decide." © ## (2017 Year in Review, political cartoons, commentary, analysis.)
(Image credits are as shown above, and when provided by third parties, are shared under fair use guidelines.)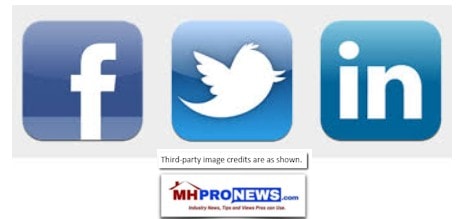 New Year's Resolution: This writer already has one of the largest LinkedIn followings in the manufactured home industry. But we've frankly not asked for Twitter, or Facebook followers. That changes, starting today. If you want to keep up with posts relevant to the industry, you can connect via the links below.
https://www.linkedin.com/in/latonykovach/
https://twitter.com/LATonyKovach @LATonyKovach
https://www.facebook.com/tony.kovach.71
2 Week Notice, MHProNews will be on a somewhat modified publication schedule from now through January 2nd, resuming normal scheduling in 2018. More details, click here.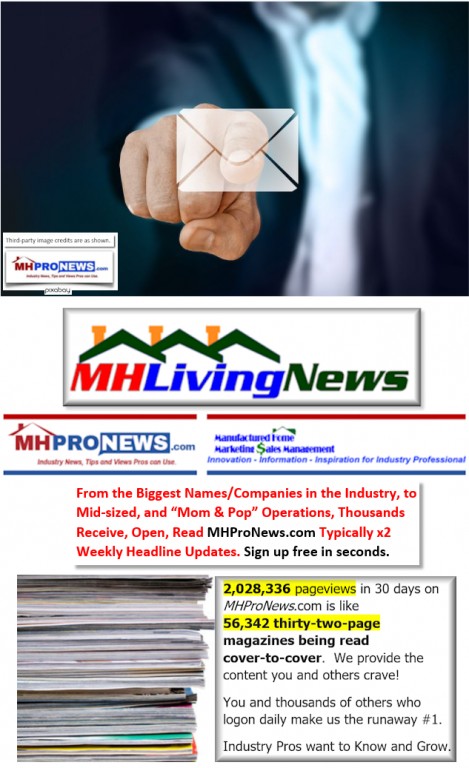 Note 1: Thousands do it. You, your team, and industry colleagues can sign up to the MH Industry leading headline news/updates – typically sent twice weekly – please click here to sign up in just seconds.
Note 2: For media, business development, training, or other professional services, click here. The more pros like you that use our services over any others, the more we can protect, educate, and promote the Manufactured Housing Revolution.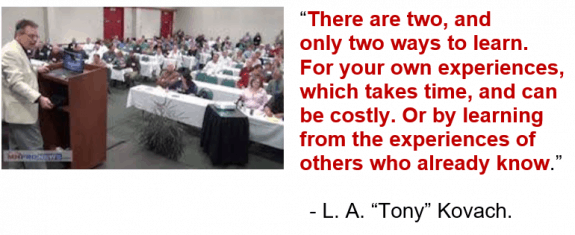 Kovach is the award-winning managing-member of LifeStyle Factory Homes, LLC,
parent to MHProNews, and MHLivingNews.com.
Both are #1 in their categories.
Kovach is one of the most endorsed and recommended MH industry professionals in all of manufactured housing.