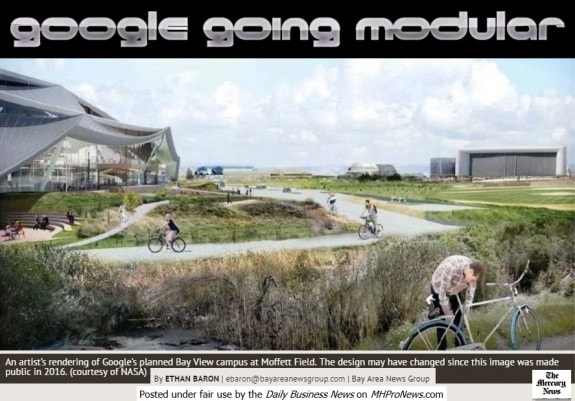 As Matthew Silver and RC Williams have previously reported, the San Francisco Bay Area is no stranger to high housing costs, and the fact that several are turning to manufactured, prefab and modular projects to help meet their needs.
So, it's no surprise that as Google, like other employers, are struggling for affordable housing for workers, that the tech giant is turning to prefab/modular construction to help meet their needs.
"The tech giant plans to buy 300 units of modular housing to serve as temporary employee accommodations on its planned "Bay View" campus at NASA's Moffett Field," says the Mercury News.
Google thinks the savings may be in the 20-50% range over conventional building. While that would seem high to those in the factory built housing world, given the soaring costs in the Bay Area, might that be possible?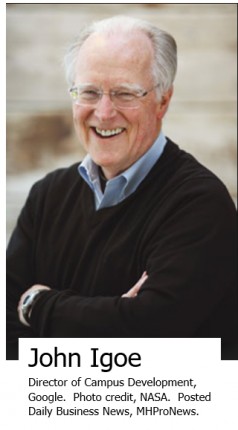 "Anything that can help us to move forward with a greater knowledge of how we can produce housing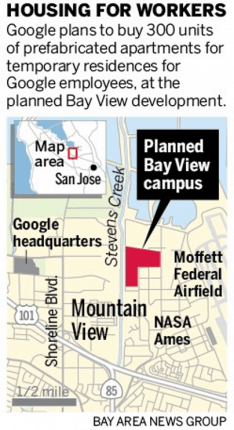 more effectively is something we're interested in," said John Igoe, director of design and construction at Google, per Fox Business. "We absolutely are confident that it will work. Hopefully it doesn't become false bravado."
The deal is likely to be in the $25 million to $30 million range, said Rick Holliday, founder and chief executive of Factory OS. It would be that firm's first order for the company.
Modular housing could be "a real game changer" for the Bay Area affordable housing crunch, said Matt Regan.  He's the  senior vice-president of public policy at the Bay Area Council.  Google is a member business in that group.
"In the factory environment you have more controls and more oversight, and it's more efficient," Regan said.
"The end product is of the highest quality. It's impossible to tell the difference between a modular construction project and a traditional project, other than that the modular goes up much quicker."
What seems certain is that the status of factory building will get a lift from this and other projects, here in the U.S., and around the world. ##
(Image credits are as shown above, and when provided by third parties, are shared under fair use guidelines.)

Submitted by Soheyla Kovach to the Daily Business News for MHProNews.