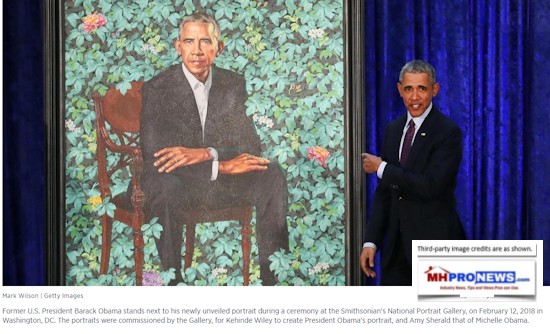 A good economy, dependable regulations, and people with money are the basis for millions who want a new home.
Tens of millions of Americans woke up today to larger paychecks. They were told by Democratic leaders before the tax cuts passed that their pay checks would shrink. More recently, millions who received company 'tax cut bonuses' of $1000 to $3000 were told by House Minority Leader Nancy Pelosi that said tax cuts bonuses were "crumbs."
Hundreds of thousands of Americans are at work today in higher paying jobs in mining, manufacturing, and energy that didn't exist a year ago.  Those were jobs that former President Barack Obama said were never coming back. Secretary Hillary Clinton told voters similarly.
Mr. Obama's campaign pollster Jim Messina told MSNBC recently that polls this far out ahead of races were meaningless, and that "I think all public pollsters should be shot." So why are those 'meaningless' polls so routinely done, and breathlessly reported by pundits on mainstream media (MSM)?
A new report in left-of-center USA Today claims that the "Children of Kennedy Democrats are Trump Republicans."
Senate Minority Leader Chuck Schumer said that Democrats are going to need to offer more to voters than just being anti-Trump.  Some weeks ago, MSNBC's Joe Scarborough admitted that the mainstream media was reflectively anti-Trump.
The left-of-center Washington Post said that retired General Michael Flynn did not lie to the FBI in his statements regarding discussions with the Russian ambassador, a claim that fired former FBI Director James Comey also made. So why did Flynn plead guilty to lying to Special Counsel Robert Muller? Was it to avoid bankruptcy, as Flynn's legal costs were rising?
Almost a year has gone by since Harvard Law Professor Alan Dershowitz – a high profile Democratic supporter – said that the Russian collusion narrative was nonsense. It was an effort to politicize the legal system to attack a rival.
In a swampy city that leaks, after 18 months, Washington's elected, and appointed officials have found no direct link of any wrongdoing by President Trump during the campaign. As noted, what has been alleged, says Dershowitz, isn't illegal. The excuses for impeachment of a president who is working daily to improve the economy for millions have become background noise, rolled out when needed, to rile up a base.
That's perhaps among the explanations why Democratic leaders like Schumer and Pelosi are shifting their narratives, in an effort to find an issue that might work in the approaching mid-term elections. Democratic fundraising is at a low ebb and their party is nearly broke, while the GOP has millions banked. Even those flimsy polls, per Mr. Obama's former pollster, are showing a shift away from Democrats.
Even after the most intense, and biased media cover against a president in modern times – per Harvard and other media research – President (POTUS) Trump has risen in a recent survey to the same approval level that POTUS Obama had at about the same timeframe, after one year in office.
In an ironic twist of fate, there is mounting evidence that the actual collusion between Russians and a political campaign was by the Clinton machine and the Democratic National Committee, who paid millions of dollars for a discredited dossier that was "unverified and salacious" – per then FBI Director James Comey.  That "Steele dossier" was a mix of irrelevant facts, doses of fiction and wild claims that the Donald J. Trump was a multi-year Russian plant.  It's absurd on its face. Russian sources were paid by an ex-British intelligence agent, Christopher Steele, for information that was paid by Clinton and the DNC for 'opposition research.'
That so-called research "faked dossier" was a part of the basis for a FISA warrant to be used to spy on Trump Campaign members, including retired general Michael Flynn. What that could mean in part is that the day could come when another court tosses the Flynn conviction as the 'fruit of a poisoned tree.'
Meanwhile, as the Daily Business News reported during the 2016 campaign, there is evidence that the Clintons were paid millions through their foundation for a deal that sold American uranium to the Russians.
No doubt, the 45th president has his flaws.  POTUS Trump's propensity for hyperbole – which some mistakenly call 'lies,' either not knowing the definitions and distinctions in meaning, or ignoring them – are among those Trumpian 'weaknesses.'
But America's economy and jobs are coming back, as he promised on the campaign trail that it would.  Decades of proven American economic policies, which the Daily Business News has previously cited about lowering taxes and cutting regulations spurring economic growth are working.
It may seem to millions to be the most improbable tale of our lifetimes, yet it all appears to be accurate, and true.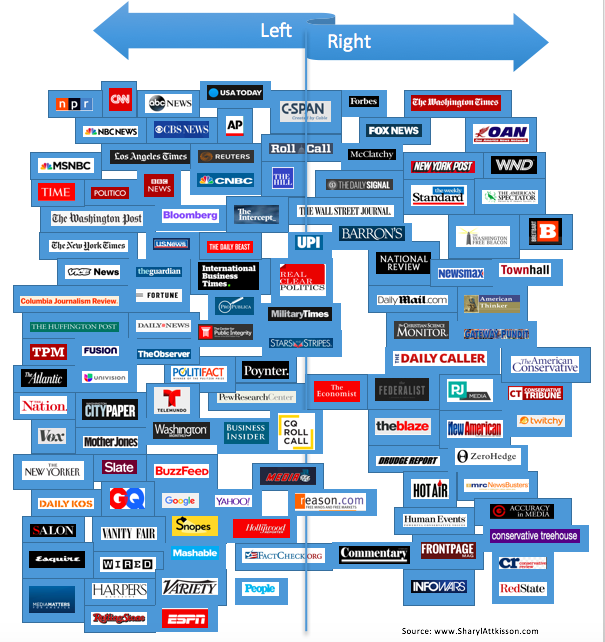 Market Manipulations?
The Wall Street Journal, among other media outlets, says there are sources that claim that the recent wild ride down on Wall Street markets could have been the result of a market manipulation.
The Daily Business News cited a former-federal commodities official, who suggested something similar. Left-of-center CNBC's colorful market commentator, Jim Cramer, said it was "morons" who caused the market to slide, when all of the economic fundamentals and most stocks are sound.
As MHProNews has previously reported, the Trump Administration has sent numerous signals that it may take anti-trust (anti-monopoly) federal legal action that prior presidents from both political parties have not been as active in doing in some years.
Mega billionaires Warren Buffett and Jeff Bezos, who could be targets of such anti-trust actions, were joined by Jaime Dimon the day of the State of the Union to make an announcement about their own health care plans. That announcement caused health care stocks to tank, and pulled the markets down that day as a result.
Buffett, Bezos – Time Announcement to Drop Market Ahead of SOTU? Plus MH Market Update$
To rephrase, there are indications that an epic showdown is approaching between Democratic backing billionaires such as Buffett, Bezos, and others – vs. a political novice who's upended a system that he said was "rigged" against the "forgotten men and women of America," and small businesses.
With news media largely polarized along left-and-right wing lines, it has become more difficult for busy citizens to discern the difference between spin, political narratives, talking points – and outright lies – from the truth. Respect and trust in media has slipped more as a result.
Business and investment success are predicated in part on certainty. When regulatory, tax and other policies are supportive of a pro-growth business atmosphere, then businesses can prosper, and so too their workers.
With minority unemployment at or near historic lows, with wages rising faster than they have in some time, the 45th president's economic agenda – which was based on proven principles that presidents like Democrat John F. Kennedy and Republican Ronald Reagan have demonstrated works – could prove to be a boon for POTUS Trump, and those who are seen as siding with him in the upcoming mid-terms.
Discernment of fact-from-spin-and-fiction is a key.
Today's Economic-Political-Analytical News Wrap
MHProNews will strive to provide that service of time-saving discernment for the Industry's professionals, investors, and other readers.
There is no predicting at this point what 2018 elections may bring, but the same voices that predicted that candidate Trump had very little chance – and were proven wrong – are often the same voices that have for over a year spotlighted every real or perceived flaw as if it was an impeachable offense.
That's arguably bad for business, and bad for investors.  That means the midterms could be good or bad for the majority of professionals in manufactured housing.
So long as the Trump Administration sticks to sound policy principles – compromising as on the recently bloated budget deal where they must – American business could be poised for the resurgence that will prove useful for investors and businesses in HUD Code manufactured housing.
The looming battle for the tiny-today, but poised for serious growth manufactured home industry, is part of the high-stakes power player matchup noted above.  Propaganda has and will flow.  The hinge could be, will enough Americans – including industry professionals – see through the smoke screens to side with the plan that is already working for millions?
Time alone will tell, but we'll be there to report it all for you.  "We Provide, You Decide." © ## (News, linked context, analysis, and commentary.)
NOTICE:
Another new story is developing as a result of a news tip from a dedicated industry pro has come in.  Got a tip?  We give credit, or keep your name off-the-record, as needed.
(Image credits are as shown above, and when provided by third parties, are shared under fair use guidelines.)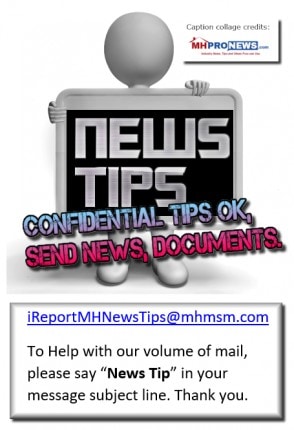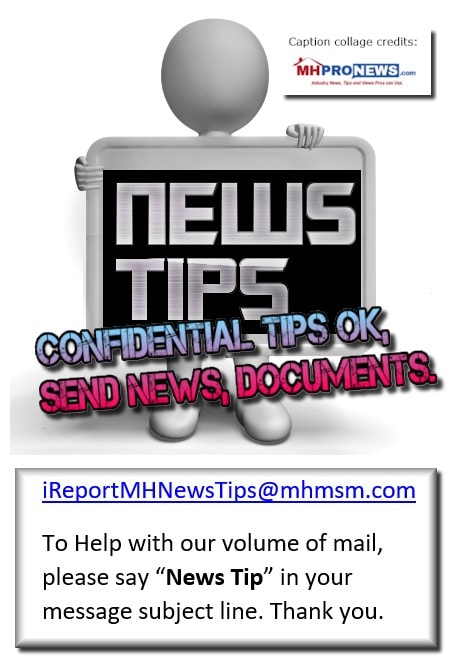 Thousands "Get It." Sign Up Today! Click here to sign up in 5 seconds for the manufactured home industry's leading – and still growing – emailed headline news updates. You'll see in the first issue or two why big, medium and 'mom-and-pop' professionals are reading them by the thousands. These are typically delivered twice weekly to your in box.
Follow us on Twitter:
ManufacturedHomes
@mhmsmcom

Submitted by Soheyla Kovach to the Daily Business News for MHProNews.com.
Soheyla is a managing member of LifeStyle Factory Homes, LLC, the parent company to MHProNews, and MHLivingNews.com.