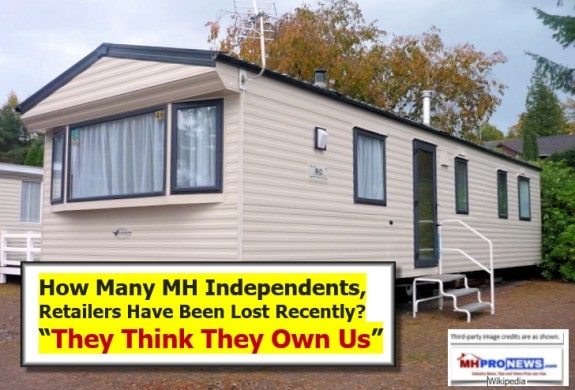 "I've always believed MHI does the bidding of the big manufacturers and now REIT communities," said an email from a state association leader with ties to the Manufactured Housing Institute (MHI) to the Daily Business News.
It was a comment sent in connection to a forwarded news tip from another state association.  That message and related commentary about it from the Department of Housing and Urban Development (HUD) – in reaction to the message – will be the focus of a report planned for Thursday, 2.15.2018.
"The answer is for the states to rebel [against MHI]," said the same state association source. "But they [other states, beyond those that have already quit] won't for reasons I've only lately understood."
That reason? The association leader explained.
"Why does Clayton [Homes] dominate many state association? Attrition. The decline in independent retailers who used to dominate the states.  AZ has lost 60% of their retailers since….wait for it…2011."
The message went on with more details to MHProNews, that if published may reveal the source.
Another Source Comments
 A state association with close ties to Clayton and MHI sent a message out to a number of board members.
One (or more…) sources connected to that board forwarded the message onto MHProNews, as news tips.
That's what the source above was reacting to, with the comments published above.  When another independent industry operation from yet another state was shown the message, and asked to react, that company president said to MHProNews, "They think they own us."
Industry readers are reminded of what the Atlantic and IBISWorld predicted in 2011.  Note what took place in the state mentioned above since that date? A reported 60 percent additional decline in independent retailers.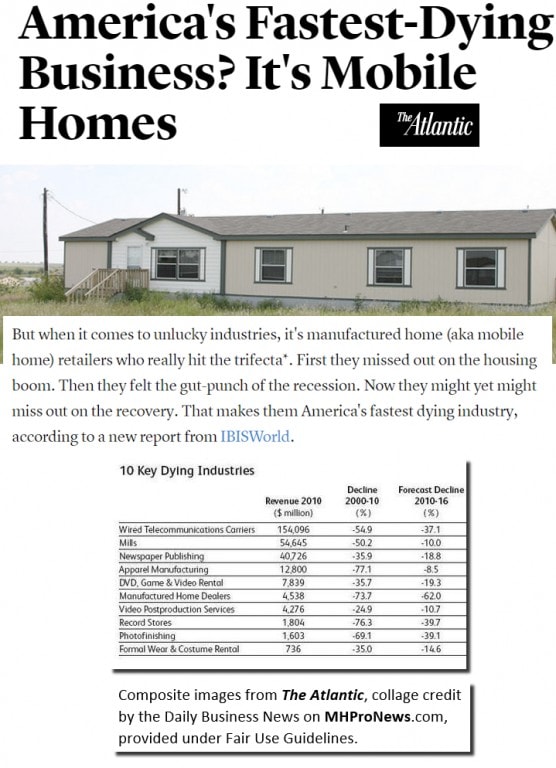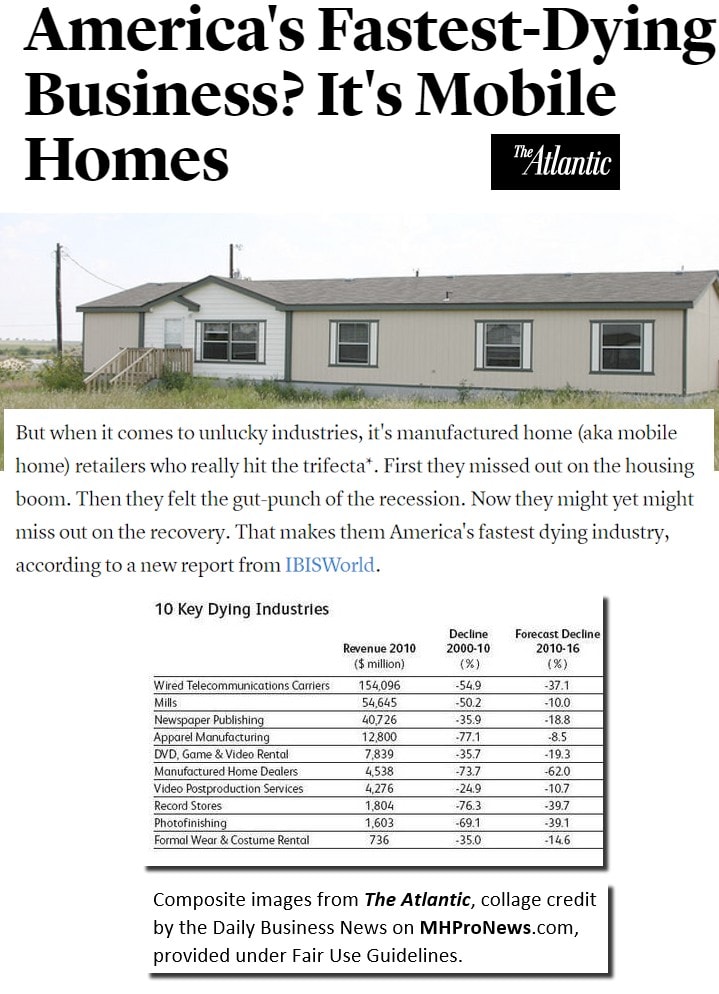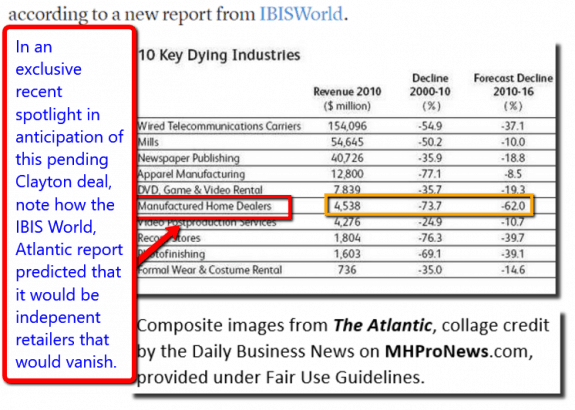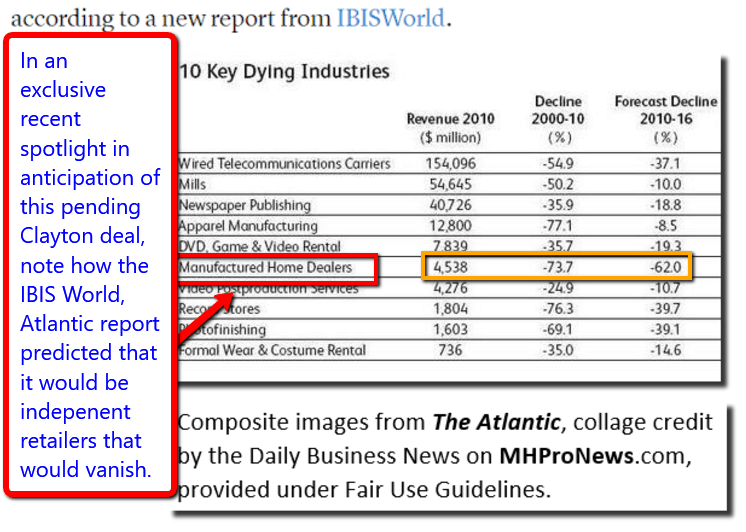 How Much for Selling Out to Clayton…?
 Industry retailers who have sold out to Clayton Homes, or have discussed a Clayton buyout have told MHProNews that the Knoxville metro based company "doesn't pay much" for their business.
"The main thing they [Clayton] do for you is if you stay and manage the sales center for them, you'll sell more homes with VMF's [Vanderbilt] lending.  They show you how VMF buys deals that 21st [both owned by Berkshire Hathaway] won't."
Zero Down Payment – not Land in Lieu – Manufactured Home Chattel Lending Program
That's a complaint reported on previously by the Daily Business News, as the report linked above reflects.
"Lost Dealers," Means Lost Independent Production Companies
 MHProNews  previously reported an MHI document, shown below, which reveals how many independent producers have been "consolidated" since 2011.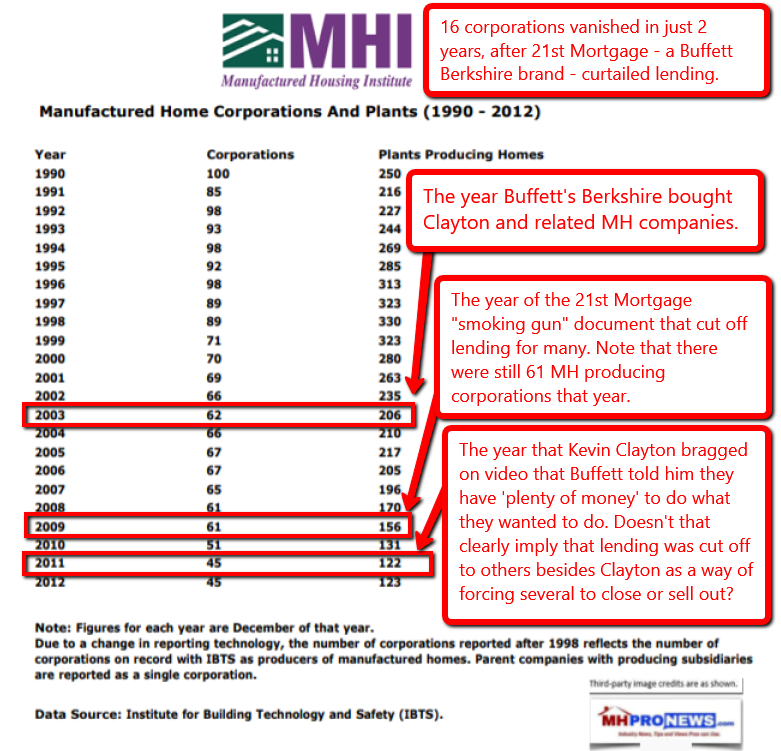 Notice that the number of production centers has held pretty steady for the years the statistics reflect, but the number of independently owned producers are 1/3 lower during that same timeframe.
Some independents believe if "the Feds" or other legal action don't step in with an anti-trust action against Berkshire Hathaway, even more companies will be lost in the near term.
Lawsuits for Triple Damages – Anti-Trust, Anti-Monopoly Law, Manufactured Housing, and You
One of several points missed by the recent Urban Institute report on why manufactured housing isn't doing better is precisely because there are fewer independent retailers, and producers than even a few years ago.
Former Clayton manager Ken Corbin called it the "10,000 [retailer] drop."
Ken Corbin "the 10,000 Drop," points to Industry Woe, Causes of Manufactured Housing's 10 & 20 Year Collapse?
As an independent told MHProNews today, he knew many independents that closed or sold out for "nickels on the dollar," adding three words. "Tragic, and heartless."
"We Provide, You Decide." ©  ## (News, analysis, and linked commentary.)
NOTICE:  Watch for a Special Report on HUD's reaction to Claims Attributed to the Manufactured Housing Institute (MHI) , planned for Tomorrow, 2.15.2018.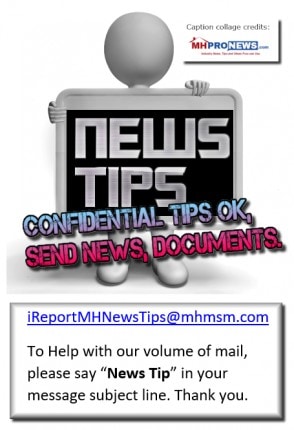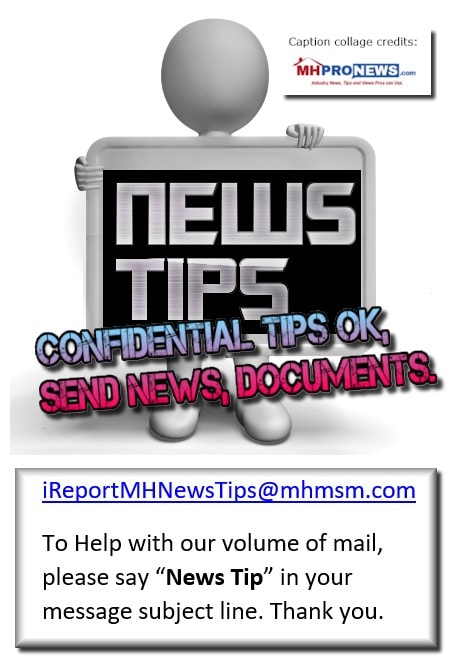 Thousands "Get It." Sign Up Today! Click here to sign up in 5 seconds for the manufactured home industry's leading – and still growing – emailed headline news updates. You'll see in the first issue or two why big, medium and 'mom-and-pop' professionals are reading them by the thousands. These are typically delivered twice weekly to your in box.
Follow us on Twitter:
ManufacturedHomes
@mhmsmcom

Submitted by Soheyla Kovach to the Daily Business News for MHProNews.com.
Soheyla is a managing member of LifeStyle Factory Homes, LLC, the parent company to MHProNews, and MHLivingNews.com.