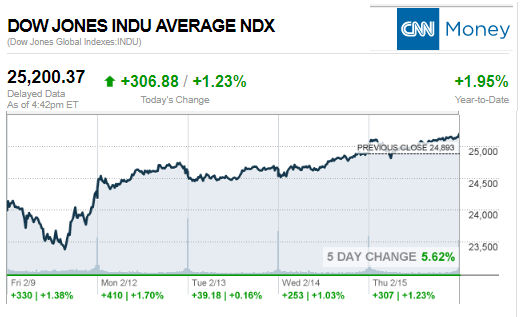 Monopolies – a.k.a. 'trusts,' from where the term 'anti-trust' laws originates – have long been a problem in the U.S., says the executive and professor who is featured in tonight's spotlight report, further below.
If you're new, already hooked on our new spotlight feature – or are ready to get the MH professional fever – our headline reports are found further below, just beyond the Manufactured Housing Composite Value for today.
The evolving Daily Business News market report sets the manufactured home industry's stocks in the broader context of the overall markets.
Part of this unique feature provides headlines – from both sides of the left-right media divide – that saves readers time, while underscoring topics that may be moving investors, which in turn move the markets.
Readers say this is also a useful quick-review tool that saves researchers time in getting a handle of the manufactured housing industry, through the lens of publicly-traded stocks connected with the manufactured home industry.
MH "Industry News, Tips and Views, Pros Can Use." ©
Selected headlines and bullets from CNN Money:
Painkiller that once cost $138 is now $2,979
The U.S. still has no idea how many Puerto Ricans are out of work
Richard Branson: Universal basic income is coming
Bodies on the classroom floor: Cell phone videos take us inside a massacre
Far-right fumes at FBI in aftermath of Florida shooting
The case for canceling all student debt
Radio host fired for sexual comments about Olympian Chloe Kim
Billionaire diamond dealer suspected of huge bank fraud
Here's what Oprah and her confidants are saying about 2020
Kimmel writer slams senators' 'prayers' for Florida shooting
Dubai space center is joining the race to Mars
Sears to post a surprise profit thanks to tax reform
Should I use my savings to pay off credit card debt?
How Taco Bell's ex-CEO can clean up Chipotle's mess
Amazon is adding 2,000 jobs in France
The U.S. still has no idea how many Puerto Ricans are out of work
The crucial role male mentors can play in the #MeToo era
These states want to import cheaper drugs from Canada
McDonald's is taking cheeseburgers out of the Happy Meal
Cisco: We're moving our $67 billion cash pile to the U.S.
Selected headlines and bullets from Fox Business:
Dow returns to 25,000 as stocks mount rally
Gun makers protected by 2005 law limiting liability
Buffett buys Teva stake: How much upside expected?
Fannie Mae to seek $3.7B cash infusion from US taxpayers
Cisco repatriating $67B, boosting share buyback program
CBS profit drops 85% on tax charge
Romney's Utah Senate bid team includes hedge fund allies
Billionaire Trump supporter Peter Thiel heading for Los Angeles
Biotech breakthrough: Placenta said to make 100 the new 60
Ex-NFL player on Florida shooting: Get God back in our schools
Amazon's Jeff Bezos needs to stick to his knitting: Dennis Gartman
IRS says thieves are stealing refunds from taxpayers
Dollar Tree: Nikolas Cruz, Florida shooting suspect, worked at Parkland store
Tax reform in US 'hinders' Puerto Rico recovery: Gov. Rossello
ICYMI – for those not familiar with the "Full Measure," 'left-right' media chart, please click here. 
Reports, Reflections on Media Tilt, Bias, Ignorance, and Manufactured Housing
Today's markets and stocks, at the closing bell…
S&P 500 2,731.20 +32.57(+1.21%)
Dow 30 25,200.37 +306.88(+1.23%)
Nasdaq 7,256.43 +112.81(+1.58%)
Russell 2000 1,537.20 +15.10(+0.99%)
Crude Oil 61.42 +0.82(+1.35%)
Gold 1,356.00 -2.00(-0.15%)
Silver 16.83 -0.04(-0.25%)
EUR/USD 1.2501 +0.0047(+0.37%)
10-Yr Bond 2.891 -0.022(-0.76%)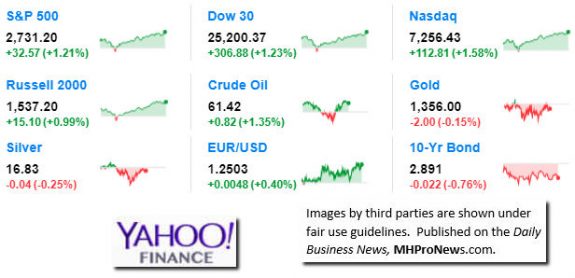 Manufactured Housing Composite Value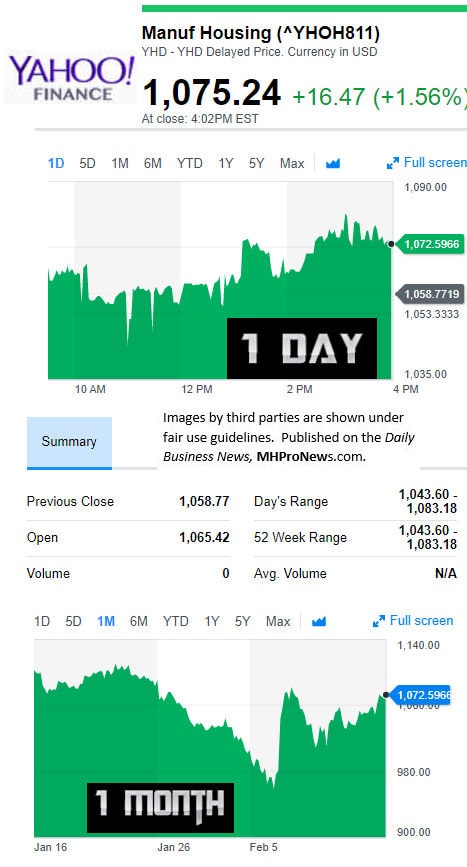 Today's Big Movers
For all the scores and highlights on tracked manufactured home connected stocks today, see the Bloomberg graphic, posted below.
Today's MH Market Spotlight Report –
'It's about Oxygenating the Market Place Again'
 As the Daily Business News has been reporting for over a year (+/-), the issue of monopolies has become part of the background efforts of the new Trump Administration, in its proclaimed objective of reviving the American Dream, and put the interests of American workers, and the American people first.
President Raises the M-Word, "Monopoly," Plus Manufactured Housing Industry Market Update$
Tech exec and investor Roger McNamee named the same point that MHProNews spotlighted last month as an example of just how powerful the tech giants, have become.
That example which McNamee cited, is linked below.
Buffett, Bezos – Time Announcement to Drop Market Ahead of SOTU? Plus MH Market Update$
Tech investor Roger McNamee and NYU Stern School of Business professor Scott Galloway have been arguing for the regulation of big tech.
Companies such as Google, Amazon and Facebook now concentrate power and stifle innovation, they say.
The two said monopoly concentration is an age-old problem for the U.S.
McNamee told CNBC that,
"I would like Google to be broken up into eight or 10 different monopolies."
McNamee suggested Amazon be split into three or four companies and Facebook be separated from Instagram.
"These companies have run unchecked for a very long time," McNamee said. "The unchecked power produces really bad outcomes."
While Buffett was not named by the two on CNBC, arguably, the same principles that apply to the tech giants apply to the manufactured housing industry, and the influence of Buffett.
Warren Buffett's Political Payoff$, THIPS, and Manufactured Housing
Consider the following quotes and points, just some of the takeaways from the video.
McNamee and Scott Galloway, a New York University Stern School of Business professor, have long been arguing for the breakup of big tech.
Monopolies such as Google, Amazon and Facebook concentrate capital and power and stifle innovation, they say.
"

If one company becomes so powerful, it can deny the mother's milk of business, which is capital,

" Galloway told CNBC. "New business formation has been halved in the last 40 years. Two-thirds of the stocks have gone away. And it's harder to build a middle class."
That's precisely the point that MHProNews has made time and again, examples linked below.
GSE's Duty to Serve MH Rigged, Benefits 21st, VMF, Clayton, Buffett's Berkshire, Harming Consumers & Independents, per MH CEO, Calls for Congressional Investigation
Killing Off 100s of Independent Manufactured Home Retailers, Production Companies – Tim Williams/21st Mortgage "Smoking Gun" Document 2
Duty To Serve, "Complete Waste of Time" per Tim Williams, CEO/21st Mortgage; POTUS Trump, Warren Buffett Insight$
"It's an age-old problem for the United States. Standard Oil and banks formed monopolies long before Silicon Valley — and the federal government ultimately broke them up or restrained their power," said CNBC, citing their guests in the video.
Lawsuits for Triple Damages – Anti-Trust, Anti-Monopoly Law, Manufactured Housing, and You
"The mission of America used to be to create tens of millions of millionaires. If you played by the rules and you saved money, you could become a millionaire," Galloway said. He added, somewhat lounge in cheek, that "It appears with our policy around letting these guys go unchecked that we've decided our new goal as a society is to collectively crown the first trillionaire."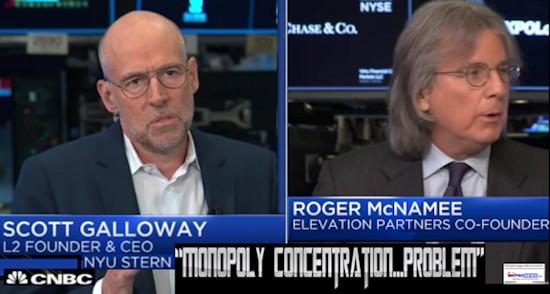 See Recent Exclusive 1 Year Snapshot of All Tracked Stocks
Profitable Insight$ – POTU$ Trump Effect on MH Stock$ at 1 Year, Part 4
Suppliers LPX, Patrick, Manufactured Home Builders Nobility, Skyline Homes – the Trump Effect on MH Stocks, Markets Part 3
Trump Effect – 1 Year Election Impact on Manufactured Housing Connected Stocks, Part 2
Just the Facts – Trump Effect on Manufactured Home Connected Stocks, Part 1
NOTE: The chart below includes the Canadian stock, ECN, which purchased Triad Financial Services.
NOTE: The chart below covers a number of stocks NOT reflected in the Yahoo MHCV, shown above.
NOTE: Drew changed its name and trading symbol at the end of 2016 to Lippert (LCII).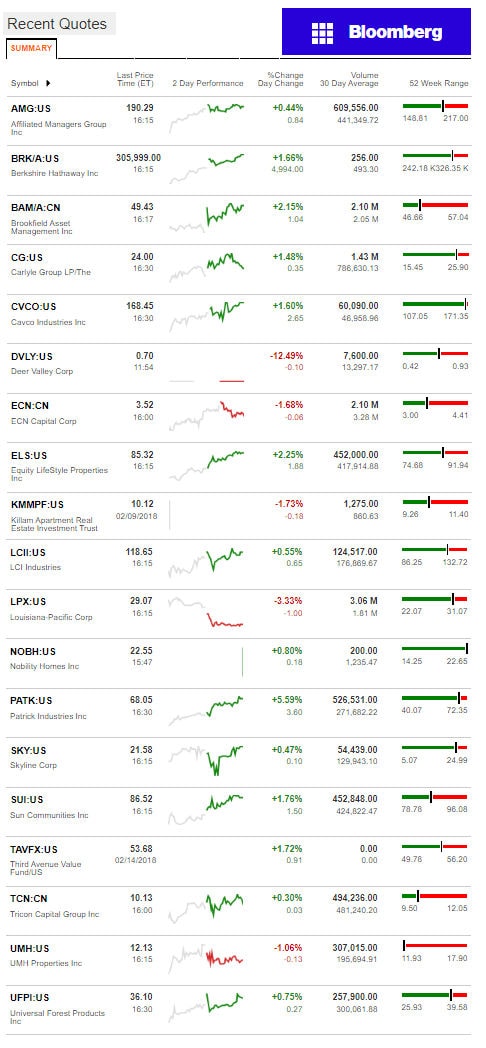 Berkshire Hathaway is the parent company to Clayton Homes, 21st Mortgage, Vanderbilt Mortgage and other factory built housing industry suppliers.
LCI Industries, Patrick, UFPI and LP all supply manufactured housing.
AMG, CG and TAVFX have investments in manufactured housing related businesses.
Your link to a recent round of industry praise for our coverage, is found here.
For the examples of our kudos linked above…plus well over 1,000 positive, public comments, we say – "Thank You for your vote of confidence."
"We Provide, You Decide." © ## (News, Analysis.)
(Image credits are as shown above, and when provided by third parties, are shared under fair use guidelines.)

Submitted by Soheyla Kovach to the Daily Business News for MHProNews.com.