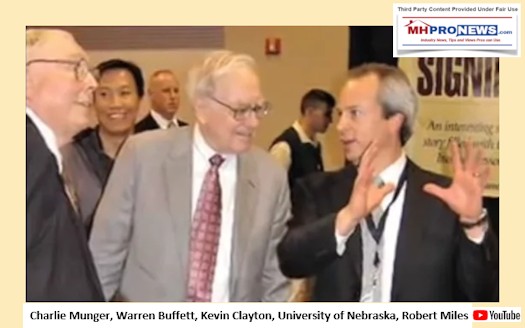 Let's be plain spoken.
This video could be an eye opener for any long-term player considering all the reasons why manufactured housing is poised to boom. Clayton and Buffett apparently believe that to be true.
So there are 'good news,' and big opportunities aspects to this video interview, for the savvy, disciplined and motivated professional.
But there are arguably also darker elements to this same video interview.  The video is near the end of this post, and what follows are related infomation that will clarify why this video interview with Kevin Clayton is so eye-opening.
Clayton Homes, and sister operations such as 21st Mortgage and Vanderbilt Mortgage, have been accused of chocking off lending that killed off manufactured home competitors.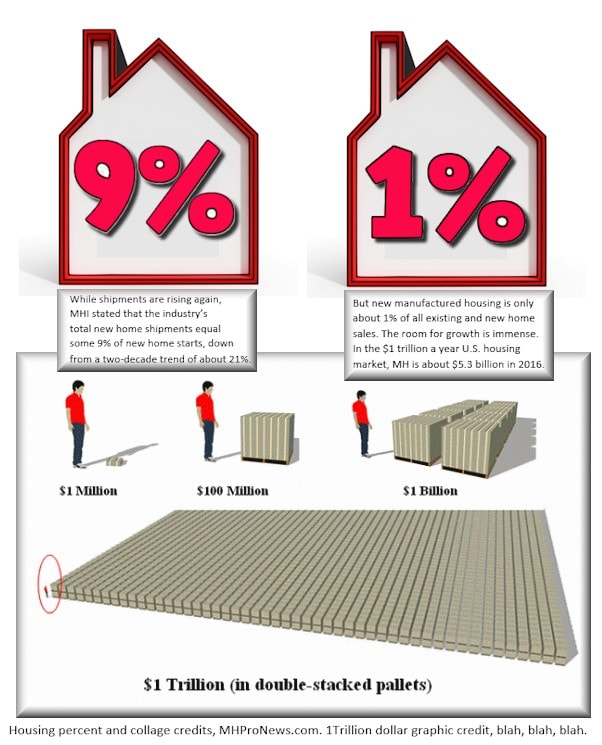 To rephrase, Clayton's been accused of shrewd, monopolistic and other problematic practices that will yield them untold billions in the long run.  Is that fair or true?
This video will help some understand, and thus answer those questions and allegations, the opportunities and the implications.
You can skip to the video, near the end of this post, or
you can read the commentary, which provides viewing tips, and related links, documents, and information.  "We Provide, You Decide."   ©
Prediction? For those who grasp what this video interview with Kevin Clayton and the related research, such as the links posted below, means — it's a bombshell in the manufactured home, and broader housing industry.
Bombshell Video Viewing Tips
One of the several ways of viewing this nearly hour long video interview of Kevin Clayton, CEO of Clayton Homes is through the lens of those opportunities, and those accusations.
Why?
Because Kevin Clayton and apparently pro-Buffett, pro-Berkshire Hathaway author Bob Miles are freely discussing the ways that Buffett,
using Clayton,
long-term thinking,
the power of capital and financing,
and his "Moat" strategies to dominate the industry.
Others with deep pockets could view this, and decide how the problematic parts are avoided of their plans, but how billions of dollars in opportunities are tapped.
Independents need to consider what this means to them, too.  Because the case can be made that those independents are the targets of Clayton and the 'big boys.'
Warren Buffett, "the Moat," Manufactured Housing, Berkshire Hathaway, Clayton Homes, 21st Mortgage, Vanderbilt, Wells Fargo, NAI…
Interviewer Miles asks, and Kevin answers very plainly, about the two types of competition Warren Buffett hates.
Those 2 answers are revealing.
They are important to literally everyone in the industry.
Clayton touts how brilliant Buffett is.  Kevin says that through Buffett's contacts and "professorial" research, and how intimately "Warren" understands the industries he is interested in.
The Open Plan to Dominate, and How to Drive Out Competitors?
So, if you wanted to dominate an industry – which they make plain in this video is part of their goal – why not dominate in part through
a combination of heavy regulations, often from the federal government,
and control of the Manufactured Housing Institute (MHI)?
There are already launched, Congressional, legal, non-profit, and other industry sources investigating Clayton and their sister units in Berkshire Hathaway.
By extension, the Manufactured Housing Institute (MHI) which they dominate is also being scrutinized.
How does Buffett/Berkshire/Clayton dominate MHI? Through dues, their executive committee structure, and via their moat influences.
Manufactured Housing Institute, MHI Gives Written Responses, "Part of a Rigged, Corrupt System",
We plan to return to this video several times.  One of the reasons will be in light of new documents that we have obtained from MHI. Watch for that upcoming Daily Business News report, which names names, and will literally let you follow the money trail.
The Kevin Clayton video interview itself is rather relaxed.  In doing our requirements as the industry's trade media under fair use legal guidelines, we've provided notes and references within the video itself.
There's nothing else quite like this in manufactured housing that we know of at this time.
For those who've been harmed by choking off credit, this video and the Smoking Gun documents/reports are must read/must viewing.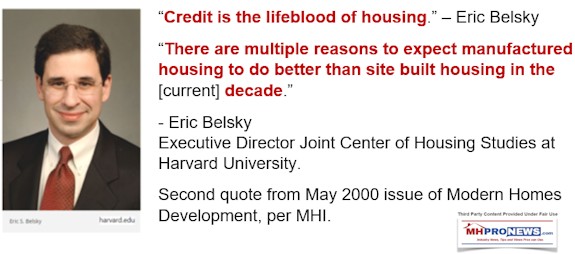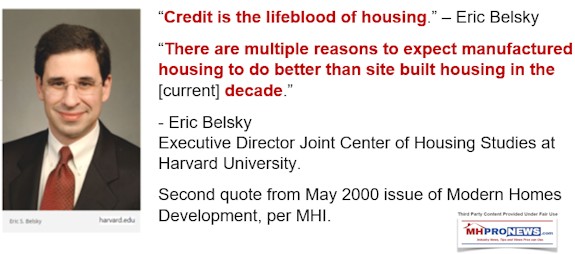 The case is made by Clayton himself, in his own words, how vital credit is.  Clayton said himself, how choking off credit pushed them into bankruptcy, some years ago.  They vowed never to let that happen again.
But what other lessons did that teach? How are those lessons being applied?
Choking credit off has also been a killer for hundreds of firms and thousands of locations that would either close, or be forced to 'consolidate' – sell off – to larger firms.
Killing Off 100s of Independent Manufactured Home Retailers, Production Companies – Tim Williams/21st Mortgage "Smoking Gun" Document 2
As noted, any thoughtful investor ought to look at this.
Why?  Because it's a road map for the kind of long-term strategy that has allowed Berkshire Hathaway to dominate the industry.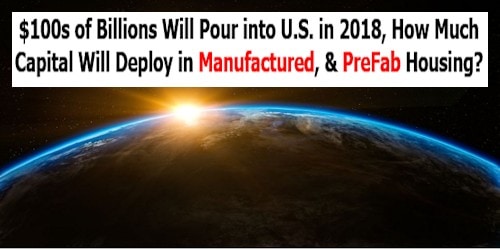 If you are – or know – an independent that has been forced out of the industry due to financing (or a lack of it), then this video is must viewing.  Please consider sharing it.
GSE's Duty to Serve MH Rigged, Benefits 21st, VMF, Clayton, Buffett's Berkshire, Harming Consumers & Independents, per MH CEO, Calls for Congressional Investigation
Unless you are an MHI insider company, isn't this a wake up call for you?
Why would you pay MHI membership dues, once you understand that they are an extension of the Clayton/Berkshire/Buffett moat plan?
Why would you trust anything that MHI has to say – without a load of salt – once you understand this video and these reports?
'We Want Your Money' – 2018 MHI Membership, Infographic Fact Check
Broad Brush Topics Covered by the Kevin Clayton Video Interview, Below
Kevin speaks about some of the things one might expect in an in-depth, nearly one hour, video discussion.  
These include, but aren't limited to:
> Faith, family, and leading a balanced life.
> Leadership, and management styles.
> Company history, including quite a bit about his father and the company's entrepreneurial founder, Jim Clayton.
http://www.mhpronews.com/featured-articles/january-2018/a-cup-of-coffee-with-jim-clayton-part-ii
That said, this video further below with Kevin should be of keen interest to:
manufactured housing industry pros,

Clayton employees,

competitors,

independent Clayton retailers and communities,

investors, and fund managers,

elected officials,

regulators,

attorneys,

associations,

other news media,

and to the public at large. 
What specifically should be underscored are the following 'hot topic' elements of Kevin's interview.  They include, but aren't limited to:
Working with Warren Buffett,

what Kevin says near the end about the 'ugly' legal battle Chairmen Buffett led Berkshire Hathaway engaged in to get Clayton Homes away from rival buyers,

the importance and value of having no capital worries,

how much of the profit from Clayton's five interlaced 'vertically connected' units is actually derived from financing,

why Berkshire classification of their firm is under financial services, rather than some other category – such as 'housing,'

the value that 'professorial' and studious Buffett's long-term planning gives Clayton, relative to competition,

significant insights on industry quality, durability, an a planned image campaign vs. the stigma, and much more.
What couldn't be missed is how often Kevin uses "the Moat" term. Clearly, its a central tenant of their operation, as he himself said.
Field Reports – Clayton to Continue Push for Industry Dominance
Kevin stresses "the Moat" numerous times, in and in several different ways.
Clayton strated that competition and "the moat," are among the few key messages Buffett drives home with Clayton, and other Berkshire CEOs. 
Once someone understands that background to the moat, how can they construe the words to be anything but monopolistic?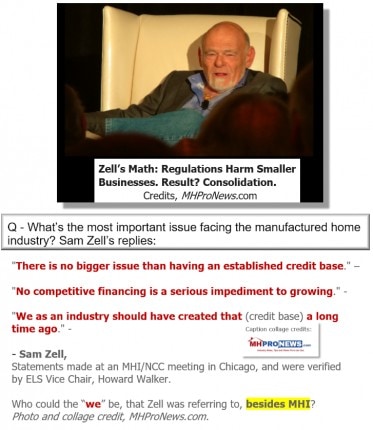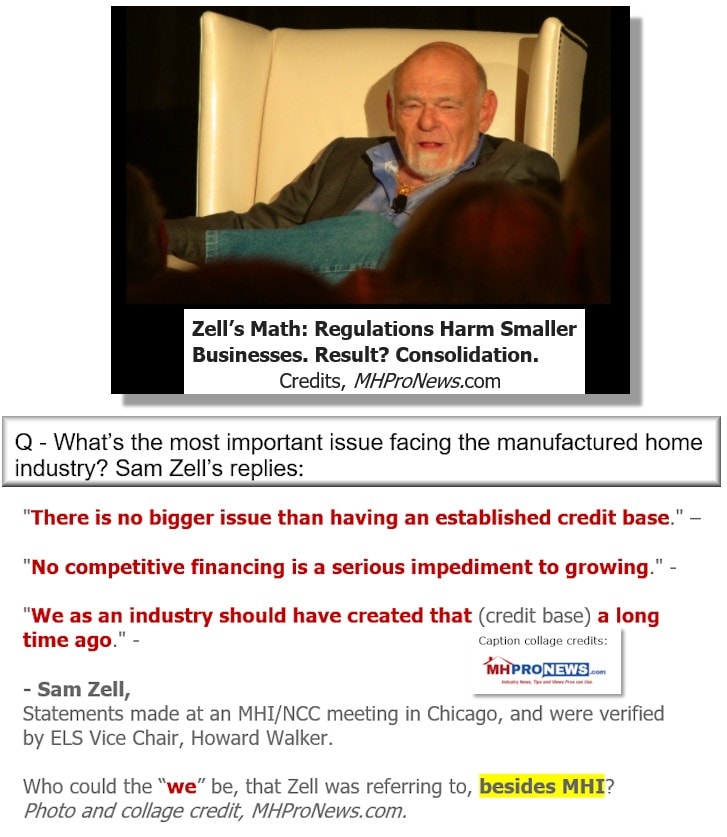 Doesn't this explain why Clayton/Berkshire dominated MHI is loath to debate and discuss key issues?
Manufactured Housing Institute (MHI) SVP Rick Robinson Ducks Serious Industry Questions in Deadwood
Democratic and GOP forces will find this of interest, for their own reasons.
Maxine Waters Statement, Preserving Access Manufactured Housing Act 2017, Warren Buffett, Clayton Homes
President Raises the M-Word, "Monopoly," Plus Manufactured Housing Industry Market Update$
There are several points where Kevin confirms in his own words various reports made by MHProNews, and/or by the Manufactured Housing Association for Regulatory Reform (MHARR).
While most of Kevin and/or Miles' dialogue and statements hang together, there are few forward looking or other statements that don't seem to have proven accurate. 
Among those is a statement by Kevin – watch the video for his precise wording – that independent retailers would always be a lion's share of their sales. 
In fact, since the original version of this video was posted, the projections made by IBISWorld and The Atlantic magazine are apparently bearing out, not Kevin's claim. 
It's no secret. 
The big boys plan to dominate, recall the recent report, shown below.  Editorially, we don't think it has to be this way, but there are clearly those who want it this way.


Clayton's 'vertically integrated' operations – combined with regulatory over-reach, and a credit crunch – could drive the independently owned businesses out. Isn't that what happened?
With the understanding of the leverage they gained by choking off lending, via their two 'smoking gun' documents from 21st Mortgage linked above, is it any wonder that so many businesses failed or sold out since 2010?  Are you or is someone you know among them?
Kevin and the interviewer chuckle over the two types of competition Warren dislikes, foreign and domestic. 
Ken Corbin "the 10,000 Drop," points to Industry Woe, Causes of Manufactured Housing's 10 & 20 Year Collapse?
In fact, the reports published by MHProNews are brought to life by Kevin himself, in his own words.
"Perverse"–Warren Buffett-Dodd-Frank, CFPB, Manufactured Housing, Loans, Independent Businesses Fact Check$
The links above and below are just some of the reasons why this video will likely be reviewed and referenced for years to come. It will be viewed by friends of Clayton/Buffett/Berkshire/MHI, and those who oppose them. 
Will be viewed by those who may want to seek legal compensation for being wronged? 
Lawsuits for Triple Damages – Anti-Trust, Anti-Monopoly Law, Manufactured Housing, and You
The Genius of Buffett, Explained by Kevin Clayton
For example, Kevin stresses how deep the genius, information, connections and insights Buffett has. 
Won't that makes one think about their widely acknowledged dominance – via dues and the executive committee structure – of the Manufactured Housing Institute?  If they are such genius, then why has it taken so long to get Preserving Access passed, unless passage fast, slow or never was part of their genius plan? 
Manufactured Housing Institute VP Revealed Important Truths on MHI's Lobbying, Agenda
As another example, what about the Duty to Serve Manufactured Housing by the Government Sponsored Enterprises (GSEs)?  When Kevin stresses their high profits from finance, why would Clayton dominated MHI allow DTS to advance into chattel a rapid, or meaningful way? Doesn't that help explain why Tim Williams and his counterpart and Vanderbilt weren't transparent with their data with the GSEs?
Duty To Serve, "Complete Waste of Time" per Tim Williams, CEO/21st Mortgage; POTUS Trump, Warren Buffett Insight$
In keeping with fair use guidelines – as noted – several spotlights and text commentary has been added. But no edits or changes have been made to the words spoken by either man in this interview.
Rather, several key or interesting points Kevin and/or Bob Miles, the author of the Warren Buffett CEO makes, are enhanced without changing their words.
Theoe will help other researchers, including media, and those engaged in legal or regulatory oversight, to better grasp just what Kevin's or Miles' words mean.
ELS' Sam Zell – Compliance Costs Destroys Smaller Businesses = Consolidation
The video interview, combined with the linked reports, are strong example of the truth hiding in plain sight. 
There was no rush for Clayton, 21st, or VMF to get Preserving Access done. Who says?  Isn't that part of what's implied in their long term strategy comments? Isn't that the value of not having to make a profit for years, as Kevin says during the interview?
"Accurate, but Misleading" MHI Preserving Access to Manufactured Housing Act Alert – 'Weaponized New$,' Fact Check$
Using his own words, since this video was produced, Clayton homes share of manufactured housing has roughly doubled.
There was 'no bones' made during the interview about using every competitive advantage – hear in his own words as to how that is said – so they could to grow and beat their rivals.  But are there methods legitimate, and legal?  Has MHI become a protection racket?
MHARR's recently published concerns over the new class of manufactured housing recently announced ought to be carefully considered in the light of Kevin touting just how good the product already was then. Why the need for a new class of manufactured home? Is it as another cudgel to wield against competition? 
Regulations are barely mentioned.
Doesn't that lack of concern speak volumes? Again, isn't that fitting with the allegations, documents and reports previously reported?
The 'Smoking Gun 2' and it's related previous and another document-included 21st Mortgage Report need to be carefully studied. Why? Because if Buffett had all that cash to do whatever Kevin wanted. Can't the case be made that the purpose for curtailing financing for others was just as alleged?
To drive hundreds of companies out of business, or forced to sell out for less than their potential value. These are companies that may have otherwise been sustained. 
When the Buffett connections allows the regulatory foot comes off the brakes, do they expect to have clear sailing to dominate, not just manufactured housing, but all housing?
Time Travelers, and the Future of American Homes
Kevin hammers on the affordable home crisis. How manufactured homes are the future, much as Alan Amy said in the video interview with MHLivingNews. 
NAR's Yun – No Quick Fixes Spell$ Manufactured Housing Opportunitie$
What drew no complaints or comments was Dodd-Frank, the CFPB, or any regulatory issue that are heard in association meetings. Why not?  Could it be just as MHProNews, MHARR or others have long stressed?
It's a big interview.
It's historic insights. 
It could lead to serious changes, and potential investigations, and cases.
When couple led with an upcoming report about what Richard "Dick" Jennison and new MHI documented materials that is soon to be published, those that have been on the fence over MHI's lack of success in advancing the industry's cause ought to have all they need…
…when Kevin Clayton says several of the same allegations and concerns, in said in his own words, that MHProNews, MHLivingNews, industry members, and MHARR have pointed out. 
The truth has been hiding in plain sight as to why the industry hasn't already taken off.  
For example, why did MHI start moving away from land-home promotion?  When the brochure below was published – pre-Berkshire Hathaway ownership of Clayton, longer term loans were promoted.  Today, why are chattel loans are 80 percent of all financing on manufactured homes?  Is it because so much of Clayton's/Berkshire's revenue flows from it?
Appealing Manufactured Housing Institute (MHI) Marketing, Finance Booklet Reviewed
Kevin Clayton and Bob Miles talk, joke, brag, glow and occasionally laugh about the power that Buffett's Berkshire provides Clayton Homes, and their brands.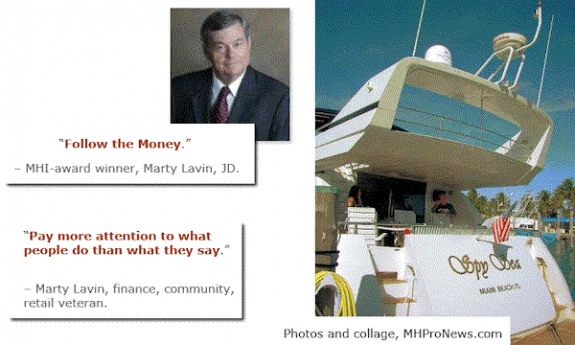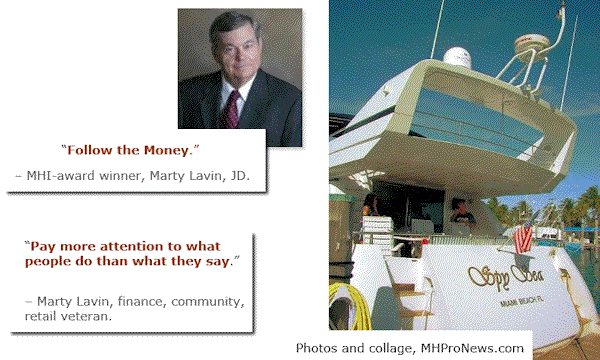 It's your money. MHI wants it. 
'We Want Your Money' – 2018 MHI Membership, Infographic Fact Check
Won't MHI use it to support the Clayton/21st/VMF/Berkshire Hathaway "moat" over your interests?   
Here's the video.
"We Provide, You Decide." © ## (News, analysis, commentary.) 
(Note, all third party images are shown under fair use guidelines.)
Ready to fight back?  Services Link – Click here.