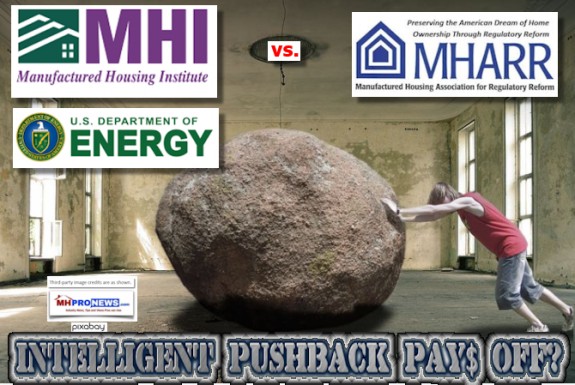 Washington, D.C. – "The proposed rule to implement manufactured housing "energy" standards, published by the U.S. Department of Energy (DOE) on June 17, 2016 and consistently opposed by the Manufactured Housing Association for Regulatory Reform (MHARR) in every phase of its development – the only national manufactured housing industry trade organization to do so – has been downgraded to the status of an "inactive" rulemaking in the latest update of the Federal Semiannual Regulatory Agenda (SRA), released on December 14, 2017," MHARR told the Daily Business News via a release.
"The proposed rule, which emerged from a tainted, illegitimate and scandalous "negotiated" rulemaking process at DOE, and would have added $6,000.00 or more to the retail cost of a new double-section HUD Code manufactured home, was initially downgraded to a "long-term" regulatory action by the Trump Administration in the Spring 2017 SRA, meaning that a final rule would not be published for at least 12 months following the publication of that SRA," said the MHARR release.
"Its re-designation now, to "inactive" status, means, at a minimum, that the rulemaking has been removed from any active development or timeframe and could indicate that the proposed rule will ultimately be withdrawn by DOE in its current form," the Washington, D.C. based trade association stated.
Regular Daily Business News readers may recall the documented "flip-flop" of the Manufactured Housing Institute (MHI) on the now-stalled energy rule, see the previous report, linked below.
Manufactured Housing Institute (MHI) Shifts on DOE Regulatory Rule, Report, Analysis
MHI was initially promoting the DOE Rule, and did so for some time, before their pivot.  Per the NAHB's "Priced Out" study data, that could have cut over a million potential buyers out of the manufactured home market, and the potential for home ownership.
NAHB Report – High Cost of Regulations Impact Housing – and Manufactured Housing
Because consumers can already order Energy Star™ or upgraded energy-saving homes, what the DOE rule did was limit consumer choices, besides the potential loss of ownership opportunities.  Thus, the proposed DOE rule harmed consumers, as well as the retailers, communities, lenders, insurers, and others that serve them.
How is that consistent with prior MHI Chairman Nathan Smith's call for the Arlington-based organization to be pro-active, vs. reactive?

Documented Pushback, Resistance Paying Off
Perhaps anticipating an MHI claim for a win that they didn't achieve – and for some time, worked against – MHARR points to the evidence that they the lone hold-out on the once-MHI promoted regulation.
"MHARR has been a vocal and consistent opponent of the DOE proposed "energy" rule, casting the only "no" vote against that proposal (supported in the Working Group by the Manufactured Housing Institute) as a member of the DOE Manufactured Housing Working Group. MHARR later submitted comprehensive 35-page written comments opposing the proposed rule, which extensively detailed not only its extreme cost and expected devastating impact on the manufactured housing industry and American consumers of affordable housing – likely eliminating millions of Americans from the manufactured housing market and from home ownership altogether — but also the scandalous process at DOE that led to its development and DOE's failure to fully-quantify the expected costs of the rule by omitting anticipated testing, inspection and enforcement expenses," said MHARR.
The Digital Journal documented earlier this year the next part of MHARR's efforts and contentions.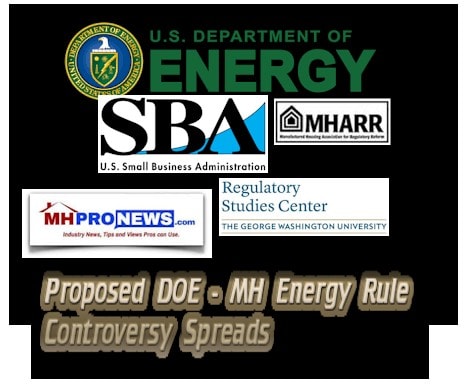 Per their statement to MHProNews, "MHARR also encouraged the U.S. Small Business Administration (SBA) to submit comments on the proposed rule, which it did, joining with MHARR in highlighting its extremely negative implications for the smaller businesses that comprise the traditional core of the manufactured housing industry.  Highly critical opposition comments – citing MHARR in part — were also filed by the George Washington University Regulatory Studies Center."
Comments Period
MHProNews documented the following for industry readers and investors last summer.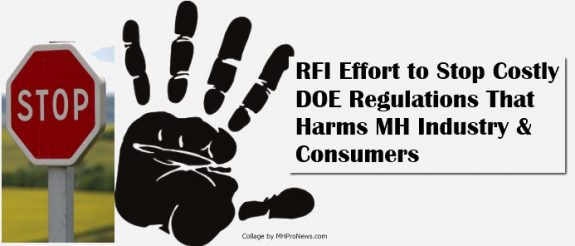 "Following the conclusion of the official regulatory comment period on the proposed rule, MHARR submitted additional written comments calling for its rejection and/or retraction based on: (1) the Trump Administration's official disavowal and rejection of the Obama Administration's "Social Cost of Carbon" (SCC) construct, which was used to inflate the alleged "benefits" of the proposed rule; (2) the Trump Administration's disavowal of the "Paris Climate Accord," which formed part of the policy basis for the proposed rule; and (3) the regulatory reform mandates set forth in Trump Administration Executive Orders (EO) 13771 and 13777," per the MHARR statement.
MHARR Reminds the Industry that this DOE Proposed Rule Battle Isn't Over, Yet…
"While not conclusive yet, the successive designation of the proposed "energy" rule as a "long term action" and now an "inactive" proceeding could indicate that the new Trump Administration leadership at DOE is cognizant of the many fatal substantive and procedural flaws inherent in the June 17, 2016 proposed rule, and will not proceed to finalize that rule as currently constituted," said MHARR.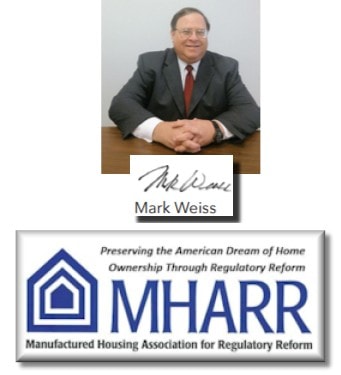 MHARR President and CEO Mark Weiss stated: "The DOE proposed manufactured housing energy rule was and is a paradigm example of destructive government regulatory overreach in the service of an ideological agenda rather than the people who the federal government was elected to serve."
Weiss continued, saying, "Indeed, as the Trump Administration seems to realize, this outrageous one-size-fits-all mandate would eliminate all of the known, recognized and significant benefits of home-ownership for millions of Americans who would be priced out of the market for the nation's most affordable homeownership resource by this needless and destructive rule.  Having gone this far, the Trump Administration should officially disavow this proposed rule and allow consumers the freedom of choice that results from free markets and robust competition."
Analysis
By way of analysis, MHARR's release seems to have several purposes.
1)    Remind readers that MHARR took a consistent, and principled, approach to the DOE Energy rule, and that it was MHI that flip-flopped.
2)    That though they have a smaller budget and staff, they lined up relevant and respeted third party supporters for their position, which is paying off.
3)    They are calling on the Trump Adminstration to complete the job by killing the rule altogether, which would be consistent with the Adminstration's stated philopophy and approach.
About MHARR
Some in the industry's commentary arena have not yet clearly stated that MHARR and MHI are two different types of organizations.
MHARR states their mission and purpose in their own words,  "The Manufactured Housing Association for Regulatory Reform is a Washington, D.C.-based national trade association representing the views and interests of independent producers of federally-regulated manufactured housing."
Meaning, MHARR is an independent production-focused organization.  Efforts like this one reflect the fact that MHARR does achieve success by using a consistent, principled, fact-based approach.  Over time on this DOE issue, they de-facto bent MHI to their will.
Pushback pays off.
By contrast, as the Daily Business News has noted on several occasions, MHI is an umbrella organization that claims to represent both production and post-production (meaning, those operations that don't build –  after-production or "post production" – manufactured home businesses, such as retailers, communities, lenders and other service providers).
The Arlington-based MHI has periodically sent what several industry members have alleged are half-truths, spin, or outright deception.  Why?
Manufactured Housing Institute Outgoing Chair Tim William's Remarks vs. MHI CEO Richard "Dick" Jennison Comments, Fact Checks
MHI's positions tend to benefit the largest members, even if they fail to achieve their stated goal, because failure leads over time to more consolidation.
"Perverse"–Warren Buffett-Dodd-Frank, CFPB, Manufactured Housing, Loans, Independent Businesses Fact Check$
The original MHARR release is linked here. "We Provide, You Decide." © ## (News, analysis, commentary.)
2 Week Notice. MHProNews will be on a somewhat modified publication schedule from now through January 2nd, resuming normal scheduling in 2018. More details, click here.
Notice 1: Looking for our emailed MH Industry headline news updates? Click here to sign up in 5 seconds. You'll see in the first issue or two why big, medium and 'mom-and-pop' professionals are reading them by the thousands, typically delivered twice weekly.
Notice 2:  Want sustainable growth?  Join the Manufactured Housing Revolution team's proven marketing and other MH Professional Services, click here.
(Image credits are as shown above, and when provided by third parties, are shared under fair use guidelines.)

Submitted by Soheyla Kovach to the Daily Business News for MHProNews.com.