"I especially want to take this opportunity to recognize our President & CEO Dick Jennison and his senior leadership team: Lesli Gooch, Mark Bowersox and Rick Robinson at MHI. Our team in Washington is highly respected," said Tim Williams, President and CEO of 21st Mortgage and the outgoing chairman of the Manufactured Housing Institute (MHI).
"They get up every day trying to find a way to make your business more profitable with less regulatory interference," Williams said.
The comments are quoted from a document created by MHI entitled, "MHI Chairman Highlights Industry Successes at Annual Meeting."
Industry sources made William's comments available to MHProNews.  Quotes shown herein by Williams will be from that document, unless otherwise noted.
MHI's Outgoing Chair Facts First, MHI's Dick Jennison's to Follow
"I think you will agree with me when I say MHI and the industry have had a successful year so far in 2017," Williams stated.
"We've brought in more members who are retailers and community owners. We added more than 418 new retailers and 79 new members to the National Communities Council during my tenure."
Sources connected with MHI provided some context to Williams' remarks, by sending data obtained from Richard "Dick" Jennison.
Per sources, MHI changed its dues structure about two years ago, in an attempt to ramp up membership numbers.  Almost immediately after that rate change, Jennison reported some 350 new retail members (see below).  The indications were that the bulk of those new members were Clayton retail locations.
When asked by MHProNews to identify the breakdown of how many of those retailers were Clayton or other vertically integrated retailers, Jennison ducked that query by MHProNews, but replied as follows.
"Answers to your Questions:
1. 354
2. Our retailer membership application process does not capture this level of specificity
3. Community retailers not included

Dick"
Jennison declined to elaborate further, which an MHI source indicated was because MHI was trying to project an influx of independents, when the reality was that Clayton retail locations dominated those totals.

Restating what MHI has supplied directly or indirectly, Williams did not disclose that most of those "new" members were supposedly Clayton owned company stores.  Nor did Williams say that the change came only after a dramatic drop in dues from "$575/location," per Jennison, to only "$100/location."
MHI's "Financial Health"
"In addition to expanding our membership," Williams said, "MHI's financial health and its PAC program continue to remain strong. For the first six months of 2017, MHI's net income is coming in at $575,000 which is up when compared to budget by $336,000. Cash reserves are currently at $3.6 million and represent close to 11 months of budgeted operating expenses."
Williams also said that, "MHI's communications and public relations outreach and efforts have increased significantly."
This is a noteworthy topic, as several past and present MHI members and other industry professionals – as MHI member Frank Rolfe and other quotes previously published on MHProNews reflect – which criticized that Arlington, VA based trade group for precisely the communications issue.
Williams spoke about their Facebook likes in his address to members, plus other "engagement" statistics, as well as the year-over-year growth rate for the industry
"For the first six months of 2017, HUD Code shipments were up 17% from the same timeframe last year," Williams said.
Without disputing those numbers, that can be juxtaposed by the growth rate reported by Dick Jennison about 4 years ago of about 13 percent.
Further analysis reflects the fact that Jennison put the total percentage of manufactured housing compared to single family housing starts at 14.5 percent for 2011. Using the latest U.S. Census Bureau figures for:
annually adjusted single family housing 2017 sales through August of 560,000
52,567 manufactured homes
612567 total, divided by/52567=11.65 percent.
To rephrase, Jennison showed manufactured housing as "accounted for 14.5" percent "of all new single family homes sold," vs. the 11.65 percent rate so far to date, per the U.S. Census department information in the bullets above.
Bottom line, for all of the numbers presented to MHI members in Orlando – using MHI and U.S. Census Bureau supplied figures – what the facts reveal is that manufactured housing's share of new home sales declined since MHI's social media and advertorial campaign launched, per Jennison's and related Census data.
Ducker Research…
Also of concern is the contrast between MHI's president stating in the video clip below that the industry should grow slowly.  Finally, after years of pressure on this topic by the Manufactured Housing Association for Regulatory Reform (MHARR), as well as other industry professionals — all as reported by MHProNews.
Further, the facts being reported in other industry trade publications about Ducker Research for MHI's "Underserved Home Buyer Strategic Research Initiative" reveals that there is little "new" being heard, which Jennison himself hadn't mentioned in the same PowerPoint provided to MHProNews by an MHI source.  See screen captures from Jennison's prior presentation, below.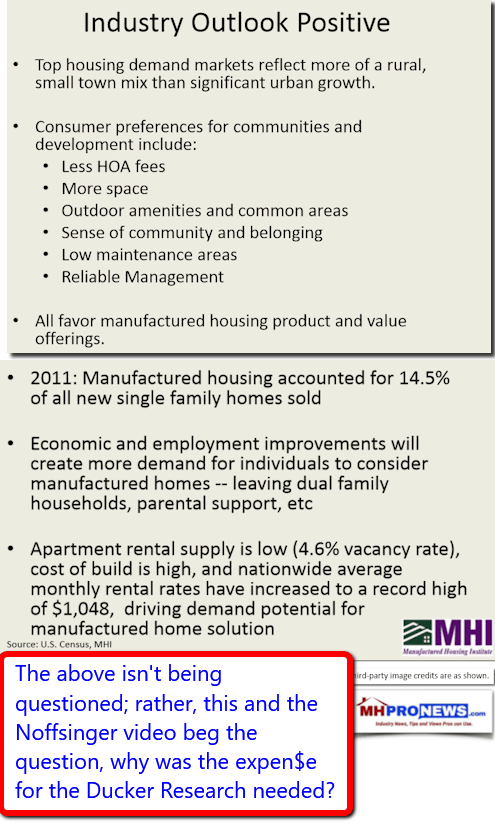 One source told MHProNews that the kind of data Barry Noffsinger's video (shown below) revealed – at essentially no cost to the industry – was largely in line with what Ducker's data was to MHI.
This dovetailed with a concern expressed by a state association executive to MHProNews previously reported here.  That executive said that the Ducker research was unnecessary, as many in the industry 'already know what's needed.'
Given Marty Lavin's critique published here months ago of MHI's prior Roper research, and what emerges in the view of some in the industry is a pattern of serious questions and issues that are largely bypassed.
Clayton, Cavco's Data Reflects Slower than Industry Growth Rates
So, MHI's own data revealed by Williams – once analyzed – reflects something similar to what Clayton and Cavco data's does, properly analyzed.
Specifically, the two largest producers who dominate MHI are growing at a slower rate than the industry at large.  By contrast, Sunshine Homes – which is focused on residential style homes, in line with what Noffsinger said is what the millennials and most of the market wants – is reportedly has been growing at more than double the rate of the industry at large.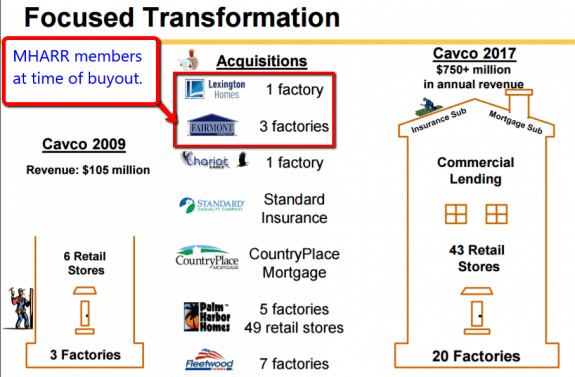 A fact check of the House Financial Services Committee vote last week on Preserving Access will be forthcoming in the days ahead. Look for insights you may not find anywhere else in the MH Industry's trade publishing.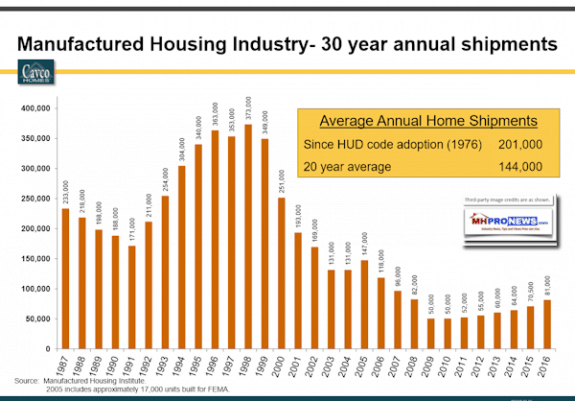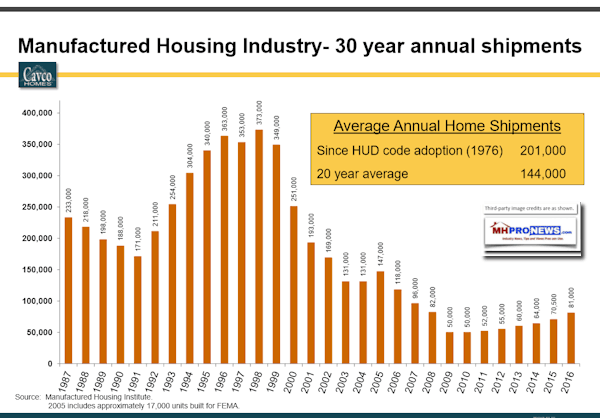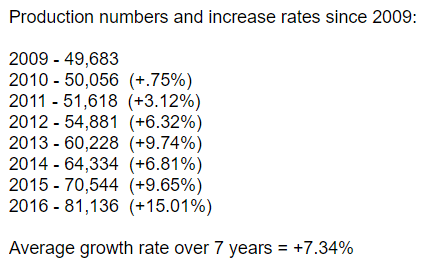 "In youth we learn; in age we understand." – Marie von Ebner-Eschenbach
Sigmund Freud, says Wikipedia, was an Austrian neurologist and the founder of psychoanalysis.  He was long seen as an atheist, but it is worth noting that the NYTimes reported that late in his life, Freud became a believer. Freud spoke about the need for honesty, and that the truth – sooner or later – comes out, and the value of use of reasoning.
"Being entirely honest with oneself is a good exercise." – Sigmund Freud
"…no mortal can keep a secret. If his lips are silent, he chatters with his fingertips; betrayal oozes out of him at every pore."  – Sigmund Freud
"In the long run, nothing can withstand reason and experience…" – Sigmund Freud
The industry is growing at a relatively slow pace, given the need for millions of affordable housing units.
After years of inside and outside pressure, MHI has finally started to respond. But do their results – per their own president's and prior chairman's own data – reveals the robust progress being postured?
"We Provide, You Decide." ©  ## (News, analysis, fact check/fisking).

(Image credits are as shown above, and when provided by third parties, are shared under fair use guidelines.)

Submitted by Soheyla Kovach to the Daily Business News for MHProNews.com.