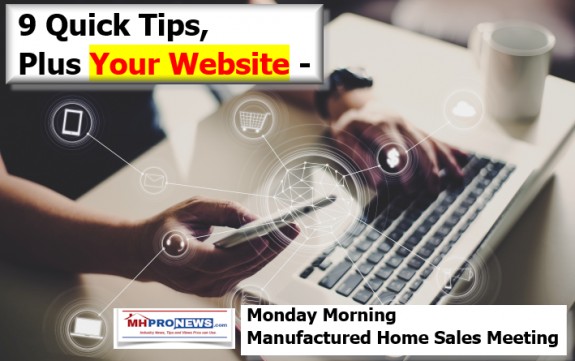 We'll start with the website insights, and then move onto the 9-quick manufactured home marketing, training, educational, inspirational, and sales tips.
Over-simplifying, there are in manufactured housing today, 4 kinds of websites:
Non-existent. As hard as it may be to believe some 2 decades after the websites came into being, there are still some manufactured home companies – notably among communities – that have no website presence. They may be on someone else's site, but have no website of their own. If you have vacancies, or are selling wholesale or to the public, doesn't it make sense to fix that oversight?
Outdated. Websites can get dated within 3 to 5 years. It isn't just a matter of adding new content, that's obviously needed. Research shows that you only have 5 to 10 seconds to win the interest of a website visitor. After that, many are gone. An outdated website lowers your odds of having a visitor beyond those 5 to 10 seconds.
Modern, Cool, but Missing Something. Hundreds of websites that we see fall into the category.  This type of website will land that first-time visitor.  But they may not attract back the repeat visitor, which is critical if you are trying to sell a big ticket item, like a new or not-cheap pre-owned manufactured home.
Engaging, Appealing, and Informative Websites. These do what bullet 3 does, but have certain features that attract back those better qualified buyers.  If you see us in Louisville, stop and ask for details, or call us the week following the show for a complimentary website review.
Now, the 9 Tips 
It's a federal holiday, right? So if you're checking these out,
your either one of those operations that are open, or
you are a go-getter.  Either way…
The tips are found in the 9 different articles linked below.  If you're new to the Monday Morning Sales Meeting, or just realize that you need a refresher on a topic, click a link below and dive in!
Atmosphere, and Super-Charging Results – Monday Morning Sales Meeting
Clayton Homes Praise for Pro-Industry Trade Media – Monday Morning Sales Meeting
Only 2 Choices – Media Engagement, Manufactured Homes, & You – Monday Morning Sales Meeting
Powerful Takeaways from Automotive, RVs for Manufactured Home Professionals, Monday Morning Sales Meeting

Monday Morning Sales Meeting, What Warren Buffett & President Donald Trump Profitably Agree On
Monday Morning Sales Meeting – Living the Dream by Serving Others Well
Manufactured Housing Monday Morning Sales Meeting: Finance & Industry Facts, Figures, Sales Tip$ Improving Best Practice$
KYPs, and the $64 Billion Dollar Question-Monday Morning Manufactured Housing Sale$ Meeting
My smartphone will be on silent mode in Louisville, but I will check messages and return calls, as possible.  832-689-1729.  Or email me at this link. If you'll be on the road, safe travels and prosperous travels. ## (Sales, marketing, management tips for manufactured housing professionals.)
Services Link – Click here.
Connect:
https://www.linkedin.com/in/latonykovach/
https://twitter.com/LATonyKovach @LATonyKovach
https://www.facebook.com/tony.kovach.71