Today's Monday Morning Sales Meeting (MMSM) offers lessons, that similar to last week's, are simple yet profound.
There will be 3 actionable takeaways.
We'll use as a starting example the automotive world. We'll begin with a series of facts, and then, make the point relevant for manufactured housing professionals.
Examples
There's a car dealer out of Tampa whose ads are heard on the radio here in Lakeland, FL (about an hour's drive).
Last week, that operation announced how many vehicles, total units, they will have sold at retail in 2017.
The total will be around 38,000 cars, trucks, SUVs, and other automotive vehicle types.
Think about that number. One operation, Tampa metro, 38,000 units.
Manufactured housing is projected to finish 2017 with some 92,000 (+/-) total new HUD Code homes. So, realize that one metro automotive operation's total this year is more than 1/3 of the total number of units for all new manufactured homes that shipped nationally in the same year.
Stating the obvious, cars aren't manufactured homes.  Neither are towable and motorized RVs.  But the RV business is a luxury item for most buyers, and they outsell manufactured homes – and housing is a necessity – by some 5 to 1.  Millions of vehicles have a similar price and/or payment to retailed manufactured homes.
State of the Manufactured Home Industry, Comparing RV vs. MH Data
Takeaway #1.  Manufactured Home Professionals ought to be humble, coachable – and motivated – enough to admit that they can sell far more than they're currently doing. That's a fact that can be demonstrated many different ways, as in the examples above.
Don't believe it?
Then ICYMI, you need to go back to the MH industry sales and marketing facts 16 minute video seminar shared by award-winning industry veteran, Barry Noffsinger on the page linked below.
Manufactured Housing Monday Morning Sales Meeting: Finance & Industry Facts, Figures, Sales Tip$ Improving Best Practice$
Setting Higher Goals, That Make You Stretch
There are entire books written on the power of the mind; on the power of positive thinking and affirmations.
They're useful.
That's said, it's a fallacy to believe that positive thinking alone is enough.  The can-do optimist, when he sees the rain, or knows rainfall is in the forecast, takes an umbrella.  If positive thinking alone truly worked, there would be no poverty, crime, war, or any of the host of challenges that face our world today.
Feel good thoughts, not backed by appropriate action, amounts to wishful thinking.
As an MH pro correctly said in a recent meeting, "hope is not a plan."
Hope, and positive thoughts are potentially good. But hope requires the proper discipline, understanding, resources, a plan – and the right execution.
Zig Ziglar is among those legends in sales who said that it takes thirty days of daily repetition to start forming a new habit.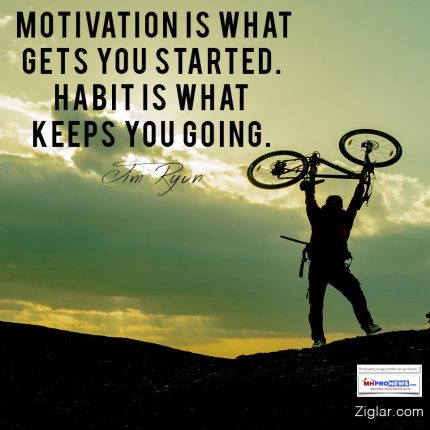 Wise Ben Franklin observed that we all have the same 24 hours in a day. How do you use your 24?
Takeaway #2. Properly Manage Your Time, Talent & Treasure
Don't Misunderstand This Following Example!
Some, for example, diligently post on social media. That can be good, and done properly, it may produce positive results.
But are you measuring the results of your social media — or any other effort — weekly, monthly, quarterly and annually? Is X – whatever X happens to be, social media work or anything else – bringing you the results you need?
You can only manage what you measure.
And you can't manage to a goal that you
haven't set,
is too low, or
is too high
based upon circumstances, resources, talent, and so on.
Goals must inspire, and stretch. But goals must also be achievable, or they will frustrate people.  No human without other resources can jump to the moon.  But the able-bodied can walk up the stairs, and go ever higher, one properly measured step at a time.
The Manufactured Housing Institute (MHI) recently dumbed down the annual shipment chart, shown below. Ask them "why?"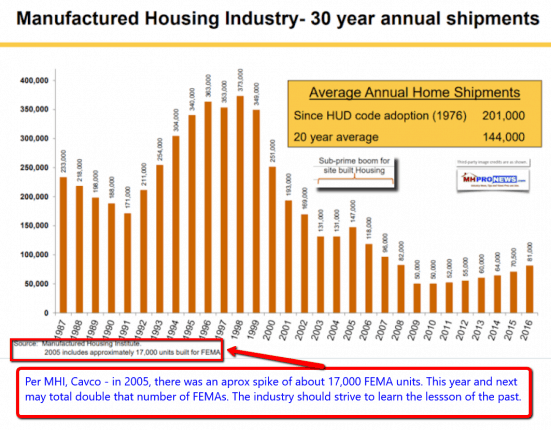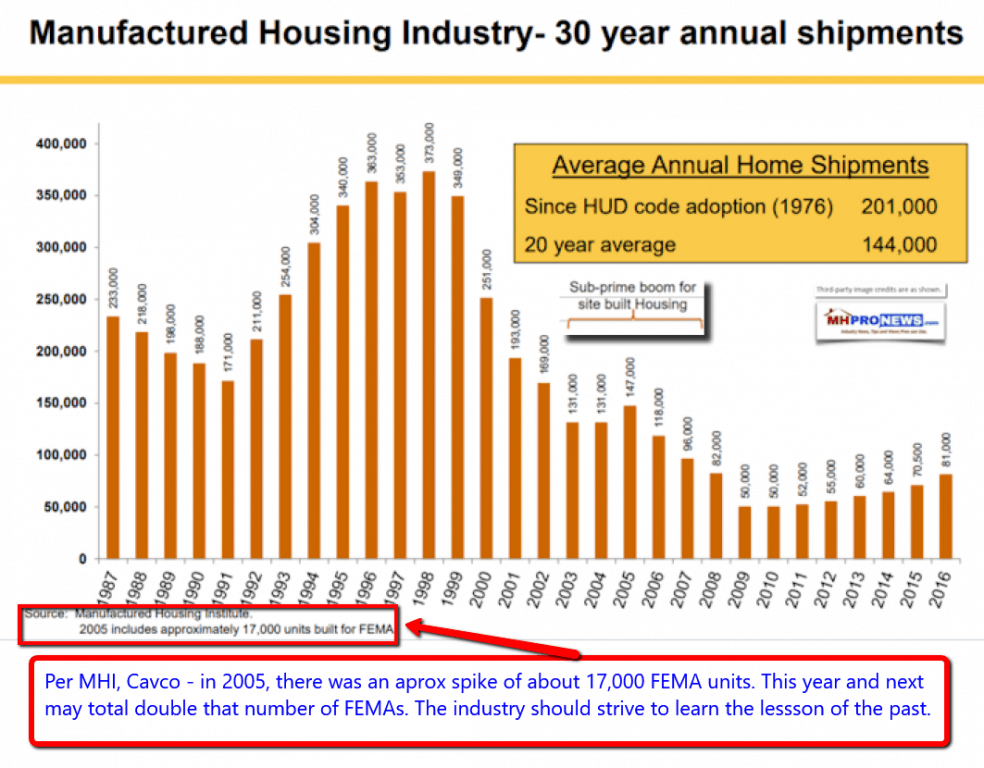 Because here is the historically used shipment chart.  Notice that MHI's new one shows much lower top line totals? Doesn't that's lower expectations?  Why do that?
Instead, every motivated industry pro must think. What is possible?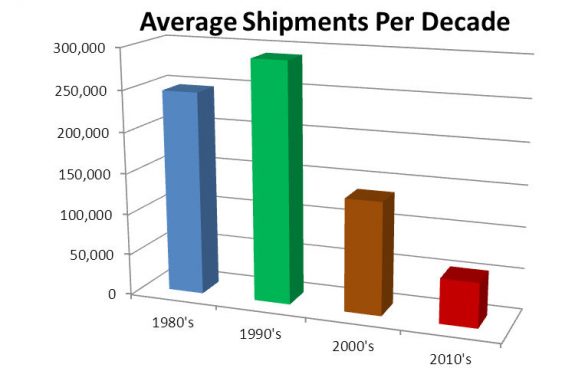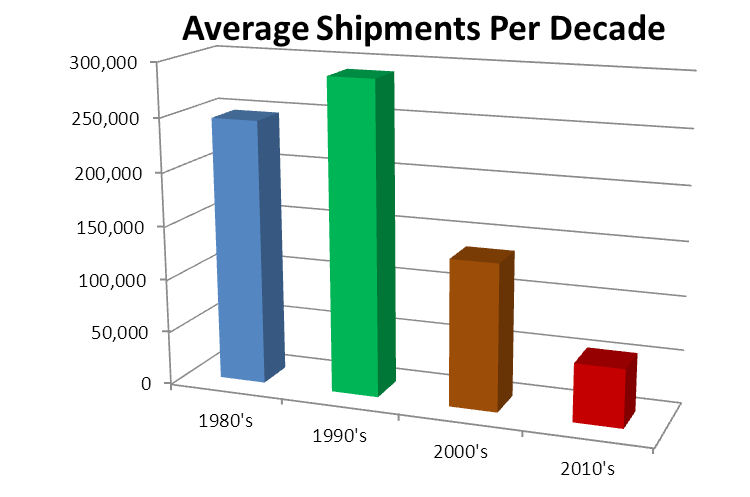 We spent a significant amount of digital time in November laying out the true state of the manufactured housing industry, so that people would KNOW what the potential could be.
When the nation needs 8 million housing units right now, and pros connected to the tech giants are saying that only factory home building can close that gap – site builders can't achieve the needed totals – that means we have an opportunity to hit historic highs.  We need that second, historically used graphic, to remind professionals that MH once approached nearly 600,000 new homes shipped in a year.
If that was done 4 decades ago, why can't that be achieved and surpassed today?
That 8 million housing unit potential means multiple billions dollar operations are coming to the conclusion MHProNews has touted – and this consultant has stated – for years. We as an industry can do half a million or more new home sales a year.  It won't happen overnight, but 500,000 new HUD Code manufactured home sales could be accomplished with the proper resources in say 24 months (+/-).
What that Means to Your Location(s)
That would mean 500% or more growth rate.
That means if you are currently selling 4 homes a month, you could be doing 20 with the proper adjustments.
"Whether you think you can or whether you think you can't, you're right." – Henry Ford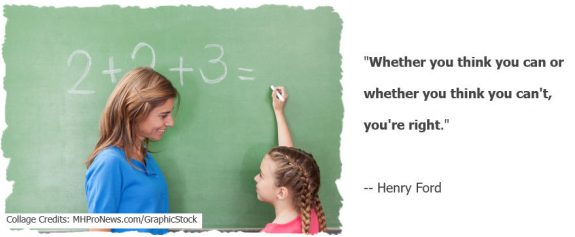 Virtually every personal email I've sent for years has that message below my contact information.
If you were in Texas, – the top manufactured housing producer and seller in the country – that one Tampa auto dealer is outselling every community, every retailer in your state, combined.
There's no one in MHVille who could achieve that kind of result in a single metro area's sales centers as those Tampa dealerships do. Bear in mind he's not the largest in automotive dealer in the country.
Towable and motorized RVs outsell MH by about 5 to 1.
You could realistically increase your performance – not instantly, but over time, say in the course of a year or so – by 500%.
Takeaway #3 – Odds are Your Sales Could Skyrocket with the Proper Understanding, Execution
What does that require?
First. The belief. Think about that Henry Ford quote, above, and another one further below.
Second, the discipline.
Third, honesty with yourself and others on your team.
Fourth, putting the proper steps and resources in place to make it happen.
Fifth, follow-through – the correct execution.
Wishing alone will never achieve that 500% rise in sales.
But the proper motivation, discipline and investments of time, talent and treasure can achieve that goal, profitably and sustainably, with happy customers.  No strong-arm tactics are needed.
In fact, while we teach sales professionals to 'ask for the order,' we discourage strong arming customers. Look at what happened to Palm Harbor Homes, after years of pushy sales tactics finally caught up with them. They weren't the first.  Do you think they'll be the last giant to fold?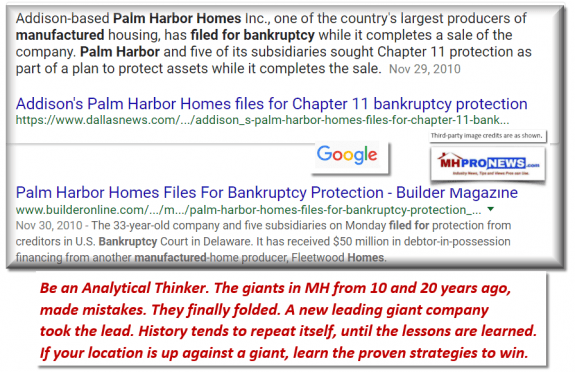 We encourage you to begin with something easy, and achievable, that may seem unrelated. But it is totally related and vitally important for long-term, sustained success and career satisfaction.
You and your team should begin with last week's lesson, and make that lesson a total habit. You start right away. It's linked below.
Monday Morning Sales Meeting, What Warren Buffett & President Donald Trump Profitably Agree On
You must feed and care for your mind, the same as you feed and care for your body, and nourish your soul.
Bonus Takeaway
As a closing thought for this session, the best any location I managed/coached was 50 housing units from a single location in a month.  Not bad. Sadly, sometimes when people achieve that kind of relatively lofty level for MH, they think they've arrived. We had a principled disagreement with the company involved, and I wished them well after we failed to come to agree on next steps that could have taken them higher, and more sustainably.
That location maintained that level of sales for some time, but they later fell into serious and utterly avoidable problems.  One this writer predicted would happen, but that company turned a deaf ear.
But the real story is that rise to 50 homes was accomplished in a market with depressed conditions.
We took a weak location, doing only single digits in deliveries, and in a few months, it became a marketing and sales machine, capable of doing 50 homes a month results.
We've accomplished similar results in communities as well as for retailers.
https://www.linkedin.com/in/latonykovach/
So, there are realistic limits, logistical limits, to what your location(s) are capable of achieving.
Experience teaches only the teachable.
But experience tells me and all who will listen that many locations are doing only a small fraction of what they're capable of achieving.  What are your vacant sites, or lost sales costing you?
Need professional help? Click here, and email or call the phone number on the page linked.
Until you reach out, please follow last week's tip faithfully! Applying that tip has the power to change you from the Inside Out.  That's how all real change takes place.
Here's to learning how to attract and sell more happy customers! ## (Manufactured Housing Business Development, facts, analysis, commentary.)
Notes, Related and Contact:
1) Some things require repetition until it becomes habitual. If you have not yet memorized/made a habit of last week's Monday Morning Sales Meeting (MMSM), start at the link below.
Monday Morning Sales Meeting, What Warren Buffett & President Donald Trump Profitably Agree On
2) Marketing/Sales/Closing Tools! After you've read/re-read last week's MMSM, read these two linked articles. Learn how and when to properly share those links.
He's known as the King of Rock and Roll. His property in Memphis, TN – called Graceland – has attracted millions of visitors. He loved gospel music, and was a pioneer in rock too. His movies are still considered entertainment classics.
For those who want the bottom line first, new university research reveals that manufactured homes could be a superior housing value when it comes to wealth creation. With that executive summary, let's dig into the details of the new research, and what the co-author of the university study specifically told MHLivingNews in an exclusive on-the-record statement.
3) Need marketing, sales, consulting or business development services? Learn More to Earn More, Email or Call – click here.
By L. A. "Tony" Kovach – one of the most endorsed, politically incorrect, reality-goals-solution-oriented, and popular leaders in manufactured housing today.