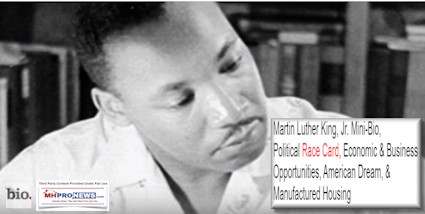 Dr. Martin Luther King, Junior's life and career are historic in every sense.
Without question, he and those who worked with him, changed the arc of America in his time.
The Daily Business News on MHProNews have used thought-provoking, inspirational quotes from Dr. King for years.
Why?
Frankly, not only out of respect for his efforts. But also because the industry needs to do some similar things in our times, as Dr. King did during his era.
Meet Donald Tye, The Flashback Fast-Forward Face of Factory-Built Homes?!
The thrust of Dr. King's better-known quotes promoted equality of opportunity, not equality of outcome.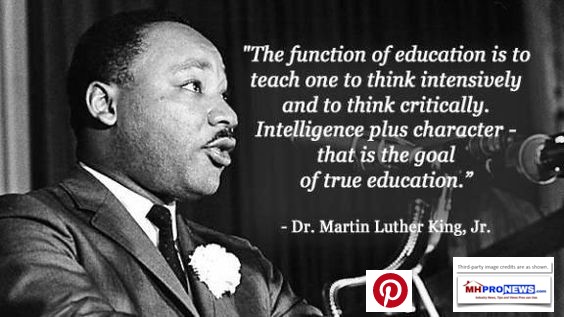 There is a tug of war as to the claim of if Dr. King was a Democrat, or a Republican.
At one point, "My uncle, Dr. Martin Luther King Jr., during his lifetime was a Republican," Alveda King said in a video posted on the National Black Republican Association website, per Politifact.
But that's claim, per reports, she later amended, and then backed away from; "she had assumed her uncle was a member of the GOP because his father – Martin Luther King, Sr. – was a Republican."
Lewis Baldwin, a professor emeritus of religious studies at Vanderbilt University who has written six books about the civil rights leader, said that King advised blacks "should remain independent voters, and they should not become unduly tied to any party, Democrat or Republican."
If that advice is true, its worth pondering for all racial groups, then and now.  While Democrats joined with Republicans to pass the civil rights acts.
Per Politifact:
"The Civil Rights Act — which is best known for barring discrimination in public accommodations — passed the House on Feb. 10, 1964 by a margin of 290-130. When broken down by party, 61 percent of Democratic lawmakers voted for the bill (152 yeas and 96 nays), and a full 80 percent of the Republican caucus supported it (138 yeas and 34 nays)." (Editor's note: red letter not in the original.)
"…In the Senate, the measure passed by a 77-19 vote, with 73 percent of Democrats and 94 percent of Republicans supporting the bill. So it's clear that Republican support for both bills was deep."
"Back to [then GOP Chairman] Steele's quote: "We fought very hard in the '60s to get the civil rights bill passed as well as the voting rights bill."


"The degree of Republican support for the two bills actually exceeded the degree of Democratic support, and it's also fair to say that Republicans took leading roles in both measures, even though they had far fewer seats, and thus less power, at the time. Both of these factors are enough to earn Steele a rating of True."
The set of takeaways?
First, that neither Democrats nor Republicans can claim Dr. King as "theirs."
Second, that those Democrats, who have for years inaccurately implied that Republicans were against the civil rights of blacks, as mistaken at best, or misleading at worst. That racial bias claim isn't supported by the facts, per left-of-center media source Politifact.
"The Race Card"
That said, it is amazing how successfully Democrats and their media allies have used 'the race card' against Republicans. We editorially note this, as political independents.
In our recent report on the use of fear in politics, business, and culture, fear of the "race card" has often caused Republicans to run scared on some topics that their policies may actually prove superior to that of their Democratic colleagues.
Impact of Fear – Manufactured Home Sales, Business, Investment, Zoning, Politics, Media, Manipulation, and You
After decades of Democratic dominance among black voters, as President Trump said during the campaign in 2016 to minorities, "what the hell do you have to lose?"
By screaming 'racism,' Democrats, their media allies, plus some in the GOP – who may fear the race card – are hoping to once more derail immigration and border security plans, that many Democratic leaders themselves supported in the past.
"What the Hell?" "The Audacity of Hope" – Obama, Trump, Presidential Promises Kept, & MH
Senator Dick Durbin (D-IL), a source that claims that President Donald J. Trump called certain third world countries "sh-tholes" has said that the term "chain migration" is a 'racist term.'   Yet Durbin, per right-of-center Townhall, reportedly used that same "chain migration" term in 2010, while supporting an end to the policy.  The president denies saying "sh-thole" – with some asserting he did, and others in the same meeting room saying they never heard him say it.
Either way, as right-of-center Fox News' Tucker Carlson observed, all the president is alleged to have done is say what most Americans would believe.
What percentage of Americans would want to leave the U.S. forever, and change places with one of citizens of those third-world nations?  Isn't that why people come to America?  Looking for a better life than the one they left behind?  That's what brought this writer, who loves her homeland, but recognized that America today offers so much more to women, minorities, and all those who believe in equal opportunity.
Facts shouldn't be twisted into a claim of racial, ethnic, gender or other bigotry.  It's a cheap debater's ploy, and one that millions have come to realize.
It's part of the game that Washington D.C. and national politics has devolved into.
Dr. King might be horrified.
King's nephew, present at the event reported in last Friday's market report, told left-of-center CNN that President Trump "isn't a racist" in the "traditional sense."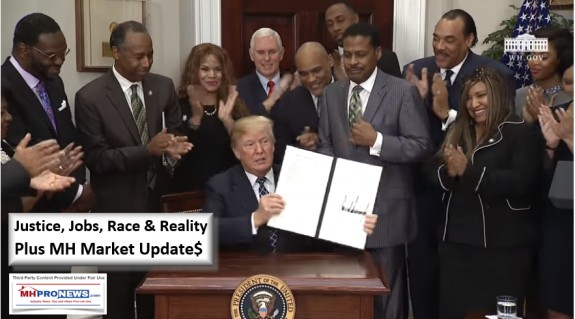 He may not be as sensitive as he could be, implied King's nephew, but he is not a racist.  That point has been made by the president's long time associates, many of whom are from minority groups.  A pre-'sh-thole' hype example is linked below.
Football, Farming & MH, GA Heisman Winner Herschel Walker, Videos on POTUS Trump, plus MH Market Updates
The Politics of Division, Identity
Dr. King supported education and deep thought capable of critical analysis. King was a Baptist minister, but cited Catholic theologian, St. Thomas Aquinas in some of his writing.
Why?  Because King's analysis told him that the quotes fit the needs for the arguments he was framing.
That kind of open-mined, critical analysis is very much needed in our nation today, and by our unjustly hobbled industry too.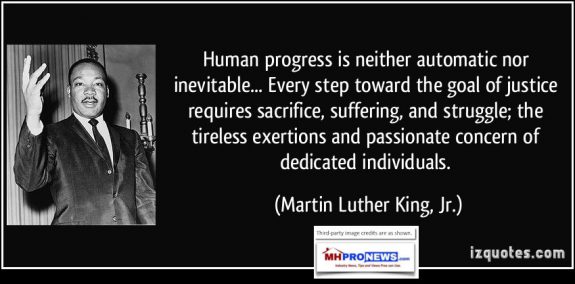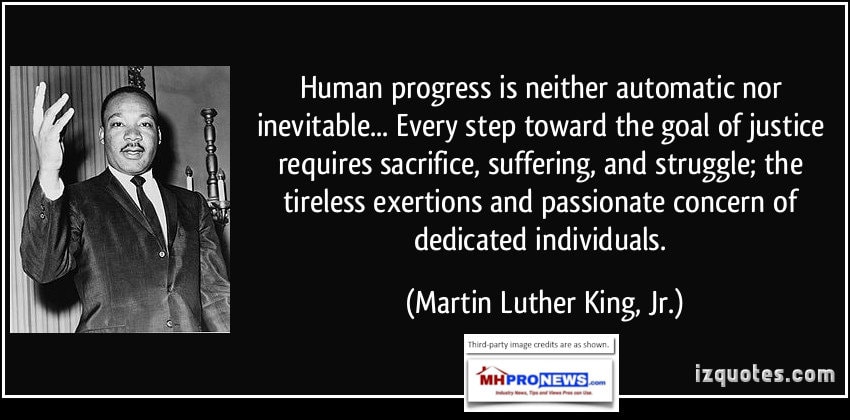 The politics of fear,
falsehood,
deceptive spin,
hypocrisy, and hyperbole (like Durbin, Nancy Pelosi, and others once supporting positions they now hypocritically claim makes the president a "racist"),
are being used for party political reasons only.
MHProNews has spent months – years – laying the foundation why the president's policies – not necessarily POTUS' style, which some will love, while others dislike – are providing a superior outcomes for the manufactured home industry, and our nation.
Leftist – largely Democratic – political promises have not proven out for most blacks, Hispanics or those living in inner cities in America.
Venezuela's decade under socialism has left thousands starving, in a once far more prosperous nation.  North Korea is a disaster economically when compared to the freer and more free market South Koreans.  Those examples could be joined by some in the U.S., where several high tax, high regulation states have for years see steady net-outflow between states with lower taxes, and easier regulations.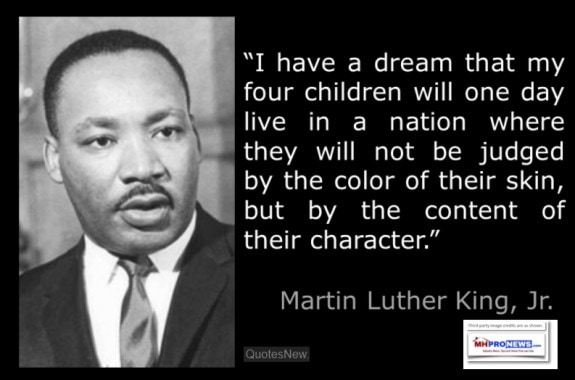 There are midwestern Democratic strategists who say that the party has to pivot, and do so quickly, or the 2018 and 2020 outcomes may not be what they are hyping through their left-wing media allies.  They cite the fact that Democratic control of many elected local, state, and national seats dropped by about 1000 during the 8 years of the Obama Administration.
The lesson? An often left-leaning media may favor those policies, but the voters are largely rejecting them, as 200 counties that voted for President Obama flipped and voted for President Trump.  While millions already realize it, millions more must recognize that the repetition by the media of certain things over-and-over again can be a tool for manipulation; and type of propaganda.
Benson Demonstrates How "Propaganda Works" on "Most Americans"
King, Not Perfect – But Still an Inspirational Figure
As MHProNews has noted previously, King had his own problems with claims of sexual liaisons with women whom he was not married to.
I've worked with, and known thousands of Democrats, including people I've been close to for many years. The same could be said of Republicans, or Libertarians, etc. I'm neither, we're independents. We respect the right of people to affiliate and vote as their hopefully well-informed conscience dictates.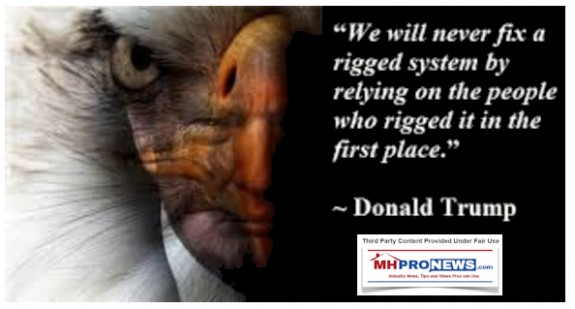 Similar allegations have been made about Democratic Presidents John F. Kennedy, and Bill Clinton, among others. While there are shouts of "Oprah" by some, there are already female voices that have claimed Oprah looked the other way regarding Harvey Weinstein.
We aren't going to find sinless saints to be the next elected political leaders.
Focus on Policies, Not Personalities 
So, Americans and our industry ought to focus, not on personalities, but on what policies will advance the majority of Americans.
The tax cuts and jobs act will, depending on the source, provide some 80 to 90 percent of middle class Americans with tax relief. What Nancy Pelosi describes as crumbs, that $1000 bonus or $1000 raise in net earning means a lot to a middle-class family. Reportedly 2 million workers have been given or promised bonuses and/or wage hikes, with their companies citing the passage of the tax bill. More are expected.
President Trump isn't the normal 'politically correct' politicians.
But those who know him best don't believe him to be a racist.  So why should most Americans believe the claims of those who clearly have a bias, and an agenda of their own?  Shouldn't people watch and see how the president delivers on his promises?  Isn't that what he's already doing, through tax cuts and regulatory reform, enhanced border security, and much more?
"I think one thing that should be distinguished here is that the media is always taking Trump literally. It never takes him seriously, but it always takes him literally. … I think a lot of voters who vote for Trump take Trump seriously but not literally," said Peter Thiel, per CNBC. 
It's a variation on a quote the Daily Business News cited days before the 2016 election. Actor Scot Biao, said an equally insightful observation about understanding the president, his personality, and manner of speech.  Biao and Trump are both from different boroughs of New York City. Biao noted that people there kiddingly say things, in a humorous or bold way, to make a point or 'mess with you.'
As the first indictment in the Clinton connected Uranium One scandal has reportedly been handed down, it is possible that the entire Russian collusion narrative will flip before this year is up.
The Justice Department in a release to MHProNews said, that "Mark Lambert, 54, of Mount Airy, Maryland, was charged in an 11-count indictment with one count of conspiracy to violate the Foreign Corrupt Practices … a subsidiary of Russia's State Atomic Energy Corporation and the sole supplier and exporter of Russian Federation uranium and uranium enrichment,"
Lambert was "connected to the alleged Russian bribery scheme involving former Secretary of State Hillary Clinton, the Obama administration, and Uranium One," per the Daily Wire.
All of this the Daily Business News signaled in a report to the industry's readers in 2016, during the election campaign, at the Clinton Cash link below.
Hillary Clinton's Abe Lincoln Moment? Mo-Trump; POTUS 2016 News & Analysis
The Democratic primary's 'rigged system' against Bernie Sanders was reported by the Daily Business News to the industry's readers in the report linked below.
"Hacks" – Explosive 2016 Campaign Claims by Former DNC Chair, Donna Brazile
That's not to say that Democrats are all evil, or the GOP is all good.
As but one example, MHProNews noted the fact that it was Republican John McCain who kept 'repeal and replace' of ObamaCare from advancing last year.
Tear Gas Outside, Cheering Supporters as Trump Vows 'American Safety, Business, Workers First' Agenda
Haiti – The Ugly, Not Politically Correct Reality
Newspaper Names Clayton Homes, Clinton Foundation, Hillary Clinton In "Swamp After Storm" Post-Disaster "Corruption"
Our commitment to the industry is to provide reports, fact checks, documents, and analysis that others may not be willing to share.  Its fully in keeping with the spirit of Dr. King's beliefs about the purpose of education, and critical thinking.
Ironically, its also in keeping with principles that Democratic backer Warren Buffett and now POTUS Donald J. Trump have both in principle agreed upon.  It pays to know as much as you can about a subject that impacts you.
Monday Morning Sales Meeting, What Warren Buffett & President Donald Trump Profitably Agree On
America can and must get past the racial, economic, and political issues that have for too long held this great country back.  That in turn will allow more people of all groups and genders to achieve their part of the American Dream.
There are some who want to use race or injustice to justify taking property. There are also those who want to misuse the political and economic system to take advantage of those who have less access to power. Economic problems, educational and moral challenges, despair and other factors can be contributing factors that lead people into drug use.
As a closing point, its worth noting that Warren Buffett's long-time right hand, Berkshire Hathaway's Charlie Munger, candidly admitted that some wrong-doing by people at Clayton Homes  may well have occurred on the issue of race and steering. He did so in a video interview on CNN Money, shown below, that focused on race and other topics.
At the same time, Munger denied that it was in any way Berkshire Hathaway, or Clayton Homes' policy.
Maxine Waters Statement, Preserving Access Manufactured Housing Act 2017, Warren Buffett, Clayton Homes
"We Provide, You Decide." ©  ## (News, memorial, historic, analysis, commentary.)
(Third party images are provided under fair use guidelines.)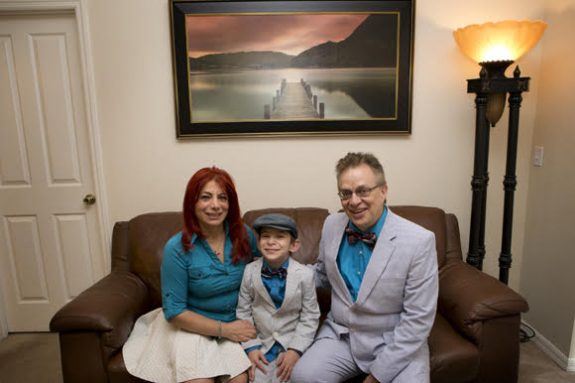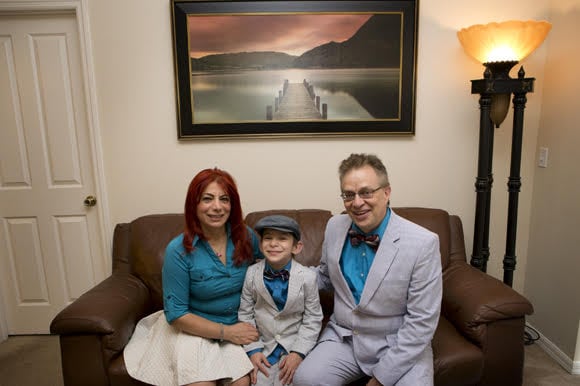 Submitted by Soheyla Kovach to the Daily Business News for MHProNews.com.