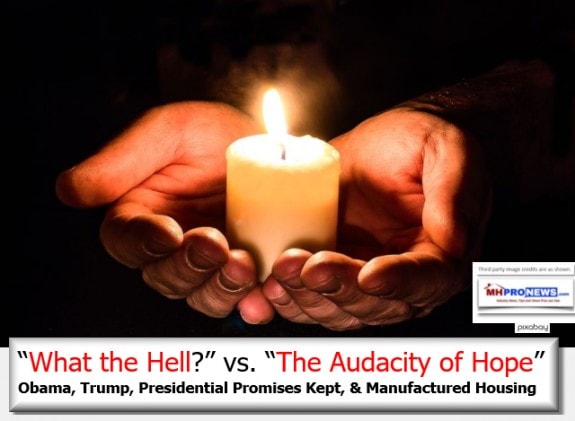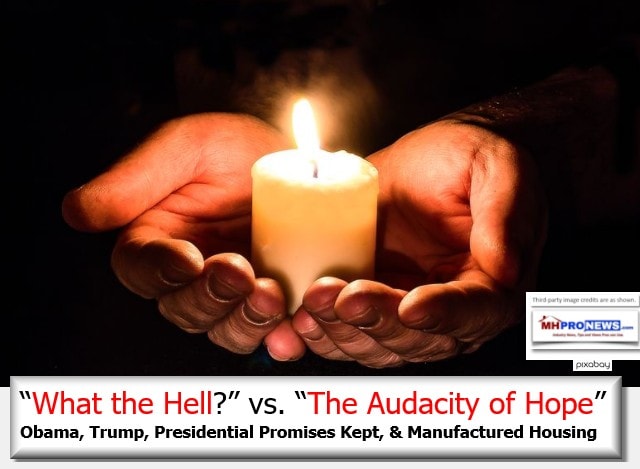 Facts can be nettlesome.
Stating the obvious, successful businesses rely on facts.
Most businesses do better when there is economic, legal, and regulatory clarity. For investors and business professionals, certainty – dependability – matters.
Just as the power to tax is the power to destroy, so too regulatory burdens can be a barrier: 
for entering business, or

for staying in business.
As thousands of businesses in our industry and others painfully learned, destruction is just as real from tough regulations as they are from burdensome taxes.  High taxes are known to drive business from a high tax state to lower one.  High regulations do the same thing. They tend to drive business and investments from higher regulatory states to a lower ones with fewer regulations.
The certainty of that destruction is also what causes business and capital to move from a high tax and regulation nation to other nations where taxes and regulations are lower.
Presidents Obama and Trump have a unique claim they could both make. Each president has their own kind of promise keeping.
Each of their promises have impacted our branch of the housing industry, for good or ill. Those promises did the same for America…
For those who understand nettlesome facts about policies and economics, what would happen under Presidents Obama and Trump were/are entirely predictable.
"More Dangerous…Decisions" – Unlocking the Industry Professional's Potential Power in 2018
Set aside style. Set aside emotions. Focus on the proven principles.
Business relies on hard facts, not feelings. Business in our factory built home industry – or any other industry- rely on a dependable tax, investment, and regulatory environment.
The President of the United States (POTUS) Barack Hussein Obama promised to fundamentally transform America. He kept that promise. He spoke and wrote about the "audacity of hope." But the nettlesome facts are that Mr. Obama did so by contradicting numbers of claims he made while campaigning.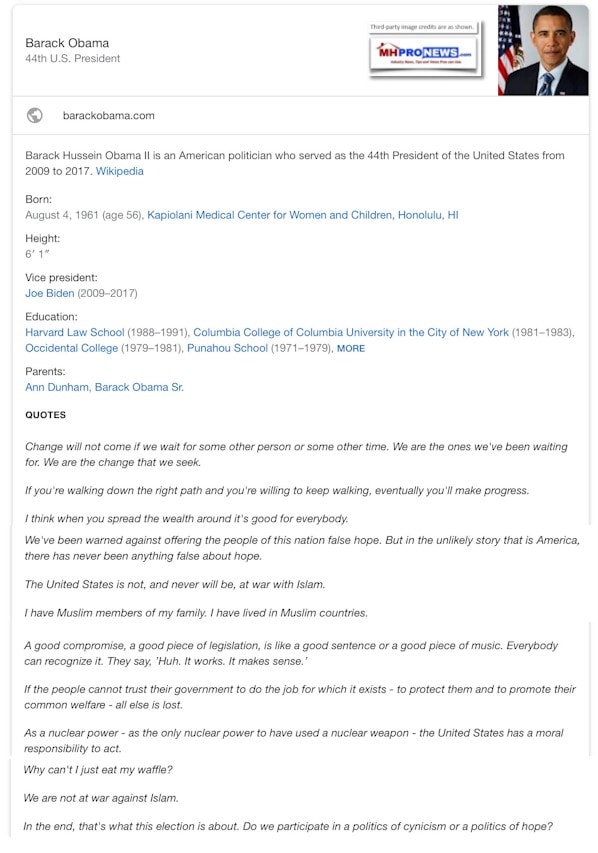 Now POTUS Donald John Trump made promises too. One of those campaign promises he made was specifically to minorities. "What the hell do you have to lose anyway?"- Trump asked in stump speeches on the campaign trail in 2016. After decades of what opponents of left-wing politics said was making life demonstrably worse for blacks and Hispanics in America, Trump asked for a chance, and promised to deliver for minorities and all Americans.
The small numbers of blacks and hispanics that combined with white working class "blue collar" workers is what tilted dozens of blue counties, into red ones for Mr. Trump. That's what delivered Wisconsin, Pennsylvania and Michigan from blue to red, and won him the election in 2016.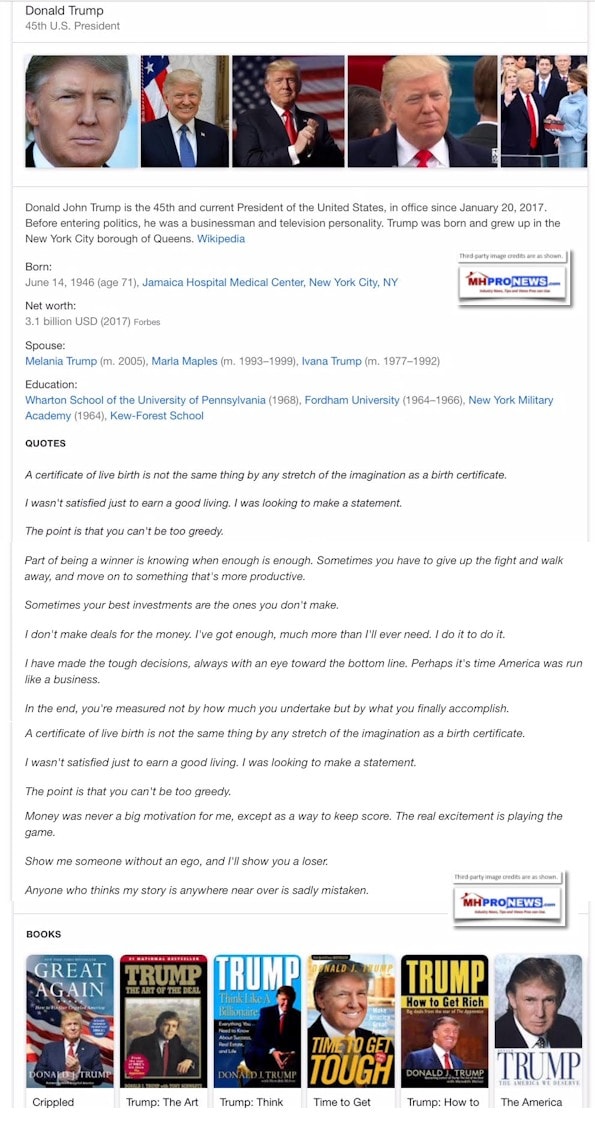 Principle-based reality matters more than rhetoric.
Nettles are painful to grasp, yet have healing properties which will be described below. This paradox – both pain and healing coming from the same source – is a useful one for professionals, public officials, home owners, investors, and others interested in manufactured homes. Why, you ask?
But one more fundamental difference is that Mr. Trump was candid about who he was, and what he wanted to do.
Mr. Trump never claimed to be a saint. Voters knew what they were getting. Mr. Obama arguably was honest on some things during his campaigns, but not so on others. Who said? Gruber and others, from Mr. Obama's own team.
Benson Demonstrates How "Propaganda Works" on "Most Americans"
You or people you know might love Mr. Obama's speeches. Millions do, because he's good at giving them.  The below is the "speech that made Obama President."
But policies are what drive markets, capital, and business. POTUS Obama spoke well, but so does businessman turned president, Donald J. Trump.
It's another nettlesome fact that Dr. Martin Luther King Jr. was a Republican. He wasn't for socialism, King was for equality of opportunity, not for 'redistribution of the wealth,' that Mr. Obama promised. His policies undermined confidence in investments, business, and thus job creation.  By accident and/or design, the policies failed to deliver prosperity for all but the top 1 percent.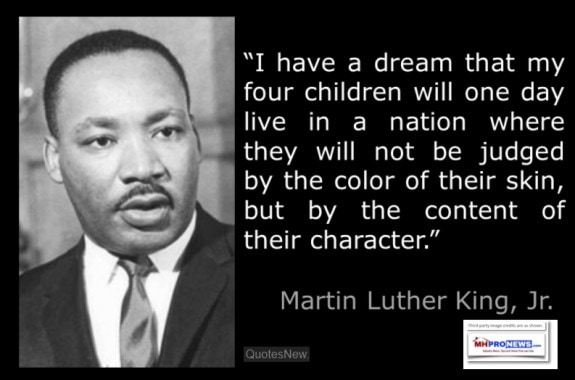 Night and Day. Black and White, But Not Color
It's not about the identity politics of racial divides, which candidate Obama promised to heal, but which he arguably made worse. Survey after survey showed that race relations worsened under the eight years of Mr. Obama's tenure in the White House.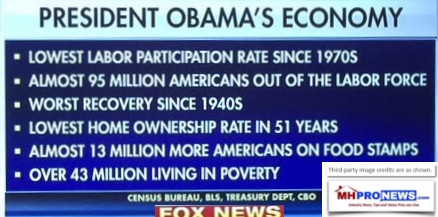 Rather, it is about the politics of prosperity which traditional American faith and the principles of the free enterprise freedom and that limited government yields.
The first candidate that this writer contributed to happened to be a black man.  But he wasn't Barack Obama, who this writer consistently opposed for reasons of policy (it was Alan Keyes, who served under POTUS Ronald Reagan, because Keyes believed among other things in limited government, in regulatory reform, plus ending waste, fraud, and abuse in government).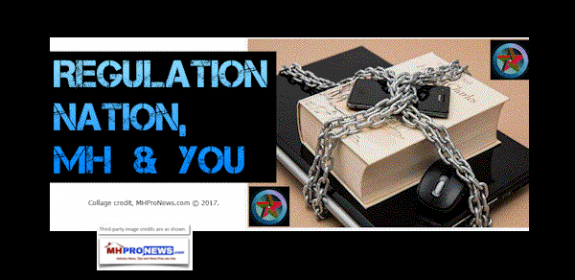 Mr. Obama's rhetoric made him famous and popular.
The "audacity of hope" plus "hope and change" were good slogans, but the policies he practiced yielded to despair. Why? Because that is what socialist principles give way to in the end. Look at Cuba, Venezuela, or Red China before they switched to a more market based (but still communist centralized) economy.
"Death by Government," Fascism, Communism, Socialism, 'Big Brother,' per Williams, Rummel and Owens
Words matter, but proven principles and policies matter more.
Those in whatever walk of life that supported Mr. Obama for reasons of style learned the hard way that his policies were bad for business.
In ironic twists, the nation's first black president made economic life for blacks and hispanics in America worse. 
"Spreading the wealth around" through redistribution via socialistic principles was a guaranteed recipe for economic train wrecks.  Unfettered immigration, due to the law of supply and demand – depresses the wages of the working class of all colors.  But the reverse is true too.  Control immigration, create incentives for business to invest in America, and you'll watch more jobs get created and more businesses succeed, which creates over time still more jobs – and at higher wages.
So Mr. Obama's policies doubled the national debt. They harmed businesses, jobs, and workers. Yet Mr. Obama claimed on the campaign trail that Mr. Bush 43's raising national debt so high was unpatriotic and unAmerican. Mr. Obama was right to call out that Bush error. But the nettlesome facts are that POTUS Obama clearly made deficits and debts far worse.
That too matters for business and investments. Because capital sucked up to support the debt ought to be going to create more business, and thus more and better jobs.
NFIB's Juanita Duggan Cheers, Leads, Explains Why on Tax Reform for American Businesses
Businesses failed under the Obama years in record numbers.
"I'm tired…" – Terry Decio, Skyline Homes, on Manufactured Housing
That's not an accident, it's because high taxes and high regulations yields destruction of business and opportunities.
Ken Corbin "the 10,000 Drop," points to Industry Woe, Causes of Manufactured Housing's 10 & 20 Year Collapse?
Of course capital, investments, and thus jobs fled overseas.
Of course reversing those poor policies would bring business and jobs back, and "make America great again."
It's common economic and policy sense applied. It's substance over style. 
POTUS Trump's policies are pro-all-business, while POTUS Obama's were for arguably more favorable towards big business, and often those crony capitalist donors.
Dow Tops 25k! Jobs, Oil and Manufactured Housing, Plus MH Market Update$
Mr. Obama was honest about some things.
But if Jonathan Gruber, the architect of ObamaCare was right, the Obama Administration was dishonest about other matters.
They lied to Americans to get what they wanted on health care and Dodd-Frank.  What Mr. Obama and other disciples of Saul Alinsky wanted was to fundamentally reshape America.
Toxic Combination of Big Business in Bed with Big Government, Rules for Radicals, Generation Zero
Mr. Trump and Vice President Mike Pence promised to be in the promise keeping business. They got off to a rocky start, but they are delivering.
VP Elect Pence Vows Promises Will Be Kept, Jobs, ObamaCare and Regs in Video
The economy is roaring back. 
Presidents like Obama and Clinton often spoke pretty words, but they didn't always mean what they said.  History matters, proven principles over empty promises matter.
Was Bill Clinton Just Wrong, or Did He Lie? MH Impact – Facts, Analysis
Trump the Builder, and Businessman, Mr. Warren Buffett and Hillary Clinton
One this twelfth day of the Christmas season, it is good to reflect on just what has happened to this industry, and why it has happened.
Mr Buffett supported both Barack Obama and Secretary Hillary Clinton. He said he did so for policy reasons. That's significant. Take that seriously.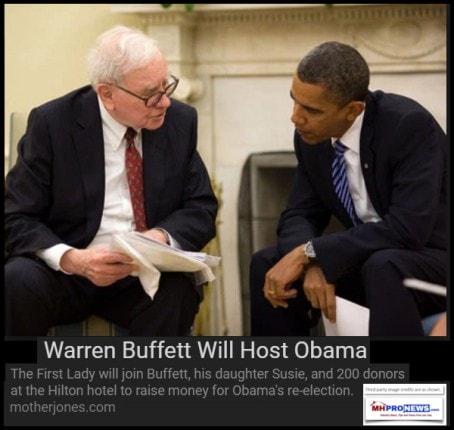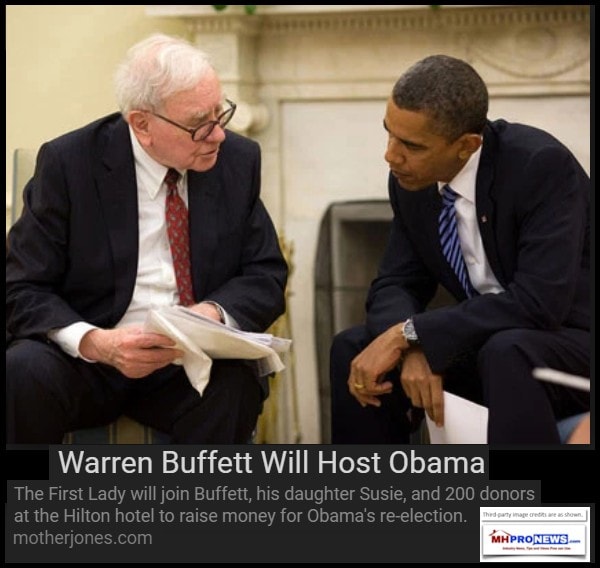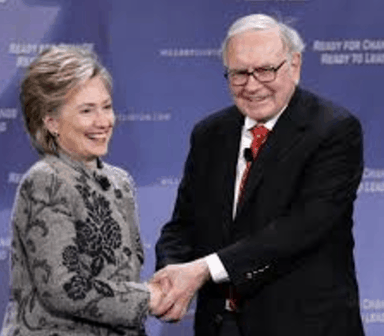 Because based upon his policies, what Mr. Obama gave us as president was Dodd-Frank and ObamaCare. POTUS Obama led Democrats left, and created a tax and regulatory environment that killed thousands of smaller business.  That killed jobs, raised welfare payments, etc.
But those same Obama policies favored big business.
It's black and white.
It's about the math of tax and regulations, not race or style. 
ELS' Sam Zell – Compliance Costs Destroys Smaller Businesses = Consolidation
There are some taxes, some regulations that are needed. How much is debatable, but generally, less is better. So Mr. Obama – and Ms. Clinton, had she been elected – put in place – and she would have kept in place – the big regulatory state and high taxes.
Warren Buffett, "the Moat," Manufactured Housing, Berkshire Hathaway, Clayton Homes, 21st Mortgage, Vanderbilt, Wells Fargo, NAI…
That favored Mr. Buffett's Big Business Brands. That includes manufactured housing.
Manufactured Housing Institute VP Revealed Important Truths on MHI's Lobbying, Agenda
So, Mr. Buffett, as a student of history, and economic principles, could generally predict what would happen under both Obama or Clinton. It perfectly suited Mr. Buffett's "moat" principle.
Duty To Serve, "Complete Waste of Time" per Tim Williams, CEO/21st Mortgage; POTUS Trump, Warren Buffett Insight$
The Berkshire Hathaway dominated Manufactured Housing Institute (MHI) invited not one, but two paid Clinton speakers to be on their stage in Chicago to address their members. The Daily Business News reported that several ties. MHI has never denied the claim.
Manufactured Housing Institute (MHI) Shifts on DOE Regulatory Rule, Report, Analysis
Facts are nettlesome things. People often buy into style over substance. That can prove costly.
NAHB Report – High Cost of Regulations Impact Housing – and Manufactured Housing
Follow the money. Pay more attention to what people do, not what they say. Principles and policies matter.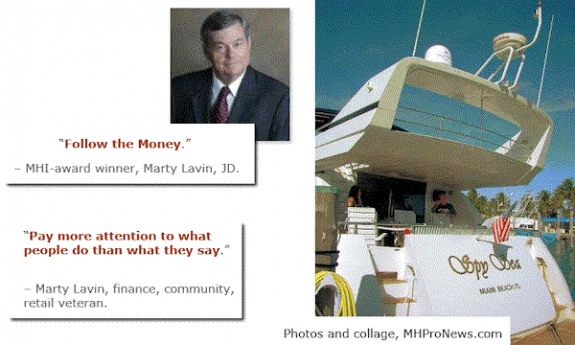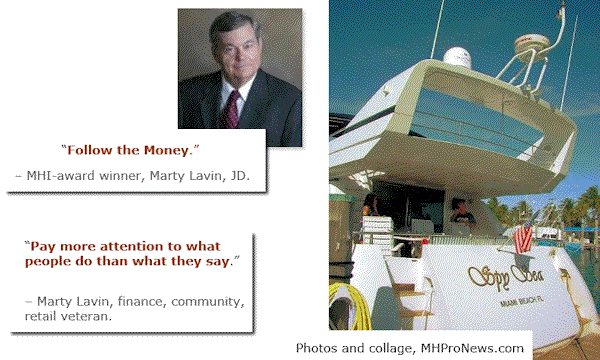 So long as his health and safety hold up, and his party stays united enough on his plans, of course America will be greater again under POTUS Trump.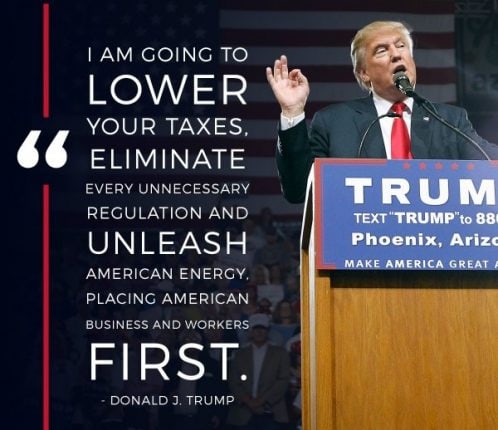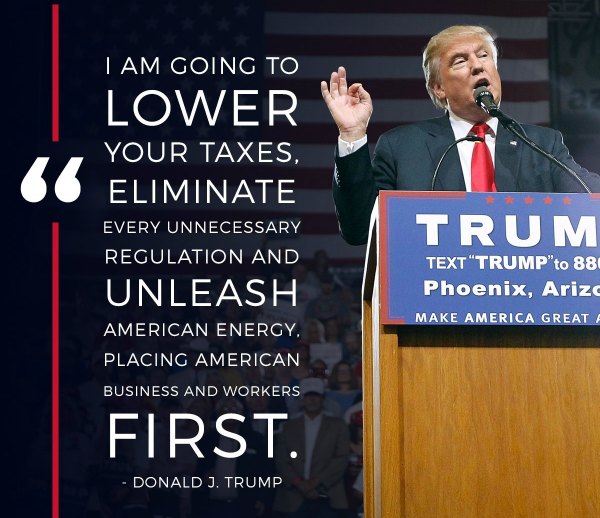 In hindsight, there will likely be discovered a series of scandals from the Clintons and Obama Administration years that will be unlike anything America has ever seen.  Informed sources say the higher levels of the FBI and DOJ were politicized. They claim the deep state is real.
"Hacks" – Explosive 2016 Campaign Claims by Former DNC Chair, Donna Brazile
The so-called 'Russia collusion' narrative could easily flip into a Democratic scandal, akin to the one where Secretary Clinton allegedly rigged the primary against Bernie Sanders, per Democratic party leader, Donna Brazile.
Newspaper Names Clayton Homes, Clinton Foundation, Hillary Clinton In "Swamp After Storm" Post-Disaster "Corruption"
Clayton Homes, said the Toledo Blade and others, profited from the Clinton connections in the Obama Administration.
Clayton will benefit from FEMA, while others in manufactured housing will suffer.
When money is earned, it can be spent. So it may seem odd to discuss profits as "false." As anyone who's watched the movie Scarface knows, crime is a business. It may be illegal, but it's business. The risk/reward equation for a criminal enterprise is different than for a legal business.
Monopolistic practices are bad for America, in principle. Heavy regulations, heavy taxes and crony capitalism are all bad for our HUD Code manufactured home business in principle.
Lawsuits for Triple Damages – Anti-Trust, Anti-Monopoly Law, Manufactured Housing, and You
These are not matters of color or style. These are nettlesome facts. Tax, and regulatory tend to policies create or destroy investments, businesses and thus jobs. Mr. Trump, the entertainer, builder, and business man gets that.
Killing Off 100s of Independent Manufactured Home Retailers, Production Companies – Tim Williams/21st Mortgage "Smoking Gun" Document 2
Mr. Buffett, supported the moat candidates. Buffett's brands have been accused of taking control over MHI, which does their bidding.  Independent businesses have been forced out, or killed off by heavy regulations.  Doesn't that fit with the goals of Mr. Buffett's moat principle to the tee?

By contrast, for years, MHARR has opposed business and job killing regulations.
"Perverse"–Warren Buffett-Dodd-Frank, CFPB, Manufactured Housing, Loans, Independent Businesses Fact Check$
The rest are details and commentary, because facts are nettlesome things. ## (News, review, fact checks, analysis, and commentary.) 
(Image credits are as shown, and when from third parties, are provided under fair use guidelines.)
NOTICES and Author's credits…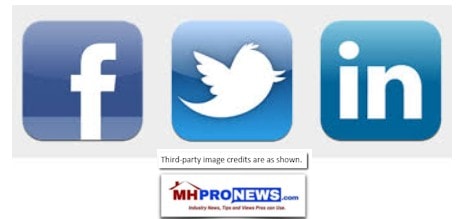 New Year's Resolution: On this 12th day of Christmas, a request.
This writer already has one of the largest LinkedIn followings in the manufactured home industry. But we've frankly not asked for Twitter, or Facebook followers. That changes, starting today. If you want to keep up with posts relevant to the industry, you can connect via the links below.
https://www.linkedin.com/in/latonykovach/
https://twitter.com/LATonyKovach @LATonyKovach
https://www.facebook.com/tony.kovach.71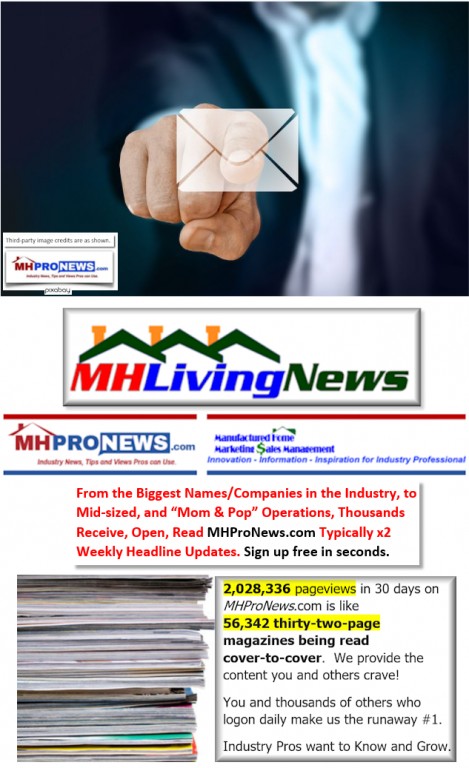 Note 1: Thousands do it. You, your team, and industry colleagues can sign up to the MH Industry leading headline news/updates – typically sent twice weekly – please click here to sign up in just seconds.
Note 2: For media, business development, training, or other professional services, click here. The more pros like you that use our services over any others, the more we can protect, educate, and promote the Manufactured Housing Revolution.
(Image credits are as shown above, and when provided by third parties, are shared under fair use guidelines.)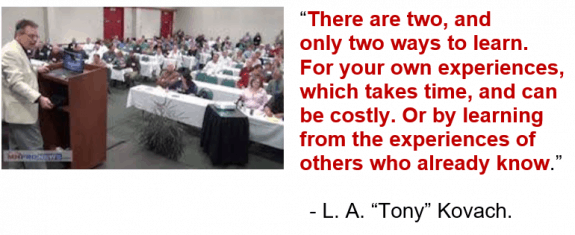 Kovach is the award-winning managing-member of LifeStyle Factory Homes, LLC,
parent to MHProNews, and MHLivingNews.com.
Both are #1 in their categories.
Kovach is one of the most endorsed and recommended MH industry professionals in all of manufactured housing.