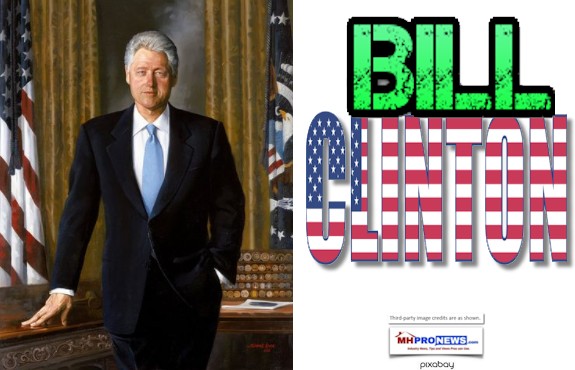 Every industry professional, regardless of politics, should easily grasp the punch line.
Let's dive into the headline question.
Even in the wake of the spreading wave of sexual abuse scandals, former President Bill Clinton remains for millions a quite popular figure. 
By all accounts, in person, he's charming and delights people. He's no charmer, of course, to those who – in the 90s and now – have accused him of sexual abuse. Nor those who've alleged that Mr. Clinton is a smooth liar, and/or a political con man.
What's the headline issue?  What's the truth, and the facts?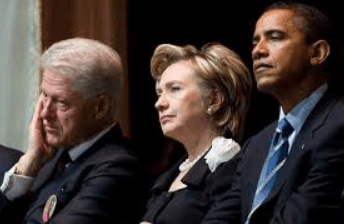 Unlike Hillary and President Barack Obama – both of whom needed Bill to help lift them at various times in their respective political careers – former President Bill Clinton was more of a deal-maker, and pragmatic.
When the GOP took the House and Senate in the wave led by former Speaker of the House Newt Gingrich's Contract with America, then POTUS Clinton pivoted.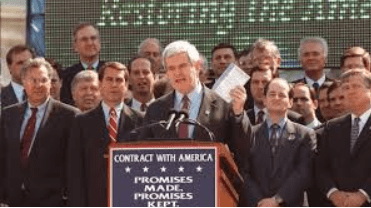 That pivot, which the president was largely pushed into by the Republican Congressional victories, gave Clinton a claim for balancing the federal budget for the first time in the modern era. It was done in part through entitlement reforms. 
While it wasn't the only cause, it was a factor in the economic boom of those years.
It was at that time of welfare reform – and a balanced budget – that President Clinton famously said, that "The era of Big Government is over."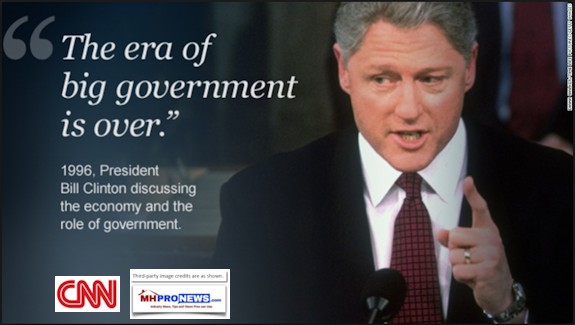 Conservative and centrist observers believe it was a statement of convenience.
Clinton didn't, his rivals and critics say, mean what he said.
The viewpoint from the website, Bob's "Rant" – below, is an example.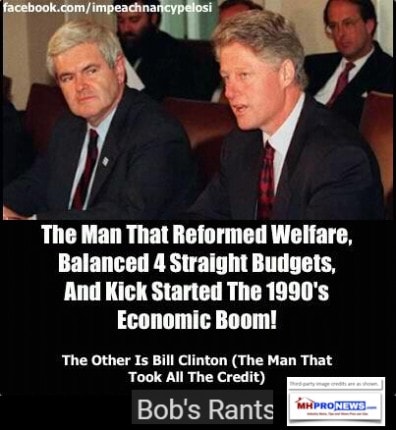 Whatever his motives at the time, Mr. Clinton's own words and deeds since then, as well as the actions of those he's supported, demonstrate that he is still very much a believer in big government.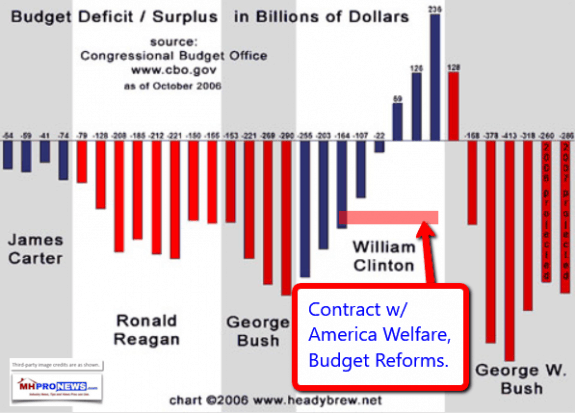 Bi-Partisan Blunders
Indeed, first under President George W. Bush 43, and then even worse under Barack Obama, big Government, with its deficits and debts, once more exploded. 
The principles of big government have been proven time and again, regardless of party, to fail.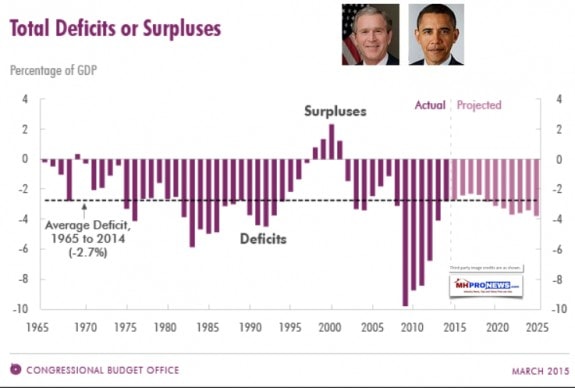 By contrast, the principles of limited government, be it implemented by a Democrat or Republican, are proven to work whenever they are truly adopted.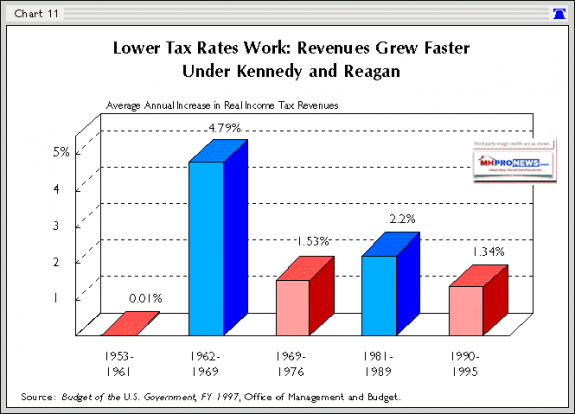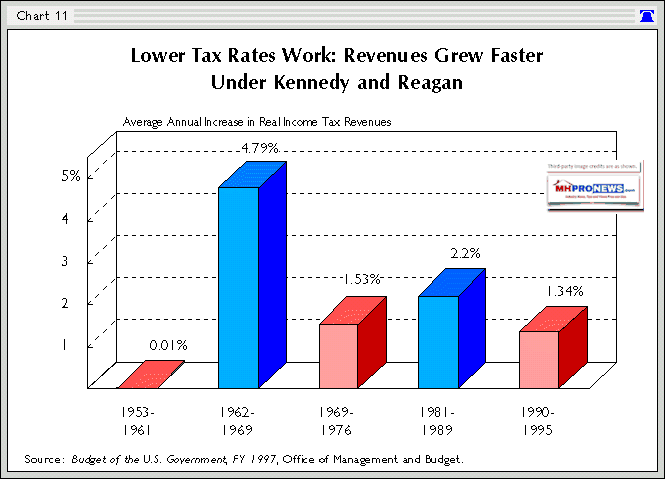 Christmas and Judge Napolitano
On this fifth day of Christmas, a recent Op-Ed by Judge Andrew Napolitano raises a parallel point. Do we worship God or Big Government?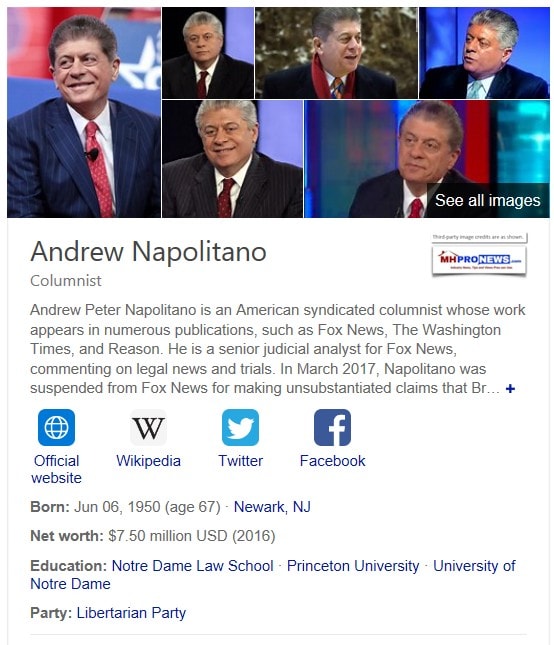 Big government has failed to achieve it in promised goals in the U.S., but also in Castro's Cuba, or the socialist states like Venezuela, Greece, the old Soviet Union, North Korea, and in Mao's Communist China.
Widespread ignorance of the history of big government is the only possible reason it's still embraced.
The bigger the central government, the more the rights and opportunity of the everyday person are weakened.  
The greater the burden from regulation, the more the cost to the economy.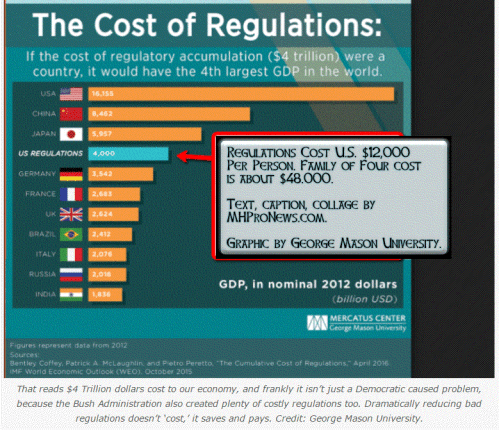 The bigger the central government, the greater the chances for waste, fraud, abuse, and corruption.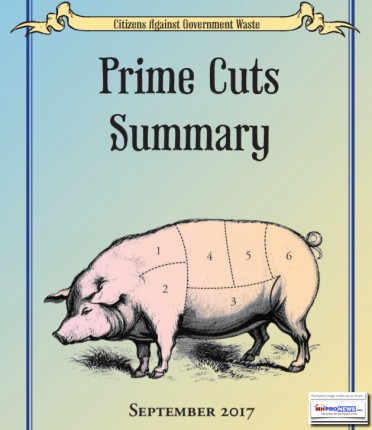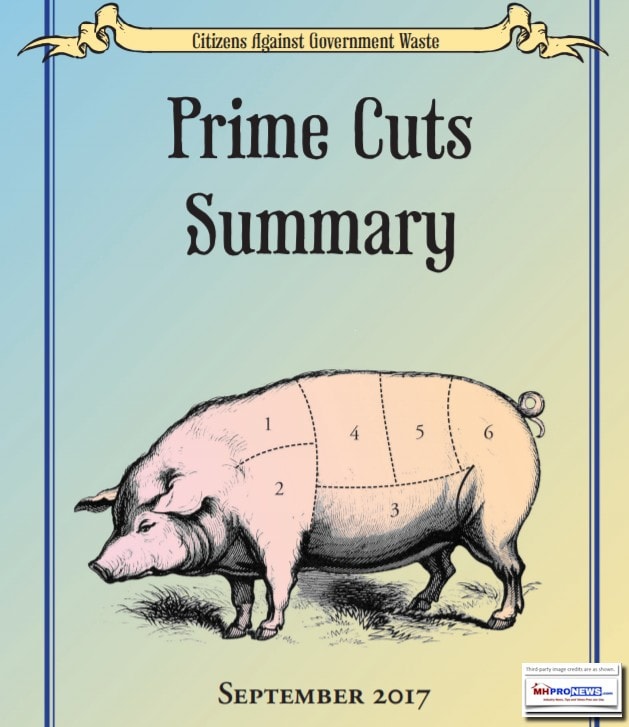 President Donald J. Trump is no saint. He never pretended to be. He freely admitted to 'using the system,' and people in both parties, to get what he wanted as a businessman. As those who paid attention recall, he said he could reform the system that he knew so well, from the donor side of the equation. 
After 11 months in office, what's clear is that
POTUS Trump,

Vice President Mike Pence,

and the Trump Cabinet and go to work daily to move his promised agenda ahead.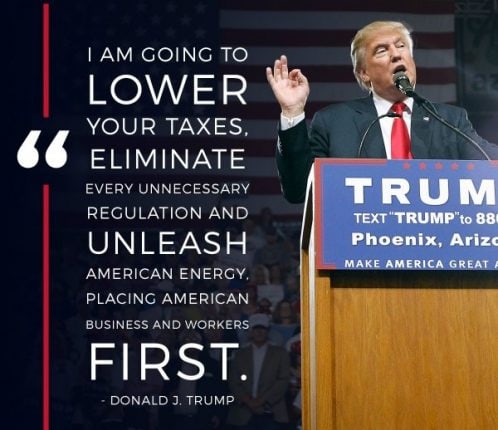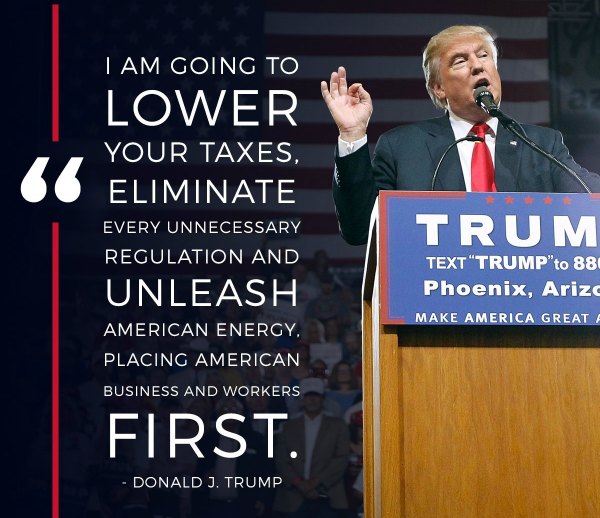 For those who believe that the economy is advancing now due to Obama's policies, they"
must be engaged in wishful thinking.

Or a willing self-delusion,

or they just have no longer term memory.

Or they only believe what a favored media outlet tells them, even if that happens to be political spin at odds with the truth.
For example, Obama and Clinton both said manufacturing and coal are vanishing, never to come back. POTUS Trump is proving them wrong. The economy is moving, because the 45th president is undoing what Obama and other prior presidents from both parties did that was destructive to business, and thus to American economic growth.
Mr. Trump's economic and foreign policies are pragmatic. They apply the principles of supply and demand, or other proven principles, such as regulatory roll-backs spark more business.
Forget Style, Focus on Substance and Performance
We opened by saying the every industry professional will grasp the punch line.  Here it is.
—> CFPB, HUD, DOE, FHFA, Zoning, etc., etc…think one word, regulation.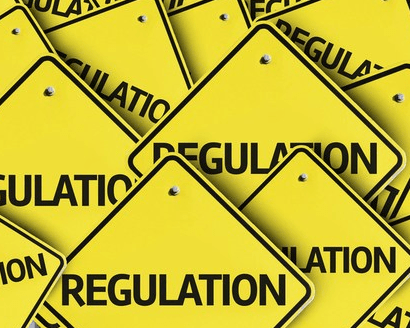 Regulatory barriers are one of the bigger harms to the manufactured home industry, and they have been for years.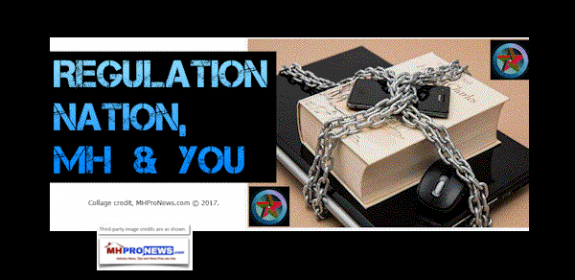 Tax policy, health care, have also been harmful.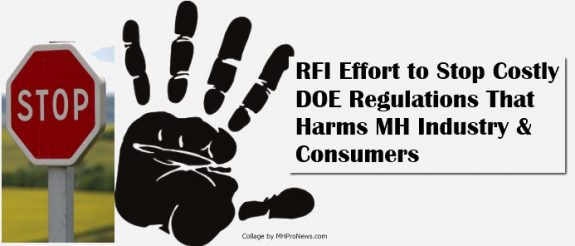 Perhaps under President Trump, he and the Congress will take what was given to the DOE in 2007, and will return energy and all of the core construction standards to HUD, where they belong.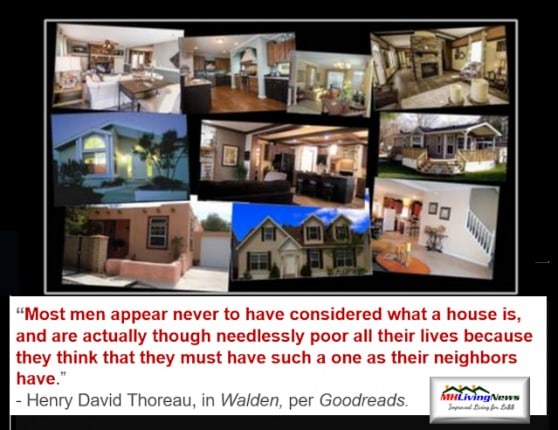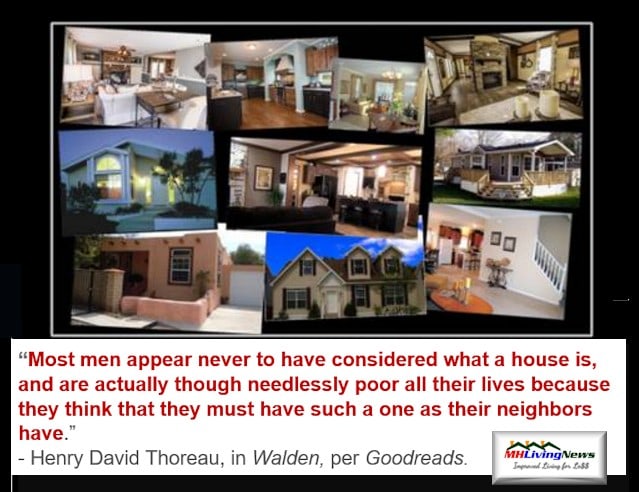 That would be in keeping with the logic of the federally preemptive manufactured housing code.
If:
President Trump,

a builder who also understands high-end prefabs because of his prior ties to Revolution PreCrafted,

VP Mike Pence – who comes from Indiana, where sources say he was knowledgeable about HUD Code manufactured homes,

and HUD Secretary Dr. Ben Carson, who will hopefully learn and apply the law with regard to manufactured housing,

plus the CFPB, DOE, FHFA, and other federal officials who currently have some jurisdiction over manufactured homes… 
each must follow through on the president's pledge of regulatory roll back.
Once they do, then America will have one of the pieces of the puzzle in place for taming the affordable housing crisis.  It will be a private sector solution to a problem that the public sector simply can't afford to pay to solve. 
Regulations aren't the only problem that has faced the industry. 
But it's been a big one.
For the sake of the industry, and America, "We the People" should work to make President Clinton's statement come to pass.
Namely, pull together to make sure that this time, "The Era of Big Government is Over." ## (Fact checks, flashback, news in review, analysis, commentary.)
(Image credits are as shown above, and when provided by third parties, are shared under fair use guidelines.)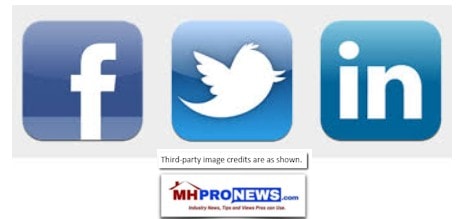 New Year's Resolution: This writer already has one of the largest LinkedIn followings in the manufactured home industry. But we've frankly not asked for Twitter, or Facebook followers. That changes, starting today. If you want to keep up with posts relevant to the industry, you can connect via the links below.
https://www.linkedin.com/in/latonykovach/
https://twitter.com/LATonyKovach @LATonyKovach
https://www.facebook.com/tony.kovach.71
2 Week Notice, MHProNews will be on a somewhat modified publication schedule from now through January 2nd, resuming normal scheduling in 2018. More details, click here.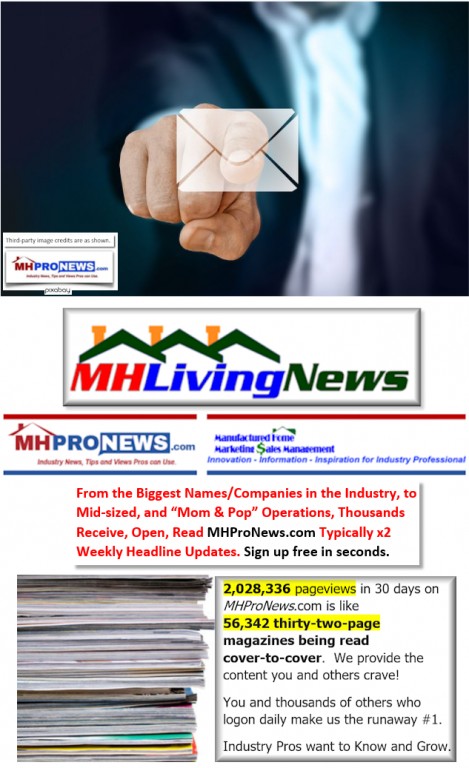 Note 1: Thousands do it. You, your team, and industry colleagues can sign up to the MH Industry leading headline news/updates – typically sent twice weekly – please click here to sign up in just seconds.
Note 2: For media, business development, training, or other professional services, click here. The more pros like you that use our services over any others, the more we can protect, educate, and promote the Manufactured Housing Revolution.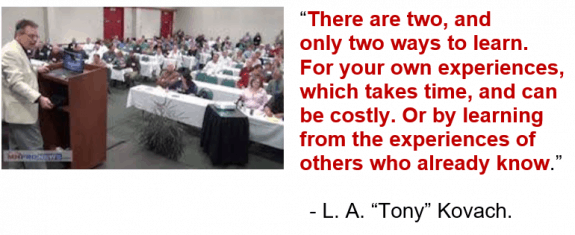 Kovach is the award-winning managing-member of LifeStyle Factory Homes, LLC,
parent to MHProNews, and MHLivingNews.com.
Both are #1 in their categories.
Kovach is one of the most endorsed and recommended MH industry professionals in all of manufactured housing.