The National Federation of Independent Business (NFIB) President and CEO Juanita Duggan said that "the House took a big step toward tax cuts that will help America's small businesses grow and create jobs.  Small businesses account for more than half the jobs and half the economy.  We look forward to working with the House and the Senate to get good small business tax cut legislation on the President's desk soon."
In a press release to the Daily Business News on MHProNews Duggan and the NFIB explained their rationale behind the need for tax reform.
"The bill reduces the tax rate on the smallest pass-through businesses to 9 percent over five years, without industry exclusions or restrictions. NFIB previously informed Congress that this is a Key Vote," their statement said.
As the Daily Business News has previously reported, Vice President Mike Pence addressed the 325,000 member strong organization, which works exclusively for the interests of smaller businesses, not big mega businesses.
NFIB has systematically engaged, as an example liked below reflects from a few weeks ago reflects. Their engagement has produced a measurable result in the passage by the House of a bill they support.
NFIB CEO Junita Duggan – "Small Businesses Must Get a Tax Cut"
The group provides resources, and coaching for small businesses – in addition to effective lobbying and advocacy services – as one of their 1000 plus videos below reflects.

VP Mike Pence and the NFIB
Pence told the body last summer of his and the president's appreciation for their support, and that they are ever mindful of this important part of American Business, American Jobs first pledge.

Duggan, in a pre-vote op-ed published by The Hill, said, "For small businesses, tax reform is imperative. According to the National Federation of Independent Business (NFIB) Problems and Priorities survey, five of the top 10 problems for small businesses are related to the federal tax code. Taxes are too high, the tax code is too complicated and compliance is very costly."
VP Mike Pence, NFIB President Juanita Duggan, on Small Business Issues
"Many Americans might not realize that 99.9 percent of all U.S. businesses are small businesses. They represent half the GDP and create half the jobs. For tax reform to ignite the economy, its benefits must extend beyond large corporations to the millions of independent, privately-run businesses that form the backbone of the economy," Duggan said.
While the NFIB was officially neutral in the presidential contest last year, they published a useful guide for their members. In that guide, the pro-business organization outlined the respective policy positions of both Secretary Hillary Clinton and then candidate Donald Trump.
Compare, Contrast
That NFIB clarity on issues no doubt helped their members make an informed decision last November, which in turn helped elect pro-business Donald Trump and his running mate, Mike Pence to the White House.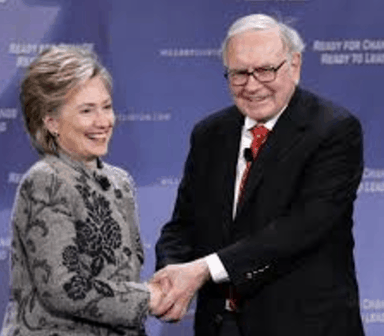 By contrast, the Manufactured Housing Institute (MHI) placed two paid pro-Clinton speakers on their stage just days before the election, and incorrectly predicted the senate would go Democratic too.
Some speculate that the Democratic tilt of MHI is due in part to the influence of their dominate company, Clayton Homes, the subsidiary of Warren Buffett led Berkshire Hathaway, who was promoting Hillary Clinton, as MHProNews chronicled for industry readers.
Duggan's Effective Engagement
"The House bill contains other provisions that NFIB supports, including the elimination of the estate tax; elimination of the Alternative Minimum Tax; and doubling of the standard deduction," Duggan said in her pro-tax reform Hill op-ed.
"Still, the best and fastest way to lift small businesses is to cut rates and let them keep more of their money to invest in their businesses and create jobs. The House bill does that, which is why NFIB is proud to support it," the NFIB CEO stated.
The NFIB has told MHProNews that they have hundreds of members from the manufactured housing industry. A state association executive director has said that he found working with them has been very effective in getting bills done, modified or blocked as needed at the state level. ## (News, analysis, and commentary.)
MH, Association Related: An MHI member bcc'd MHProNews in a message to MHARR's CEO, which read in part:
"Mark Weiss,
A post factory association for Land Lease Community owners (Buyers of HUD code) is a good idea. A Factory has no skin in the type of housing needed for new home replacements in a Land Lease community."  Other comments on this issue have been coming in, for more, click the story linked below.
Study Recommending New Manufactured Housing Association for Independent Retailers, Communities, Lenders, Others Released
Note: editorially, MHProNews has supported tax reform, the Trump candidacy, and presidency as being the best for the industry, business, and job creation.
(Image credits are as shown above, and when provided by third parties, are shared under fair use guidelines.)

Submitted by Soheyla Kovach to the Daily Business News for MHProNews.com.