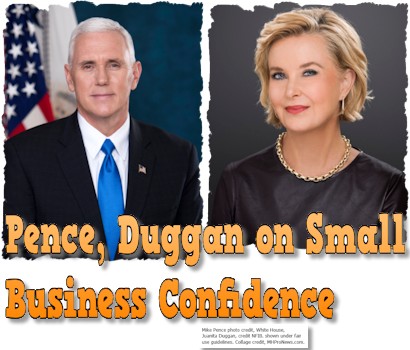 "President Trump probably said it best when he said that small businesses in his words, embody the American pioneering spirit and remind us that determination can turn aspiration into achievement every single day," Vice President Mike Pence said in a speech to the National Federation of Independent Business (NFIB).
Since President Trump was elected back in November, there has been a lot of positive improvements in the economy – especially on the small businesses front.  Regulatory rollbacks are making a difference, as this previous report reflects.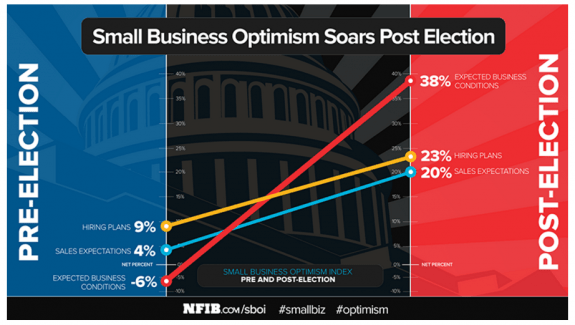 According to VP Pence's speech, "Since Inauguration Day I'm pleased to report businesses like those gathered here today have created more than 850,000, new, good-paying jobs all across America."  It was one of several applause lines reported by the White House to MHProNews.
But will the growth continue if the Trump Administration's promises of health care and tax reforms are not met before the end of the year?

"Small-business owners are deeply disappointed," Jack Mozloom, a spokesman for the NFIB, said. "The high cost of health care has been the No. 1 concern for small business owners for more than three decades."
Without Passing Legislation, Will Confidence Fade?
Job growth appears to be slowing down, says Reuters. While it could be just a small seasonal downturn, it could may be partially due to Congress neglecting to pass any bills on the major issues of healthcare and taxes already.
The NFIB recently released a report which found that the "small business optimism" index is down to 103.6, from May's 104.5.
Some, like Juanita Duggan and Bill Dunkelberg, believe the drop is likely because small business owners are slowly losing faith in Congress to make any real improvement in the near future.
"As Washington fails to deliver on those two priorities small-business optimism is dropping," said Juanita Duggan, President and CEO of the NFIB. "Gridlock is driving down small-business optimism, which will eventually drive down the economy."
The number of businesses planning to hire new employees dropped 3 percentage points from May to June. However, the current 15 percent is still higher than has been seen in years.  Hitting 18 percent in May was the highest expected hire rate among small businesses since 2006.
"Hiring activity remains strong by historical standards, but the drop in June was unmistakable," said Bill Dunkelberg, NFIB's chief economist. "Whether this is the start of a negative trend or a one-month blip is something we'll have to keep an eye on."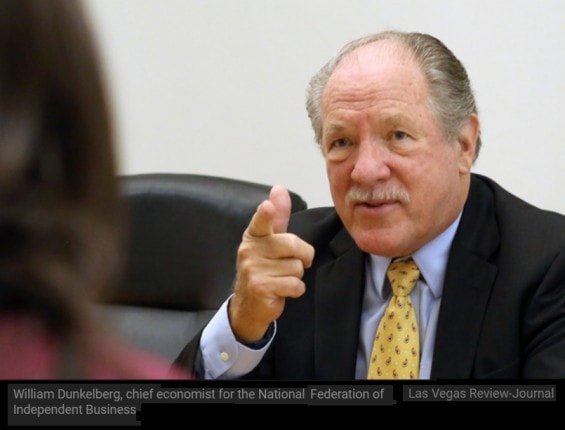 High tax rates and the Obamacare health care mandates are all things that hinder small businesses ability to thrive, says the NFIB, and both are issues small business owners have been fighting to reform for decades.
"If Congress wants small businesses to invest in the economy, then they must cut taxes and simplify the code," said Duggan.
Promises of Big Things to Come for Health Care and Taxes
During his speech to the NFIB, Pence heralded good news and more promises of health care reform, with a repeal and replace of ObamaCare, and "one of the largest tax cuts in American history".
"I don't have to tell small-business owners that the Americans' tax code is one of the biggest barriers to success for working families and small businesses like all of you." the White House press office told MHProNews that Vice President Pence said later in the speech.
This all comes only days after the Senate voted against a bill that would have repealed key parts of Obamacare that millions of Trump and GOP voters are unhappy with.  President Donald J. Trump has signaled they aren't giving up.  Per the speech, neither is the vice president.
"But I truly do believe that the strength of America also lies in the courage and in the hearts of men and women who get up every day, put their feet on the floor, and make a small business work. (Applause) And so I want to encourage you on.  Let your voice be heard, but also have faith." 
Pence urged small business people to pray and work to sustain what they'd already accomplished together, "we've begun to see in the recovery of the American spirit and the rebound of the American economy is really just the beginning.  And under President Donald Trump, with your help, I know the best days for America and for American small business are yet to come."
The full text of his speech, per the White House, is linked here. # #
(Image credits are as shown above, and when provided by third parties, are shared under fair use guidelines.)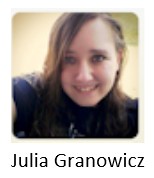 Submitted by Julia Granowicz for Daily Business News on MHProNews.