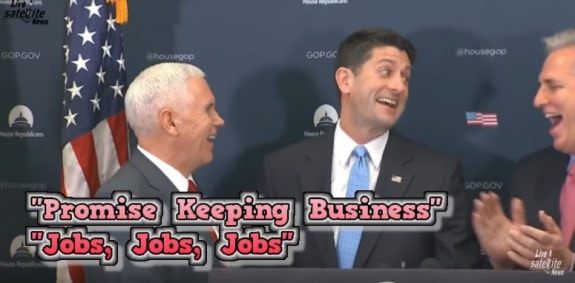 We are in the promise keeping business, said Vice-President-elect Mike Pence at a Capitol Hill News conference today.
Pence told reporters that in keeping with President-elect Donald Trump's classic three-part agenda for the American people, "Jobs, Jobs, Jobs" that the House and Senate Republicans were already planning moves to scale back on regulations that kill jobs.
Much of the press conference focused on repealing and replacing ObamaCare, which Pence reminded viewers that he and others recalled the broken promises that the health care legislation was passed upon.  He vowed that a market-oriented replacement solution would be put in its place, that would save taxpayers money, as well as protect those who were currently covered under that law.
Democrats have vowed to battle some issues – such as ObamaCare and Dodd-Frank, but could cooperate on others – like infrastructure.  See politically related article, linked here.
The video on this page covers the balance of the details for the start of the Trump agenda.
The Daily Business News has been following post-election results closely, for its impact on stocks, the dollar, builders, small business and consumer confidence.  ##
(Image credits are as shown above.)

Submitted by Soheyla Kovach to the Daily Business News for MHProNews.