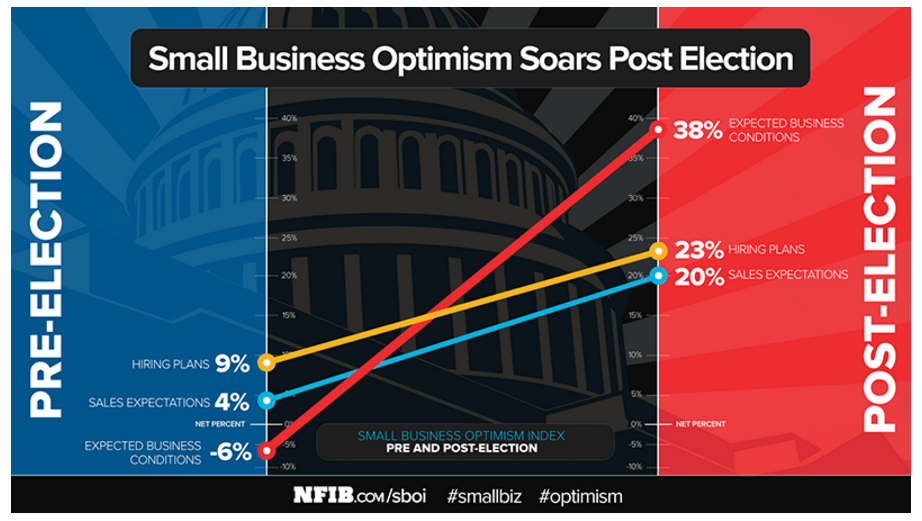 "What a difference a day makes," said Juanita Duggan, President and CEO of the National Federation of Independent Business (NFIB). "Before Election Day small business owners' optimism was flat, and after Election Day it soared."
"This month we bifurcated the data to measure the results before and after the election," explained NFIB Chief Economist Bill Dunkelberg. "The November index was basically unchanged from October's reading up to the point of the election and then rose dramatically after the results of the election were known."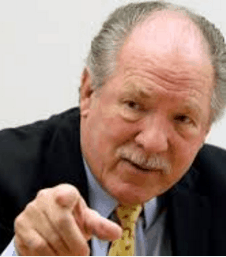 The surge in small business confidence has been mirrored in a post-election surging stock market – with manufactured housing related stocks and the broader 3 market recap reported on the Daily Business News – yesterday's closing numbers are linked here.
The NFIB says that their, "Index of Small Business Optimism is one of the oldest and most widely respected economic research reports in the country."
The University of Michigan, and The Conference Board have produced more recent research, all of which indicates a strong pro-Trump election surge.
"If higher optimism can be sustained, I expect that in the coming months we'll see an increase in business activity, such as hiring and expanding," said NFIB's Dunkelberg.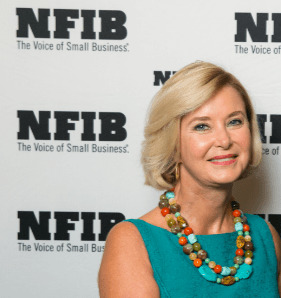 "Small business owners are clearly encouraged by the election results, but now it's time for President-elect Trump and congressional leaders to deliver," said Duggan. "Federal taxes, regulations, and Obamacare are the three biggest impediments to running a small business in America. Small business owners have high expectations that those problems will be addressed."
About NFIB and Manufactured Housing
The National Federation of Independent Business (NFIB) website says that the organization represents 325,000 small businesses in all 50 states and Washington, D.C., and "is dedicated to leveling the playing field with Big Business, Big Government, and Big Labor in every key area – taxes, healthcare, regulations, and more."
MHProNews has previously reported that hundreds of manufactured housing industry retailers, communities, suppliers, and producers are among NFIB members.  The NFIB's total membership numbers are roughly equal to about twice the total of all full-time workers in the manufactured housing industry, per estimates originally made by the Manufactured Housing Institute (MHI).  MHI has over 300 member companies.
To rephrase that data, NFIB is huge organization, and is a serious player in state and national politics.
As part of our extensive pre-election coverage, the Daily Business News shared highlights of their pre-election reports, linked here.
The entire NFIB small business confidence report is linked here as download.  The Daily Business News plans to do follow up reports on other indicators of consumer and business confidence. ##
(Image credits are as shown above.)

Submitted by Soheyla Kovach to the Daily Business News on MHProNews.