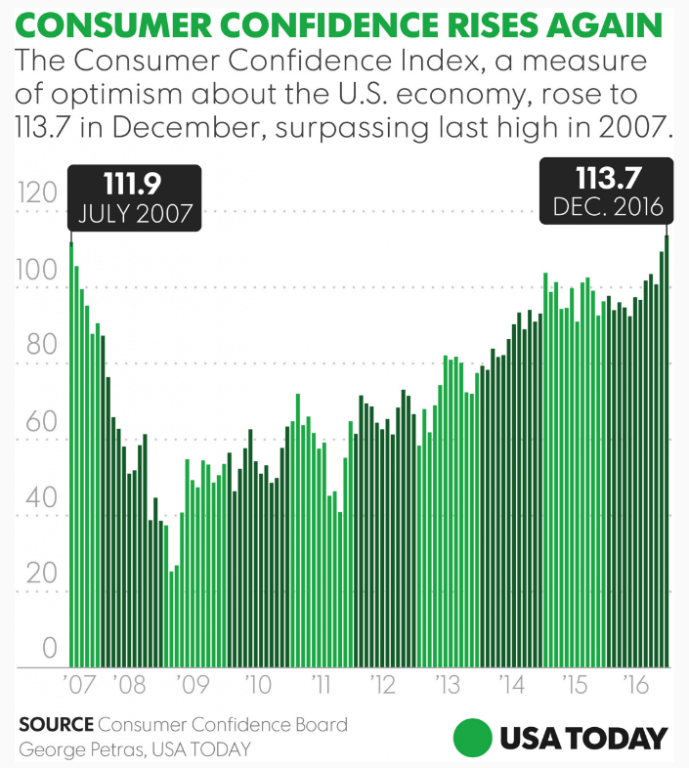 The Consumer Confidence Index® posted another gain in December, says the Conference Board in a media release.
"The Index now stands at 113.7 (1985=100), up from 109.4 in November," their report stated. "The Expectations Index increased sharply from 94.4 to 105.5."  They noted that the Present Situation Index decreased from 132.0 last month to 126.1.
"Consumer Confidence improved further in December, due solely to increasing Expectations which hit a 13-year high (Dec. 2003, 107.4)," said Lynn Franco, Director of Economic Indicators at The Conference Board.

"The post-election surge in optimism for the economy, jobs and income prospects, as well as for stock prices which reached a 13-year high," Franco said, "was most pronounced among older consumers."
"Consumers' assessment of current conditions, which declined, still suggests that economic growth continued through the final months of 2016. Looking ahead to 2017, consumers' continued optimism will depend on whether or not their expectations are realized."
In an unrelated report, Bloomberg points out that the older generation holds the most wealth; "The median family net worth of Americans 75 and older was $194,800 last year adjusted for inflation, compared with $130,900 in 1989, the Fed data show."
The Conference Board's report survey further said that, "Consumers' assessment of current conditions declined in December. Those saying business conditions are "good" decreased slightly from 29.7 percent to 29.2 percent, while those saying business conditions are "bad" increased from 15.2 percent to 17.3 percent."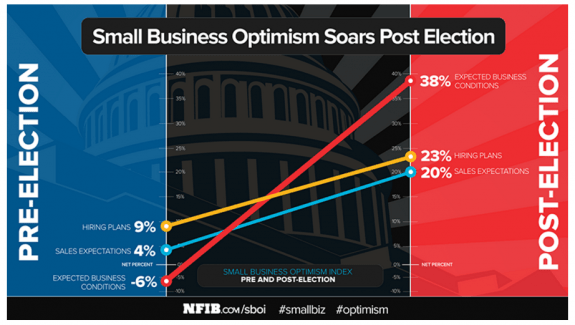 That stands in contrast with the National Federation of Independent Business Reports, which surged post-election, see that report linked here.
"Consumers' short-term outlook improved considerably in December," the Conference Board report said. "Those expecting business conditions to improve over the next six months increased from 16.4 percent to 23.6 percent, while those expecting business conditions to worsen declined from 9.9 percent to 8.7 percent."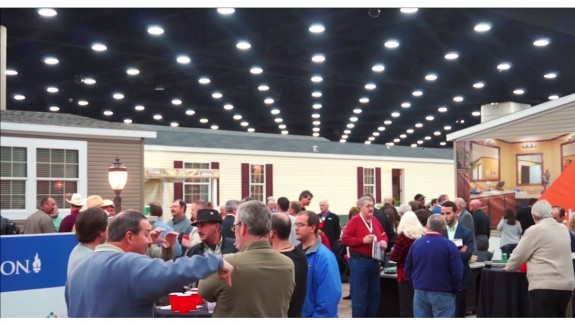 "Consumers' outlook for the labor market also improved markedly. The proportion expecting more jobs in the months ahead increased from 16.1 to 21.0 percent. However, those anticipating fewer jobs also increased, from 13.5 percent to 14.0 percent. The percentage of consumers expecting their incomes to increase rose from 17.4 percent to 21.0 percent, while the proportion expecting a decrease fell moderately, from 9.2 percent to 8.6 percent."
Additional reports from other sources all point to overall optimistic outlook for 2017. ##
(Image credits are as shown above.)

Submitted by Soheyla Kovach to the Daily Business News for MHProNews.