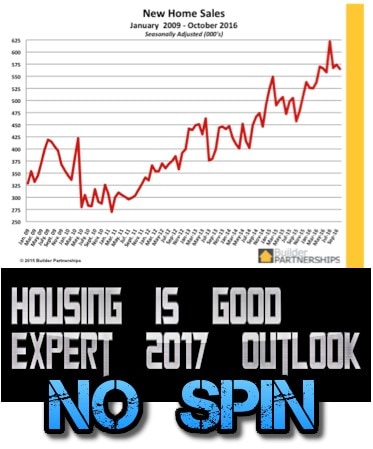 In Chuck Shinn, Ph.D, "State of the Industry" report, the president of Builder Partnerships tells the Daily Business News that "Housing is Good."
Shinn said, "we are committed to telling you the good, the bad, and the ugly so you can make informed, intelligent decisions about how to run your company. When we tell you the market is doing well, you know you can trust our optimism."

Over 15% Growth in 2017?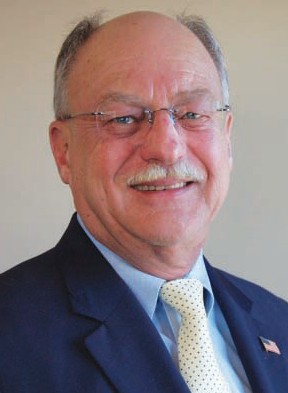 "As we finish 2016, this will be the strongest year," since the 2009 'recovery,' said Shinn. "My prediction for 2017 is that housing sales will be 15 to 20 percent over 2016."
Shinn explained that he spends a lot of time studying data.
He says he looks at "…historic economic trends, real estate reports, manufacturing production levels, demographics, you name it. Show me numbers and I crunch them."
The charts on this page are part of the fruits of those number-crunching labors.
"In November, existing home sales were as strong as they have been since February 2007, when we were in the thick of the housing boom," Shinn said. "Currently, we're going to exceed 1.2 million housing starts, and new home sales are running 13 percent over last year."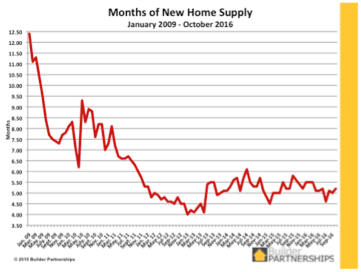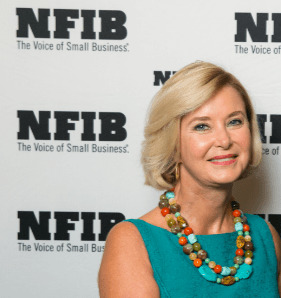 That mirrors the optimism shown in recent Daily Business News.  For example, Juanita Duggan – President, and CEO of the National Federation of Independent Business (NFIB) – who said, "Before Election Day small business owners' optimism was flat, and after Election Day it soared."  Hundreds of Duggan's members are in manufactured housing and land-lease communities, as more in the building and supplier trades.
"Sales of automobiles —the other big consumable durable category — have been strong," Shinn said. "Consumer confidence is good; the builder confidence index is strong as well."
The one wild card, he says, is rising mortgage rates. But short term, that is pushing more people to buy now.  And historically 'normal' times, in manufactured housing, rising rates on conventional housing could boost manufactured home sales as some were priced out of conventional homes and opted for a HUD Code manufactured home instead.
There is speculation that this may bode well for a good 2017 Louisville Show, which is only 2 weeks off. Stay tuned… ##
(Image credits are as shown above.)

Submitted by Soheyla Kovach to the Daily Business News on MHProNews.