Most know the maxim: "The road to hell is paved with good intentions." The Hill op-ed by Kevin Borden and Jonathan Westin on "The Private Equity Takeover of America's Neighborhoods" at best typifies hellish "good intentions."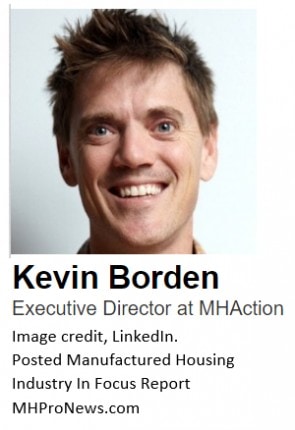 Key facts they ignored arguably harms those they claim to want to protect.
Using exaggerated or misleading examples distorts genuine dialogue. As an industry veteran and trade publisher, my focus is to correct-the-record regarding their problematic claims about manufactured homes and communities.
Using anti-capitalist lingo, the duo's account begins with Margie Mathers, a retired Florida woman whose site fees (a.k.a. "lot rent" or "ground lease" for her manufactured home) allegedly rose by some $400 in just 3 years. For argument's sake, let's presume their claim is true.
It's what Borden/Westin didn't disclose that's misleading.
In researching their allegation, this writer contacted a senior manager who previously supervised Buccaneer Estates, North Fort Meyer, Florida — where they say Mathers lives. It's owned by Equity Lifestyle Properties (ELS). As disclosures, note that supervisor no longer works for ELS.  As a trade publisher, we have industry clients, but ELS isn't among them.
The former ELS manager said Florida has some of the best safeguards for manufactured home community residents. Among them is the prospectus.
Before purchasing a manufactured home – or a pre-HUD Code mobile home – the buyer is given the terms in a prospectus. That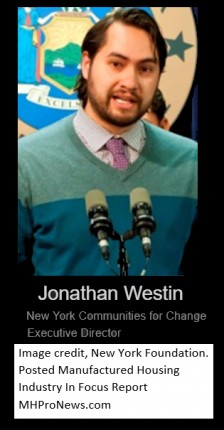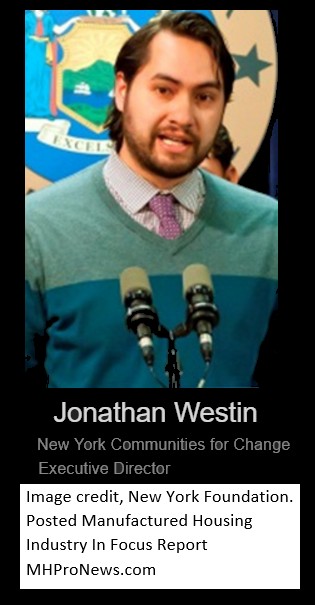 It is unclear if Communities for Change will or won't be part of the alleged plot to disrupt the MHI meeting. What is know from a direct communication with this group is that they suggested to MHProNews that MHAction be contacted for information. To see a previously published story on how Westin and Borden teamed up using media in an attempt to discredit industry community operations, please click the photo above. Note that MHProNews debunked key elements of their media-driven claim.
prospectus is revealing; binding the resident and community owner. Terms detailed includes ground-lease rate increases, often tied to CPI.
So, while there's no rent control in Florida (a good thing – see linked example – the harm done by rent control can be addressed another time), the consumer knows precisely what to expect.
Furthermore, when a shopper buys an existing home from a long-time resident, they may be able to assume the old prospectus – and thus below-market rates
on the ground-lease.  Those site fees may at year's end go to market rate, and then follow CPI, or whatever terms that prospectus has.
The point?
The Borden/Westin example of retiree Mathers is a smokescreen. She was given a prospectus, knew what she was committing to, and purchased anyway. That's informed freedom-of-choice.
Odds are, Mathers obtained a bargain, not a raw deal. Her site fees adjusted towards a market rate she accepted in her prospectus.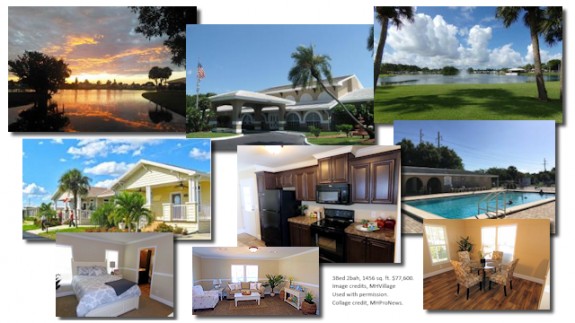 Facts and Comparisons Paint a Different Picture
The Borden/Westin example was a shock tactic — completely misleading to uninformed readers.
For those unfamiliar with land-lease, Hawaii and Maryland are states where conventional housing is routinely built on leased-land.  A few years ago, this writer lived in an upscale manufactured home community in Glenview, Illinois – about half-a-mile from million-dollar-houses built on leased-land.
While they differ, a Home Owners Association (HOA) is a useful comparison. Thousands of conventional housing, townhouses or condominium developments have HOAs. Trulia reported in 2015 that median HOA fees were $310 to $356 in Fort Meyers and Miami.
DataComp/JLT Associates says site fees in Florida average $487 monthly in all-age communities and $478 monthly in 55+ manufactured home land-lease properties. In Florida, the highest fees for waterfront and golf-club style properties are up to $1500 monthly; far less than comparable Sunshine State country-club style developments.
Depending on the U.S. jurisdiction, a manufactured home owner:
often pays zero real estate taxes, paying a modest personal-property tax instead;
pays tens-of-thousands less up-front for land-lease than purchasing property, especially important for Borden's and Westin's example of a senior like Mathers;
saves – the U.S. Census Bureau reports new manufactured homes are about half-the-cost of comparable conventional housing – and
buying an existing (pre-owned) manufactured home may be thousands less than a new one the same size/location; much the same as new conventional construction is costlier than similar existing housing.
Borden and Westin made retired Mathers look like a victim. More likely, she's intelligent and saved big. Were Borden and Westin deceptive?
All income groups – including the middle class, stars and frugal millionaires – live in manufactured home communities.
Are there ne'er-do-wells in MHVille? Sure, just like any other profession.
Bloomberg, HousingWire, Realtor and Fox News did recent affordable housing stories.  They asked, why aren't more new manufactured homes – which are mistakenly called "trailers" or "mobile homes" – being sold?
Part of the answer lies in hellishly false narratives, like the Borden/Westin op-ed.
We hope Dr. Ben Carson, nominated by President-elect Donald Trump for HUD Secretary, digs into manufactured home realities vs. the misconceptions. We hope he'll clean up manufactured housing regulatory hurdles and enforce the law – the Manufactured Housing Improvement Act of 2000.
If Carson does, taxpayers will save billions – while creating good jobs, as the free market Borden and Westin mistakenly disparaged – produces affordable, quality manufactured homes. ##

L. A. "Tony" Kovach is the publisher of MHLivingNews.com and MHProNews.com, the leading trade publications for consumers, manufactured homeowners, MH industry leaders, investors and public policy professionals who want up-to-date lifestyle and business news.